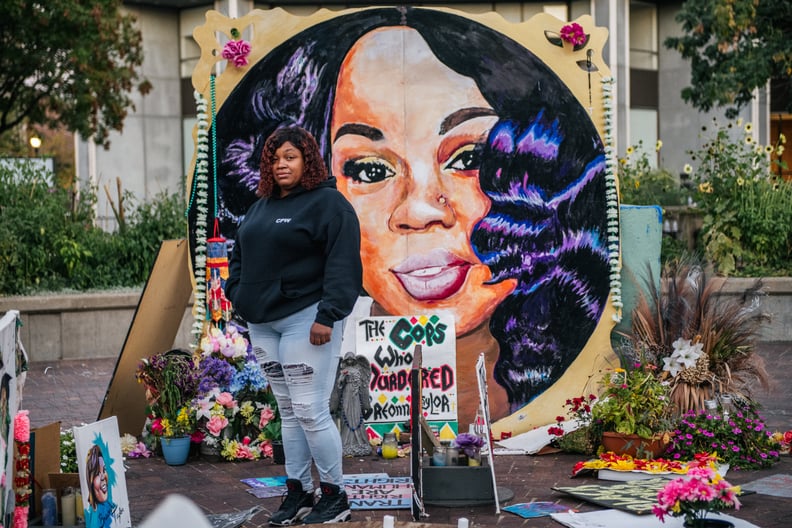 The killing of Breonna Taylor in March has led to widespread Black Lives Matter demonstrations in the US and prompted the passage of "Breonna's Law" — local legislation in Louisville, KY, which bans no-knock warrants — as well as the hiring of a new interim Louisville police chief. On Sept. 23, outrage around the lack of justice in the case grew when Kentucky Attorney General Daniel Cameron declined to press charges against any of the officers involved in her killing with her death. Instead, former detective Brett Hankison was indicted by a grand jury for three counts of wanton endangerment in the first degree for firing 10 rounds into the apartment blindly. According to The New York Times, Hankison fired shots into the sliding glass patio door and window of Taylor's apartment — both of which were covered with blinds — which is in direct violation of department policy that requires officers to have a line of sight.
Even more concerning, two of the three officers involved in Taylor's death — Sergeant Jonathan Mattingly and Detective Myles Cosgrove — were never indicted for any crimes. According to AG Cameron, these men were "justified in shooting out of self-defense" because Taylor's boyfriend, Kenneth Walker, fired first at what he believed to be intruders.
Because each wanton endangerment charge carries a sentence of five years each, the most time Hankison will spend in prison is 15 years. The grave injustices surrounding Taylor's death — particularly the lack of consequences for her killers — have led Louisville Mayor Greg Fischer to declare a state of emergency in anticipation of "civil unrest" and instill a curfew for three nights.
Read on for a timeline of events related to the death of Breonna Taylor.
A Timeline of Breonna Taylor's Death
March 13: Louisville police officers serve a no-knock narcotics warrant for Taylor's former boyfriend, Jamarcus Glover, and shoot Taylor in her apartment. Later that day, Kenneth Walker, Breonna's boyfriend is arrested for wounding a police officer. In a news conference, Taylor is only identified as "an unresponsive woman who was later pronounced dead."
March-April: Breonna's killing failed to receive widespread, mainstream media attention.
April 27: Taylor's family files a wrongful death lawsuit against the the city of Louisville and its police department.
May 13: Top Louisville prosecutor Tom Wine recuses himselffrom the case and Kentucky Attorney General Daniel Cameron is named special prosecutor.
May 20: Neighbors of Kenneth Walker Chelsey Napper, Zayden Flournoy, and Cody Etherton sue officers Brett Hankison, Myles Cosgrove, and Jonathan Mattingly for "total disregard for the value of human life," by firing multiple rounds into Napper's apartment.
May 22: Police announce the attempted murder charges against Walker are being dropped.
May 28: Three days after George Floyd was murdered by police while being arrested for using a counterfeit bill Minneapolis, MN, Walker's 911 call is released. These events spur widespread protests across the US.
May 29: Louisville Mayor Greg Fischer suspends use of no-knock warrants by local police.
June 1: After Louisville police officers failed to use body cameras during the shooting of barbecue cook David McAtee, Fischer fires Police Chief Steve Conrad.
June 11: All 26 members of the Louisville Metro Council unanimously pass Breonna's Law.
June 14: Beyoncé urges Attorney General Daniel Cameron to charge all three police officers in Taylor's death in a powerful letter.
June 23: Brett Hankison is fired from the Louisville, KY, police department for "firing blindly" into Taylor's apartment.
June 25: Celebrities like Jada Pinkett Smith and Common, alongside local activists, protest Taylor's death outside of Kentucky's State Capitol, demanding action after "100 days and still no justice."
June 28: Photographer Tyler Gerth is killed during the ongoing protests in Louisville, KY.
July 14: Demonstrators are arrested for protesting Taylor's death on Cameron's front lawn.
Aug. 12: Tamika Palmer, Taylor's mother, meets with Cameron. "We all deserve to know the whole truth behind what happened to my daughter," Palmer said after the meeting. "The attorney general committed to getting us the truth. We're going to hold him up to that commitment."
Sept. 5: Hundreds of protestors rally outside of the Kentucky Derby, urging Cameron to file criminal chargers against the three police officers involved in Taylor's death.
Sept. 7: Fischer names Yvette Gentry — the first Black woman to ever lead the Louisville Police department — as interim chief beginning on Oct. 1.
Sept. 9: Cameron is included in Donald Trump's shortlist of Supreme Court candidates. The Kentucky Attorney General responds, saying it's "an honor to be mentioned."
Sept. 15: The city of Louisville, KY, provides Taylor's family with a $12 million settlement and promises police reforms.
Sept. 22: The police set up barricades in downtown Louisville and declare a state of emergency in anticipation of Cameron's announcement.
Sept: 23: A Kentucky grand jury indicted Hankison on three charges of wanton endangerment for shooting into neighboring apartments, but did not charge the three officers involved in Taylor's death. Protests in cities including Louisville, KY, New York, and Los Angeles draw thousands of protestors outraged by the finding.
To seek justice for Breonna Taylor and other victims of police violence can take action by supporting protestors, amplifying the demands made by BLM Louisville, and paying reparations to Black communities.