Alexandria Ocasio-Cortez Plays Among Us to Get Out the Vote
You Should Care About Alexandria Ocasio-Cortez's Among Us Stream, Even If You're Not a Gamer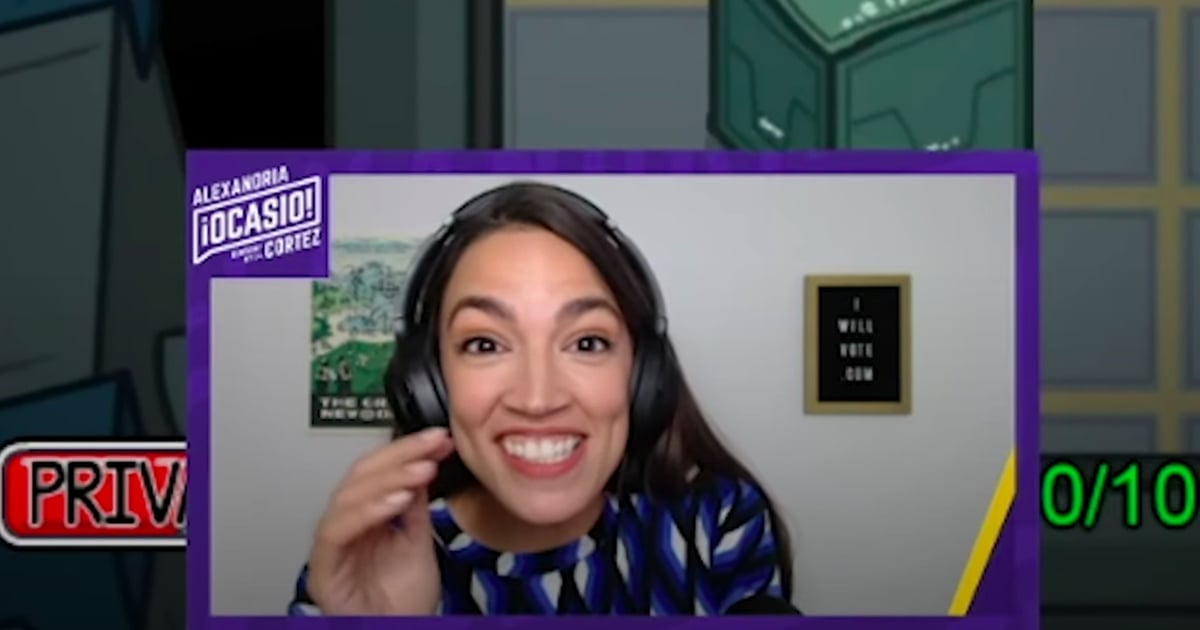 My husband is a gamer, I'm not. But on Tuesday night, we gathered around his laptop with a united interest: to watch Rep. Alexandria Ocasio-Cortez and Rep. Ilhan Omar play Among Us. The congresswomen ventured where very few politicians have publicly gone before — to Twitch, a streaming site most often used for video games.
The idea started with a tweet. On Oct. 19, Ocasio-Cortez wrote, "Anyone want to play Among Us with me on Twitch to get out the vote? (I've never played but it looks like a lot of fun)." Her replies were almost instantly flooded with messages from some of the top players in the industry, resulting in a plan to play with a group comprised of herself and Omar, plus Pokimane, Hasanbi, Dr. Lupo, and more.
If you're unfamiliar, Among Us is a hugely-popular strategical deducation computer game, where players are assigned a role: imposter or crewmate. Imposters are embedded in a group of crewmates with the goal of elminating them one by one — without getting caught. The players can come together to discuss who they think is safe and who's a threat. Guess correctly, and you can win. Guess wrong, and you put your whole crew at risk to lose.
Ocasio-Cortez was playing a much deeper, more important game than what we saw onscreen. She brought in over 430,000 concurrent views on her own, and her efforts were magnified by the team of streamers she worked with, resulting in a reported 700,000 concurrent views. Her Twitch video alone has gained over 5 million views in less than 24 hours. For reference, that's approximately the same amount of people who watched The Bachelorette season premiere last week — and Ocasio-Cortez wasn't on cable TV.
The New York representative is often lauded as being more in-touch with young Americans than longtime politicians, and moves like this certainly help underline that point. She met a massive, captive audience where their interests are. She gave them essential resources to help create a voting plan and directed them to IWillVote.com. She spoke their language, and quite possibly, made the prospect of casting a ballot a little less intimidating. That's a long-game strategy that's more clever, more empowering, and more necessary than any sh*t an imposter could pull.
Voter turnout is an issue every American should care about. Ocasio-Cortez's step into the gaming world is a reminder that there is so much potential out there for reducing fear and sowing helpful information, even as suppression runs rampant. If she can find this unpaved territory, I certainly feel more emboldened and motivated to step outside my comfort zone — and the next time Ocasio-Cortez starts a Twitch stream, you can guarantee this non-gamer will be tuning in.