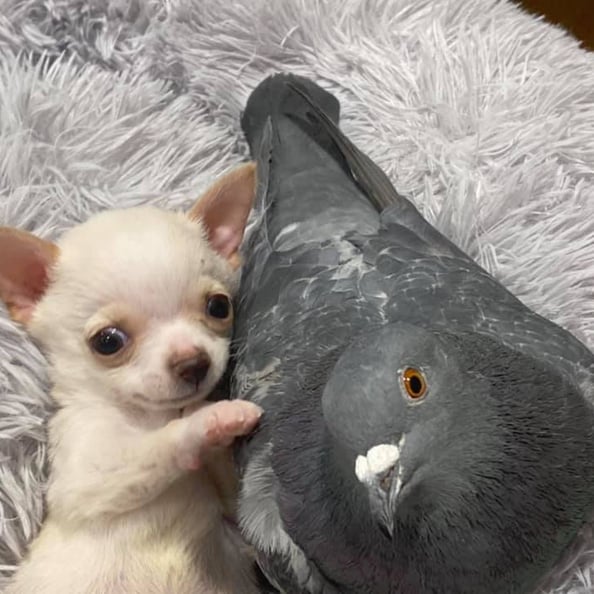 Sometimes the most unexpected friendships are the most heart-warming to witness. Such is definitely the case with Herman the pigeon and Lundy the Chihuahua. The two animals have mobility issues — Herman can't fly, and Lundy has difficulty walking — and they recently met at The Mia Foundation, a New York-based nonprofit that helps animals with birth defects. Ever since first crossing paths on a dog bed at the shelter, the two have been inseparable, sharing cuddles and forming the most precious bond.
The Mia Foundation launched back in 2012 as a way for its founder, Sue Rogers, to honor her late dog Mia, who was born with a cleft palate. Lundy and Herman are just two of the more than 1,000 animals Sue has rescued through the years, and she hopes to have 8-week-old Lundy adopted once she figures out a solution for his inability to walk, according to People. Finding Lundy a forever home shouldn't be too difficult now, seeing as his sweet friendship with Herman went viral on Facebook after Sue shared a few snaps of the duo hanging out.
Ahead, see all of said snaps — and a few videos, too! — to witness 2020's most lovable pair in action. And if you're interested in helping more disabled pets like Herman and Lundy live their lives to the fullest, visit The Mia Foundation's website to donate.