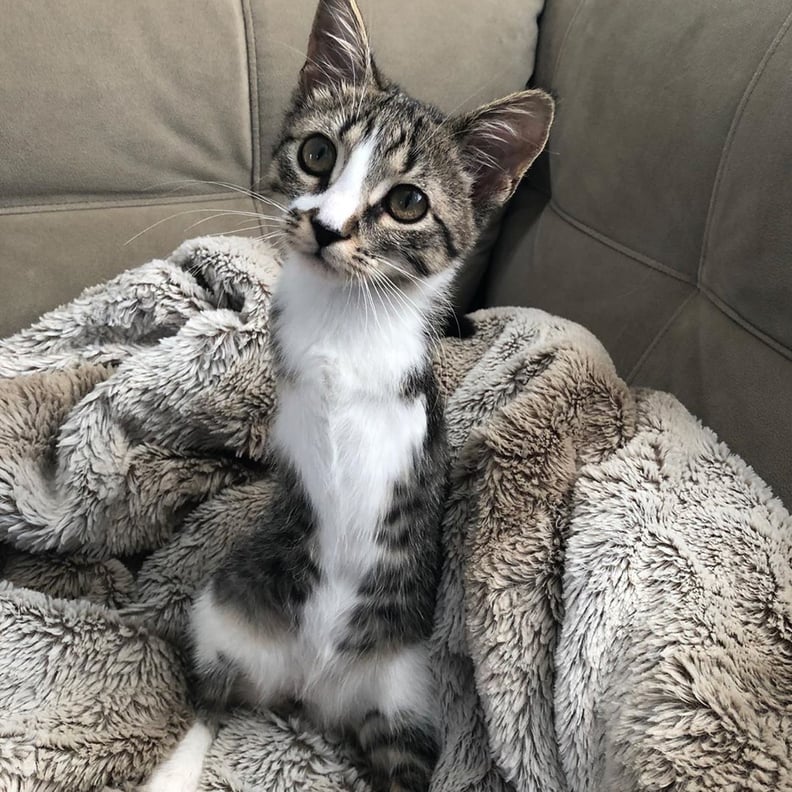 At 6 months old, Duck the rescue kitten is absolutely thriving thanks to a family of humans and animals who love and support her, but the double-amputee's fate was almost much darker. At just a couple of weeks old, with one front leg degloved and the other severely broken, Duck was almost put down. Duck's new owner says an amazing surgeon helped to save her life, and though Duck was originally meant to be a foster as she was recovering and adapting to life on her hind legs, it turns out she found her forever family right away.
"It was pretty much a foster fail immediately," Duck's owner told POPSUGAR. "After seeing all of her willpower and perseverance coming from such a small, tough little kitten, I fell in love. She never lets anything slow her down." The sweet cat uses her mouth a lot in place of her front paws and has adapted well, though she does struggle with one particular instinct: the urge to bury after using the litter box. "It's the saddest thing ever because she tries and tries like she's moving her arms but nothing happens," Duck's owner said. "So anytime I see it I run over and flick some litter on it for her, then she's satisfied."
Duck — who goes by @purrasicduck on Instagram because she resembles a dinosaur perched on her hind legs — has also learned a lot from her animal siblings (she has three dog, one cat, and five hen sisters!). "She also fell in love with the dogs and they love her just as much, so that helped. My Frenchie rescue, Bimini, is probably her favorite because she's the only one that will play a little rough with her. Those two play nonstop all day, every day. The dogs have now taught her how to beg like a seasoned pro and they all come find me as a pack for breakfast and dinner. She loves to get outside during the day and lay out with all my chickens."
Keep scrolling to see the cutest videos and photos of Duck, and follow her adventures on Instagram!
This Video of Duck Discovering Catnip
This Video of Duck Running to Breakfast
This Video of Duck Giving Her Frenchie Sister a Bath
This Video of Duck Attempting to Attack Her Human
This Video of Duck Giving Kisses to Her Golden Retriever Sister
This Video of Duck Playing in a Bag
This Video of Duck Getting Spooked by Her Frenchie Sister
This Video of Duck Trying to Figure Out How Fetch Works