This Orvis Dog Bed Is the Only One My Puppies Like | Review
My Puppies Destroyed Close to a Dozen Dog Beds — Until I Brought Home the Orvis
As POPSUGAR editors, we independently select and write about stuff we love and think you'll like too. If you buy a product we have recommended, we may receive affiliate commission, which in turn supports our work.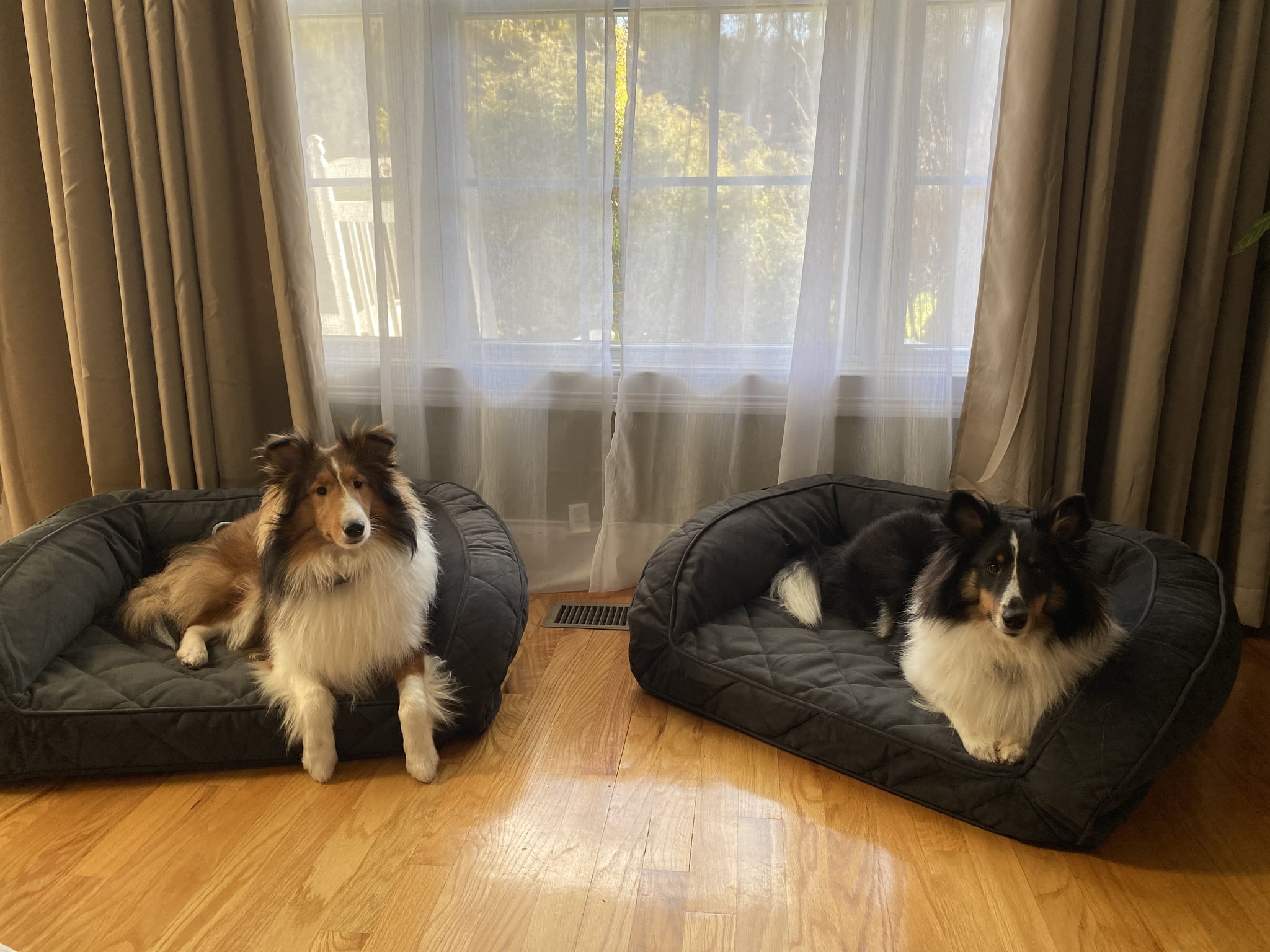 It was a cold morning in November when yet another delivery truck dropped off yet another pile of boxes outside my garage door. Inside the boxes were dog beds nine and ten for my Sheltie puppies, Rocky and Georgie, aka "the boys." We thought we had gotten everything we needed for our new additions, but in the seven months they've been here, they've managed to destroy every single bed we've bought for them. So when these two beds arrived and I opened the boxes to find them both devoid of any stuffing, I knew it was time to do my research and find something more reliable. I needed something high-quality, comfortable, and durable enough to carry the boys through their adolescence. After spending hours researching my options, I finally found it at outdoor and adventure specialty store, Orvis. Their Orvis Memory Foam Bolster Dog Beds ($229 and up) are a splurge, but well worth it since the company has been around since 1856, and knows a thing or two about quality.
Since the pups came home, we had frequently been purchasing dog beds averaging between $40 and $79. None of them were a match for your typical puppy chewing and sharp little nails. Too often, we would leave the room for a brief few minutes, and come back only to find the floor strewn with polyester stuffing; the boys sitting proudly next to their freshly disemboweled beds, tails wagging and tongues lolling. Anything made of your standard cotton or fleece didn't stand a chance in our house, which is what made these Orvis beds so appealing.
The Orvis bed covers are made using a durable, furniture-grade, quilted upholstery fabric that can be easily removed and tossed in the washing machine. And as for walking into a room and finding stuffing everywhere, never again since these beds are filled with a single piece of open-cell, orthopedic memory foam as opposed to fluff (or even chunks of foam). The insert is covered with a hypoallergenic, water-resistant liner which keeps the memory foam clean and dry. Like the cover, it also unzips for easy removal and washing in the event of any accidents.
Rocky and Georgie are still young, but we love knowing that as they get older, these beds will provide support for their joints and muscles, relieve pressure points, and improve their circulation. The boys both clock in at around 25 pounds, so we opted for the small bed, (which is recommended for dogs up to 40 pounds) in their slate color. We also chose to have them personalized because, well, why not? The boys love lounging on their beds while we continue to work from home, and, in turn, we love having beds that don't have to be replaced every few weeks.
Image Source: Marisa Hillman