Why Me and My Dog Love the Himalayan Dog Chews | Review
This Four-Ingredient Cheesy Chew Stick Is My Dog's Favorite Long-Lasting Snack
As POPSUGAR editors, we independently select and write about stuff we love and think you'll like too. If you buy a product we have recommended, we may receive affiliate commission, which in turn supports our work.
As a pet parent, I am constantly searching for the next best dog products to pamper my pup with. Harnesses, leashes, toys, treats – I've researched them all. So when my boy Ace started chewing on my furniture as a puppy, I knew I was in the market for a healthy, long-lasting chew stick that would hold his attention and save my coffee table's legs. We tried jerky sticks, bully sticks, rubber bones, and more, but everything either smelled terrible or was gone after thirty minutes of chewing. What's a girl and her Havanese to do?
Then, I found Himalayan Dog Chews ($17, originally $35). These dense, solid sticks are made out of yak's and cow's milk cheese, and Ace just can't get enough of them. I order a new pack of three sticks every three months, which is just enough time for him to get to the end of his current sticks. When he's almost finished with a stick, I pop the end piece in the microwave to make a doggy cheese puff. Ace loves the lighter texture – and I love that the treats are good to the last bite!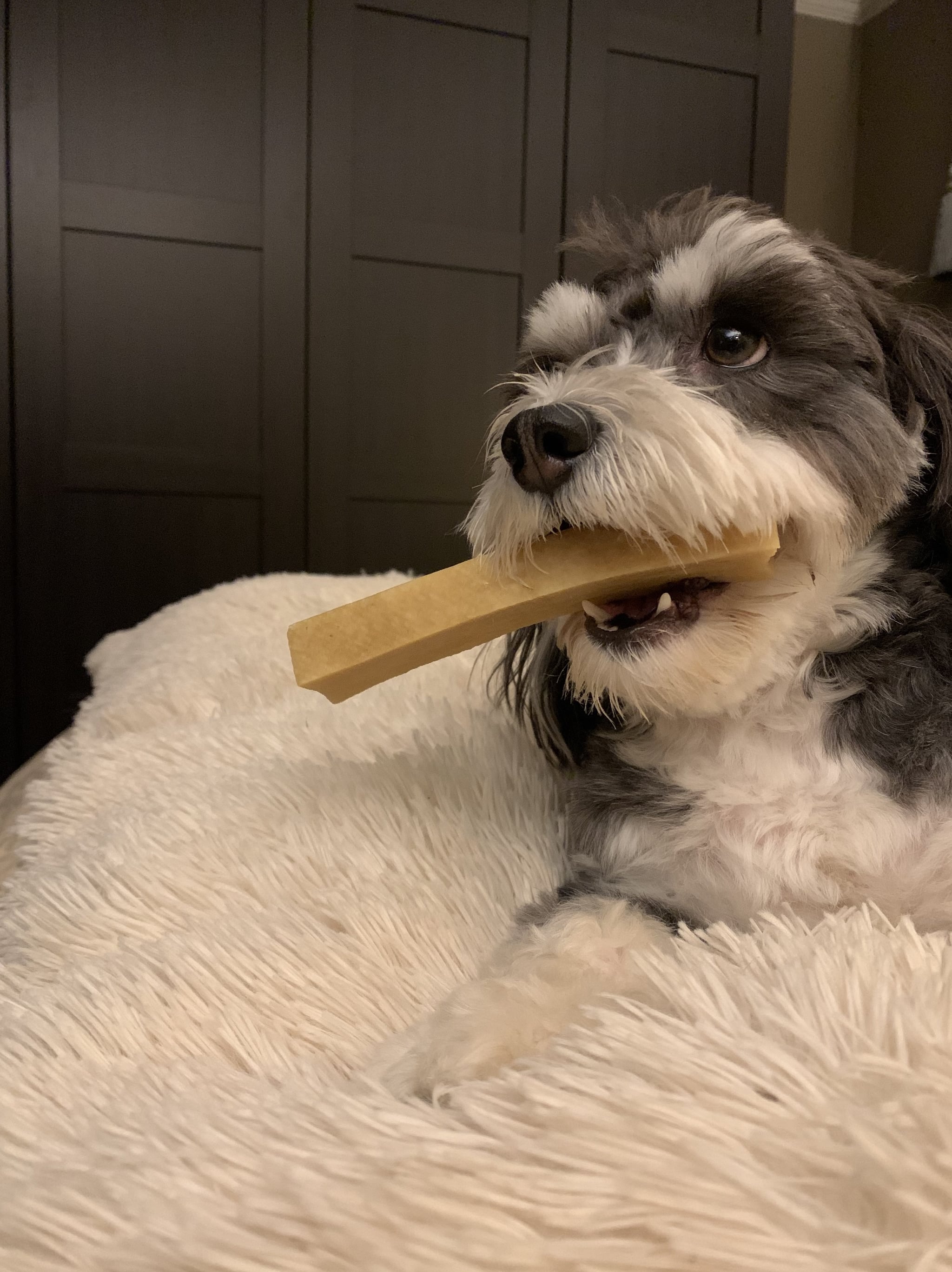 These chews are great for dogs with food allergies or for pups on a diet because they are grain-free, soy-free, and corn-free. Each stick contains only four ingredients, so there aren't any harsh chemicals or preservatives that might upset your puppy's stomach. Even better, they don't smell and they won't stain your furniture, which means your dog can enjoy them anywhere in the house.
For me, the only drawback is that the sticks aren't fun to step on when my dog leaves them in a high-traffic area. But they're a great way for him to burn some energy and keep himself entertained while I'm busy, which makes them worth it. And, to be honest, I'll do just about anything to see him hold one of these massive cheesy sticks between his tiny paws!
Image Source: Sarah Felbin