Pet-Friendly Holiday Decoration Tips
Decoration Tips That'll Save You an Emergency Trip to the Vet This Holiday Season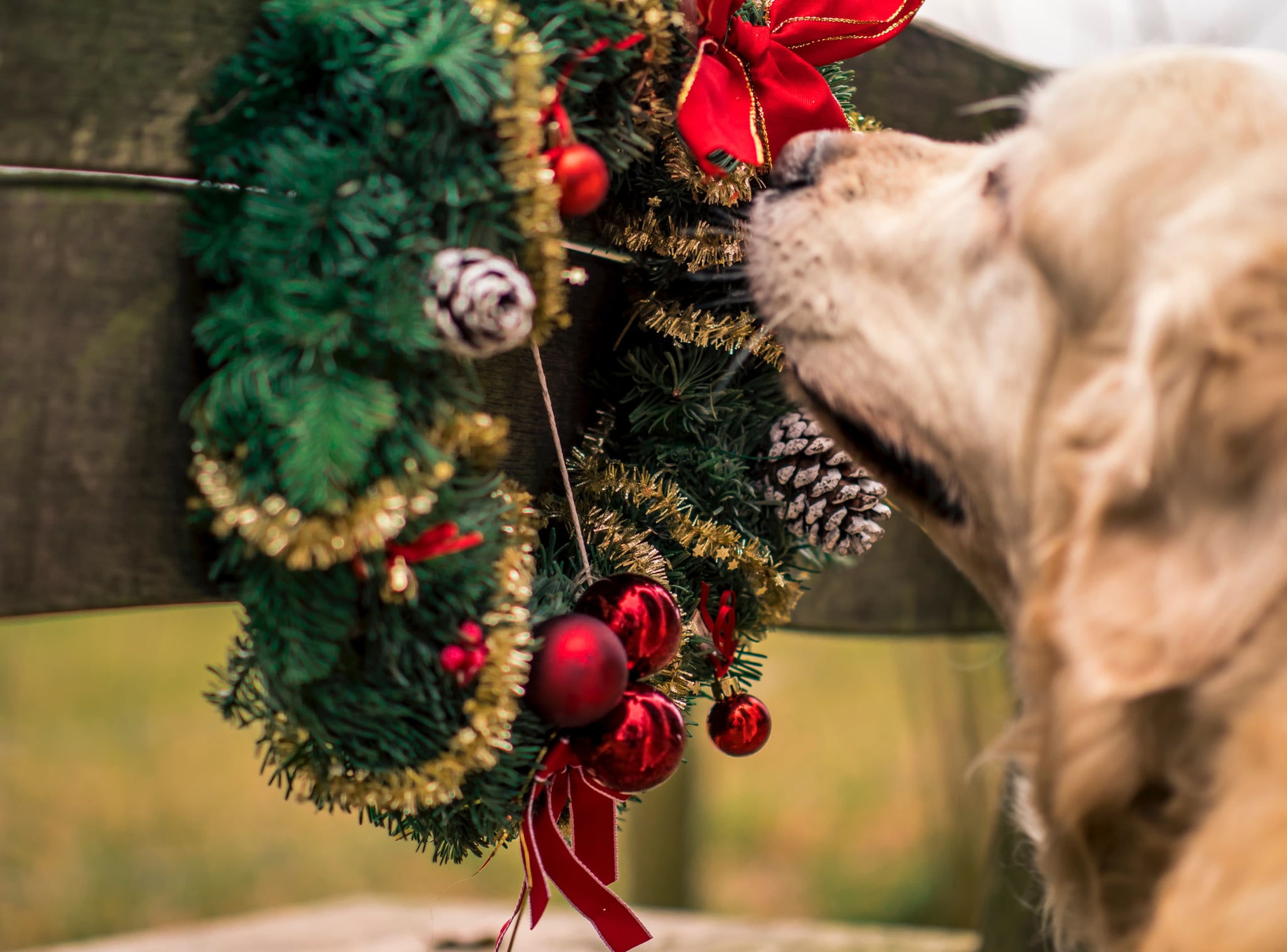 As a pet owner, you're probably aware that sneaking your furry friend a bite of food off your plate or a lick of spiked eggnog can be extremely toxic for them. However, food isn't the only thing you should keep a watchful eye on during the holidays. Decorations can be just as dangerous and harmful, too. The holiday season should be a time filled with merriment and joy, not trips to the emergency veterinarian. To avoid any mishaps, POPSUGAR spoke with Stevie Aitken, DVM, a small animal and emergency veterinarian based in Arkansas, for helpful holiday decorating tips.
What Types of Holiday Decorations Are Harmful or Toxic For My Pet?
You might be surprised to hear that many traditional decorations are not safe for pets. Just like with human food, certain things can be harmful or even toxic for our animals, and one of the most dangerous things are plants. Dr. Aitken recommends skipping poinsettias as well as yuletide plants including holly, mistletoe, and rosemary. If ingested, it could lead to vomiting or diarrhea, particularly in smaller pets where a single berry or leaf could kickstart bowel movements immediately.
Artificial snow is also a big no-no, especially if you have a cat. "Fake snow can be very toxic if ingested in large amounts," explained Dr. Aitken. "If you notice your cat chewing on a branch or little fake snow pieces, watch for gastrointestinal symptoms or any difficulty walking, including seizures." Additionally, tinsel can be very scary for felines because it can get stuck in the intestinal tract, which can actually cause enough friction to puncture holes in the intestines.
Other potentially harmful holiday decorations you should keep in mind are Christmas lights and extra wires or cords; burning candles; sugar-free candies that contain xylitol; lilies; and your Christmas tree. If your pet comes into contact with any of these, it's best to reach out to a vet or visit an emergency animal hospital for accidents requiring immediate attention.
Where's the Safest Place to Put My Decorations?
The easiest way to make sure your pet won't have a possible run-in with potentially dangerous holiday decorations is by placing your decor out of reach, Dr. Aitken said. Focus on decor that won't shatter if bumped into. Or if you have table decorations, make sure they won't cut a foot or paw if your pet accidentally knocks it off the coffee table. The same applies for standing decorations that may topple easily.
Dr. Aitken recommends battery-operated decorations without extended cords or wires as a great way to avoid pets chewing on something they shouldn't, and that could later result in a shock or burn. To avoid accidental ingestion of toxic materials or chemicals, fake plants are a smarter alternative to the holiday plants we mentioned earlier. "A good rule of thumb is if you wouldn't have the holiday decoration around a baby or toddler, you should probably avoid having it around a pet," Dr. Aitken advised.