During this period of uncertainty, I've felt the benefits of having my five cats and Black Lab, Yogi, around more than ever. Although I usually work from home a few days per week, I've found myself going a little stir crazy these days. The best instant medicine for my feelings of anxiety? A few minutes spent petting — and er, photographing — my cats.
My pets are also an amazing asset to my new nightly routine. Whether I'm reading a book on my Kindle or watching episode after episode of The Sopranos reruns, one of my pets will join me on the couch. When days seem to melt into each other, it helps to have little positive, memorable moments to break up my time spent indoors. (Not to mention, they're fun to pet!).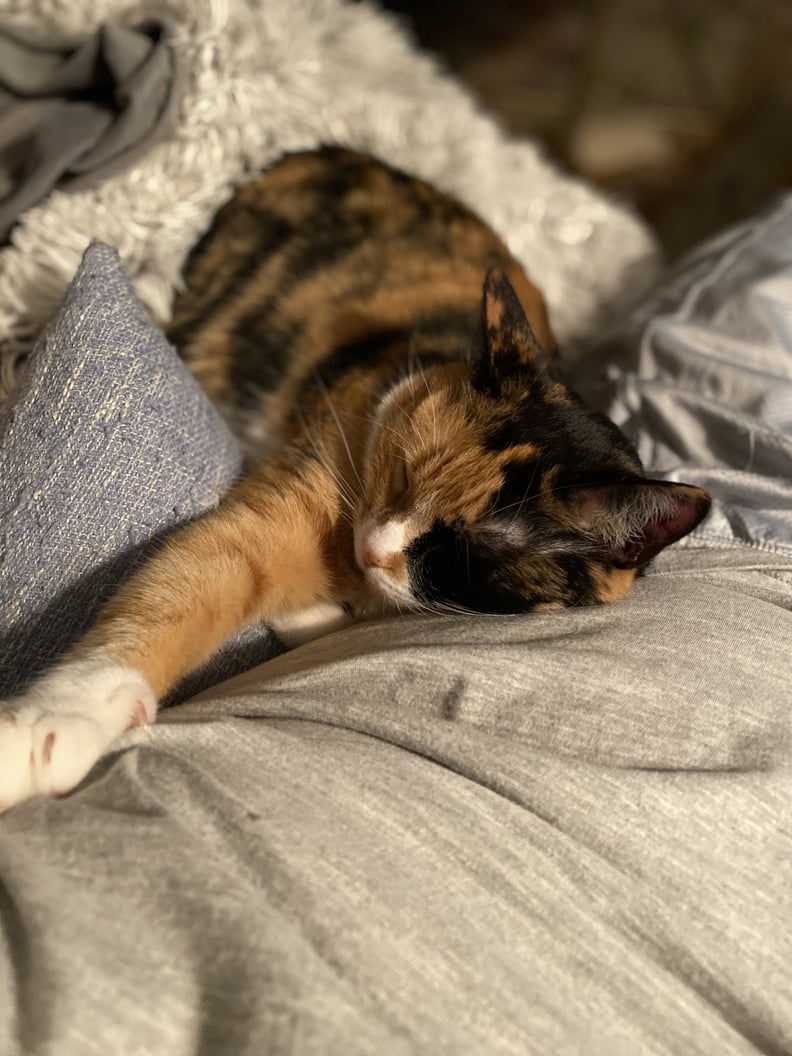 Yogi has helped me maintain a sense of balance the most. Because I live in a three-floor walkup, I don't have a yard for him to run around in. That means I have to walk him at least twice a day at minimum . . . even if I don't necessarily want to go outside.
"It helps to have little positive, memorable moments to break up my time spent indoors."
When I'm busy working from home, sometimes the hours fly by. By the end of the day, I just want to curl up with a good book, even if I really could use the fresh air. Having a dog makes me get off my butt and go for at least a stroll around the block, and I always feel a thousand times better once I get back inside. Plus, my daily walks give me a few minutes away from my computer and prevent me from checking my phone for a few minutes — something we should all be doing right now! — and I truly need that mental break.
Another aspect of pet ownership that's helped me through social distancing? All of the animal groups I'm a part of on social media. Given the overwhelming amount of scary — and often negative — articles popping up on my newsfeed every few minutes, I love seeing photos of cute cats in the Facebook groups Cat Crazy! and This Cat Is CHONKY that make me smile. Pets bring so much positivity to so many owners' lives, so sharing photos and stories with strangers over the internet gives me some much-needed joy. Sometimes you just need a sense of community, even if it comes in a virtual form.
Given how much happiness my pets have given me over the last few weeks, now is an incredible time to consider fostering or adopting a pet if you can swing it financially. In fact, some companies like Smalls — a cat food brand — will even hook foster parents up with a free 30-day supply of food and toys. With so many rescue groups eager to place pets in temporary or forever homes, fostering during self-isolation can benefit both pets and humans.