This Guy's Mesmerizing Pottery Videos Have TikTok Feeling Both Impressed and Thirsty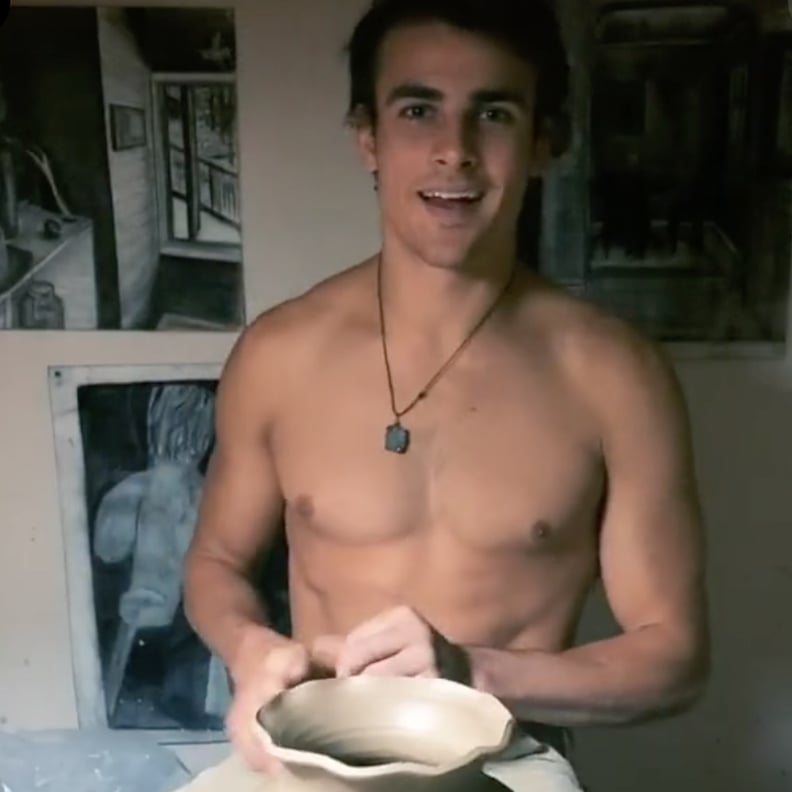 If Paramount Pictures is interested in releasing a Ghost remake anytime soon, we've found the perfect modern-day Sam Wheat to re-create *that* pottery scene: Abe Lowham. A 22-year-old student from Lander, WY, Abe has been captivating TikTok users far and wide with his soothing ceramics-making videos for over a year now, building up a fanbase of more than 400,000 followers. Not only are his clips incredibly mesmerizing to watch — seriously, this guy really knows his way around a pottery wheel! — but he's also usually rocking sleeveless shirts or no shirt at all, making for an all-around A+ viewing experience.
Abe first became enthralled with creating clay masterpieces as a freshman in high school, learning the ropes from both his teachers and older brother, Eli. When POPSUGAR asked Abe what draws him to the art form, he said, "Throwing and forming pots on the pottery wheel is my favorite part of the process, but I also find a lot of enjoyment in pushing my limits and creating unique forms unlike other things I've done." An example of one particularly unique piece he finished recently? This crazy-cool sculpture of a carved structure surrounding a heart — just get a load of all that detailing!
Nowadays, Abe is studying both mechanical engineering and art, with a focus on ceramics, at the University of Wyoming. "Long term, I hope to be able to combine knowledge from both the majors into what I design and create," he said of his postcollege plans. Plus, he's thinking about starting an online series to teach people the ins and outs of pottery, especially considering how many of his TikTok followers express interest in the idea. Read ahead to enjoy some of Abe's most relaxing pottery videos, and be sure to scope out his Etsy shop to browse the ceramics whiz's for-sale creations.