This California Hike Leads You to a Dramatic 40-Foot Waterfall Rushing Into the Ocean​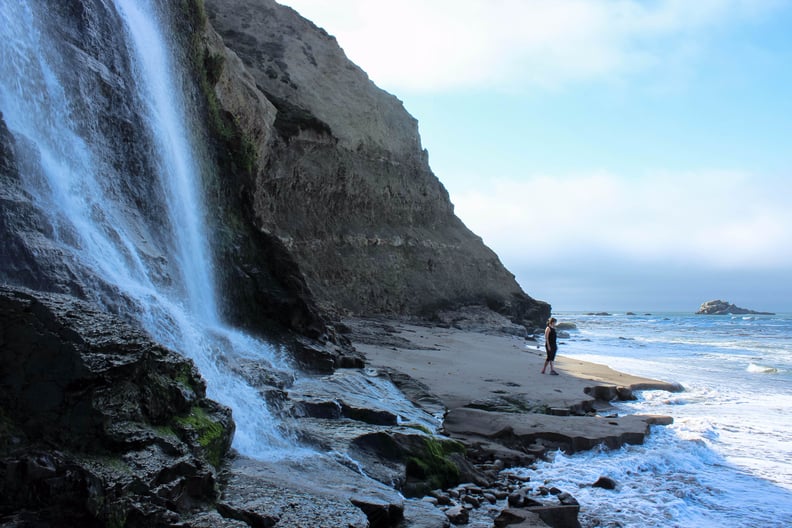 Kathryn McLamb
Kathryn McLamb
Forget visiting Fisherman's Wharf and all the other touristy hot spots the next time you're in San Francisco. If you're looking for the ultimate Bay Area experience, you've got to add "chasing waterfalls" to the mix of things to do. And thanks to its dramatic 40-foot cascade of gushing water pouring into the waves of the Pacific Ocean, there is no doubt Alamere Falls is the way to go.
Located in California's breathtaking Point Reyes National Seashore, this 8.4-mile out-and-back trail has become quite the trendy trek throughout the last year or so, and for good reason. With spectacular views of the coast combined with varying terrain through lush forests, tall brush, and exposed dirt trails, this hike offers an abundance of beauty. And as if one plummeting waterfall wasn't enough of a reason to embark on this excursion, there's a total of four. Sound enticing? Just wait — it gets better.
This wet-and-wild fun is only a short drive from San Francisco — one hour and 18 minutes, to be exact — making Alamere Falls the perfect excuse to escape the city hustle and reconnect with nature. So get ready to start dusting off those hiking boots, because everything you need to know about this trek lies ahead.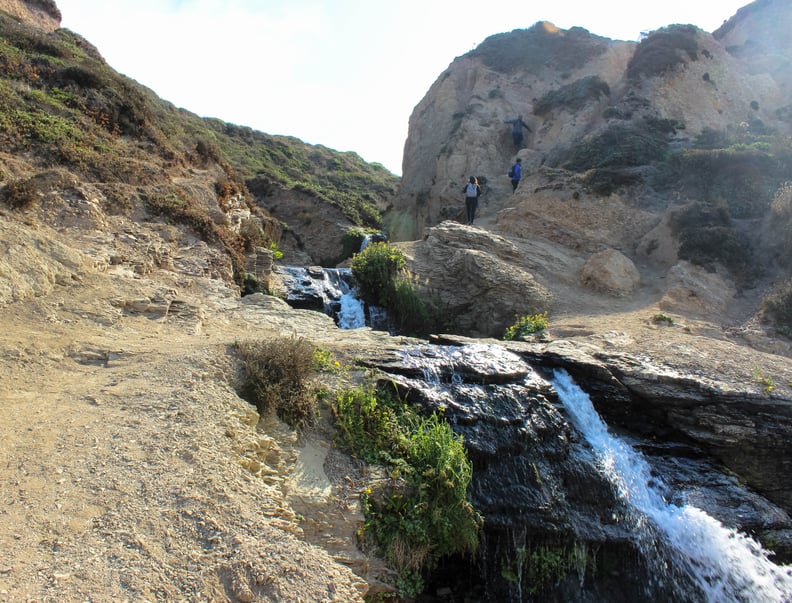 Now, before I go on (and on!) about how everyone needs to add this hike to their bucket list, it's important to keep the following tips in mind:
The most ideal place to start this hike is at the Palomarin Trailhead, which lies at the southern-most staging area on the Point Reyes peninsula. But be warned: the parking lots here fills up extremely fast, as this trailhead is the launching point for multiple hikes. So I highly recommend getting here earlier rather than later. My husband and I arrived around 8 a.m. on a Saturday, and to our surprise, there were only a few spots left to park. That said, definitely skip the snoozes the day of your hike because I've read that if the lots get too full, visitors might be turned away.
There are no restrooms on the trail — you know, besides making your own in a bush somewhere off the beaten path. So take advantage of the ones located in the parking lot at Palomarin Trailhead.
Make sure to bring lots of water, as there are no drinking fountains along this hike.
Don't forget to layer. Trust me on this one. This trail is notoriously known for poison ivy, so opt for wearing long sleeves and pants. I wore a tank top with a jacket and full-length yoga pants, which worked out great.
There is hardly (if any) cell service along the trail, so be sure to download the area's map on Google beforehand to assist with navigation.
Because conditions on the coast can change rapidly, it's a good idea to check for trail closures online before you leave your house. You can also check at the Point Reyes Ranger Station.
It's best to allow two to three hours each way to complete this hike, although it could take more or less time, depending on your desired speed.
One last piece of advice: When hiking to Alamere Falls, you have two trails options. One: you can follow the Coast Trail all the way to the Wildcat Campground, where you will then walk the seashore to the 40-foot waterfall. This option is pretty straight forward, with a total distance of 13 miles.
The second choice you have is following the Coast Trail until you get to the "shortcut" — also known as the Alamere Falls Trail. This shortcut will get you to the waterfall much faster, as this trail's total distance is 8.4 miles. The only drawback here is that it does require some scrambling, which I'll touch on more in the next few slides.
As you can probably guess, we chose the shortcut. While a large majority of people opt for this alternate route, it is critical that I point out the Point Reyes park staff do not encourage visitors to do so, as the Alamere Falls Trail is not maintained. Therefore, make sure to choose the path you're most comfortable with.
But let's face it: no matter how you decide to get to the falls, you're guaranteed an unforgettable experience!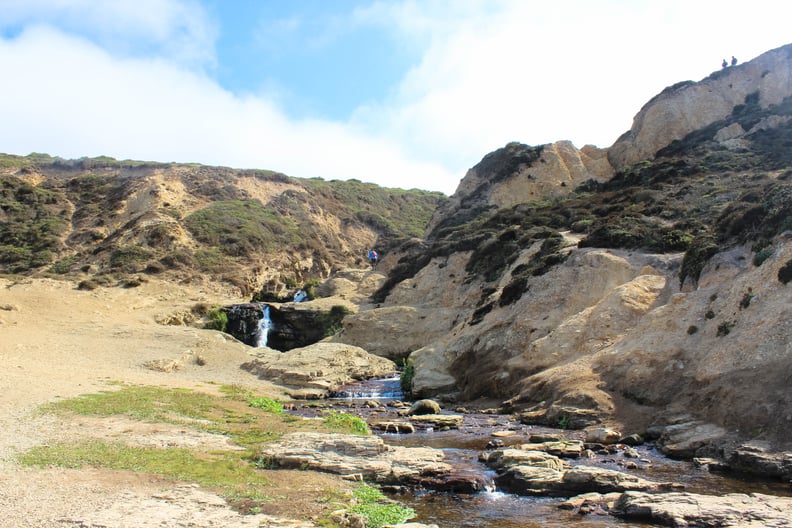 If you do decide on taking the shortcut, you'll need to keep your eyes peeled around the 3.5-mile mark for the Alamere Falls Trail junction. The tricky part here is there is no real sign pointing to this convergence. Instead, it's simply an arrow sign made of rocks pointing to the trail.
Since it's not guaranteed this pile of rocks will even be here during your hike — it wasn't very visible when we were making our trek — I strongly encourage you to download the map of this area on Google so you can follow your progress on the trail. Once you take this junction, you will then follow the trail until you eventually come to a coastal overlook. From there, you'll scramble your way down to the three smaller waterfalls and make your way to the edge of the cliffs where you will make your final descent.
But let's say you do intend to take the shortcut yet end up missing this junction. Fear not; it's OK. This just means you'll be taking the longer way and will continue on the Coast Trail until you get to the Wildcat Campground, where you will then proceed south along the beach to the 40-foot waterfall.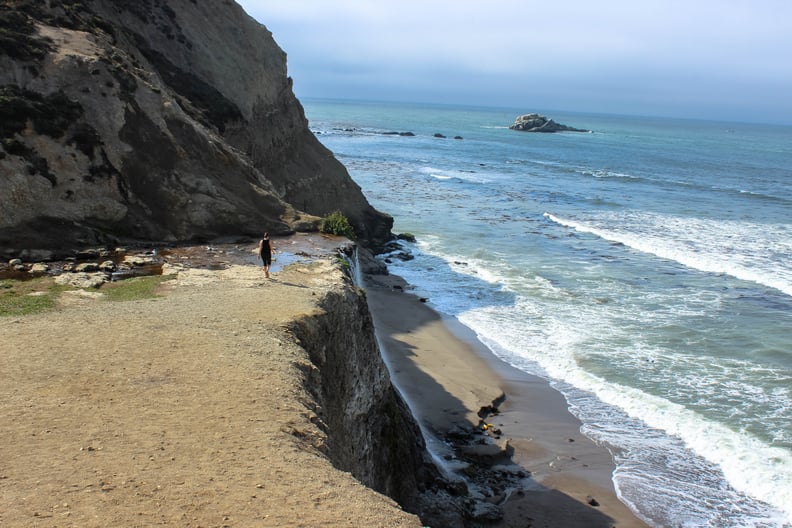 OK, let me be the first to say the Alamere Falls Trail is not for the faint of heart, especially if heights aren't really your jam. But if you do happen to be a lover of all things altitude, get ready to be amazed.
Not only can you creep your way as much to the coastal edge as you desire — sorry Mom! — but you'll also be able to witness the waters of the final fall plunging over the cliff. To say this overlook offers a unique perspective would be an understatement.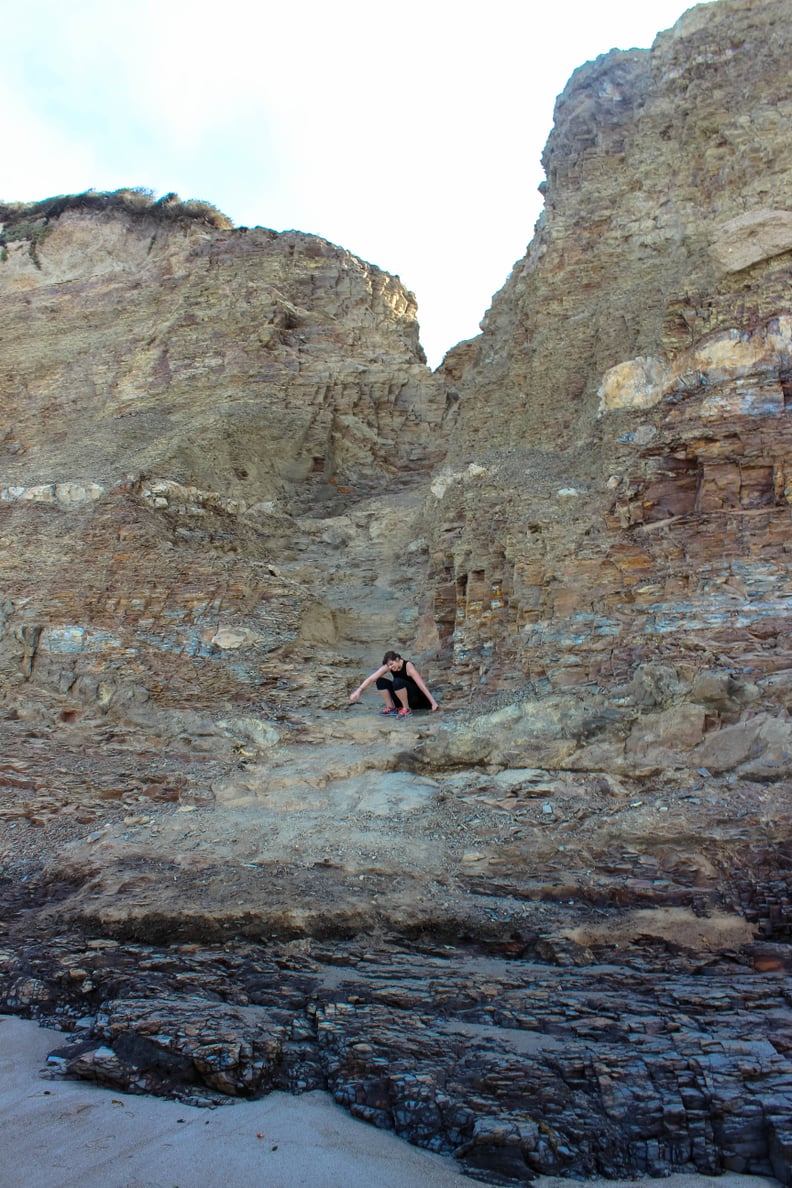 The challenge continues once you're ready to make your way to the shore. Here, you'll need to scramble about 60 feet down the gravelly, uneven cliff. I promise this isn't as intimidating as it sounds, but do yourself a favor and use your hands for more stability.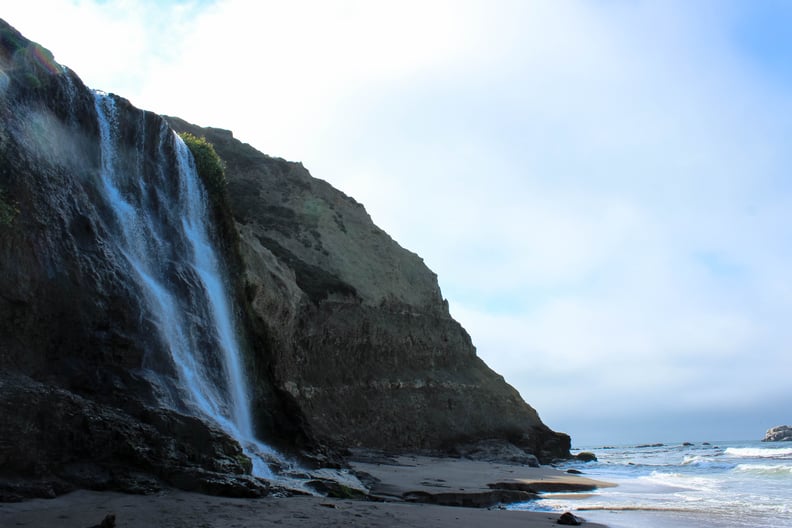 Trust me, all that scrambling will be 100 percent worth it once you've feasted your eyes on this mesmerizing waterfall. Don't be surprised if you become speechless. The rushing waters will do that to you. Just one glimpse will be all it takes to realize why this cascading beauty is considered the rock star of all Bay Area waterfalls.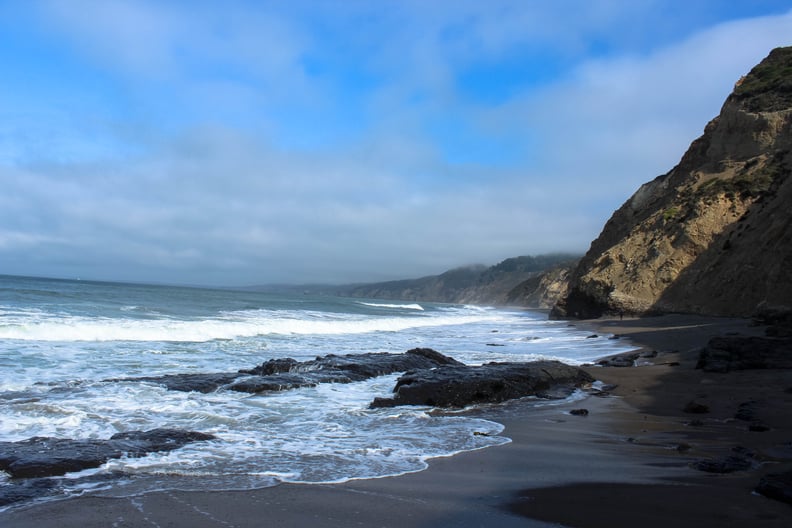 As captivating as the waterfall is in itself, don't forget to embrace your surroundings in every single direction. The rocky headlands. The expansive sandy beaches. The peaceful Pacific Ocean. You simply can't ask for a more serene setting than this coastal backdrop!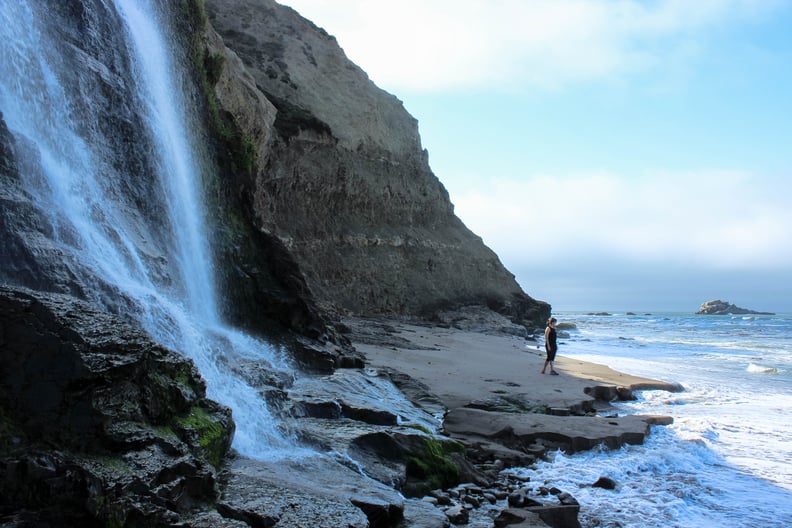 Another reason this hike is worth dragging yourself out of bed for? The earlier you embark on the trek, the more tranquil your experience will be. We ended up arriving to the beach around 9:30 a.m. and were greeted with a beautiful empty shore. However, I've heard the clusters of crowds start to roll in as the day progresses. So if you're yearning for some alone time with Mother Nature, aim to start your hike no later than 8 a.m.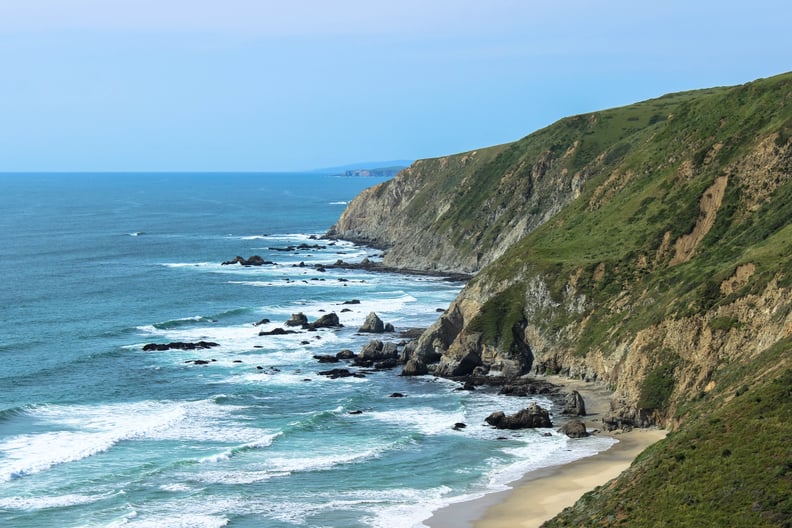 If you happen to be craving even more outdoor adventure once you've completed the hike, rest assured knowing that Point Reyes National Seashore has you covered. It's home to the Phillip Burton Wilderness Area, so visitors can explore over 33,000 acres of coastal grasslands, forested ridges, sand dunes, and rugged shoreline. And the best part? It's all at your fingertips ready to be explored.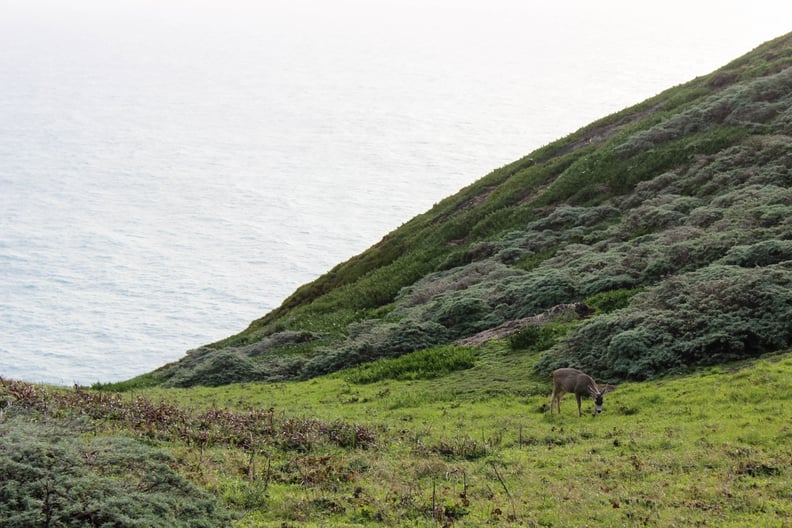 Of course, with such a massive amount of wilderness comes an abundance of wildlife. Harbor seals, waterfowl, and shorebirds are just a few of the many fascinating creatures you'll have a chance of meeting during your time here.
To complete your wildlife experience, I highly recommend making your way to the Tomales Point Tule Elk Reserve. Not only will you be able to embrace the beauty of wild elk freely grazing the grasslands, but this area will also offer sweeping views of the Pacific Ocean, Bodega Bay, and Tomales Bay. I'm telling you, gorgeous doesn't even begin to cover this sensational terrain.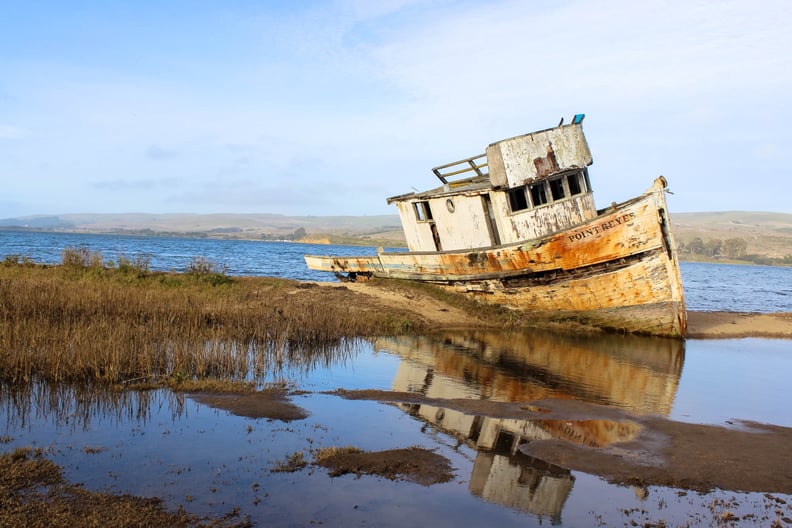 Lastly, don't forget to carve out time to visit the infamous Point Reyes Shipwreck. Beached on a sandbar in the small town of Inverness, this abandoned fishing boat was once in danger of being removed. Yet, thanks to a group of local photographers, this hauntingly beautiful decaying vessel is here to stay and warmly welcomes your curious mind!