25 Christmas Games to Play With Family and Friends
25 Merry and Bright Christmas Games to Play With Friends and Family This Year
As POPSUGAR editors, we independently select and write about stuff we love and think you'll like too. If you buy a product we have recommended, we may receive affiliate commission, which in turn supports our work.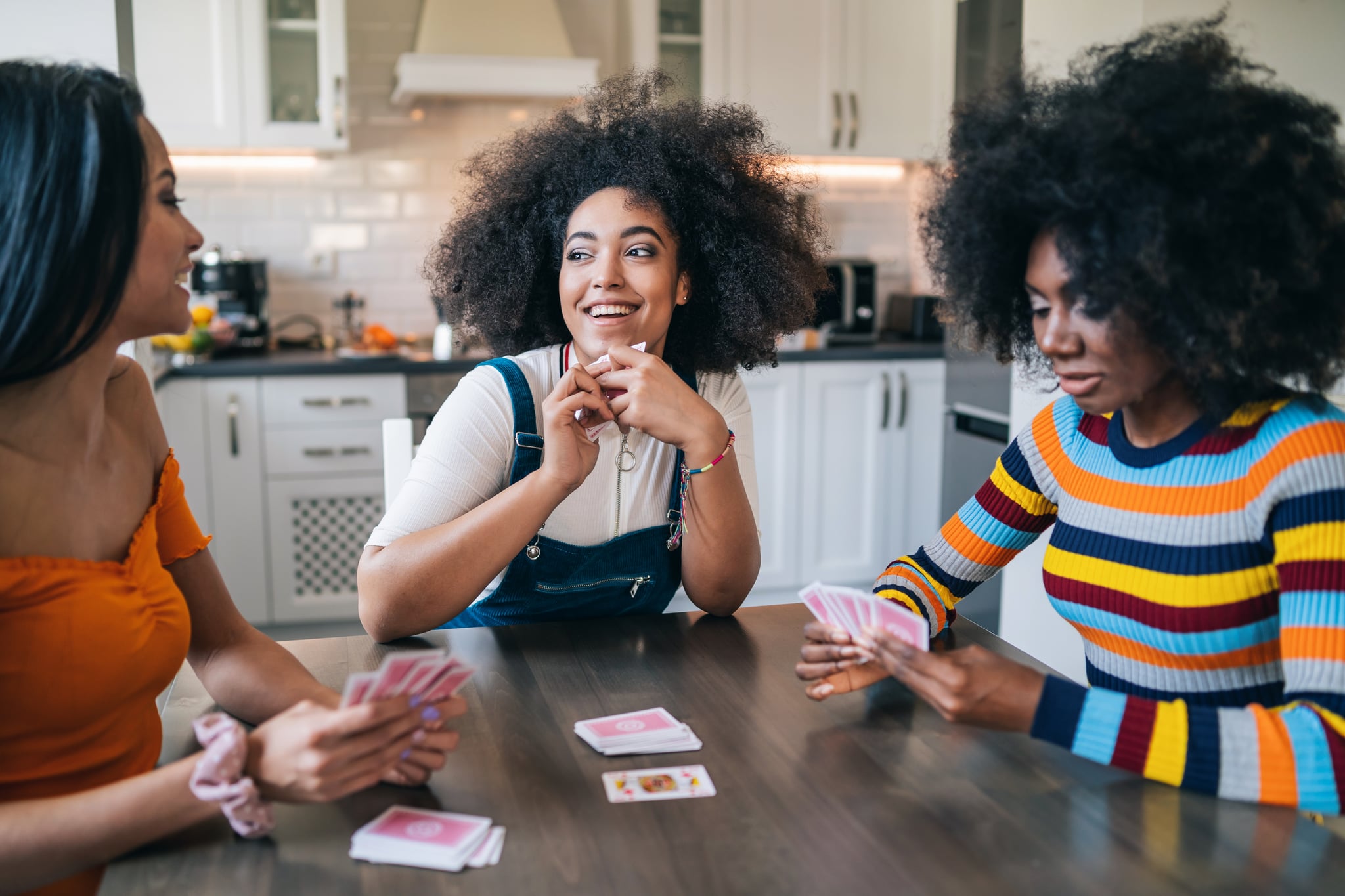 Christmas is all about spending time with your loved ones (and eating, we know), and one of the most fun ways to enjoy family and friend time is with a game. This holiday season, leave your boring, everyday games behind and instead opt for one that's designed specifically for Christmas. If you're thinking to yourself, "I can't think of any Christmas games," don't worry, we have everything you're looking for.
If your Christmas gathering is a group of your 20-something friends, we have ideas for fun games that are still pretty chill, moderately rowdy drinking games, and exciting old-school games that you may recognize with a festive twist. If your holiday plans call for a house full of family from all different generations, we have plenty of family-friendly games you can all play together, and fun will be had whether you're 5 or 85. We even have some fun games you can play out in the snow, if you're lucky enough to have a white Christmas.
Before you rip open all your Christmas gifts and tuck into endless Christmas desserts, play one of these fun Christmas games with everyone on your naughty or nice list.
Best Christmas Board Games
If you're a huge fan of board games, then we've got news for you: There are a ton of fun board games that are specifically designed for Christmas! But if you don't have one of those, there's no need to worry. You can easily turn any of your favorite board games into a wonderfully Christmas-filled version of the game by using festive game pieces and coming up with your own holiday-specific rules (loser has to make the eggnog!). Here are some board games that are perfect for playing this holiday season.
Best Adult Christmas Games
Whether they involve booze or are totally raunchy, these Christmas games are best played when there are no kids around.
Christmas-themed Would You Rather? — You can spice up this game by making it only about adult topics and throw in a Christmas twist.
Christmas trivia — Challenge your friends and family with how much they know Christmas history and traditions around the world.
Christmas Beer Pong — Make beer pong more festive by switching out your ping pong balls for jingle bells. You can also pick up a tasty holiday beer from a local brewery that's full of your favorite Christmas flavors.
Santa Hat Drinking Game — Put a Santa hat on the corner of your TV and put on a Christmas movie. Any time the Santa hat lines up with the head of the person on the screen, you all drink.
Christmas Games For the Whole Family
When the entire extended family is over to celebrate the holidays, bring out one of these games to pass the time as you're waiting for Christmas dinner to cook or after you've eaten and you need some time to rest your full bellies.
Christmas-themed Heads Up: Instead of using the app on your phone to play Heads Up, make your own cards with all Christmas-themed ideas for teammates to guess.
Christmas-themed Pictionary: You can also create your own holiday-centric ideas to draw for a festive game of Pictionary.
Antler Ring Toss ($11)
Christmas Bingo ($16)
Chubby Bunny — Stuff as many marshmallows in your mouth as you can. The one who fits in the most wins. Afterward, you can dump the rest in your hot cocoa!
Plastic Wrap Game — Wrap up a bunch of candy, money, and trinkets in many layers of plastic wrap. To play, one person starts unrolling the ball of plastic wrap to reveal their prizes while the next person in line rolls two dice. Once they roll doubles, the plastic wrap ball passes to them and they start unrolling to reveal their own prizes while the next person to play starts rolling the dice. Whatever you unroll while you have the plastic wrap ball is yours to keep.
Candy Cane Hunt — Hide candy canes around the house and whoever finds the most wins a prize (plus all their candy canes).
Outdoor Christmas Games
If you live somewhere that has snow, there are some incredibly fun outdoorsy games you can play with the entire family.
Sledding Race
Scavenger Hunt — Come up with clues that'll take the family out into the snow to find a prize.
Snowman-building Race — See who can build their snowman the fastest!
Snow Angel Contest — Everyone get into the snow and make as many angels as you can in an allotted time. Whoever makes the most wins.
Christmas Cornhole — Either redecorate your cornhole boards to a Christmas theme or get new beanbags with a Christmas print to put a wintry touch to this game.