25 Instagram Spots at Universal Orlando That Will Take Your Feed on a Wild Ride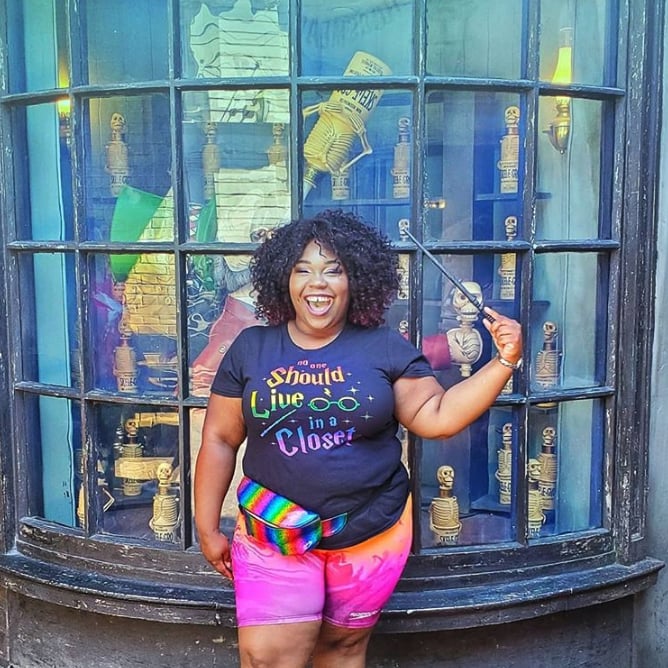 Walking around Universal Orlando Resort is an escape from the hustle and bustle of the outside world. The resort has beautiful hotels, two iconic theme parks featuring some of the world's best film franchises, and an absolutely stunning water park! Whether you're "Slytherin" inside The Wizarding World of Harry Potter or a beach bum for the day at Volcano Bay Water Theme Park, there are so many spots to grab the perfect Instagram photo to make all of your friends and family back home extremely jealous of your trip. Keep reading to see them all now, and don't be surprised if you're suddenly craving an ice-cold butter beer.
01
Universal Orlando Globe
The Universal Globe is a park icon. It's one of the first things you see before you enter Universal Studios Florida for an epic day of adventure.
02
Islands of Adventure Tower
The Islands of Adventure Tower is the other park icon for Universal Orlando Resort and great for pictures before you start your day.
03
Aventura Hotel
The entry to Universal's Aventura Hotel is beautiful, with shimmering glass and modern curves. Oh, and they have the perfect spot to sit outside to get a good photo.
04
Across From Hogwarts at The Wizarding World of Harry Potter
If you didn't get a picture near Hogwarts Castle, did you even go to Universal Orlando? This is the perfect spot to show off your house colors!
05
Storefronts on Diagon Alley
There are so many colorful storefronts throughout Diagon Alley that it'll be hard to choose which photo to post.
06
The Canals Around the Loews Portofino Bay Hotel
There's nothing like pretending you're in Italy in the middle of Orlando. The canals around the Loews Portofino Bay Hotel allow you to do just that by hopping on a supercute Vespa.
08
Volcano Bay Water Theme Park
Volcano Bay is easily one of the prettiest water parks in Orlando. Be sure to grab a picture in the wave pool with the volcano behind you (and preferably a drink in hand)!
09
The Entrance of Hogwarts Castle
If you time your night correctly, you can get this magical shot of fireworks and Hogwarts Castle.
10
Mel's Drive-In
With old cars and a supercute retro exterior, Mel's Drive-In is the perfect spot for a vintage-inspired photo.
11
A Butterbeer Cart
Butterbeer is a classic Universal treat. Grab one and take a picture near the cart for the ultimate Wizarding World of Harry Potter memory.
12
Inside Your Room With a View
Universal's Aventura Hotel boasts amazing views of the surrounding resorts and Volcano Bay. Take full advantage of this for Instagram.
13
Voodoo Doughnut
Fresh doughnuts are one of life's best pleasures. Be sure to snag a picture sitting in the oversize Voodoo Doughnut chair just outside the shop on City Walk.
14
Gringotts Bank at Diagon Alley
When you enter Diagon Alley, you'll find a giant dragon on top of Gringotts Bank. If you wait for the right moment, you can take a picture while the dragon is breathing real fire.
15
The Amazing Adventures of Spider-Man
Islands of Adventure has a huge Marvel-themed area, and one of the funnest attractions is The Amazing Adventures of Spider-Man.
16
Bar 17 Bistro
At the very top of Universal's Aventura Hotel, there's a rooftop bar with sweeping views of Universal Orlando and the city surrounding it.
17
With Suess Landing Cotton Candy
If you only do one thing at Seuss Landing, you need to get this brightly colored gigantic cotton candy!
18
The Knight Bus
Catch the Knight Bus just outside the entrance to Diagon Alley on the London Streets at Universal Studios Florida. Don your house colors for the perfect photo.
19
Seuss Landing
Throughout Seuss Landing, there are bright colors and supercute scenes to pop into to grab a picture. It's as if you stepped right into a storybook!
20
The Krustyland Marquee
Krustyland is filled with vibrant colors and fun little backgrounds. For a really fun shot, get one near the entrance to the main Krustyland attraction.
21
Hogsmeade Village
One of the most iconic parts of the Harry Potter universe is Hogsmeade Village. Grab a butterbeer and the perfect Instagram photo here to show your muggle friends.
22
Murals in Toon Lagoon
We love a good Instagram wall, and inside Toon Lagoon, there are quite a few comic-strip-style walls. We love the one with the blue background since it really pops while scrolling through your feed.
23
Toothsome Chocolate Emporium
Toothsome Chocolate Emporium not only has yummy treats and sweets, it's also super Instagram-worthy. The outside is done up in steampunk style, and we can't get over the smell of chocolate coming out of the doors as you walk by!
24
Hogwarts Express
The Hogwarts Express is the train that takes Harry Potter and his pals to Hogwarts School of Witchcraft and Wizardry. You can ride the train between the two Universal Orlando Resort parks, or snag a picture just inside Hogsmeade Village.
25
Honeydukes Sweet Shop
Honeydukes is one of our favorite spots inside The Wizarding World of Harry Potter. Not only does the candy and chocolate smell amazing but the shop is also so cute inside and outside!