The Best Laptop Stands For Better Posture and Productivity
As POPSUGAR editors, we independently select and write about stuff we love and think you'll like too. If you buy a product we have recommended, we may receive affiliate commission, which in turn supports our work.
Laptops have become an integral part of our lives, whether you're a student or a professional. And if you spend a significant amount of time working on your laptop, having a comfortable and ergonomic work setup is crucial. After all, you don't want to be hunched over your laptop with a posture that can lead to back and neck pains. That's why you should consider investing in a quality laptop stand for your desk setup. These stands can help elevate your laptop so you can sit properly and view your screen and type without putting a strain on your body. Although there are plenty of options on the market, we rounded up the best laptop stands ideal for your productivity needs. A laptop stand will elevate the screen to eye level, allowing you to maintain a proper and comfortable posture. Laptop stands also offer benefits for your laptop; they can help keep it cool by providing ample airflow around the laptop's bottom surface.
Ready to work more efficiently? We found a wide variety of laptop stands for your needs — whether you're looking for something with ample adjustability or that allows you to customize the height and angle according to your preferences or you want something more portable for working on the go. By providing ergonomic support and enhancing laptop performance, these stands can greatly improve your productivity and overall well-being. Keep reading to shop our top picks.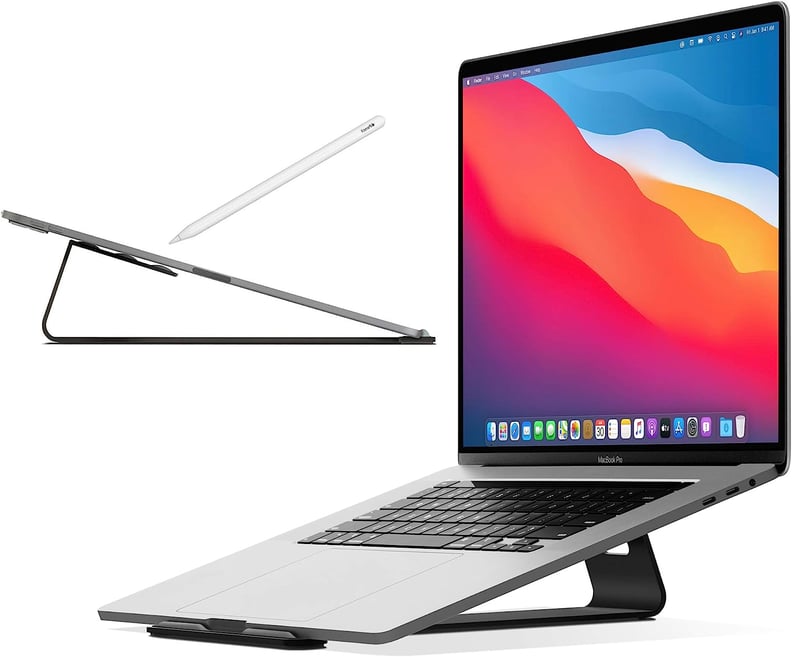 Best Laptop Stand That's Angled
Twelve South ParcSlope ($48, originally $60)
If you're looking for something simple that provides an angled view, the Twelve South ParcSlope is a great option to consider for an elevated view. This laptop stand also helps to increase airflow, so your device stays cool. It's designed with MacBooks and iPad Pros in mind, but it works with most laptops. Plus, the back of the stand has a cable management system to keep wires organized.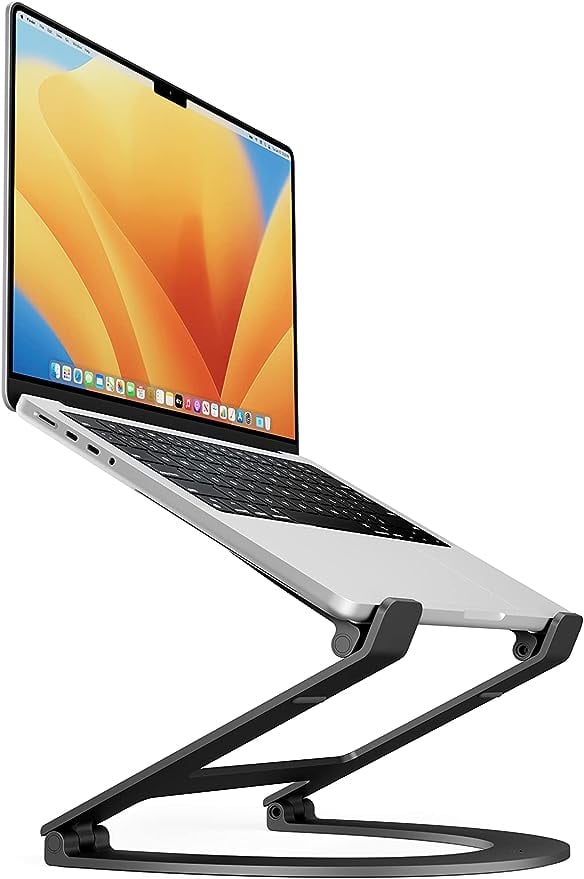 Best Laptop Stand For Height and Angle Adjustability
Twelve South Curve Flex ($80)
Looking for something truly ergonomic? This stand allows you to adjust your laptop height from two inches to 11 inches, so you can even have your own standing desk setup. It's compatible with laptops that are 10 to 17 inches and seven pounds.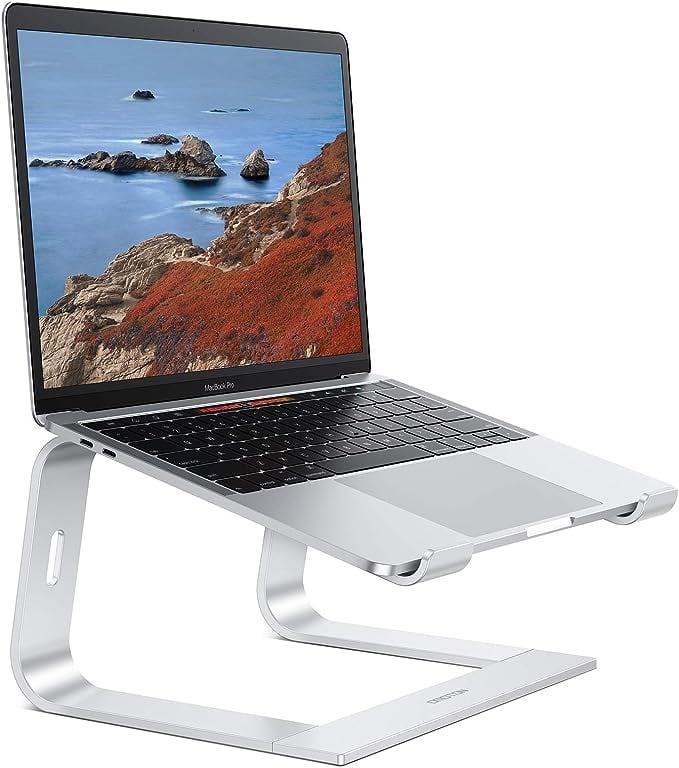 Best Laptop Stand That's Affordable
Omoton Laptop Stand ($20, originally $27)
If you're looking for a laptop stand that's a simple addition to your desk setup without breaking the bank, this Omoton Laptop Stand is an affordable option. Made from aluminum alloy, it's sturdy enough to hold up to ll pounds, and it's compatible with laptops that are 10 to 15.6 inches. It comes in four colors as well.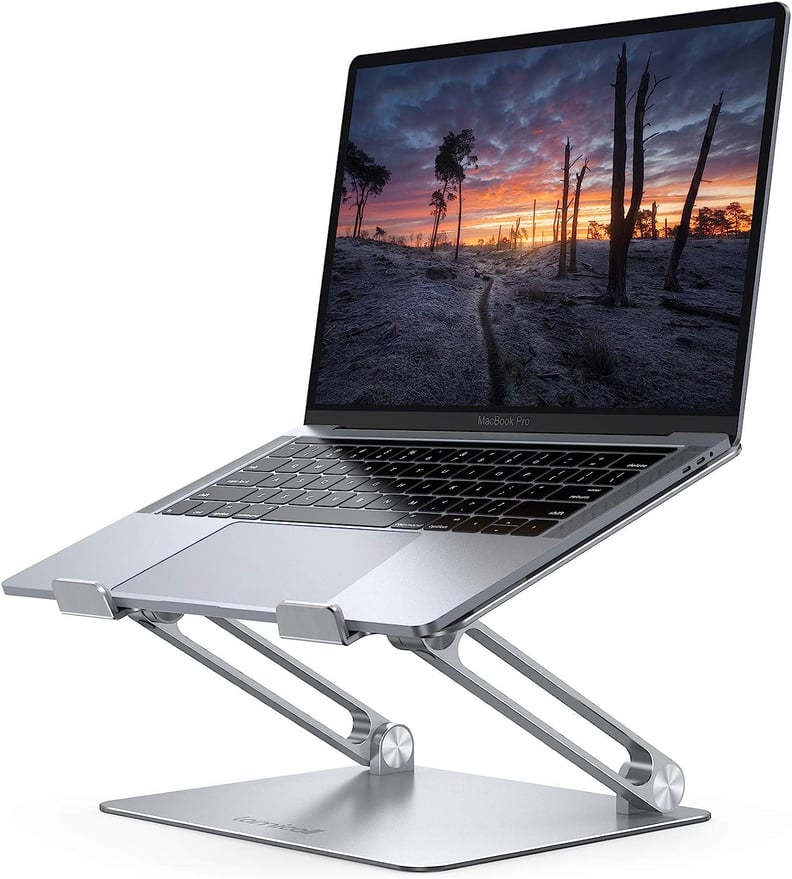 Best Laptop Stand That's Ergonomic and Affordable
Lamicall Adjustable Laptop Stand ($29, originally $40)
The Lamicall Adjustable Laptop Stand is a bestseller on Amazon, and it's ideal for those who want something ergonomic and affordable. You can use this with a wide range of laptops from 10 to 17.3 inches. You can adjust both the height and angle so you have the best view no matter where you're sitting. Plus, you can easily fold this down and slip it into your laptop bag for travel. It comes in five colors.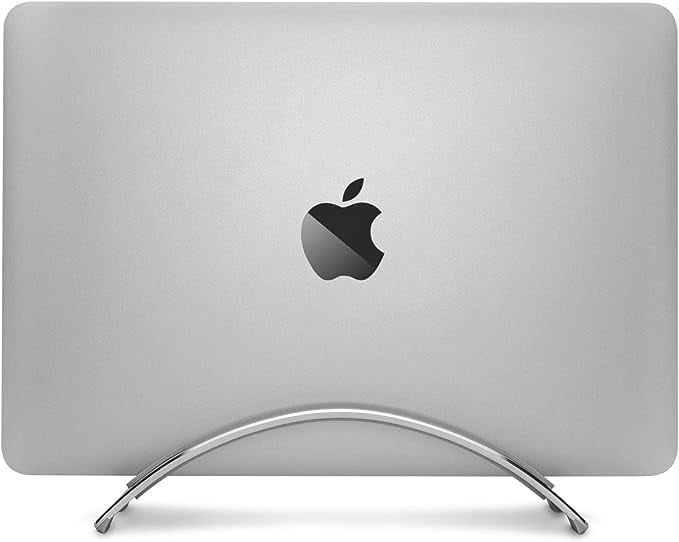 Best Laptop Stand For Saving Space or Monitor Work
Twelve South BookArc ($56, originally $60)
Although you may not be able to directly work on your laptop with a vertical laptop stand, this is useful for keeping your desk setup clean and minimalist, especially if you have a monitor. The Twelve South BookArc is a space-saving vertical stand that helps keep your desk organized. You can store your laptop away when not in use so you have a clean desk to work with. Compatible with most MacBooks, the BookArc also lets you utilize Apple's "closed-clamshell mode," so you can work from a larger monitor, keyboard, and mouse.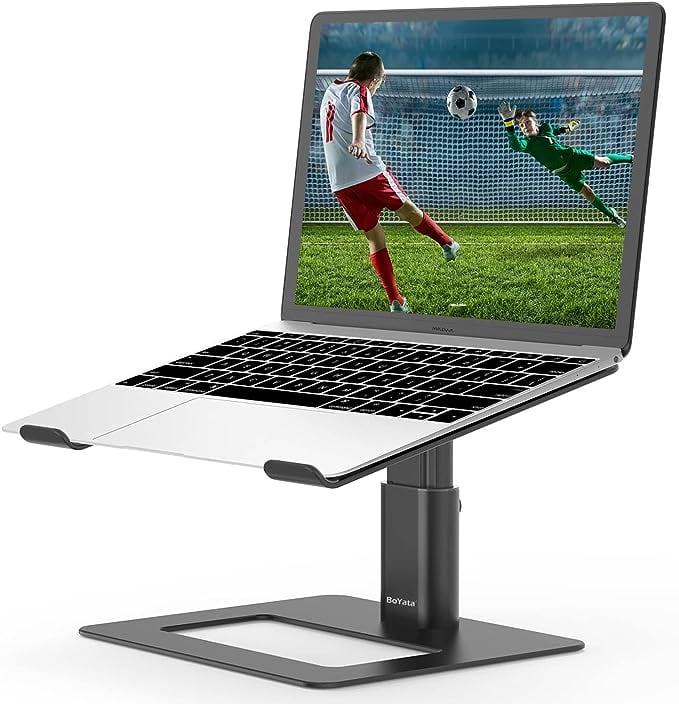 Best Laptop Stand That's Sleek and Height Adjustable
BoYata Laptop Stand ($26, originally $40)
The BoYata Laptop Stand is another Amazon bestseller for its easy height-adjusting capabilities. It can support up to 11 pounds of weight and fits a wide range of laptops ranging from 11 to 17 inches. Plus, you can get it in four different colors to match your office or desk aesthetic.
Best Laptop Stand For Dual-Screen Setup
Twelve South HiRise ($40, originally $80)
The Twelve South HiRise is ideal for a dual laptop and monitor screen setup since it can align your laptop to your larger monitor screen so you don't have to strain your neck. You can raise your laptop up to six inches with this one. The sleek laptop riser is made from sturdy aluminum and compatible with all MacBook models.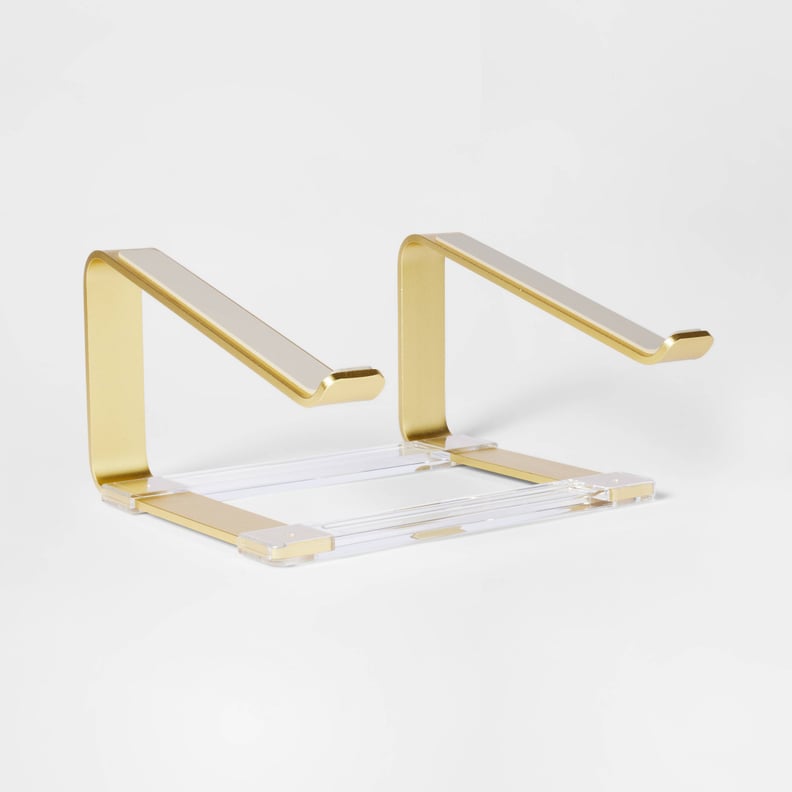 Best Laptop Stand That's Stylish
Threshold Acrylic Laptop Riser in Gold ($30)
Looking for something with a little pizzazz? This Threshold Acrylic Laptop Riser is a beautiful gold shade, and it's perfect for smaller desk setups. The riser has an acrylic base and can fit laptops up to 17 inches wide — plus, it's slightly angled and lifted so you can work in comfort and style.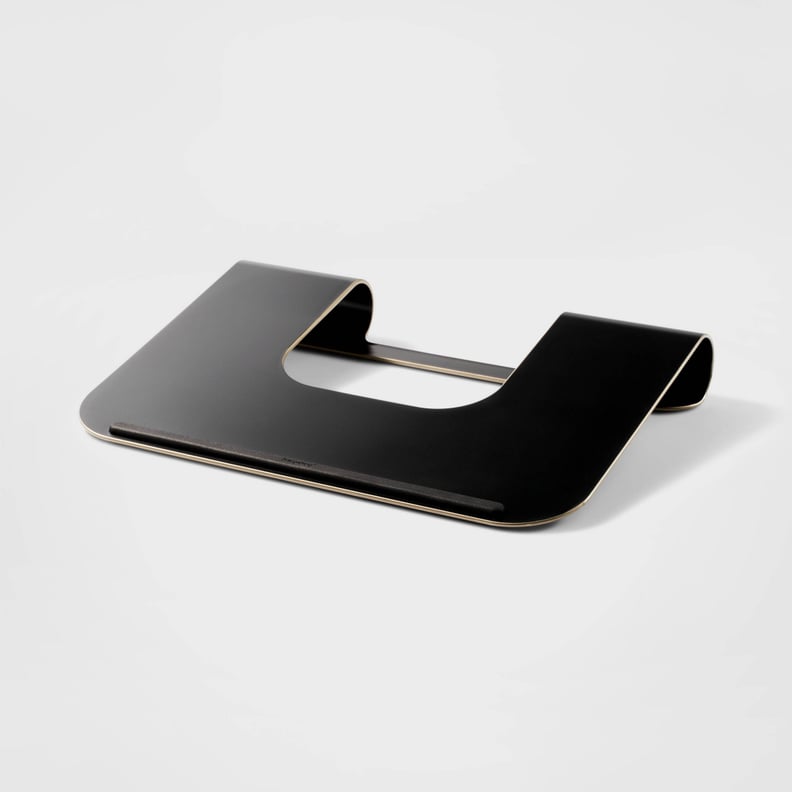 Best Laptop Stand That's Portable
Heyday Laptop Stand ($20)
If you're looking for a portable laptop stand or something that doesn't take up much space, consider the Heyday Laptop Stand. This product can hold laptops of up to six pounds and up to 16 inches wide. You can easily slip this into a work tote bag, a laptop bag, or a backpack.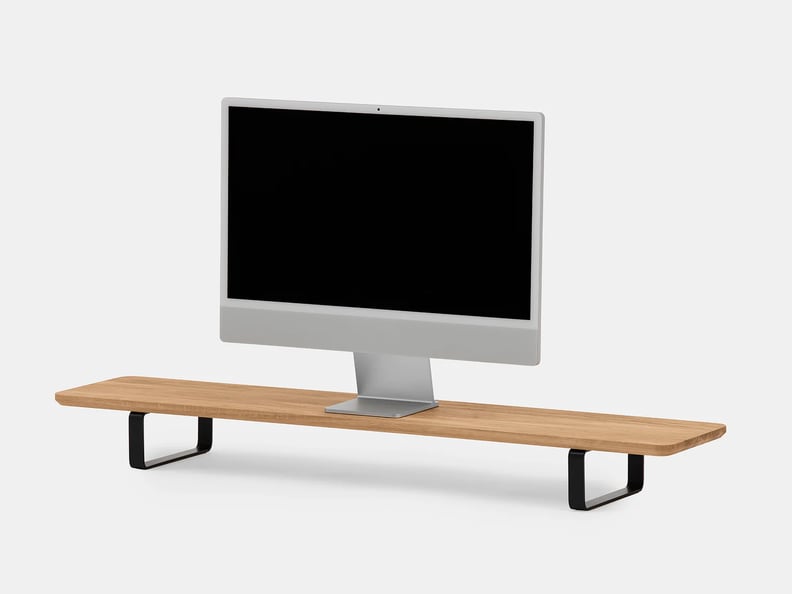 Best Laptop Stand That's Ideal For Long Desks
Oakywood Desk Shelf ($190)
The Oakywood Desk Shelf is a handcrafted laptop stands that's perfect for longer desks and work-from-home setups. This can act as a laptop stand as well as a dual monitor stand for a lifted and spacious addition. Get it in a variety of wood tones.