As POPSUGAR editors, we independently select and write about stuff we love and think you'll like too. If you buy a product we have recommended, we may receive affiliate commission, which in turn supports our work.
Many jobs require you to sit for hours on end, especially with lots of employers switching to remote and hybrid workplaces due to the pandemic. However, there are still ways to stretch your legs and body while still doing work at your desk for hours. The solution is easy: standing desks. Standing desks allow you to stay productive, organized, and alert while also helping to reduce back pain caused by sitting for long periods of time.
Standing desks allow you to move at your workplace, giving you the chance to stretch out your hips and stay active, even in your office or home. However, using a standing desk doesn't mean you stand all day long; it's recommended that you alternate between standing and sitting. Guidance published in the British Journal of Sports Medicine suggests desk workers be on their feet for a minimum of two hours daily during working hours, and eventually bump that up to four hours a day. The guidance also recommends breaking up prolonged periods of sitting by taking breaks to stand, walk, stretch, or move around. For the most ergonomic standing-desk setup, you'll want to make sure your desk is at about elbow height, so you can keep your back straight, and have your monitor at eye level to prevent neck strain, Adam Fritsch, PT, DPT at Athletico Physical Therapy previously told POPSUGAR.
It can be difficult to find a good desk, let alone find the best standing desk, so we did plenty of research and rounded up some of the best options for you. We found a range of different types of standing desks, all varying in price, materials, brands, and more. There are a plethora of options from adjustable standing desks and electronic standing desks to aesthetic wood standing desks. No matter which one fits your home, office, or budget, these standing desks are sure to help you feel better while working.
Best Portable Standing Desk
Wayfair Westbury Pneumatic Height Adjustable Standing Desk Converter ($206, originally $307)
This pneumatic, height-adjustable standing desk converter is portable and a good option if you're looking for something you can transport between your office and home. It's extremely easy to adjust to whatever height is best for you. The spring-loaded bumper allows you to smoothly raise and lower your desk from a standing height to the height of the desk, table, or platform on which you choose to place the converter. And when you decide to pack it up, it folds completely flat.
Why reviewers love it: Reviewers praise this standing desk for being ready to go out of the box, spacious, very durable, and sturdy.
What's worth noting: Some customers consider this desk to be quite bulky, heavy (it weighs about 22 lbs), and that lowers quickly so you need to be careful when adjusting the height.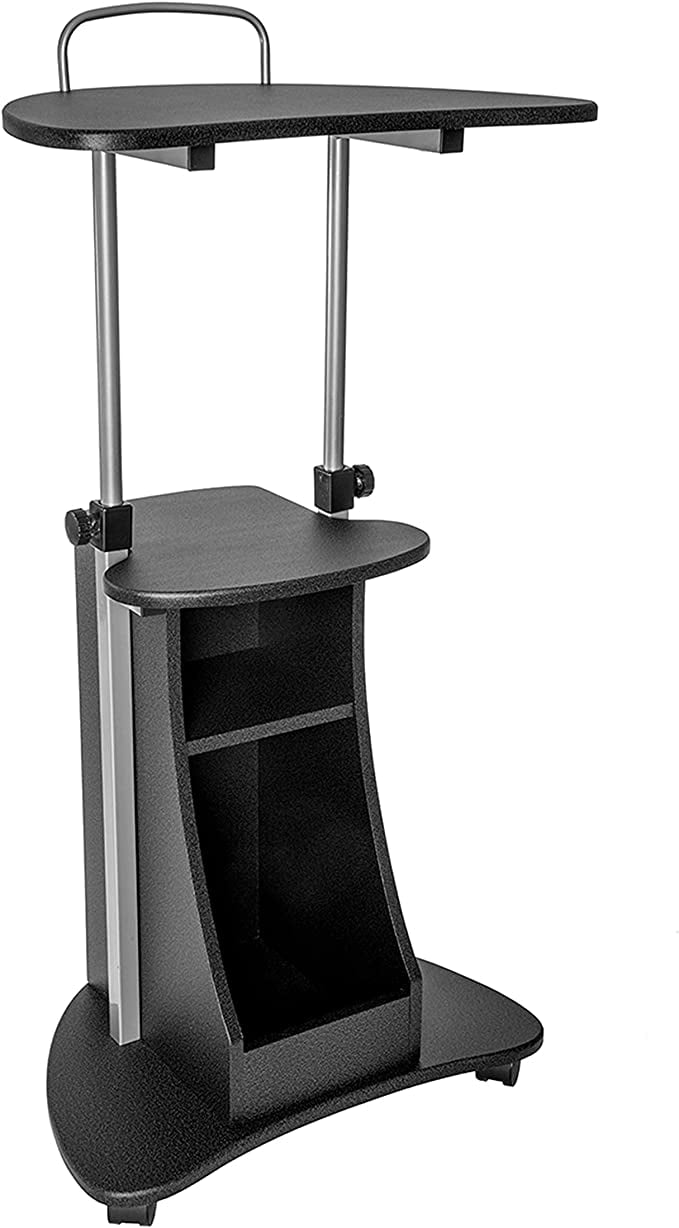 Best Affordable Standing Desk
Techni Mobili Sit-to-Stand Rolling Adjustable Height Laptop Cart with Storage ($61, originally $119)
Another desk solution for a smaller space is this affordable free-standing standing desk. This sit-to-stand desk can adjust from 28-43 inches and features an open storage compartment, accessory shelf, and a laptop accommodating platform. Plus, it's described as easy-to-assemble and can support up to 22 pounds. This is a great, affordable standing desk option if you don't already have a desk and want one that accommodates both sitting and standing.
Why reviewers love it: Reviewers love that this standing desk is very easy to put together, adjustable for small and large spaces, and mobile.
What's worth noting: The reviewers note that the wheels can be squeaky and loud when you're rolling it around.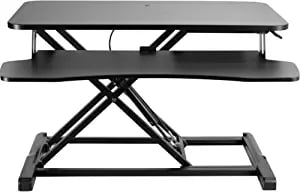 Best Standing Desk for Dual Monitors
Vivo Black Height Adjustable Standing Desk Converter ($130, originally $150)
For those looking to transform their dining room table or bedroom desk into a functional office space, check out this converter. This spacious standing desk converter transitions from a height of 4.2 to 19.7 inches, can accommodate a dual monitor setup, and features a keyboard tray that rises in sync with the top surface. Advertised as "ready to go right out of the box," this product may be the easy-to-assemble desk converter you need.
Why reviewers love it: Customers says this converter is spacious, sturdy, and easy to assemble and use.
What's worth noting: Some reviewers point out that cables and cords can get tangled when adjusting height, and that it can feel stiff.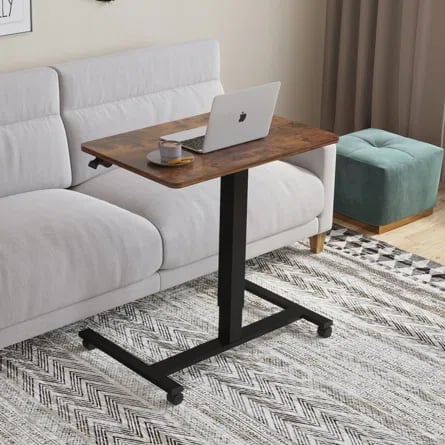 Best Mobile Standing Desk
Wayfair Raygen Pneumatic Height Adjustable Standing Desk ($103, originally $119)
This standing desk is great for mobility, and its wheels allow it to move wherever you need it to, and it also includes locks to make sure once you find a position and location you want, the desk won't move. It has a pneumatic system that allows you to adjust the height of the desk with a lever.
Why reviewers love it: Reviewers say this rolling standing desk is fantastic for both working — sitting and standing — as well as for eating from a couch. It doesn't take up a lot of space and rolls easily. One customer says they put it together in less than 15 minutes
What's worth noting: A few customers note things to be wary of while assembling, such as little shards of metal and pieces not fitting together perfectly.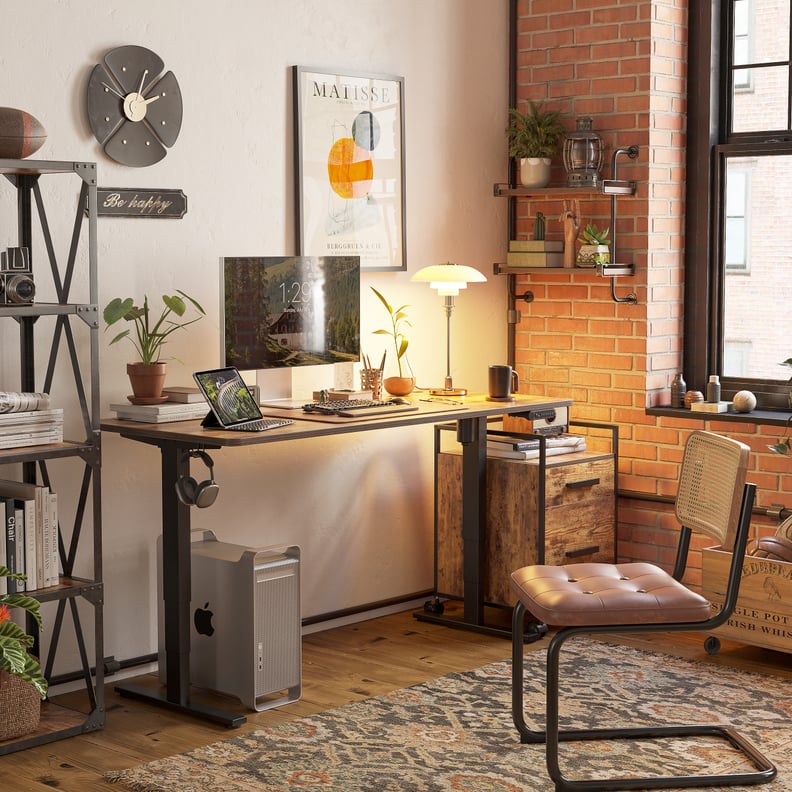 Best Customizable Standing Desk
FeziBo Electric Standing Desk ($160)
This electronic standing desk is highly customizable, which is great for both function and aesthetics. For example, you can choose the desk platform color and wood, as well as add accessories such as a walking treadmill, an ergonomic chair, power strips, monitor arms, and more. You can even set preset heights, which it will move to automatically at the push of a button — no heavy lifting required.
Why reviewers love it: Reviewers praise its sturdiness, polished and sleek look, and the fact that it's easy to put together.
What's worth noting: Some users shared that the desk can be a little wobbly, while others were missing pieces for assembly.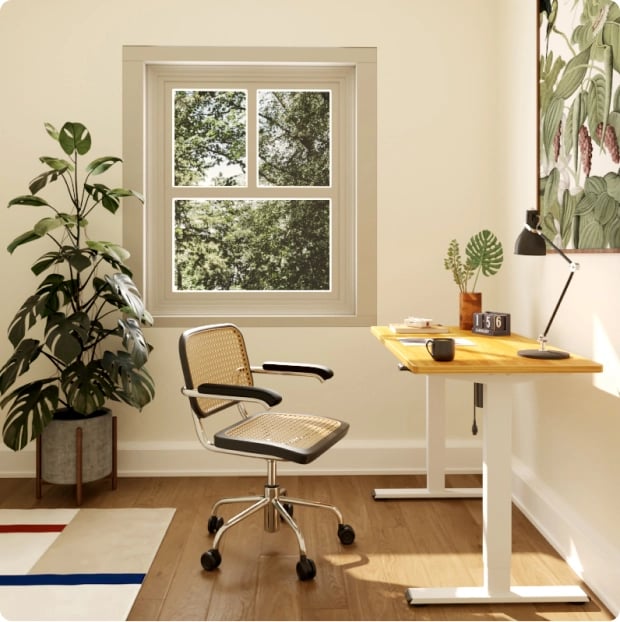 Best Basic Standing Desk
FlexiSpot Standard Standing Desk ($180)
If you've never had a standing desk before and you want to try out a basic one, we recommend this FlexiSpot standard desk. It has a simple style and is built to withstand up to five different height adjustments per day for an estimated 11-year life span. This standard standing desk also includes a keypad that allows you to electronically adjust the height and add automatic presets. You can customize the color and desktop material as well as the size.
Why reviewers love it: Reviewers love that the FlexiSpot standing desk came with super fast shipping and is durable, sturdy, spacious, and a good quality, all at a reasonable price.

What's worth noting: Some reviewers recall feeling frustrated by the assembly instructions.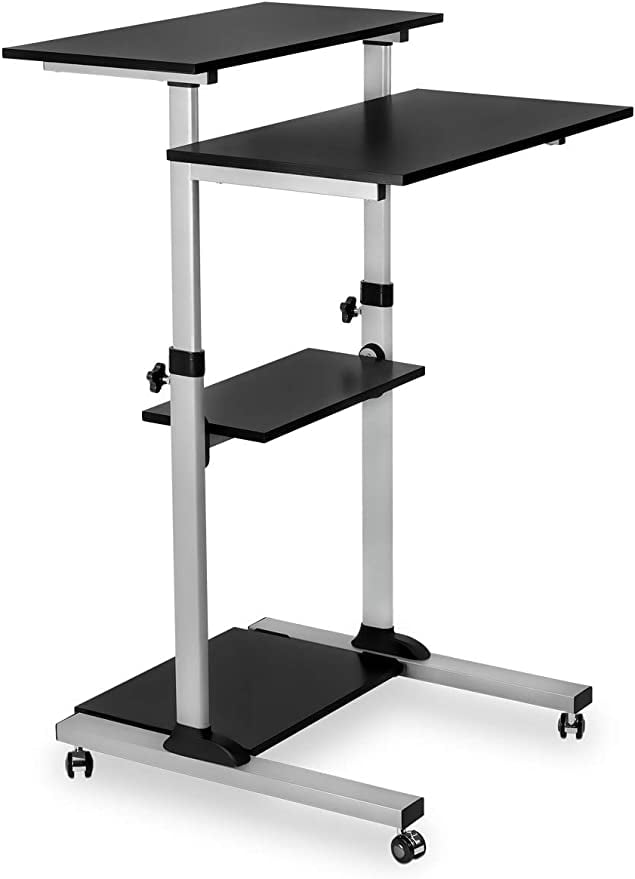 Best Spacious Standing Desk
Mount-It! Mobile Standing Desk ($111)
If your at-home workstation consists of a laptop, monitor, keyboard, and maybe even a printer, this desk may pique your interest. It features four shelves, which in total are advertised to hold up to 132 pounds. The height of the top two shelves is reportedly optimized for an ergonomic keyboard and monitor placement.
Great for sitting down or standing up, this workstation is height-adjustable up to 17 inches with 11 locking intervals, and it can be wheeled (and also secured into place) so you can work from wherever, whenever.
Why reviewers love it: Reviewers say it's durable, compatible with different-sized spaces, versatile, and sturdy even on a soft surface like carpet.
What's worth noting: Some reviewers note that it can be hard to switch between different heights and that they wish the desk surface was made of something else instead of a wood composite with a black wood grain veneer.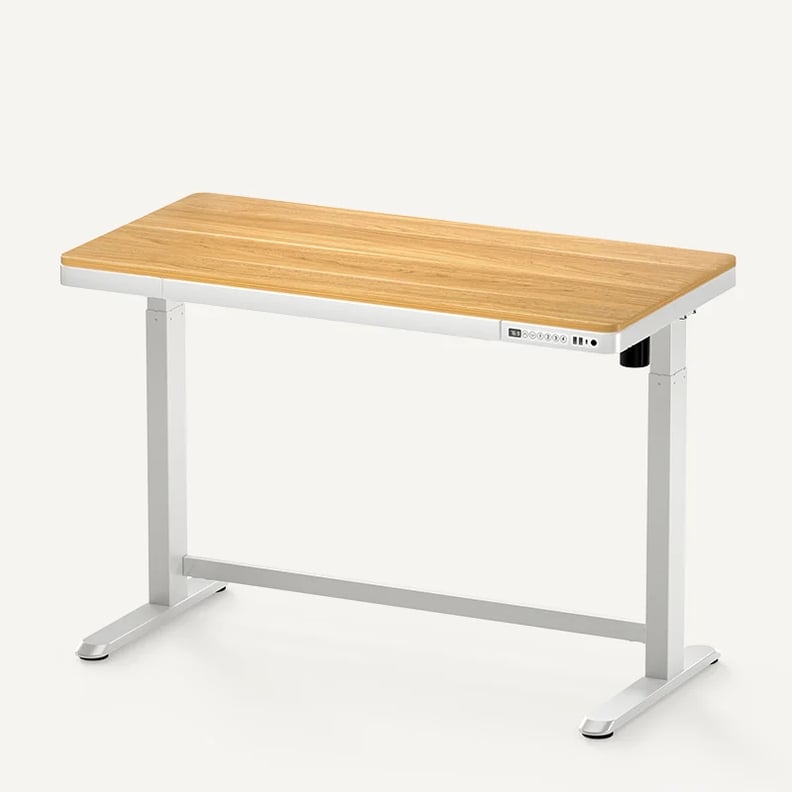 Best Small Standing Desk
FlexiSpot Comhar Standing Desk with Drawers ($350)
This FlexiSpot standing desk is a great pick for smaller spaces while still having plenty of room for your computer and accessories via a sleek drawer space. It has a digital screen showing the desk height, electric button adjustments, and easy-access USBs for charging. It can also be adjusted for kids, accommodating children's heights and including a child lock, in case you'd like your kids to utilize the desk as well. It even has an anti-collision function so it won't smash anything that might be underneath the desk when lowering.
Why reviewers love it: Customers love the design of this standing desk, as well as the cable management and drawer since most standing desks don't have that particular feature.

What's worth noting: This isn't the most spacious of standing desks; customers note that it's not quite big enough for two large monitors and that there's not a great place for a typical desktop-mounted monitor arm.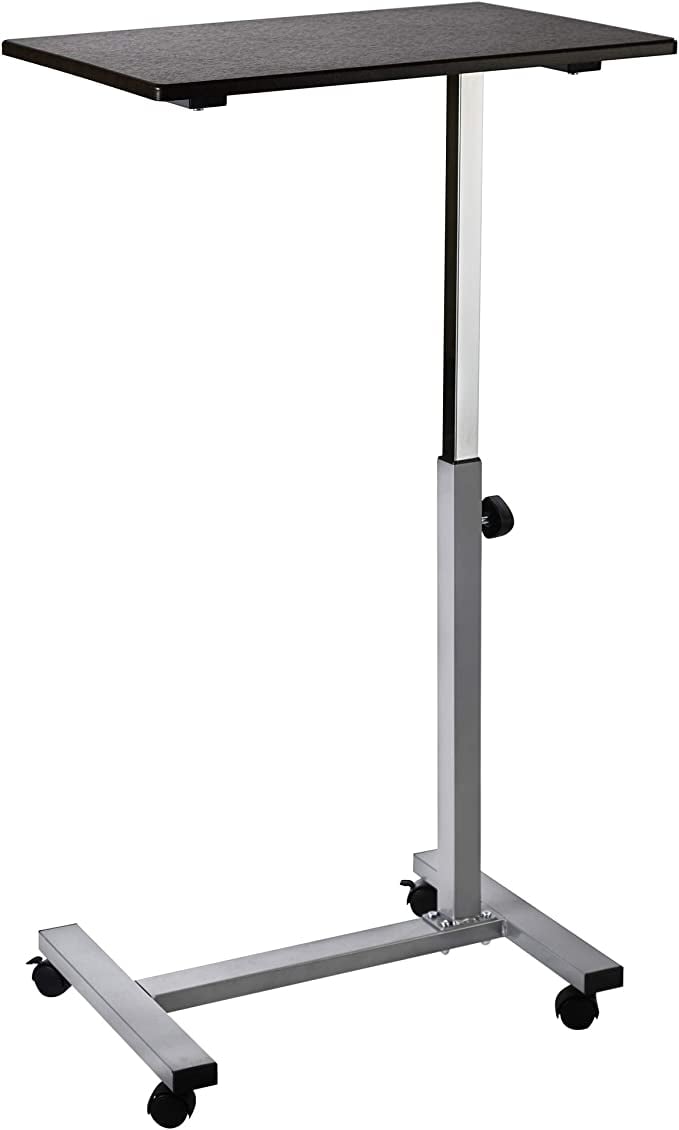 Best Simple Standing Desk
Seville Classics Solid-Top Height Adjustable Mobile Laptop Desk Cart ($61)
This simple standing desk is a great work-from-home tool for small spaces, thanks to its thin build and petite platform. The desk features four wheels — two of which lock — so you can move around easily or stay put in one spot. Adjustable from 20.5 to 33 inches, a simple twist-lock knob allows you to personalize your height for ergonomic comfort.
Why reviewers love it: Customers say this simple, affordable standing desk is sturdy and offers a great height range — and that despite the accessible price, it doesn't look cheap.
What's worth noting: Some reviewers found it hard to adjust the height and say they don't trust it to hold anything particularly heavy. Because this standing desk has a surface area of about 24 x 15 inches, it may be best for those who work on just a laptop.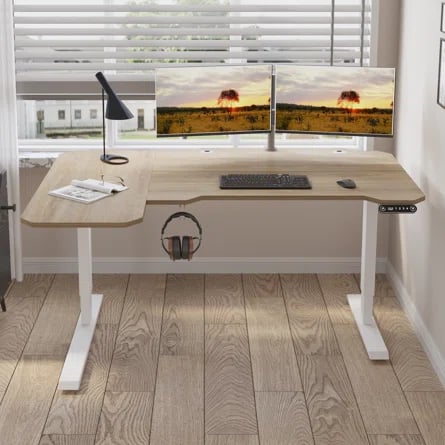 Best L-Shaped Standing Desk
Wayfair Daycia Height Adjustable L-Shape Standing Desk ($216)
If you want a spacious, L-shaped standing desk, this is the best option for you. The tabletop comes packaged in three pieces for easy assembly, and it also includes a hook and storage basket to help keep your workspace clean and organized. The increased space allows for multiple monitors as well as things like a lamp, notepad, and keyboard and mouse.
Why reviewers love it: Customers who've bought this Wayfair standing desk love that it has tons of room for monitors and paperwork, still with a smaller footprint than some other traditional desks.
What's worth noting: Some users note that the desktop surface can peel, that it's heavy, and that there are some gaps between the three pieces of the desktop.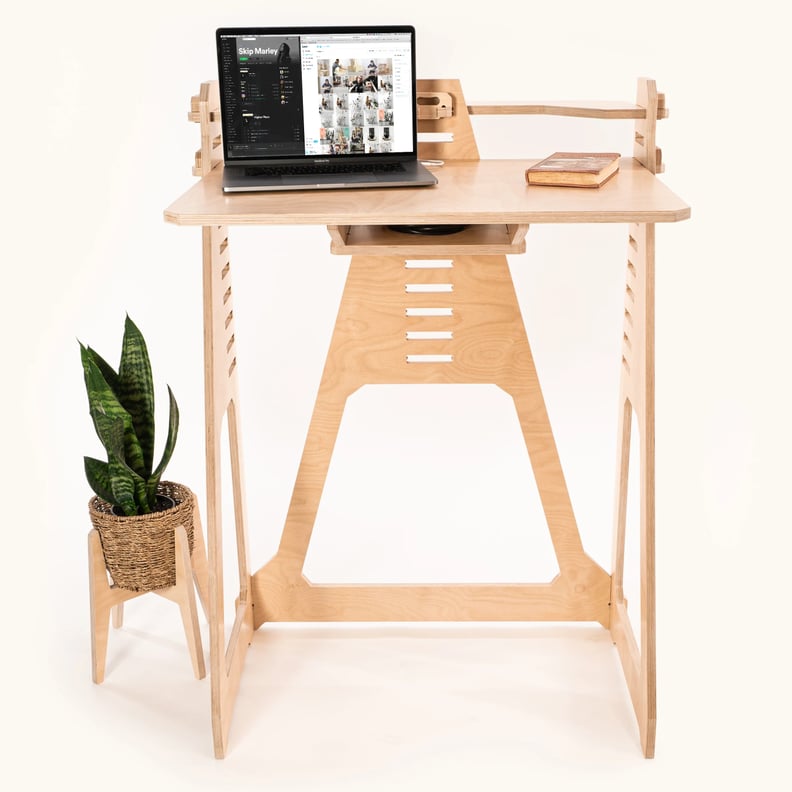 Best Wood Standing Desk
Work From Home Desk ($585, originally $780)
If you're not partial to an electronic or metal standing desk, maybe this sleek wood standing desk will be more up your alley. This Work From Home Desk is extremely easy to assemble without any tools, and you can manually adjust it when you want to change heights. It's also very easy to pack up, lay flat, and store. Choose between four different wood finishes, depending on your personal decorating style. They have a range of modules and accessories that you can attach to build your perfect WFH setup, whether you're a minimalist working on a laptop or need multiple monitors and hard drives.
Why reviewers love it: Reviewers rave about this standing desk because it's made of sustainable, high-quality materials, and the fact that you can pack it flat and store it when you're not working to get more of your living space back.
What's worth noting: Some reviewers note that all of the pieces aren't fully sturdy, and it can wobble a bit depending on your floor.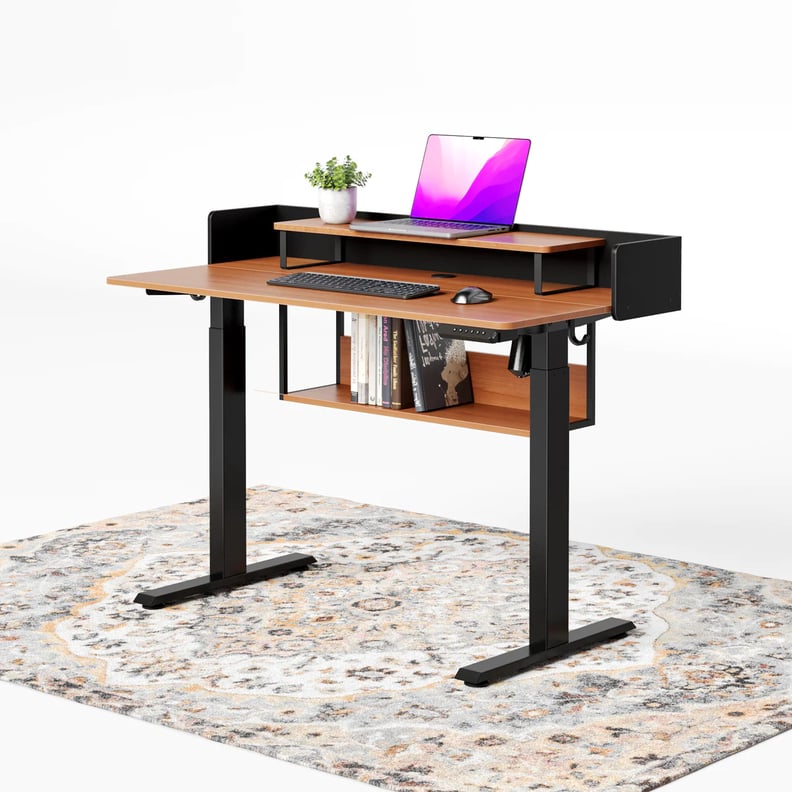 Best Electronic Standing Desk
FeziBo Electric Standing Desk with Multi-Shelf ($270, originally $420)
This electronic standing desk has easy button panels to adjust to whatever height you desire, and also has three pre-set heights and a memory setting key to personalize each one. It comes with wheels, cable grommets, and two hooks to hang up chargers and headphones, plus a bonus shelf for books or hard drives.
Why reviewers love it: Reviewers love this FeziBo standing desk because it feels and looks high-quality, and is sturdy while working or adjusting the height.
What's worth noting: Some customers note poorly labeled screws and confusing assembly instructions.