10 Ways Disney World Won Over This Disneyland Fanatic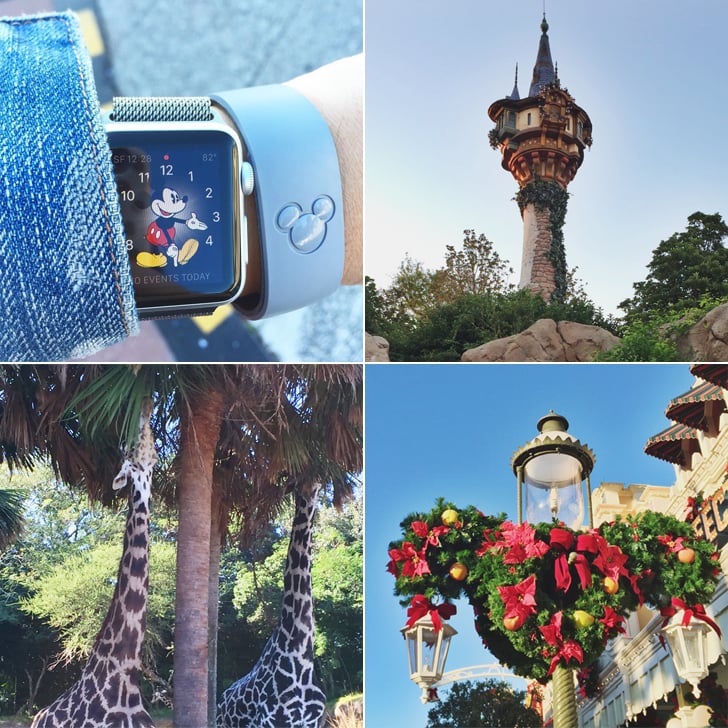 POPSUGAR Photography | Tara Block
POPSUGAR Photography | Tara Block
I'm a self-proclaimed Disneyland fanatic, mainly because as a California native I grew up going to the Anaheim park. But I'll admit, I hadn't really given Walt Disney World a fair chance, mostly riding attractions that had, in my opinion, better counterparts at Disneyland and visiting at a time of year when the heat and humidity tainted my experience. So when I recently attended the opening of Glidden's new COLORTOPIA attraction at Epcot's Innoventions I allowed WDW the opportunity to woo me with its expansive grounds, unique rides, seamless transportation and travel offerings, Mickey's Very Merry Christmas Party, and, of course, MagicBands — the best thing to happen to Disney since some parks started serving alcohol. I'm still in a committed relationship with Disneyland, but after this visit I'd say it's more of a love triangle now.
01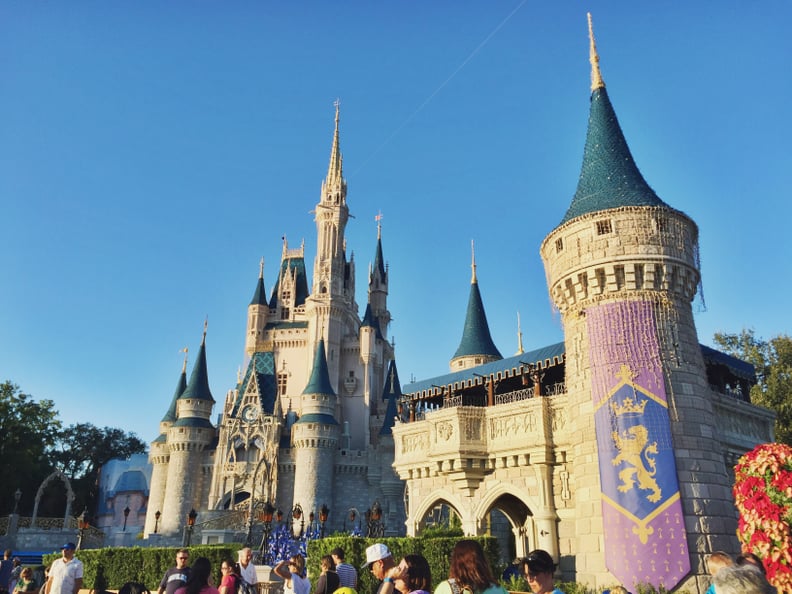 Unique Attractions
When it comes to rides that don't exist at Disneyland (at least anymore), Epcot's Test Track, Dinosaur at Animal Kingdom, and the Tomorrowland Transit Authority PeopleMover at Magic Kingdom were some of my favorites. I loved how Test Track was legitimately fast with a max speed of 65 mph — reminding me of Radiator Springs Racers, one of my favorites at California Adventure. Dinosaur also impressed me, as it shares the same layout as Indiana Jones Adventure (another Disneyland favorite), but it's darker and I'm not ashamed to admit that I jumped out of my seat more than once! The PeopleMover is an oldie but goodie, and I really loved how it weaves through the rides in Tomorrowland — plus the view of the castle is pretty great!
02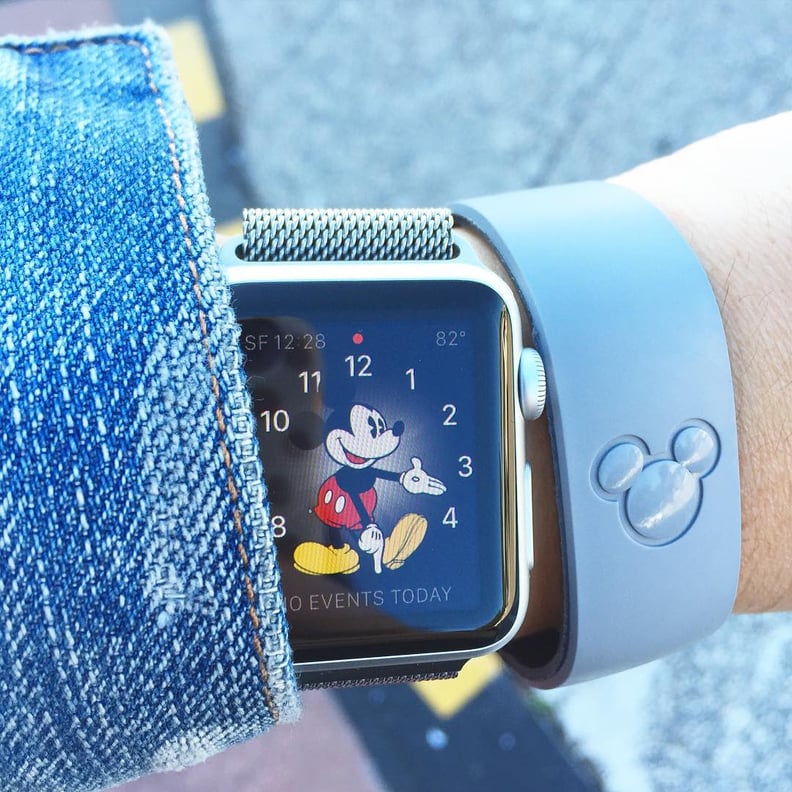 MagicBands
I can't stress enough how cool MagicBands are. As soon as I checked into Disney's Port Orleans Resort (Riverside) I received a MagicBand (free if you're staying at a Disney resort) that I used as my hotel room key, to pay for everything at the hotel and parks (you enter in your credit card info along with a pin at check-in), to get into the parks, and for FastPass+ reservations. It made the whole experience seamless — you don't have to keep track of your hotel key, credit card, fast passes, or paper park passes because everything is contained in one wrist band.
To take advantage of the MagicBands you just need to download the My Disney Experience app where you create an account that links all your Disney hotel and park pass info and can make all your FastPass+ reservations months ahead of your trip. It also includes an in-depth map and wait times for rides.
03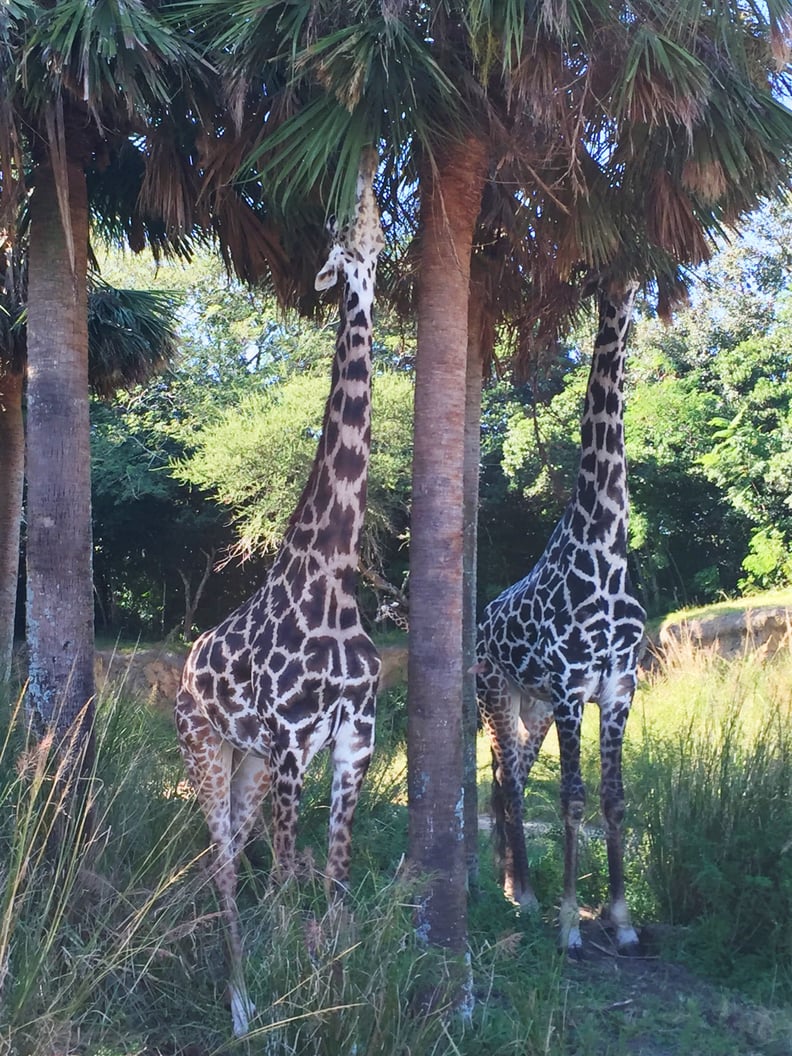 Kilimanjaro Safaris
I loved how immersive Animal Kingdom is — stepping into the Africa and Asia areas feel like you're taking an exotic trip abroad. But the coolest attraction (which was worth the hour wait) had to be Kilimanjaro Safaris. It's like a Disney-fied wild animal park or what Disneyland's Jungle Cruise would be like if the animals were real, and I straight-up gawked at the giraffes, elephants, and lions as we passed right by them in a setting that felt pretty authentic considering we were a long way from the African savanna. Pro tip: those rickety bridges aren't actually going to fall apart under your vehicle (I had a rookie moment of panic).
04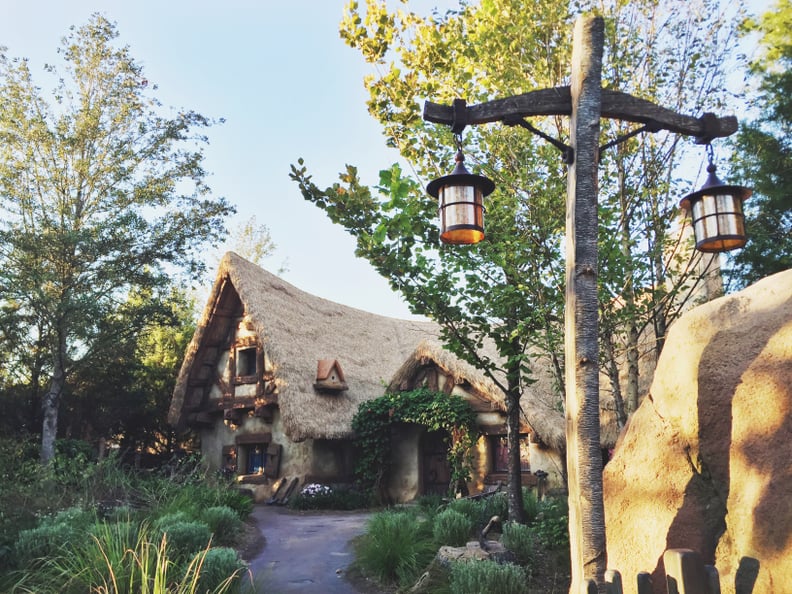 Seven Dwarfs Mine Train
The new Seven Dwarfs Mine Train at Magic Kingdom topped my to-ride list at Disney World — and it didn't disappoint! It reminded me of the recently refurbished Big Thunder Mountain Railroad but with more Disney magic thanks to dazzling technology (how did the get the gems to sparkle like that?!). And man, oh man, was it smooth! Seriously, this ride rocks. I especially love the surprise at the end . . . look to your right at the very end of the attraction.
05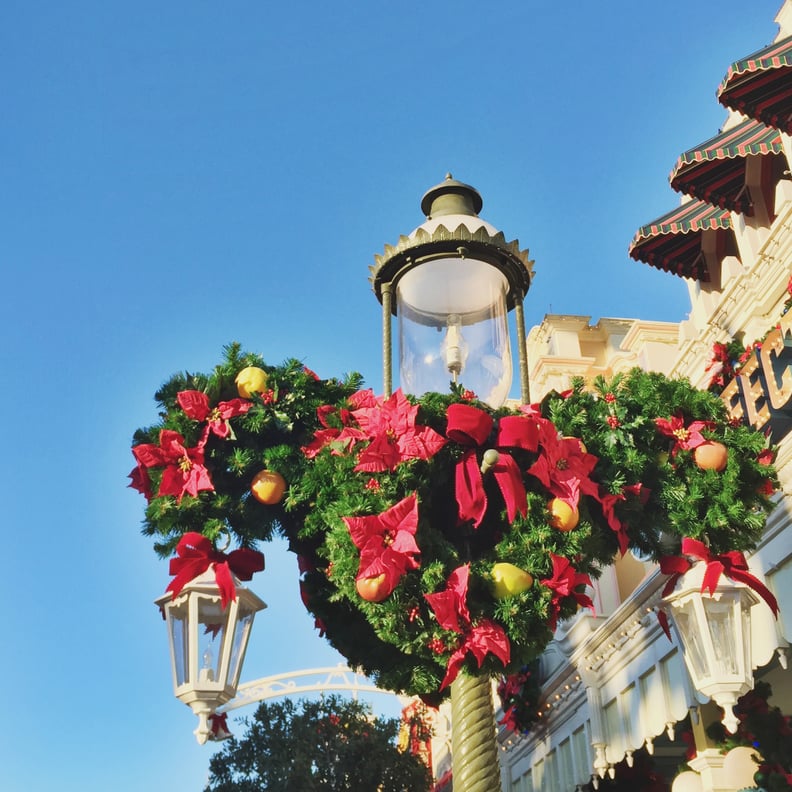 Mickey's Very Merry Christmas Party
Mickey's Very Merry Christmas Party is the holiday equivalent to Mickey's Halloween Party at Disneyland, and it's a fun (less crowded) way to celebrate the holidays at Disney World. There are giant blown-up candy canes marking the spots where you can pick up unlimited hot cocoa and cookies throughout the night, there's a holiday parade and shows, a holiday edition of the nightly fireworks show, "snow" on Main Street, and, of course, a meet-and-greet opportunity with Santa himself! (I'll admit, I mostly enjoyed the Christmas music and refreshments!)
06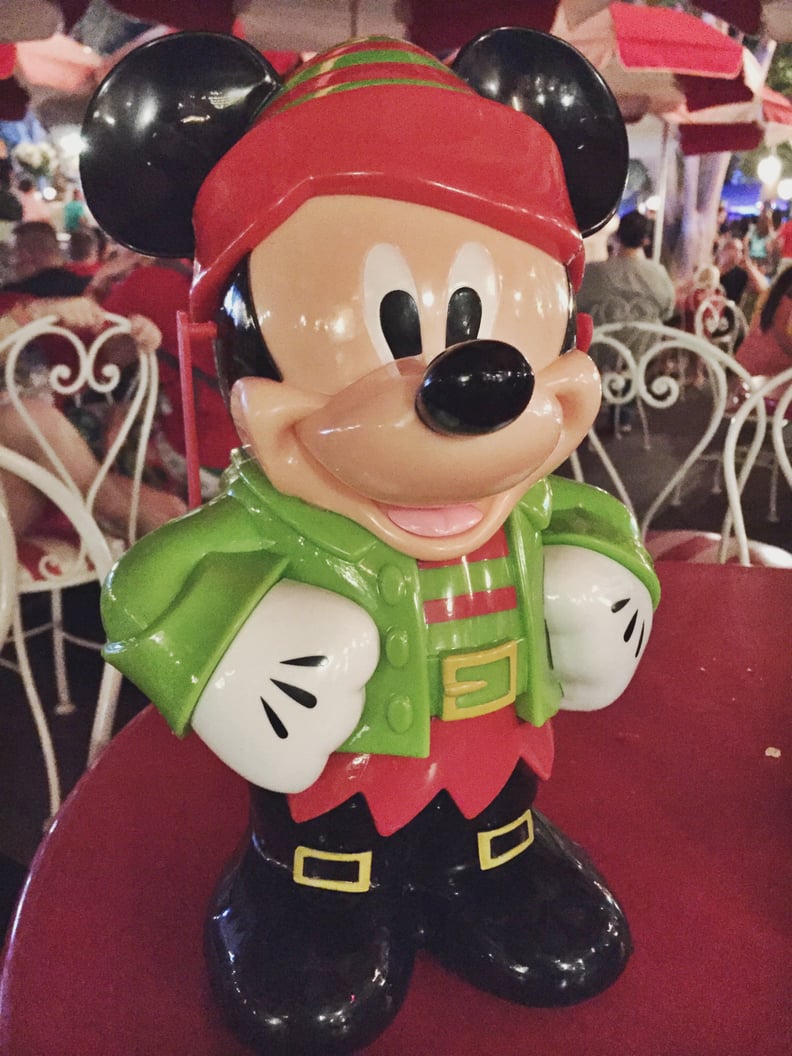 There is also plenty of cute holiday merchandise, like this Mickey popcorn container.
07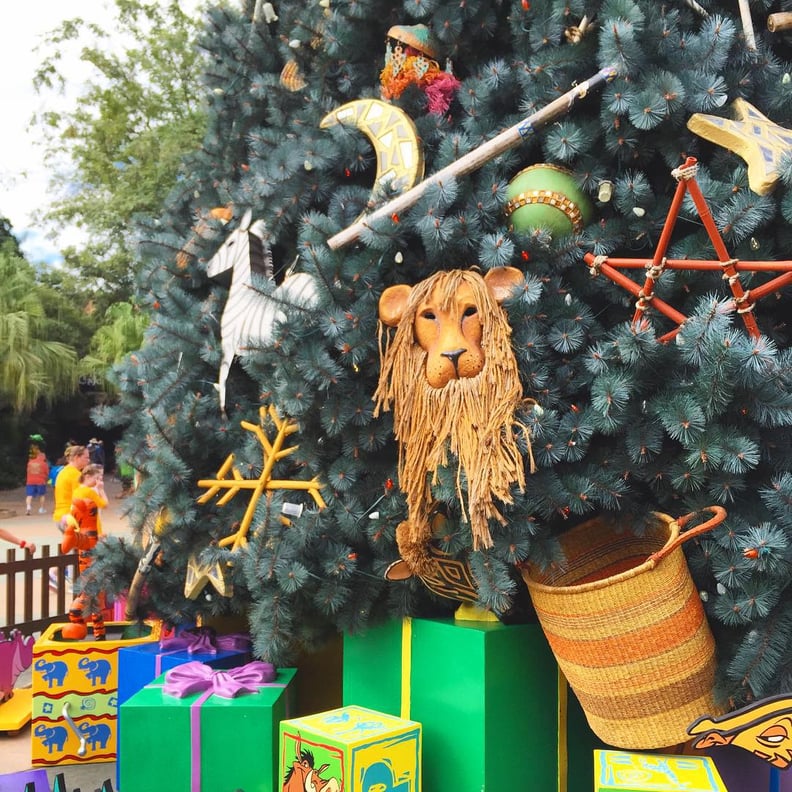 The holiday decor at Animal Kingdom was also really cool and unique. Be sure to check out the wreaths throughout the park!
08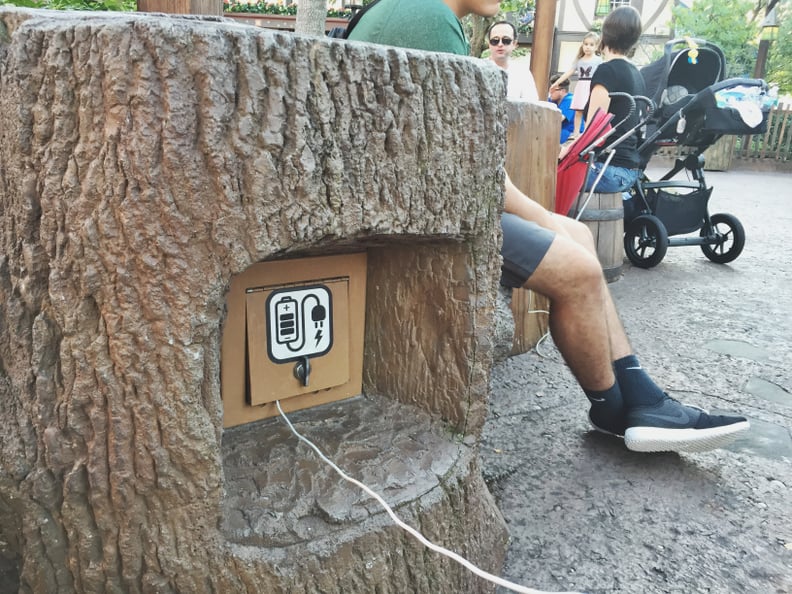 Charging Stations
If you need to charge your phone at Disneyland, your only option is to pay for a charging locker, which don't work that well and run out fast. Plus then you have to leave your phone in a locker for a period of time. But at Disney World there are several charging stations throughout the parks, including this one in the recently renovated rest area in Fantasyland. It's perfectly set up to rest at one of the tables and plug your phone in while you enjoy what I think is the prettiest area of the park . . .
09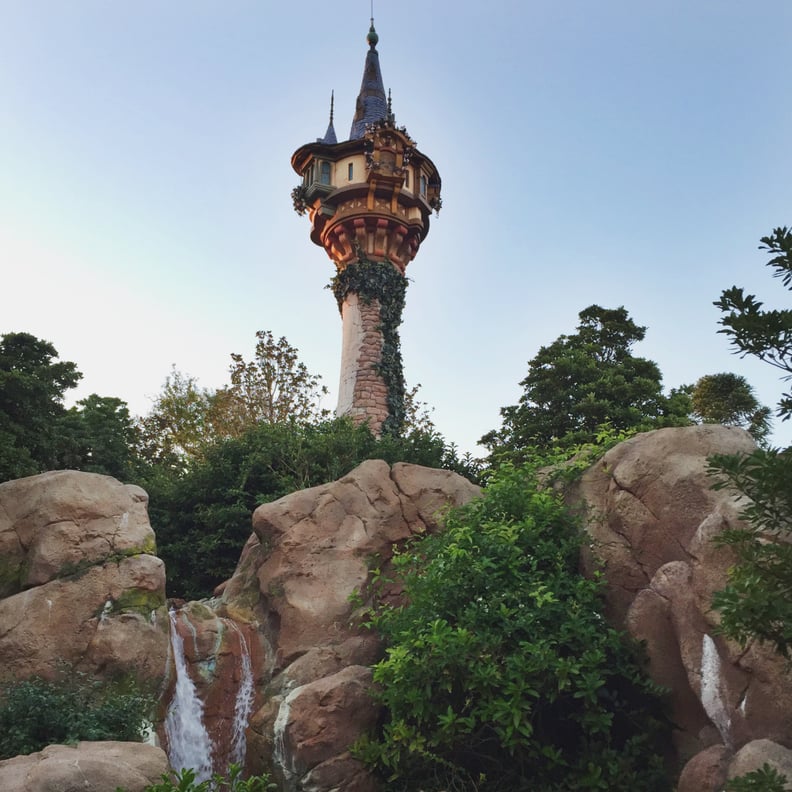 Tangled Rest Area
Speaking of the charging station in the Magic Kingdom, the new Tangled-themed rest area in Fantasyland is the perfect spot to take a break (and take some photos). I especially loved Rapunzel's tower, which is perched atop a waterfall near the restrooms, visible from the charging area.
10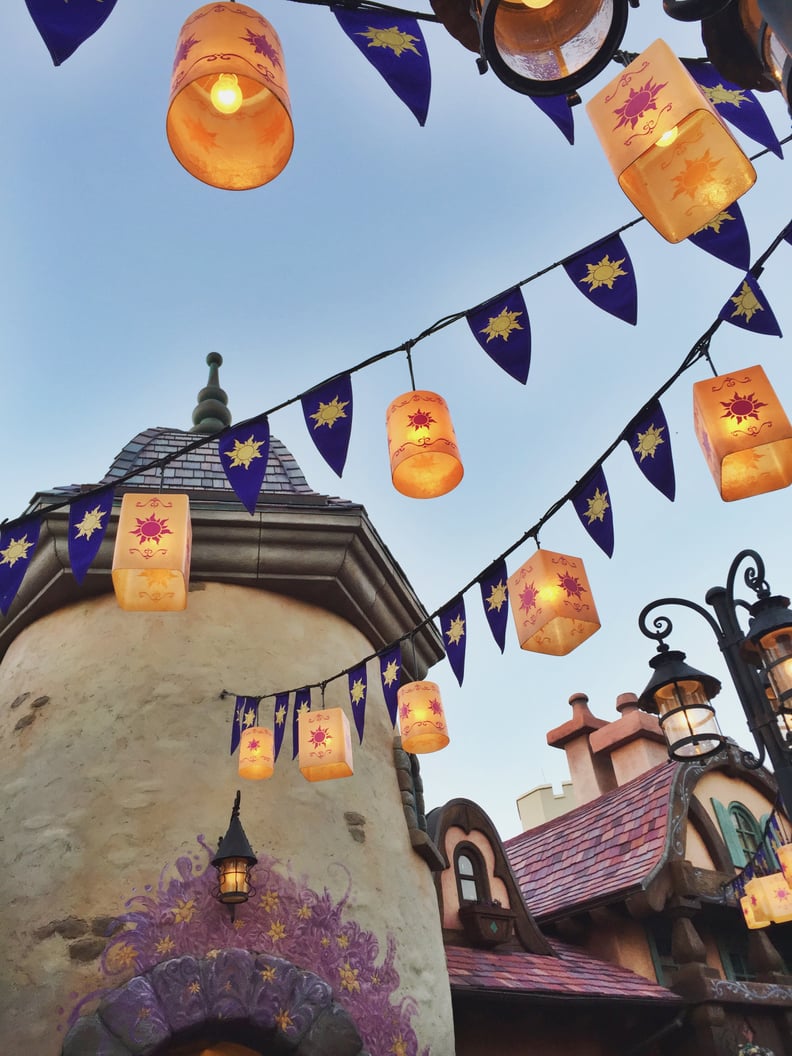 There are lots of Tangled details in the area, including these gorgeous lanterns.
11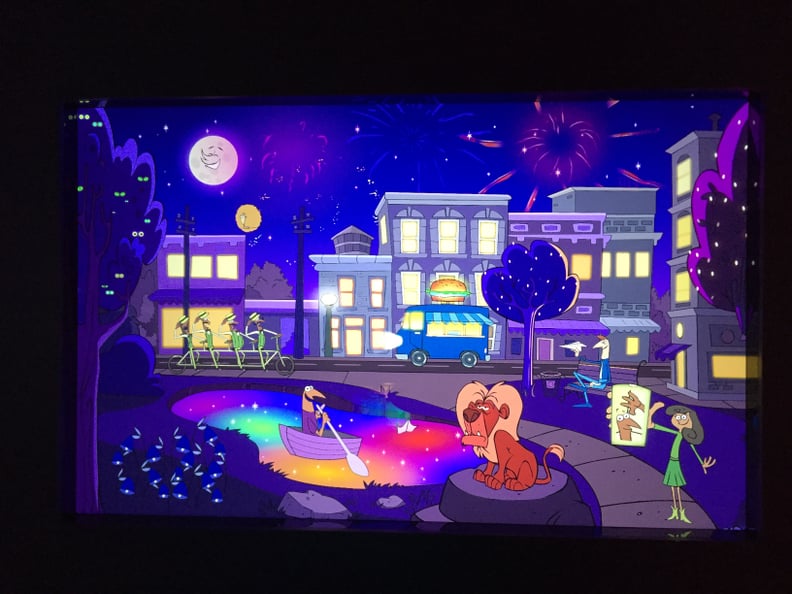 COLORTOPIA
I was able to check out Glidden's brand-new COLORTOPIA in Innoventions at Epcot, and while the Color Mix 'n Match game was pretty fun (and harder than it looks), the standout exhibit was Color Our World. You dip a fiber optic "magic paintbrush" into paint cans to choose your colors and then color an interactive digital wall mural. It's pretty entertaining!
12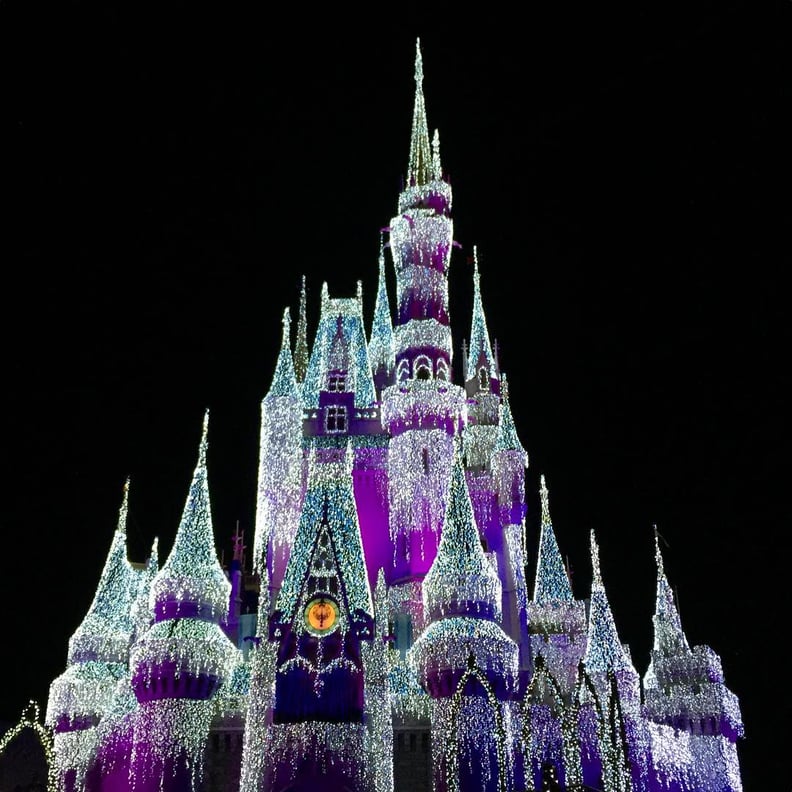 Fireworks
The Holiday Wishes show (a holiday version of Wishes Nighttime Spectacular) is a seriously impressive fireworks show. It incorporates the ginormous Cinderella Castle — and while Disneyland's castle is great, Disney World's is awe-inspiring, especially during the holidays! — and finishes with a 360-degree finale that had me speechless.
13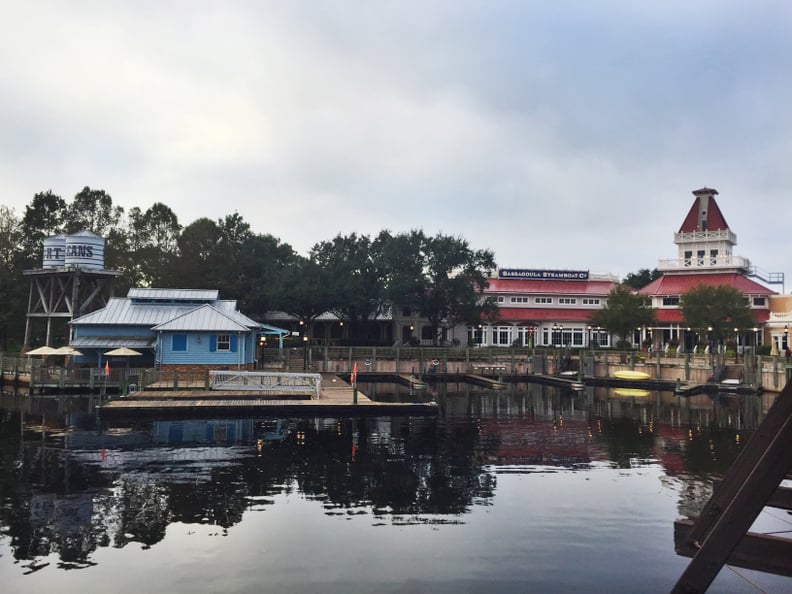 Check-In Service at the Disney Hotels
With such an expansive property — we're talking 27,443 acres with 27 Disney hotels, four theme parks, two water parks, seven golf courses (including two miniature golf courses), one camping resort, a shopping district, and entertainment venue — it's a good thing Disney World has the whole transportation and travel part down. In addition to the Magical Express buses that run between the parks and the airport, the check-in service at the hotel was hands down the coolest feature.
On my last day at Disney's Port Orleans Resort (Riverside) I had a late afternoon flight and didn't want to carry my suitcase around me all day. That morning I was able to check in for my flight and check my bag at the resort, which meant I could spend the day however I wanted, walk straight to security at the airport, and not worry about my bag until I picked it up at baggage claim. Awesome.
14