12 of the Best Wine Destinations in the World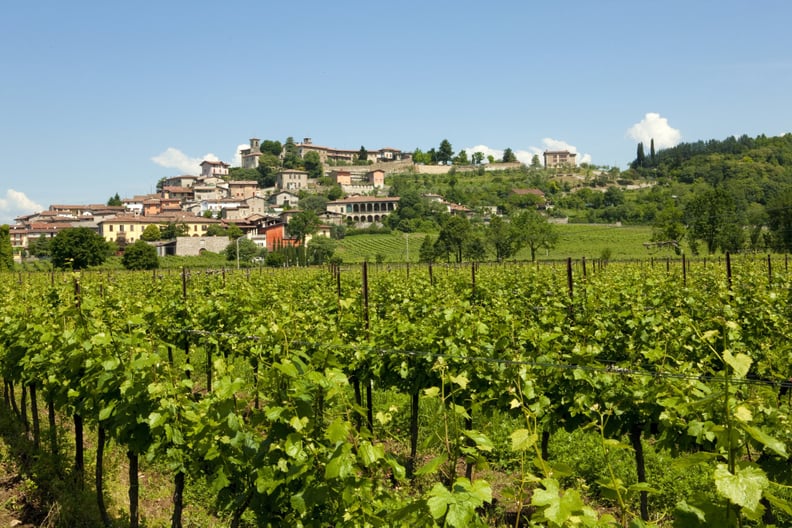 Aly Walansky
When we travel, finding spots with great wine is absolutely on the agenda. But if you really love wine, you should consider traveling to these beautiful destinations that happen to be known particularly for it, among other amazing things! Add these 12 spots to your bucket list and start sipping!
01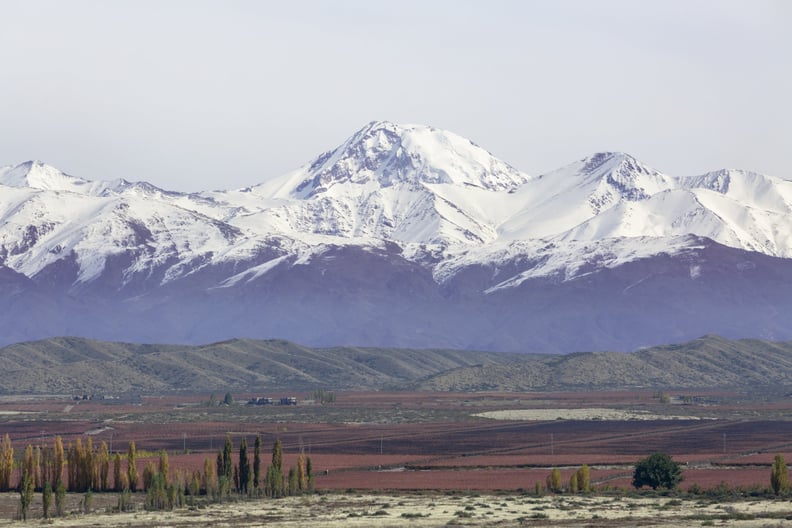 Mendoza, Argentina
Mendoza, Argentina, is known to many to be one of the best places in the world to drink wine, making it an amazing spot to visit if wine is your great love. It's home to the world's most highly rated Malbecs, which originate from Mendoza's high-altitude wine regions of Lujan de Cuyo and the Uco Valley, located in the foothills of the Andes between 2,800 and 5,000 feet.
From small, family-owned wineries to large production facilities, the options are endless, and one can plan to visit as many as four wineries per day (pro tip: hire a driver or taxi service, locally called a "remis").
To really submerge yourself in the region's wine culture, stay at the Auberge du Vin, a Tribute Portfolio Hotel. Situated in the heart of the Uco Valley, where many of Argentina's local and independent vineyards are located, Auberge du Vin is a modern retreat and vineyard located 1,400 meters above sea level. The vineyards surrounding the property yield celebrated wines, ranging from Malbec to Pinot Noir, that have become international favorites. The hotel's 29 guest rooms allow travelers to take in the beauty of the terrain, some offering direct access to the vineyards so guests can pick grapes right from their own terrace.
02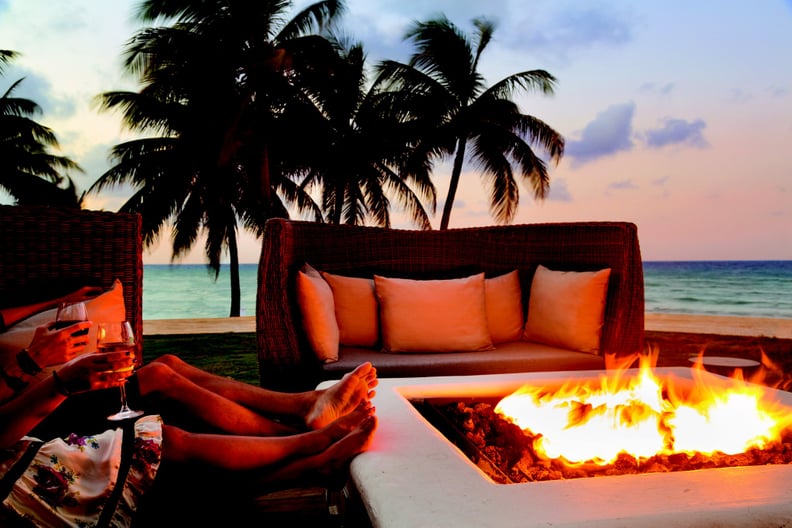 Baja, Mexico
When many people think of a "traditional" Mexican beverage, their mind automatically goes toward tequila, when really the Baja region of Mexico is one of the most prestigious in the world for its wine production.
The soil in this region is sandy but fertile, which is needed to produce premium wine grapes, and the temperature is very similar to that of Napa Valley.
Hyatt Ziva Los Cabos is located directly in the middle of the Baja region and is the ideal location to stay at and immerse oneself in in the wine country. On this all-inclusive property, there are sommeliers that are present that can inform you about the region's wine and host private tastings without ever having to leave property. But if one is feeling inclined to get out into the wine country and experience it for themselves, it's just a short trip away.
03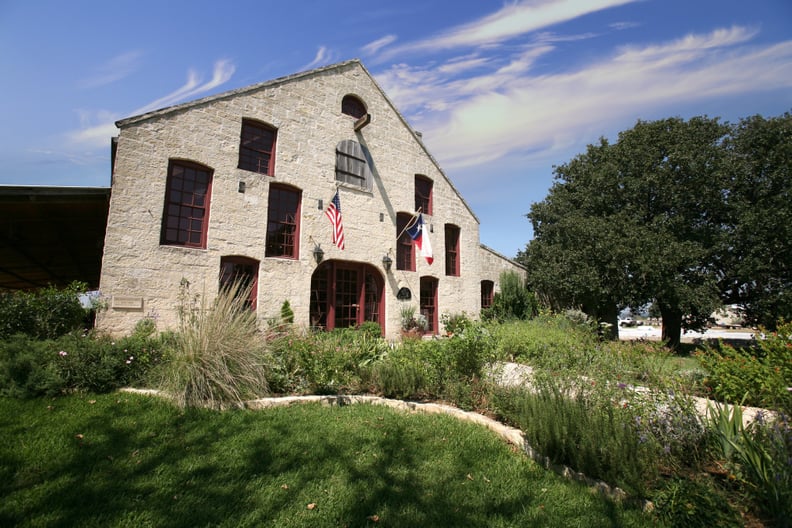 Texas Hill Country
Texas is the fifth-largest wine-producing state in the United States, producing wines from Mediterranean varieties, including Viognier, Vermentino, Tempranillo, Aglianico, and Tannat.
Besides all the awards Texas wines are receiving, the wineries also offer beautiful Hill Country views with relaxed patios and porches to sit back and enjoy a glass. You can make it a food and wine adventure by visiting Fredericksburg, TX, and checking out Fischer and Wieser's 1870 Culinary Adventure Premier Tasting Room. A must do for any trip to the Hill Country wine region is Fredericksburg, part of the Texas Hill Country Wine Trail and home to some of the oldest wineries in the state.
Fredericksburg cultivates more than half of the world's grape varietals and is located just a short drive west of Austin and San Antonio. The quaint town includes notable wineries such as Fall Creek Vineyards, whose wines are featured throughout restaurants in Texas and New York, and Becker Vineyards, whose 2013 Provencal won a double gold medal at the 2014 San Francisco International Wine Competition. Fredericksburg and the general Texas Hill Country region have an abundance of bed and breakfasts, hotels, and unique lodging options, including Hoffman Haus in Fredericksburg, Native Hostel in Austin, and Hotel Flora and Fauna in Wimberley.
04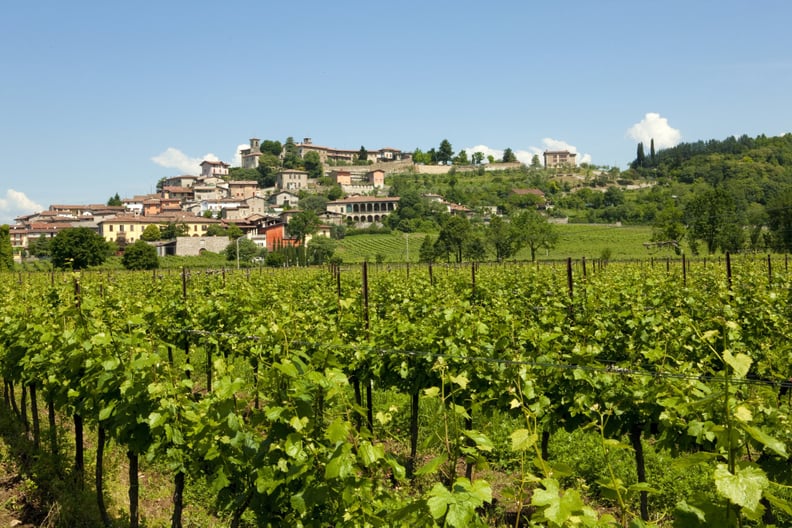 Franciacorta, Italy
You may go to Italy for the ancient ruins and beautiful, romantic views — but you probably are also going for the wine. And lots of it. Choose from 100-plus wineries found along the Strada del Franciacorta to sample Franciacorta, which is handcrafted in the metodo classico, the sparklers are complex and crisp and range from rose to satèn, a silky smooth style unique to the region. While there, stay at Agriturismo Locanda Le Quattro Terre, an ancient farmhouse of the 18th century, restored to honor the original traits and environment. Quattro Terre is surrounded by vineyards and nestled in the quiet hills of Franciacorta.
05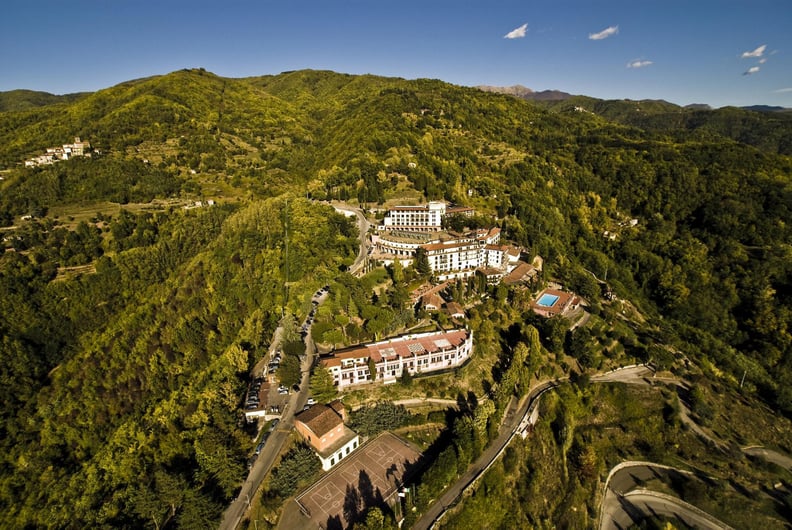 Lucca, Italy
The province of Lucca is home to many wineries practicing biodynamic farming, in which manual operations substitute machines and soil fertilization is carried out with cow manure, leaving no room for any GMOs, synthetic chemicals, fertilizers, or pesticides. Nestled within Garfagnana's rolling hills, Podere Còncori is a biodynamic winery owned and operated by Gabriele de Prato, who produces a variety of wines ranging from Syrah to Pinot Blanc and Pinot Nero and in his practice aims to restore dignity of the wines produced locally.
As a biodynamic vintner, Gabriele relies on his perception and understanding of his vines, "a constant dialogue with nature using ones senses: to walk, touch, see, smell, listen and taste; this is the meaning of biodynamic farming for me." For less than 30 euro, travelers can book a visit to Podere Còncori, where Gabriele will walk his guests through his vineyard, passionately explaining the ins and outs of biodynamic farming, before guiding them to a tasting room where his wines are poured alongside crostini and homemade pasta cooked by his wife.
Stay at the Renaissance Tuscany Il Ciccio Resort & Spa, which offers majestic views of the Serchio Valley (and Podere Còncori from some of the rooms). The property has a strong relationship with Podere Còncori, arranging visits for guests who are curious to submerge themselves in the biodynamic wine culture. Located on a two-mile estate, guests can discover nearby unexplored medieval villages, Barga and Lucca, or travel within one or two hours to well-known city favorites, like Florence, Pisa, and Cinque Terre. The property also offers a full-service spa, two restaurants serving local cuisine, two swimming pools, a health club, on-site cooking lessons and market tours with the chef, and varied excursions within the surrounding area.
06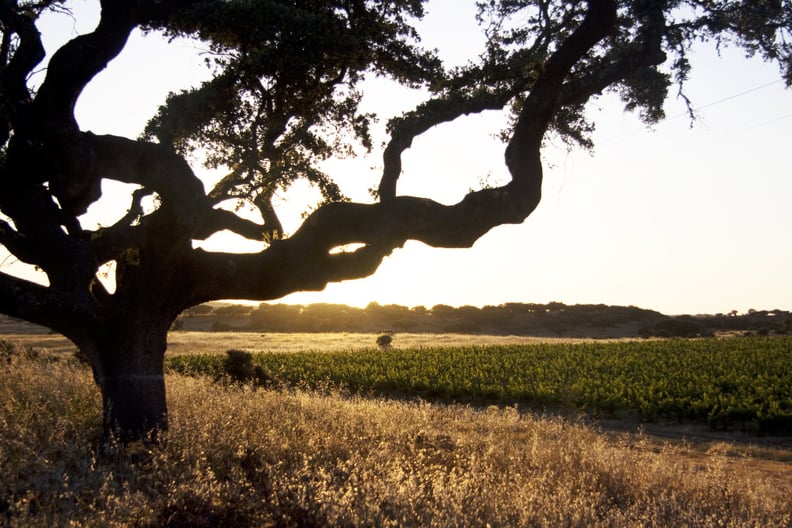 Alentejo, Portugal
Lisbon and Porto have long been wine destinations in Portugal, but Alentejo — with its stunning, gently rolling landscape — is an up-and-coming region as the country's dry reds and whites gain more popularity. Producer Esporão has established the country's first large-scale wine tourism project there, offering tastings, dining at the estate's prestigious farm-to-table restaurant, and tours of the vineyards, historic buildings, and the Perdigões Settlement and Museum (an archeological site dating back to the third century).
07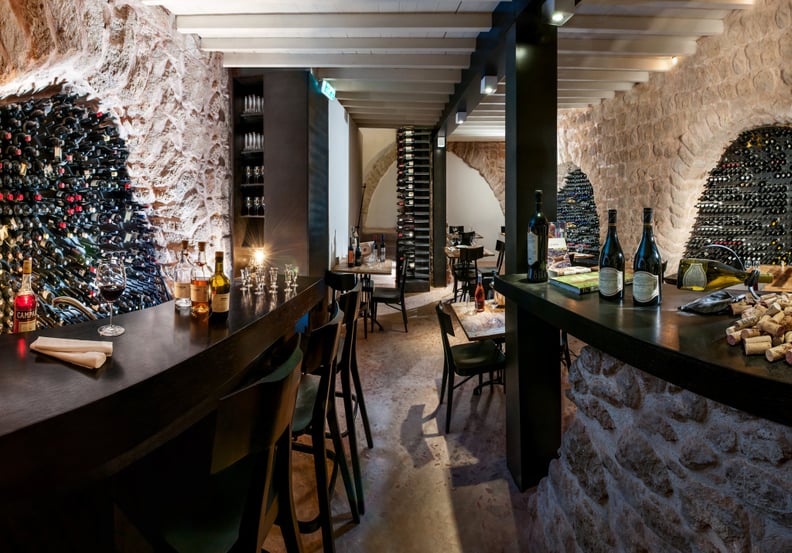 Israel
Western Galilee, Israel, is often called the Tuscany of the Middle East, with more than 50 boutique wineries, cheesemongers, vintners, incredible agricultural production methods, microbreweries, and innovative chefs and restaurants, highlighting key personalities, including Uri Jeremias of Uri Buri/Efendi Hotel, Osama Delal of Delal, Yossi Yodfat of Abaya Winery. Jullius Distillery is a family business run by three brothers from Northern Israel who have restaurant ownership in Tel Aviv.
08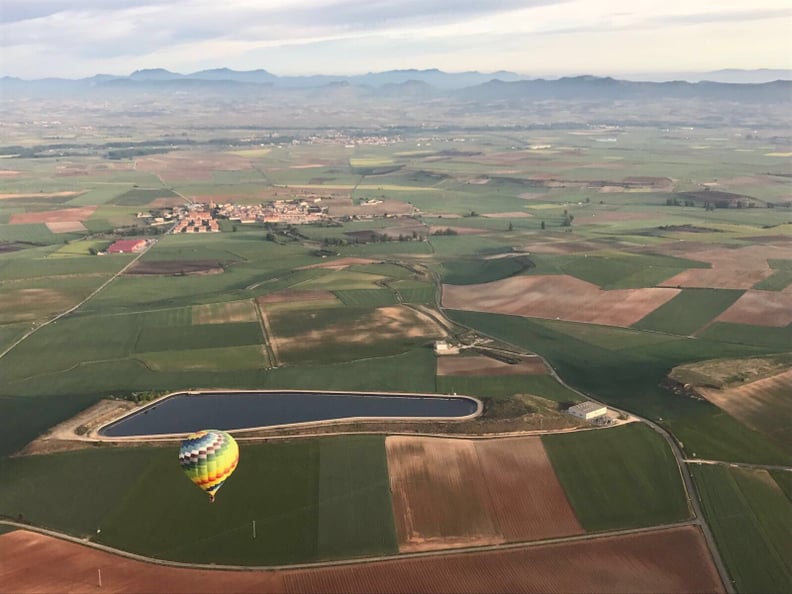 Rioja, Spain
For wine- and food-lovers, it's the ultimate vacation spot, just an hour drive southeast of Bilbao (the capital of the Basque region) and an hour southwest of San Sebastían (one of the best food cities in Europe).
A true hidden gem, Rioja is located in north-central Spain — along the Ebro River — and boasts 600-plus wineries spread across the subzones of Rioja Alta (42 percent of DOCa wine), Rioja Alavesa (21 percent of DOCa wine), and Rioja Baja (37 percent of DOCa wine). "While Rioja has a variety of options, I personally loved the city of Logroño. It was a quaint city that offered so much in terms of entertainment and dining," said Daven Wardynski, the executive chef of Omni Amelia Island Plantation Resort in Fernandina Beach, FL, who recently visited the area.
Just walk the tapas bars on Calle del Laurel and see simplicity at its best. For example, champiñones! "These little button mushrooms were griddled with garlic butter and shrimp, served on a stacked pintxo skewer, atop a piece of bread. The freshness of the region was supreme. Whatever produce was in season was sitting raw on top of the counter in the pintxo bars for you to see and order. It was amazing to see people move from bar to bar only ordering the one item that pintxo bar was known for," said Wardynski. "I was fortunate enough to visit Bodegas Conde de los Andes and meet with local wine maker Javier Murua. His exuberance for his craft was refreshing and the wines were special. Being in Rioja, we obviously tasted some reds — and, in particular, Tempranillo — but, for me, the surprise of the entire trip to Rioja was his whites.
"Additionally, the maze of underground cellars ('calados') leaves you pondering how the wines were produced hundreds of years ago — some collections even dating back to the late 1800s! The history in this area of the world is truly unparalleled. There is a portion of the underground cellars that were covered with layers of penicillin that help protect bottles for tens or even hundreds of years. This experience with Javier was simply stunning, to say the least," said Wardynski.
09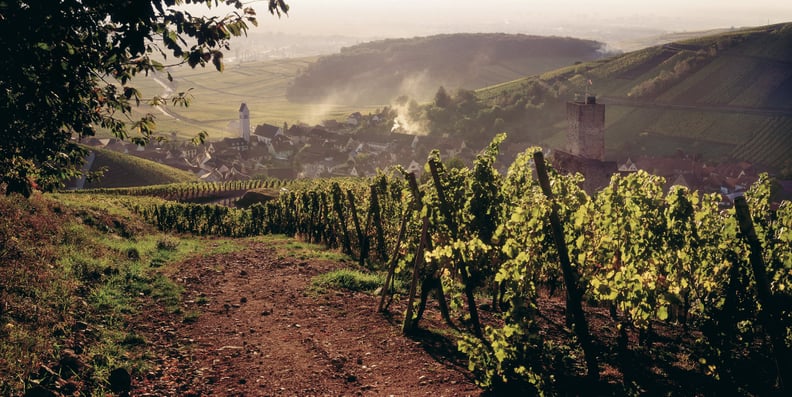 Alsace, France
Located in northeastern France on the border of Germany, Alsace is markedly different from other French wine regions. The grape varieties have Germanic origins — Riesling and Gewurztraminer are grown in large quantities — and the wines are labeled by variety as opposed to place. The region also has the oldest established wine route in France and dozens upon dozens of gorgeous villages with half-timbered architecture. Top producers include Trimbach, Hugel, Zind-Humbrecht, and Weinbach.
10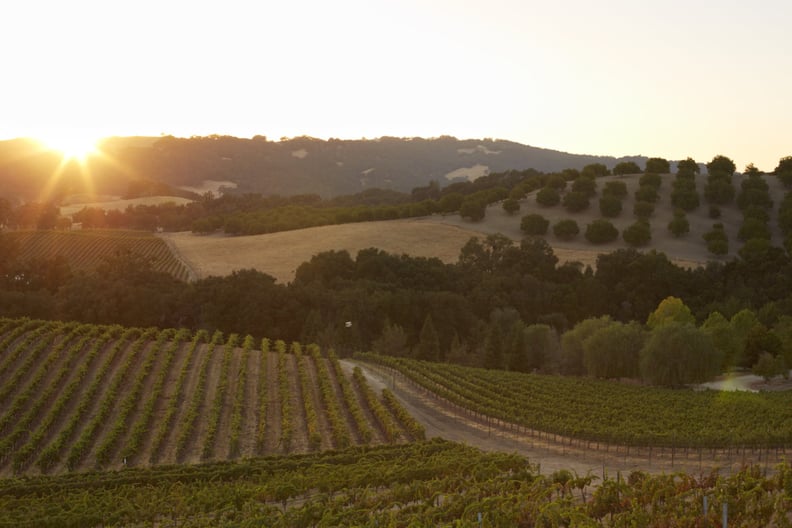 Paso Robles, California
Centrally located halfway between San Francisco and Los Angeles along California's famed Central Coast, Paso Robles is the third largest and most diverse wine region in the state. First established in 1983, today it boasts 11 viticultural areas with over 200 wineries ranging from small, family-owned producers to larger estates, making Paso a must-visit, wine-tourism destination. While the area grows numerous grape varietals, including Bordeaux and Rhone, and is known for its nontraditional blends, Zinfandel is the heritage wine grape, which is celebrated with the area's annual event, Vintage Paso: Zinfandel, in March.
11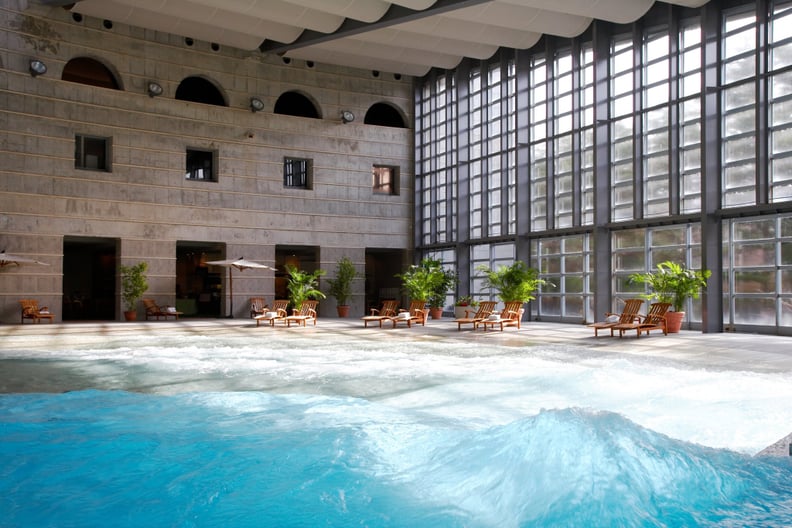 Japan
Set remotely outside the bustling city, Risonare Yatsugatake is located in Yamanashi wine country. Just two hours from Shinjuku by rail and set amid the spectacular mountain scenery of Yatsugatake, this stylish and romantic resort beckons with fine Japanese and Italian cuisine, boutique Yamanashi wines, upscale wine spa therapies, buildings designed by prominent architects, and hands-on activities for all ages. Although Japan is not necessarily associated with its wines, this region is known for some of the best.
12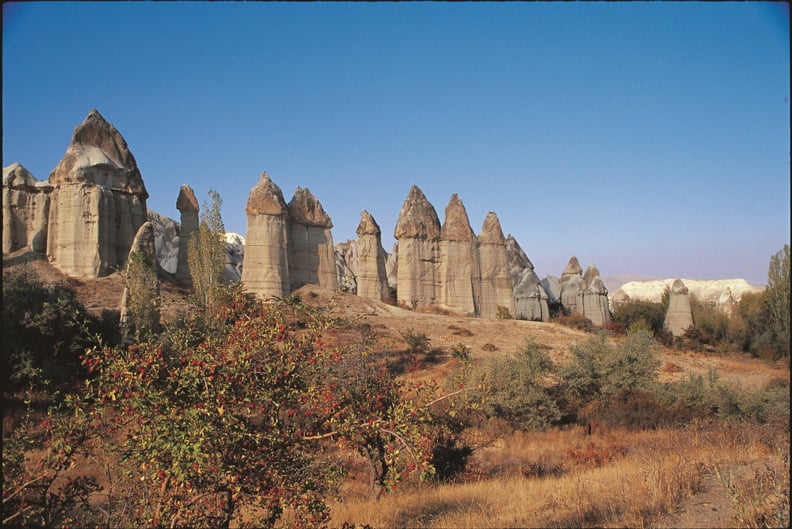 Cappadocia, Turkey
Situated in Turkey's Central Anatolia region, Cappadocia is a moonscape of deep ravines and valleys, cliffs, volcanic peaks, precariously balanced rocks, and countless "chimneys," tall, ancient pillars and minaret-like towers carved into the stone over millions of years by the forces of nature. Cappadocia has a fascinating history of wine production, with award-winning wineries that take advantage of the abundance of natural and man-made caves for perfect storage conditions.
Argos in Cappadocia has Turkey's largest wine cellar and, housed in its own caves, showcases bottles from its own Kalecik Karasi vineyards as well as other Cappadocian selections. Bezirhane, a spectacular event space over 26 feet high with giant stone walls and pillars, is situated in the 2,000-year-old underground monastery.