Everyone's Losing Their Sh*t Over This Harry Potter-Themed Shop, and Honestly, Same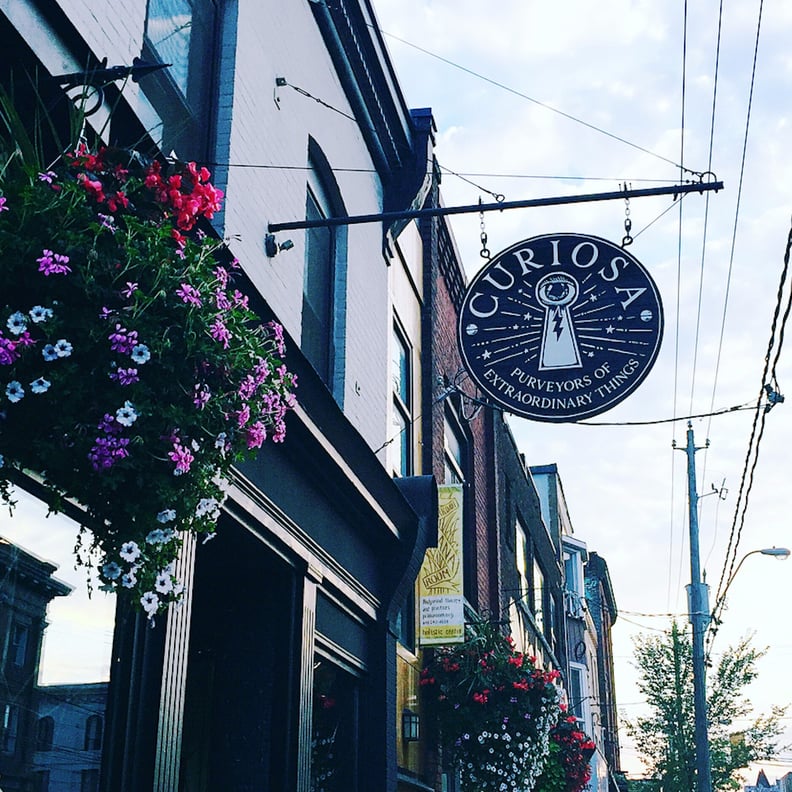 Grab your broomsticks, wizard wannabees, because we're embarking on a journey to visit the magical store known as Curiosa: Purveyors of Extraordinary Things. Situated on Queen Street in Toronto, this Harry Potter-inspired shop is totally about to take over your Instagram feed and give you a serious case of wanderlust. The glorious establishment just opened its doors in August and has since left Muggles all over the globe itching to book a flight to Canada.
Curiosa is filled to the brim with wands, books, and trinkets galore, and it even has shelves featuring merchandise from each of the four Hogwarts houses. Oh, and did we mention there are also self-stirring cauldrons all around the shop? Yep, this place sounds beyond cool. To be clear, not everything in the store relates to J.K. Rowling's famed book series, as it also sells other games, paper goods, and knickknacks related to classic literature and all things magical.
The best part? Curiosa is only about a 15-minute walk away from The Lockhart, that epic Harry Potter-themed bar in Toronto. Score! If you don't have your Floo powder handy, join us on a virtual tour through the store's interior by perusing the photos ahead.
Welcome to Curiosa, the most magical place in all the land.
People are pretty hyped about it opening. Exhibit A: this line out the door.
Exhibit B: the fact that it's actually wrapping around the building.
The inside is impeccably designed.
Behold, the sheer perfection.
The shelves are flooded with tons of fun trinkets.
OMG, there are wax seal kits?! NEED.
Also need this Harry Potter Hogwarts Battle game.
We'd decorate our entire homes with these cool vintage posters.
Here's Hedwig lookin' sassy AF.
And those oh-so-mysterious self-stirring cauldrons I mentioned.
BRB, filling out my wand permit paperwork!
You can leave the shop owners a note with a feather quill pen!
Which House merch would you buy?
Purchase at your own risk!
How cute is this Golden Snitch keychain?
We'd totally put this pin and patch on our denim jackets.
OK, and this Gryffindor pin, too.
They have HP House-themed bracelets, too! It doesn't get much better than that.
SERIOUSLY?! Even the bathroom is magical. Wishing we could teleport here ASAP.