This Delsey Carry-On Got Me Through a 2-Week Trip to Europe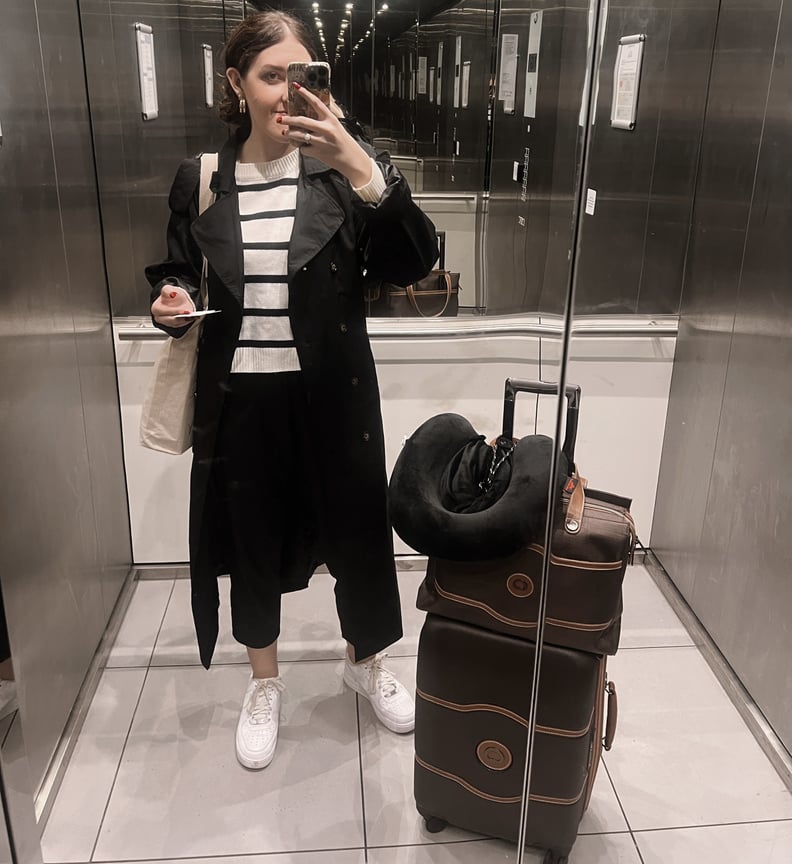 POPSUGAR Photography | Kyley Warren
POPSUGAR Photography | Kyley Warren
As POPSUGAR editors, we independently select and write about stuff we love and think you'll like too. If you buy a product we have recommended, we may receive affiliate commission, which in turn supports our work.
I'd say there are a few things in my life that I do exceptionally well — and over-packing is absolutely one of them. Perhaps you've seen those people at the airport who are endlessly struggling to maneuver through ticketing lines or the TSA-checkpoint, all because they have three suitcases in tow for what's likely only a week's worth of traveling? To quote the lyrical prophet herself, Taylor Swift: it's me, hi — I'm the problem, it's me! Up until very recently, my packing strategy has always been to throw as much clothing as humanly possible into a suitcase, and simply hope that I have enough options to make it through my otherwise predictable vacation (ironically, I never do!). But with the chaos that's since ensued at airports in the post-Covid era of travel and the endless stories I've heard from friends about issues with lost luggage, I've been forced to find other alternatives to my packing habits.
Such was the case recently when I embarked on a two-week trip to Europe, which involved me visiting London, Paris, and Amsterdam. Between the international flights, the brief window of time I'd be spending on the ground in each city, and the train rides I'd need to take while commuting in between the different countries, I knew I would have to do the inevitable for this trip (well, inevitable for me!): condense my traveling essentials into only a carry-on. Sure, I could have checked a bag — but then I'd run the risk of losing my luggage altogether and having to deal with solving a problem while abroad that, frankly, I just had no interest in even entertaining.
Fortunately, a few years back I had invested in a stylish luggage set from Delsey Paris, and decided to put the Delsey Chatelet 2.0 Air Carry-on ($224, originally $321) to the ultimate test — not only taking it as my sole luggage on a two-week European holiday, but also seeing if it could support the needs of a notorious over-packer, too. Read on to see my honest review of how this super-chic luggage held up while traveling abroad.
What I Like About This Delsey Carry-On
I love how spacious this carry-on feels, despite the fact that it's — well, a carry-on. So much of this has to do with the smart design of the piece. The interior of the luggage is fitted with two lined compartments that are deep and easy to fit a variety of different styles in at once — including everything from bulky seasonal coats and sweaters to thick jeans and even a couple pairs of boots. The compartments also feature web straps, which help to keep all of the packed items secure and wrinkle-free (a helpful accent to have if you ever plan to check the bag). There are also zippered pockets on each side, which are ideal for storing more of your delicate items like socks or underwear. And the carry-on even comes with a removable hanger, plus laundry and shoe bags — small perks, I know, but it can make all the difference when you're traveling and short on space.
The spinner wheels were another huge draw to this carry-on for me. Being able to pull the luggage right along at my side rather than behind me relieved so much pressure and strain off of my hands, especially when having to walk extended lengths through airports or for any connecting flights. Going all throughout Europe in cities that are notorious for pickpocketing, there was also an added safety element to it, as well — I didn't feel the need to keep more of a "watchful eye" on my luggage, simply because it was always right next to me, rather than behind my back and outside of my line of vision. The three-dial TSA approved combination lock also gave me extra peace of mind when leaving my luggage in hotels or just carrying it onto trains where it often had to be stored in separate cabins.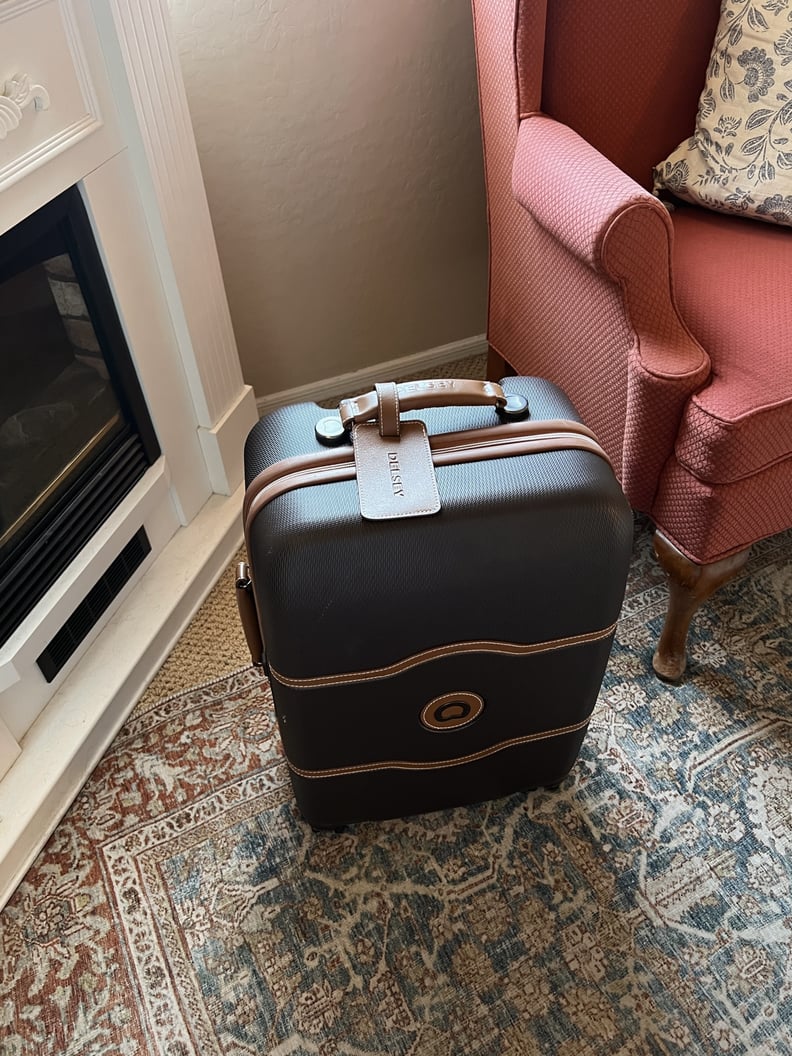 What's Worth Noting
While this didn't occur often and certainly isn't a factor that would deter me from purchasing this Delsey carry-on again, there were several moments while on my trip where it felt as if one of the wheels stalled and had issues moving as effortlessly from side to side — forcing me to pull the luggage along behind me rather than at my side. The wheel eventually returned to its normal state after rolling the carry-on around a bit (almost like loosening the wheels up), but it was still an initial concern. In all fairness, this trip required some serious movement from my luggage — hauling it up stairs at older, boutique hotels, carrying it through train stations, and on-and-off buses — so I had put more pressure and miles on it than ever before. Even still, with spinning wheel capabilities, it's something to be cautious of.
Another thing worth noting is the wear that can be visibly seen on the luggage. I've had my carry-on for several years and haven't found this to be a problem with my own chocolate brown-colored Delsey set, but several friends who invested in the brand's champagne white set have seen noticeable discolorations, scuffs, and just general wear on their luggage pieces. My own set still looks pristine and perfectly in-tact — but if you're considering getting the luggage in a lighter color, know that it definitely does show any extended use quicker.
Who Is This Delsey Carry-On Best For?
Whether you're a frequent flyer, someone who appreciates packing with precision, or just simply want to avoid any luggage fiascos by traveling only with a carry-on moving forward, this Delsey hard-side luggage is such a worthwhile investment. Even though I purposely packed lighter (and more strategically) for my trip, I still never felt like I was shorthanded or unable to easily carry everything I needed with me while on the go (including souvenirs!) — and that was because, unlike other carry-ons, this luggage is equipped with an incredibly thoughtful design that helps to make packing and re-packing a breeze. From the deep, interior compartments and easy spinner wheels to the three-dial TSA approved combination lock, it's the details that really make this carry-on something special — and perfect for anyone who wants to travel with ease (because that's what a good vacation should entail anyway!).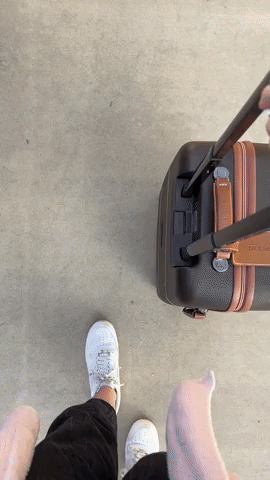 Where Is Delsey's Chatelet Carry-On Available?
The Delsey Paris Chatelet 2.0 Air Carry-on is available to shop at Amazon ($220, originally $321) and Macy's ($297, originally $660).
Additional Details
The luggage piece is durable yet lightweight, as it's crafted with a 100% polycarbonate shell that's said to be resilient to any breaking or cracking.
This Delsey carry-on boasts a number of cool accents, including a recessed "one-button" locking handle system that helps to provide easier maneuverability and a 3-dial TSA approved combination lock for added security.
Delsey's Chatelet luggage styles are available to shop in a wide range of colors, including chocolate brown (my shade of choice!), navy, champagne white, black, and pink. Plus, there are also separate weekender bags and totes that you can purchase and slide over your carry-on's handle, or simply use as an additional personal item on flights — including the Chatelet Air 2.0 Shoulder Bag ($142, originally $380).
Rating:
★★★★★