Sugar Skulls Are Part of the Día de los Muertos Squishmallow Set, and We'll Take All of Them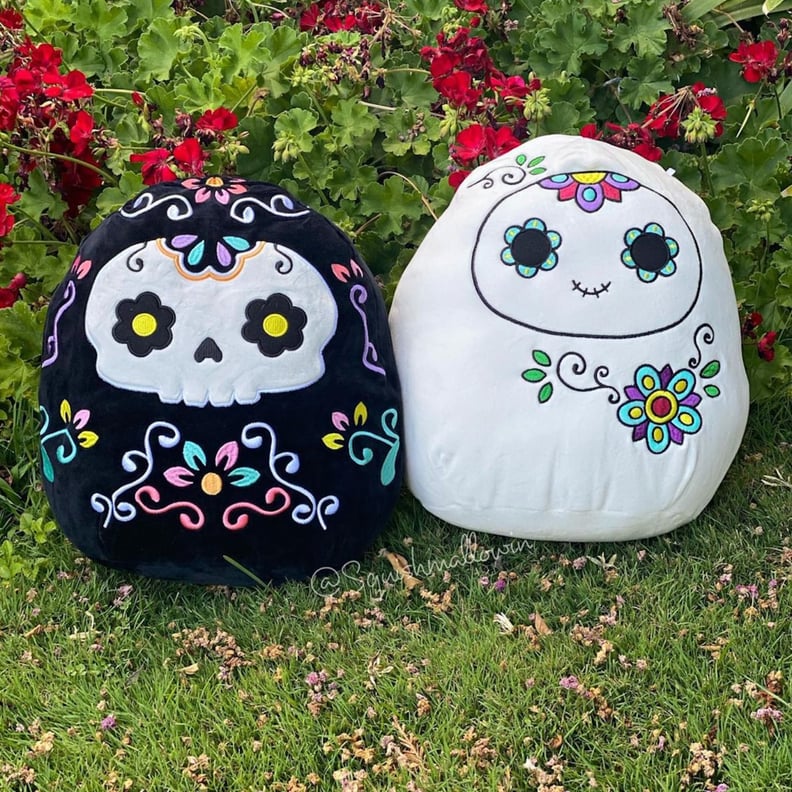 We gotta say it: the best part about fall this year are the seasonal Squishmallows. The new 2021 Halloween collection is here, and it features everything from Jack and Sally from The Nightmare Before Christmas to the fan-favorite witches from Hocus Pocus. The collection also has Día de los Muertos pillows, and while this holiday is a completely separate one from Halloween, the brand released them all together so we could celebrate together with our Squish squad all season long.
Complete with Prince the pug, Zelina the black cat, Astrid the unicorn, and Brooke the bear wearing traditional sugar skull designs as well as makeup artist Glixa (who specializes in calaveras, Spanish for "skulls") and Delfina (who likes making sugar skulls, which are made from sugar and traditionally used as an offering to ancestors), these cozy and cute toys are the perfect addition to any Day of the Dead festivity. And while anyone can celebrate Día de los Muertos and enjoy sugar-skull-themed Squishmallows, just be sure to do so in a way that honors (and not appropriates) Mexican culture. Respecting the people the holiday originated from and educating yourself on the importance behind honoring deceased ancestors will make these festive toys that much more special. Keep reading to see the newest Squishmallows, and make this holiday one to remember.
Delfina and Glixa Día de los Muertos Squishmallows
Glixa Día de los Muertos Squishmallows
Brooke the Bear Día de los Muertos Squishmallows
Delfina Día de los Muertos Squishmallows
Brooke the Bear, Prince the Pug, and Glixa Día de los Muertos Squishmallows
Glixa and Brooke the Bear Día de los Muertos Squishmallows
Delfina and Glixa Día de los Muertos Squishmallows
Astrid the Unicorn and Delfina Día de los Muertos Squishmallows
Prince the Pug and Glixa Día de los Muertos Squishmallows
Zelina the Black Cat Día de los Muertos Squishmallows