44 Disney Cruise Hacks You Need to Know Before Setting Sail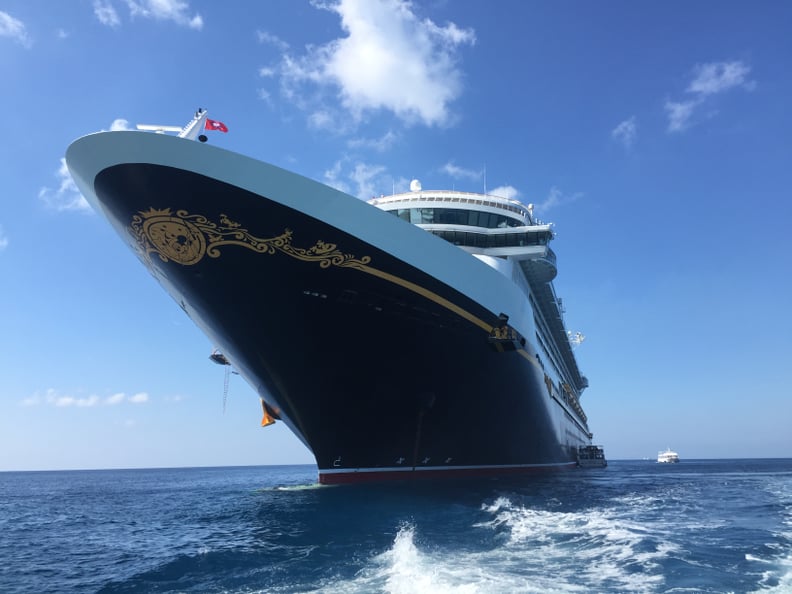 POPSUGAR Photography | Hilary White
POPSUGAR Photography | Hilary White
We've all got it wrong, because the happiest place on earth is not a Disney park, but in fact a Disney cruise. Yep, I said it. I love Disneyland and Disney World as much as the next Disney devotee, but there are some drawbacks to the parks (like hordes of people, inescapable heat, and long lines) that you just don't deal with while sailing blissfully on blue seas. I took the Disney Fantasy's Western Caribbean trip for seven nights, and while I went in a little hesitant about the whole affair, my skepticism about being on board a ship with thousands of people — many of whom barely reached my waist — was checked at the entrance of the ship and buried deeper as the days went by.
Disney fans, book your cruise ASAP. Non-Disney fans, book your Disney cruise ASAP, because you can embrace Disney entirely aboard the ship or avoid it, and still have a VIP experience either way. Star Wars buffs, book your cruise on the Fantasy and have a special day at sea that the biggest fans can only dream of. Read ahead for everything you need to know before setting sail on the most magical vacation yet.
— Additional reporting by Lauren Harano
01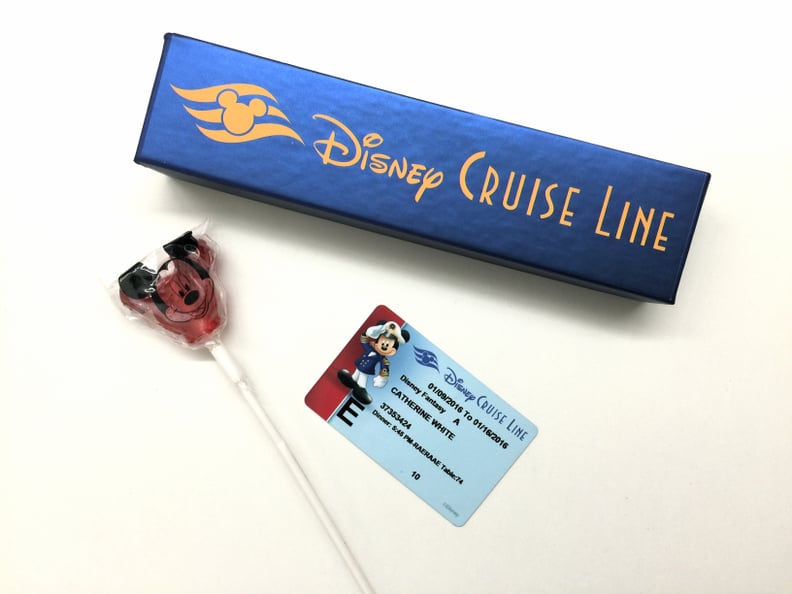 Your Key to the World card is ALL you need.
There are no ATMs on board. All your on-board transactions are done with your Key to the World card (which has your credit card information stored on it and is also your room key), but should you need cash when you make stops on port days, then you'll need to have it on you beforehand or find an ATM when you get off the boat. Foreign transaction fees can really rack up, so it's best to bring money with you before you board the boat; most ports take USD.
02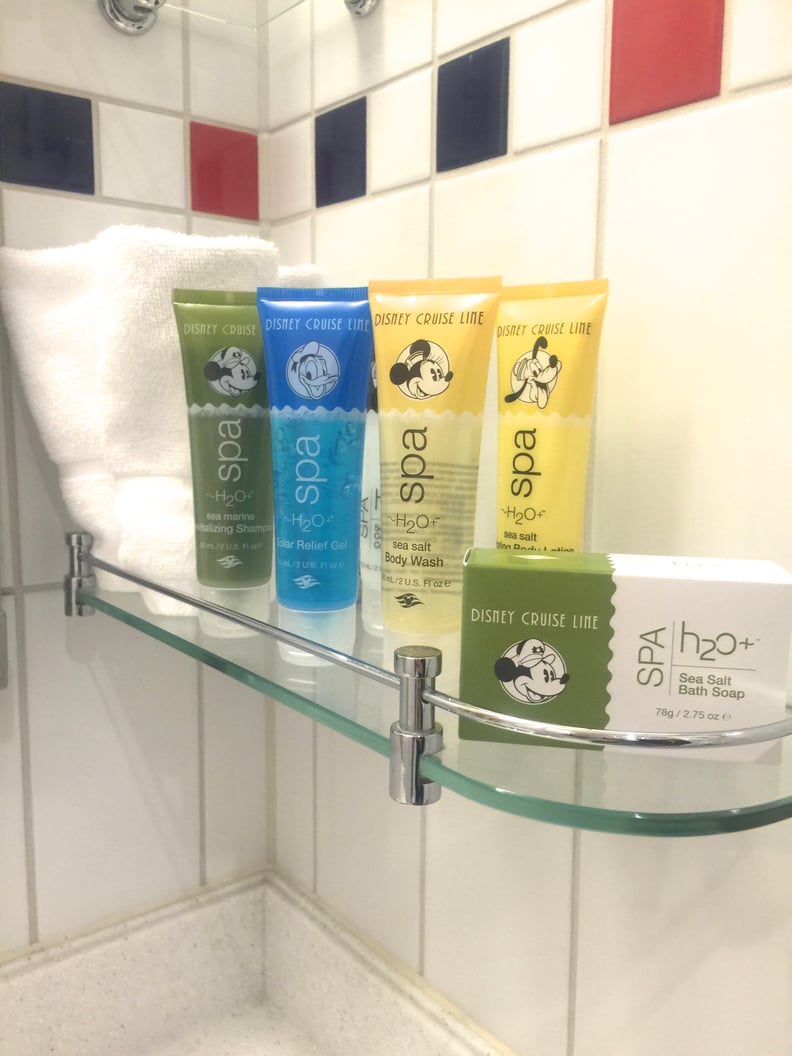 Know what your staterooms offer before you pack.
Thinking of bringing your own blow dryer? Don't bother. The room offers one with the correct voltage so you don't blow a fuse, not to mention body lotion, shampoo, conditioner, hand lotion, aloe, hand towels, regular towels, and even a fridge (mainly for storing medicine and keeping leftovers cool — no freezer is included).
03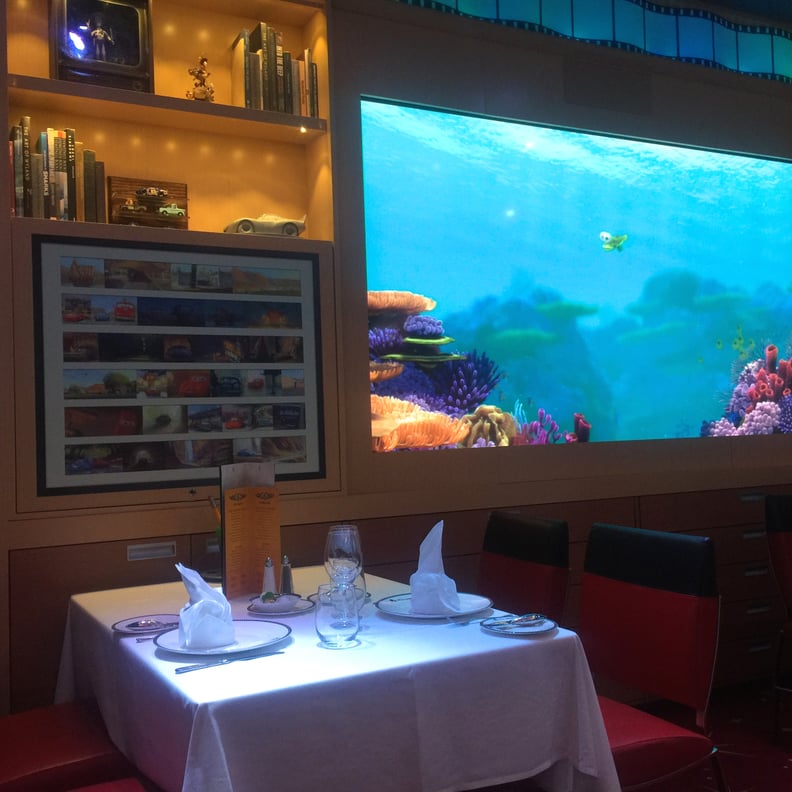 Disney cruises have rotational dining.
Rotational dining means you don't eat in the same place every night, and your schedule is predetermined before you board the ship. There are usually two time slots you can choose from — we were given the options of 5:45 and 8:15. Depending on what cruise you take and on the length of your cruise, you and your party will rotate through different themed restaurants, staying with your same servers throughout your trip. This allows you to build an awesome relationship with your servers; by the end of my cruise they were able to suggest items on the menu based on my personal tastes, and I didn't even have to ask for my drink when I sat down each night.
On the seven-day Disney Fantasy cruise, each restaurant on board had a night featuring a special menu, like "Prince and Princess" night, and very special menus for Star Wars Day at Sea. Animator's Palate restaurant put on two great interactive shows on the screens in the dining room as well.
04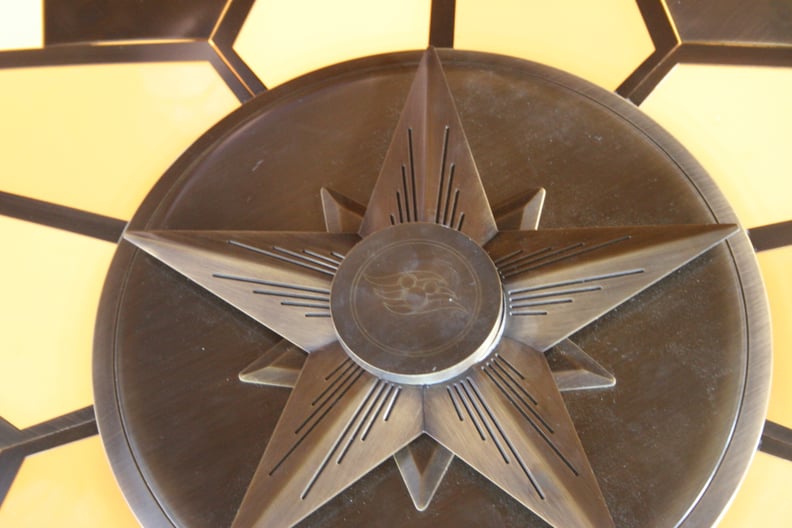 There ARE hidden Mickeys on board.
There are plenty of hidden Mickeys scattered throughout the ship. On the Disney Fantasy, check out the elevator grate design, the ceiling in the Meridian bar, the atrium bannister, the artwork in the Skyline bar, and many other subtle spots. If you really want to go on a scavenger hunt, some crew members and tour guides may be willing to give you some tips on where to find more . . .
05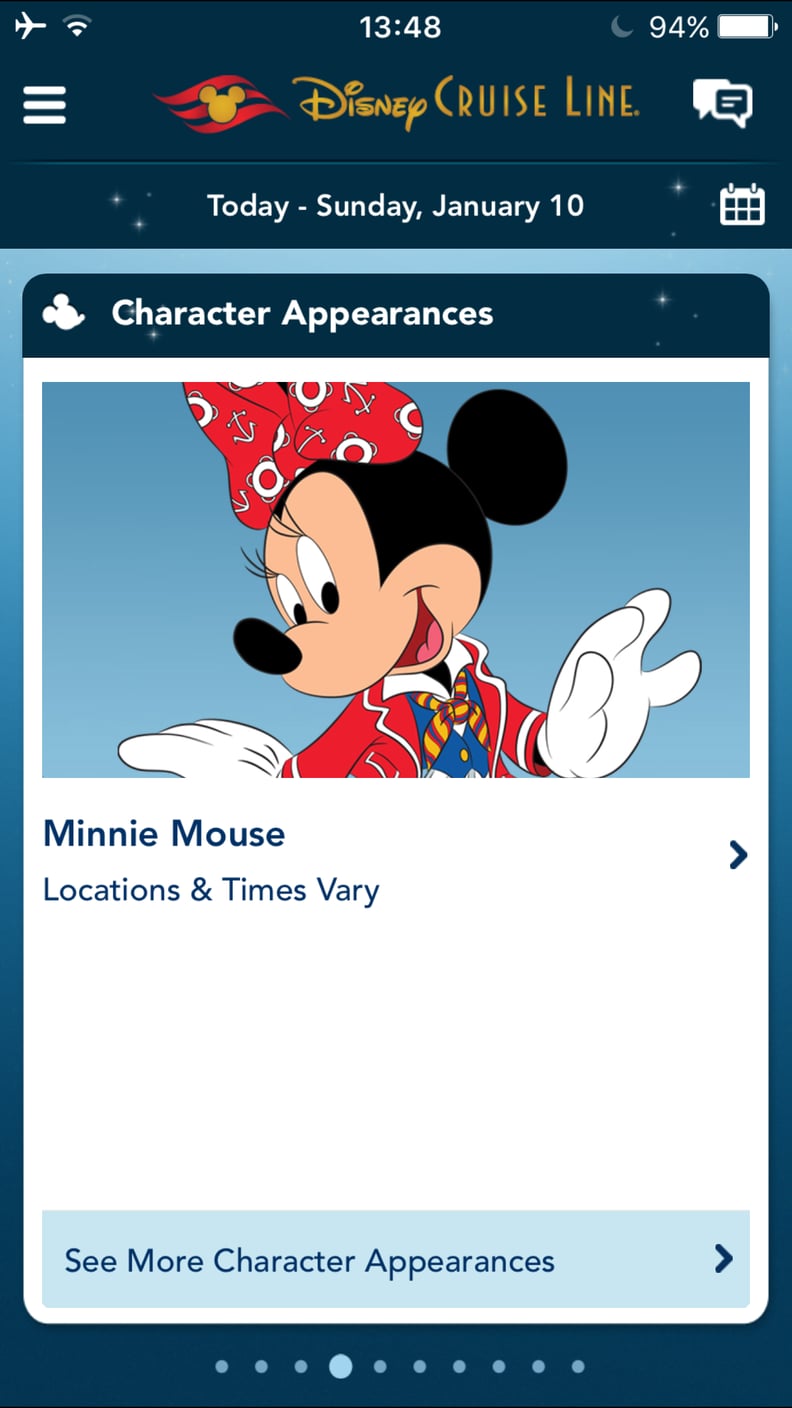 Download the Disney Cruise Line Navigator app — it's a LIFE SAVER.
Every evening, a "Personal Navigator" brochure is left at your stateroom. This brochure is one of a Disney cruiser's most valuable possessions, because it is a detailed daily calendar of events for the following day, broken down in to relevant categories, with highlights, weather reports, fun facts, character appearances, facility hours, and more. While the paper navigator is handy, the app is even more useful.
I used the app to plan out my days on the ship; users can "favorite" events, plan their day, and even send messages to other app users on the ship. The app sends you event reminders 15 minutes ahead of time, and was something I came to depend on throughout the week for all my cruise ship information.
06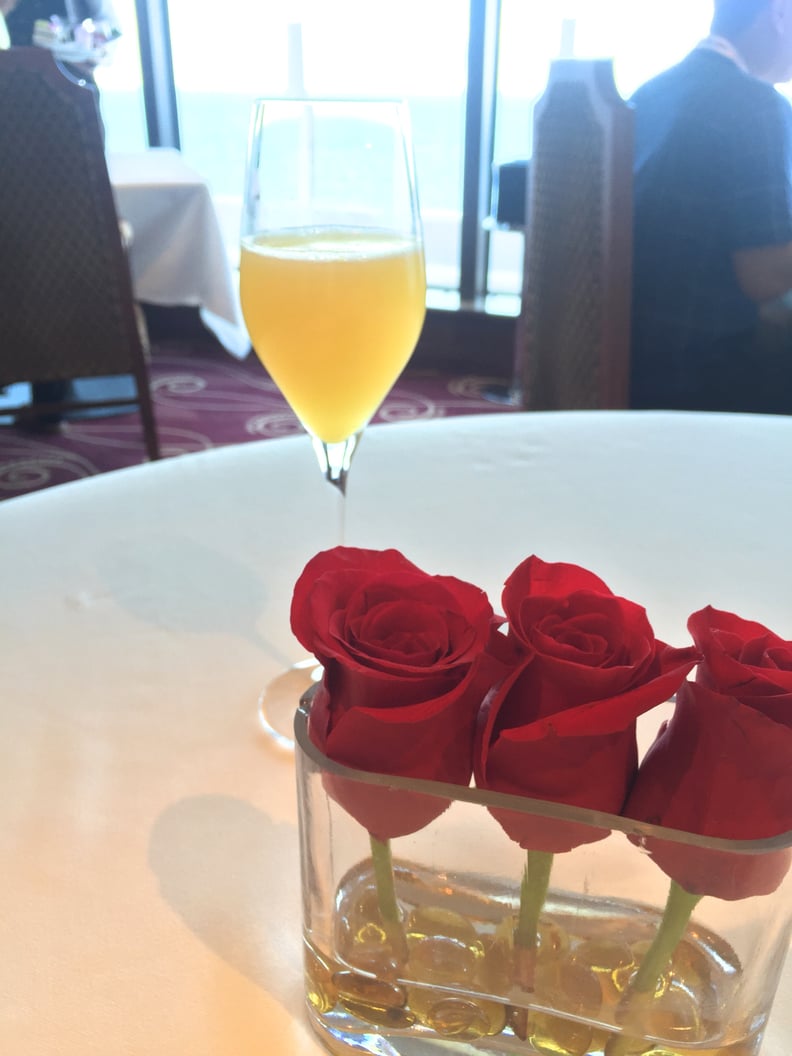 BYOB.
A lot of cruises don't let you you bring your own alcohol on board, but Disney cruises do. You can save a little cash by bringing your own two bottles of wine or champagne or a six-pack of beer, because while food and drinks are included in your cruise package, alcoholic beverages are not. Bottles have to be unopened, and they have to be brought in your carry-on luggage, NOT in your checked bags. Also make sure to take advantage of duty free alcohol sold on the ship and at some of the ports.
07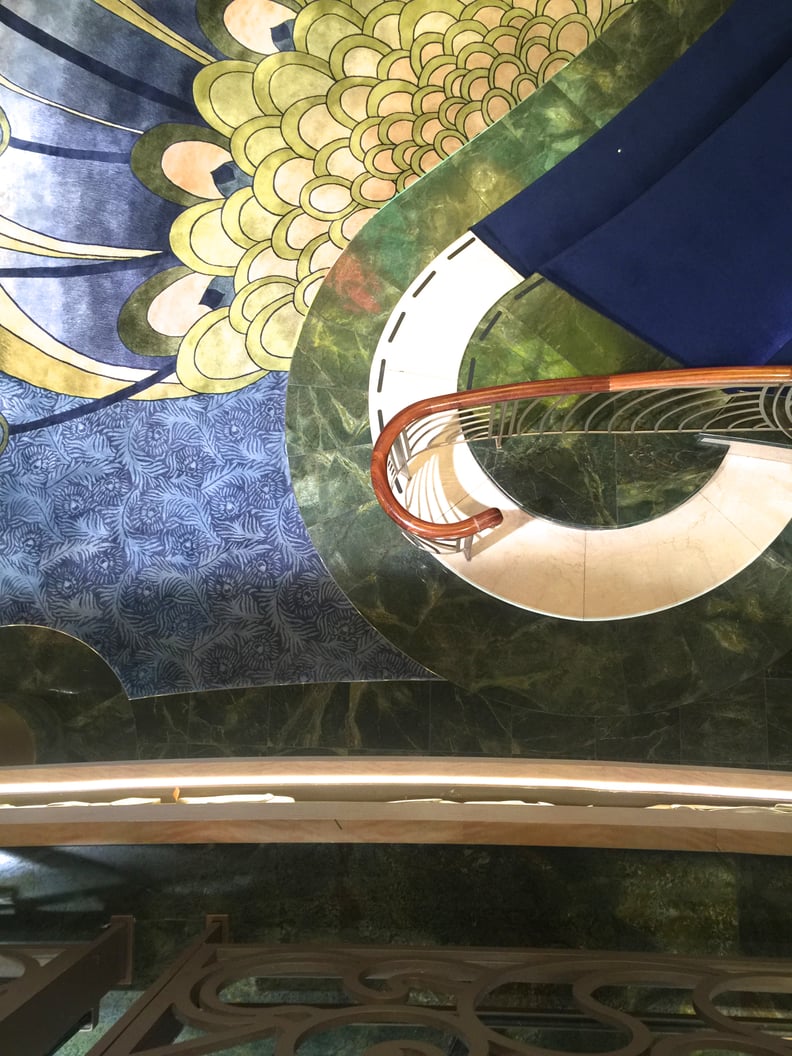 Each ship has a unique story.
It's the tiny but intricate details that make Disney cruise ships stand out from other cruise lines. On the Disney Fantasy, the peacock carpet in the atrium of the ship is hand woven (and absolutely stunning). Each ship has its own cool story. If your ship offers the Art of the Theme Show ship tour, be sure to take it! The tour guides are amazing, and the tour is a "behind the scenes" look at both Disney and the ship's own history.
08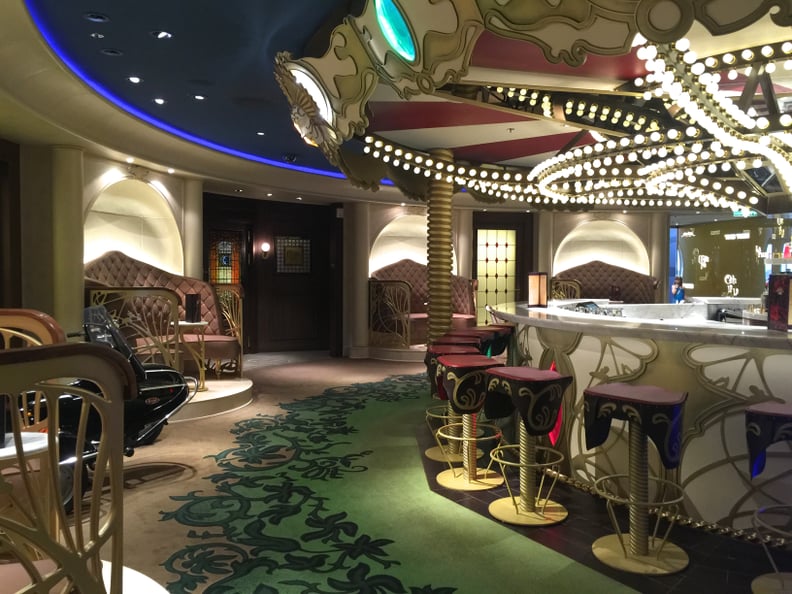 The bars are the perfect adult getaway.
If you need a break from the commotion of the ship, then several bars on board offer a variety of atmospheres with different levels of quiet and fun.
On Disney Fantasy, my absolute favorite place to escape was Ooh La La, a French-themed champagne bar that has a calming atmosphere with velvet chairs, low lighting, and just a touch of Disney, with their chandeliers modeled subtly after Beauty and the Beast's Lumière. O'Gills was the perfect Irish pub and hub for sports fans, and the Tube, which was London-themed, was a great place for trivia, BINGO, and meeting other cruise-goers. It's pretty easy to forget you're on a ship at these adult-friendly getaways, and nothing about them is overtly Disney — there may be a hidden Mickey here and there — but apart from that, they are pretty unassuming — and have great drinks.
09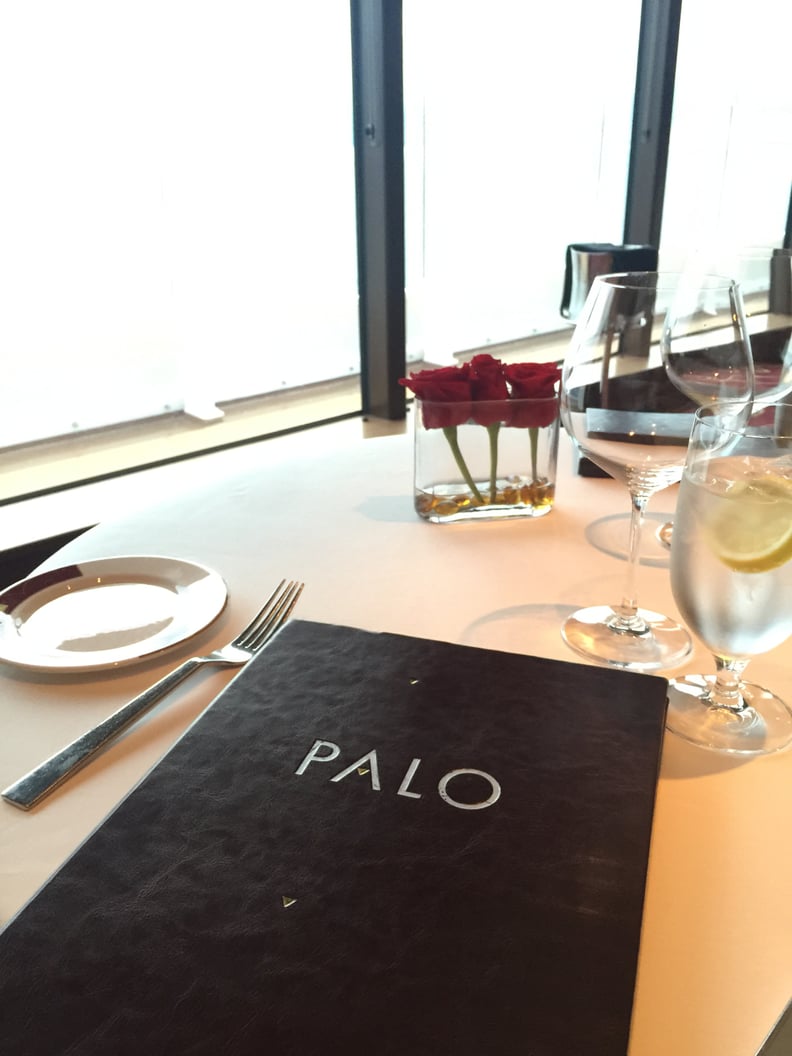 Schedule reservations at the premium restaurants ahead of time.
The 18+ premium restaurants like Palo (Italian-inspired) and Remy (French-inspired) are the cream of the cruise-ship crop (I recommend Palo brunch as it was hands down my favorite food on board), but make sure you make reservations ahead of time for these. They book up fast, and they really can't be missed.
10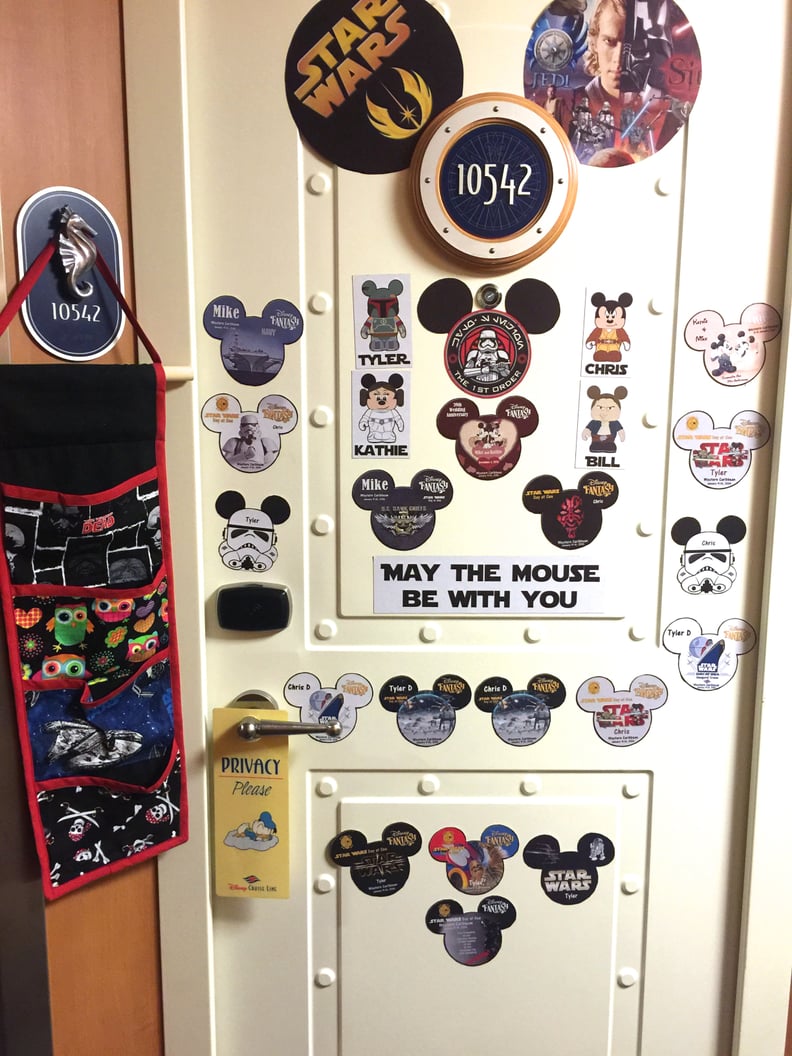 Bring supplies to deck out your door.
I had no idea going in to my first Disney cruise that people are EXPERTS at decorating their doors to celebrate their love of Disney. Since the doors are magnetic, many people stick festive Disney-themed characters all over their door, and on my ship, there was endless Star Wars inspiration to celebrate Disney Fantasy's inaugural Star Wars Day at Sea and the release of Star Wars: The Force Awakens.
11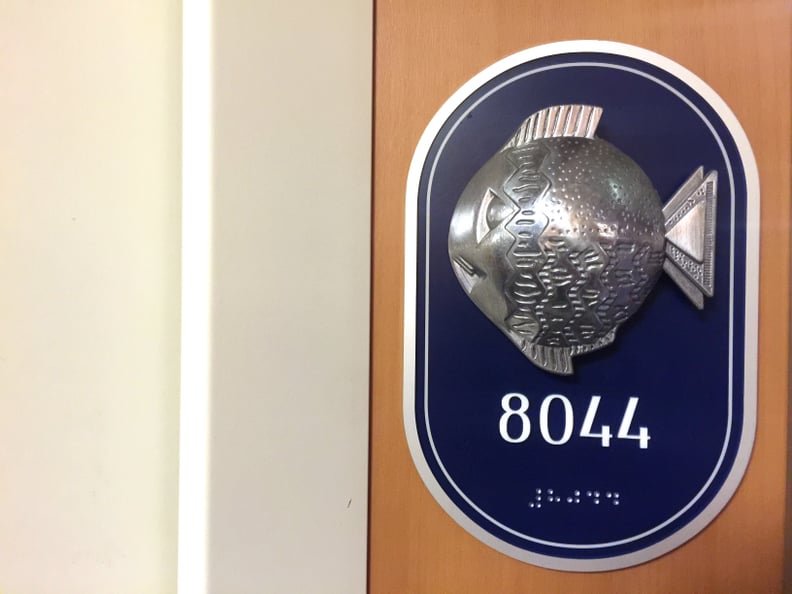 The fish outside your room lets you know what side of the ship you're on.
If you've got a fish by your door, you are on the port (left-hand, facing forward) side of the ship, and if you've got a seahorse, you are starboard (right-hand side, facing forward).
Pro tip: Know what the "fish extender" phenomenon is before you go on your cruise. At some point in Disney Cruise Line's history, guests began hanging things on these stateroom fish, and the term "fish extender" came about when the decor became more and more extravagant. The fish were initially used as places to stick mail and notes (they are still used for this as well), but now are ways to express fandoms, represent family members, and more. Frequent cruisers even join groups online and exchange gifts with fellow cruise goers by means of their fish extenders.
12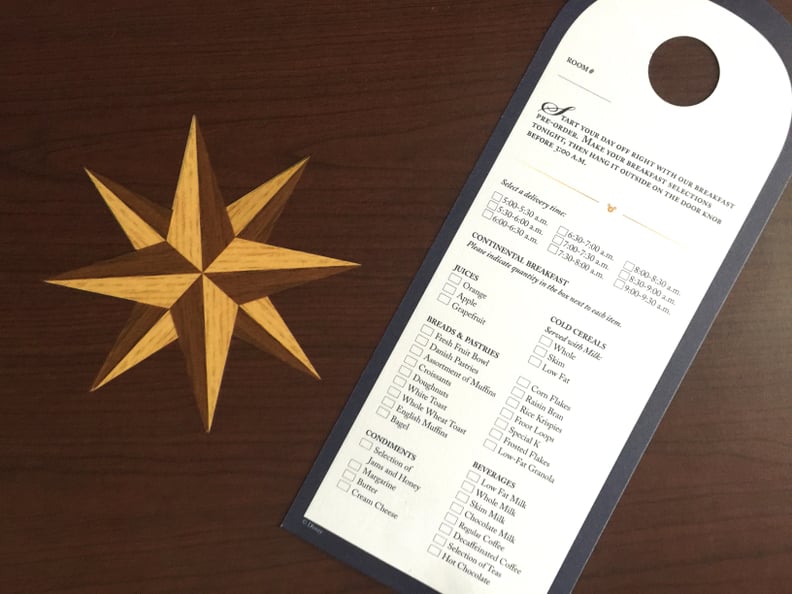 Take advantage of free continental breakfast brought to your room.
If you're not up for the breakfast buffets, or don't have time to go before disembarking on a port day, then place your order on cards provided in your staterooms to have breakfast brought to your door. You can choose 30-minute windows of time for delivery, and as long as you get your order on your doorknob by 3 a.m. the morning of, then you'll be enjoying your food without having to leave your room.
13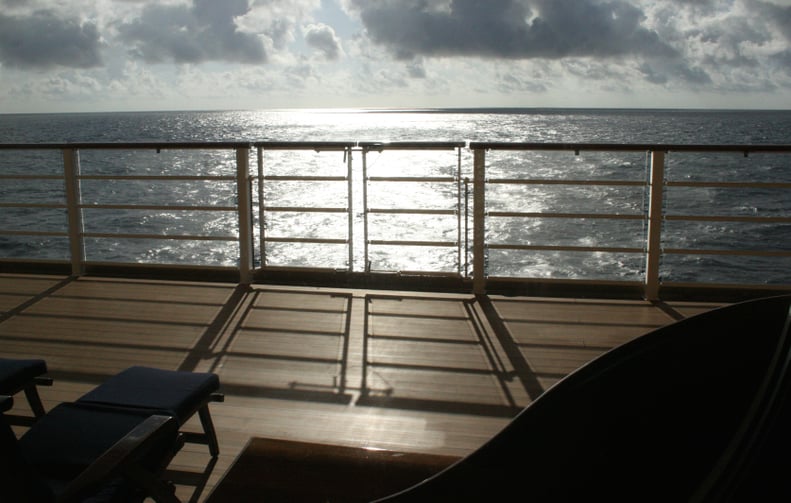 Fill up your water bottles in specific places on board to save money.
Disney cruises offer water bottle packages which range in price, but to save money and to be more environmentally friendly, you can refill water bottles at the buffet restaurants and drink machines on decks, the fitness center water fountains, and several outdoor deck water fountains. The tap water is not for drinking!
14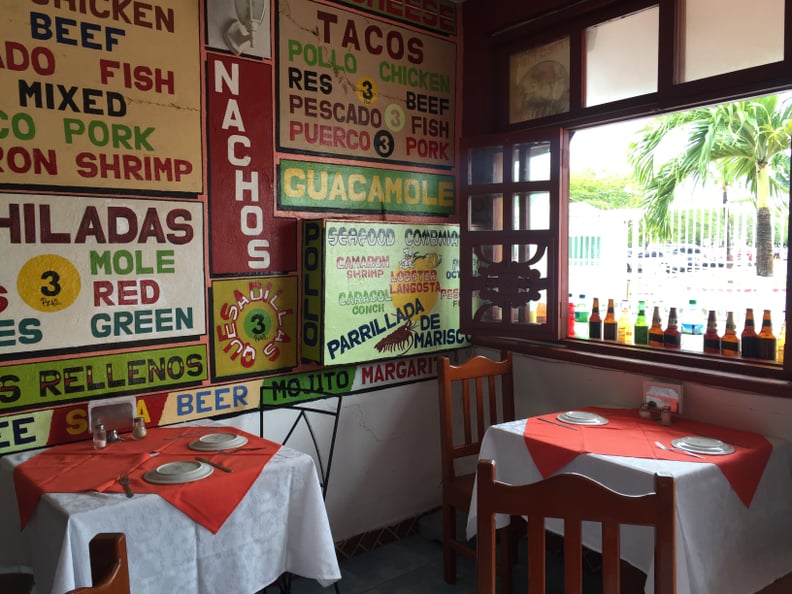 The WiFi is expensive and slow, so take advantage of Internet at ports.
WiFi can be purchased on the ship in packages, but the packages are expensive, the MB go VERY quickly, and the quality is still so-so. If Internet is not a complete daily necessity for you, you can save money by buying the smallest package for must-have usage, then wait for a port day. Find a quiet restaurant or Internet cafe away from the touristy areas, and enjoy authentic food while getting to benefit from free WiFi.
Still, it's nice to unplug for a few days, so if you're able to minimize your Internet usage, definitely do that! Apart from people using their phones as cameras, I noticed a significant decrease in phone usage throughout the trip, and it was kind of nice to see people looking around them and at each other rather than down.
15
You can tune in to your stateroom's TV for important ship announcements.
If you're outside of your room, important cruise ship announcements and daily updates can be heard via a loudspeaker, by someone with the most pleasant voice known to the world. If you're in your room, you can tune in to a channel on your TV to hear the news. Your TV also has great cruise ship updates, your Key to the World balance, port information, and more.
16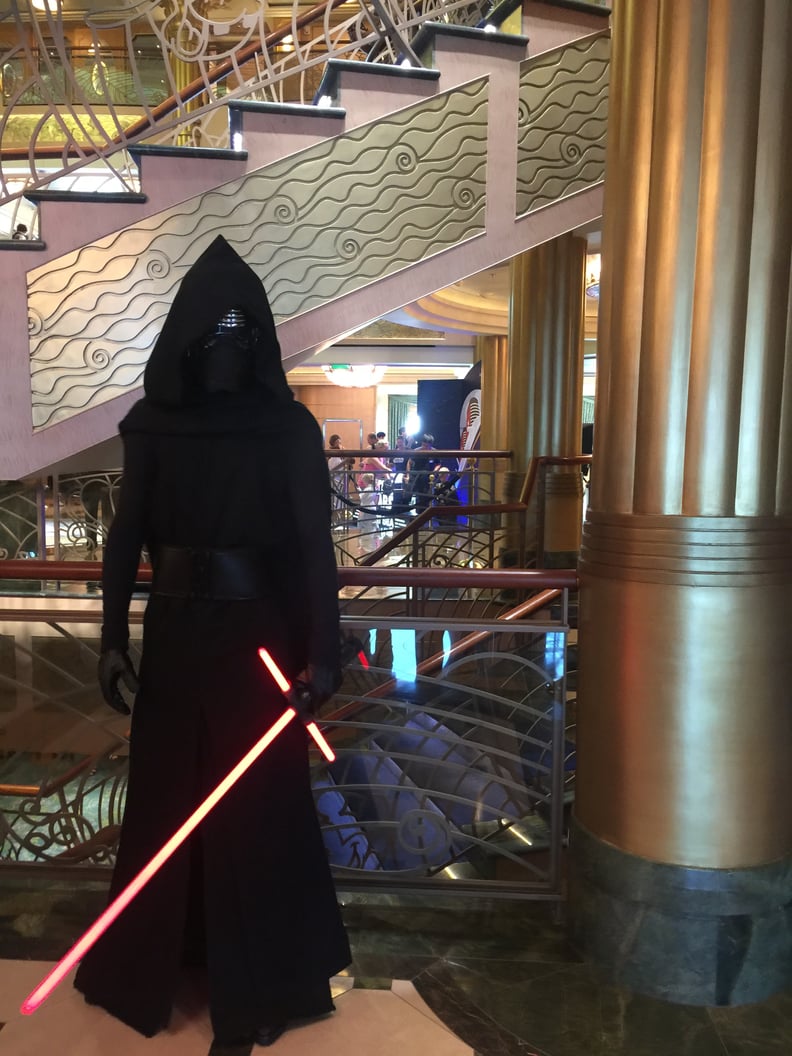 Dressing up as your favorite Disney character is definitely not just for kids.
If you think you're ever too old to dress up like your favorite Disney character, a Disney cruise will make you think again. Star Wars Day at Sea was a cosplaying extravaganza, with baby BB-8's and epic Kylo Ren's so on point they passed for actual cast members (some were getting asked for their signatures). Other events, like Pirates in the Caribbean and Disney Prince and Princess night, had guests donning their Disney best no matter their age. So bring your gear — you won't regret it!
17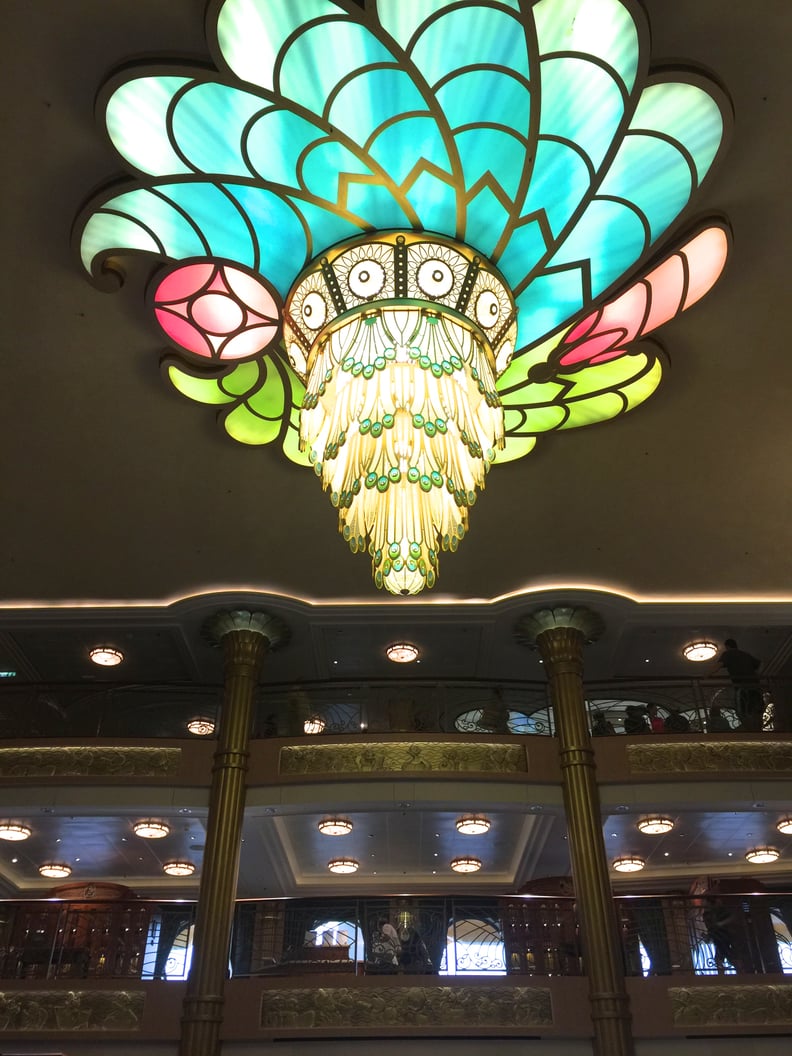 The atrium is equipped for over-the-top performances.
In case of inclement weather or other circumstances, the Disney Fantasy's main entrance hall's HUGE chandelier is able to perform about 30 different lighting cues so that the room can be turned in to a performance hall when needed. It can even drop confetti, which I saw in action when an impromptu Disney character dance party ensued during a storm. The chandelier is more than 10 feet in diameter, and according to Disney, is a "one-of-a-kind work of art evoking a peacock in stained glass and more than 60,000 clear Swarovski crystal beads." In other words, it's stunning.
18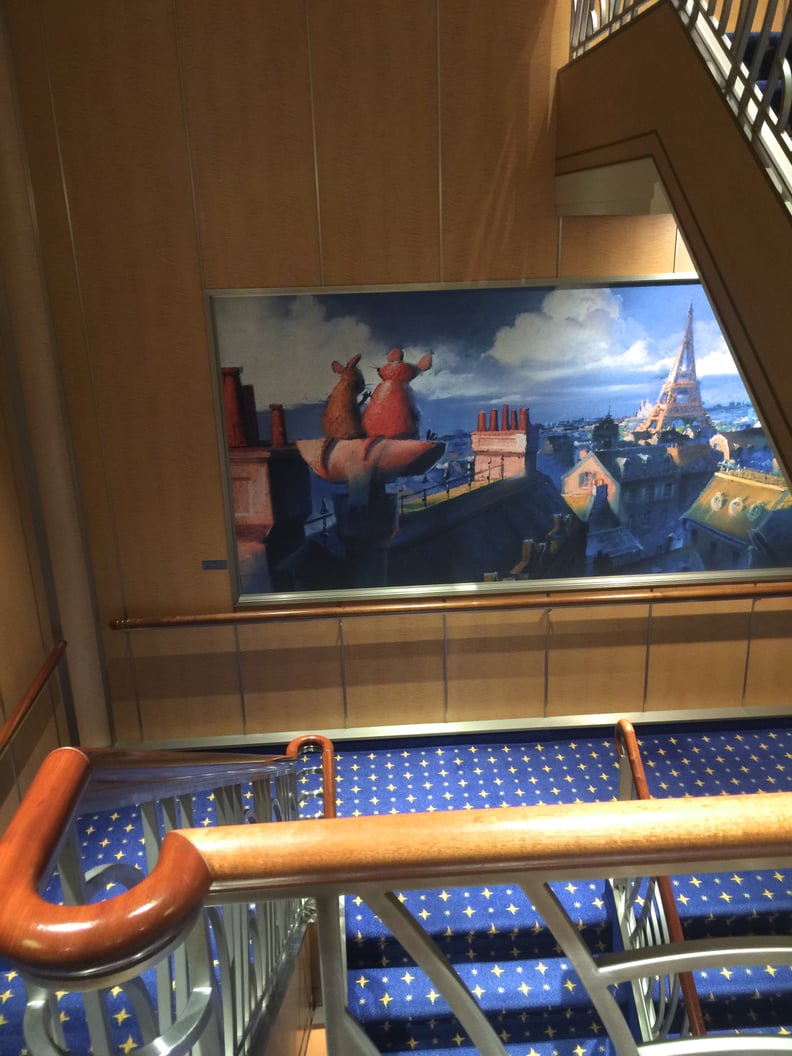 The ship's artwork is directional.
Throughout the ship, Disney artwork can help you find your way. For instance, on the Disney Fantasy, there's an image of two rats looking over Paris, and this artwork is on the way to Remy's French restaurant. There's also a vintage work of art that shows Goofy and friends playing sports, and the image points in the direction of a rooftop Putt-Putt course and basketball court.
19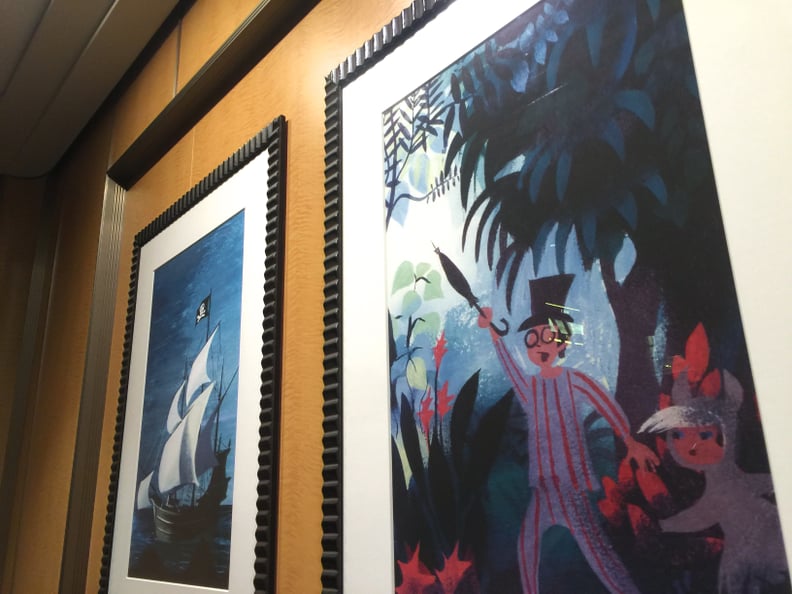 You'll see one-of-a-kind artwork throughout the ship.
On the Disney Fantasy, artwork by Mary Blair, one of Disney's first female artists and the designer of Disneyland's It's a Small World ride, can be found on display. Peter Pan's John Darling and the Lost Boys hang on a staircase, and this image is another example of directional art: his umbrella is pointing in the direction of a part of the ship that has an area for kids.
20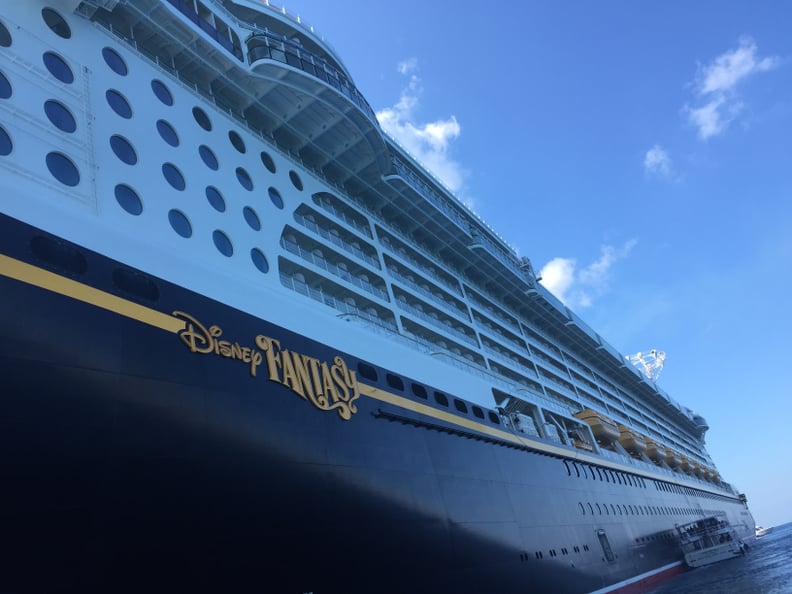 Disney Fantasy's ship whistle plays different songs.
A prominent element when sailing away, the Disney Fantasy's whistle can perform the first and second musical line of "When You Wish Upon a Star," and measures of "Yo Ho (A Pirate's Life For Me)," "It's a Small World," "Be Our Guest," "Hi Diddle Dee Dee (An Actor's Life For Me)," and "A Dream Is a Wish." The songs will make you smile as the ship sails.
21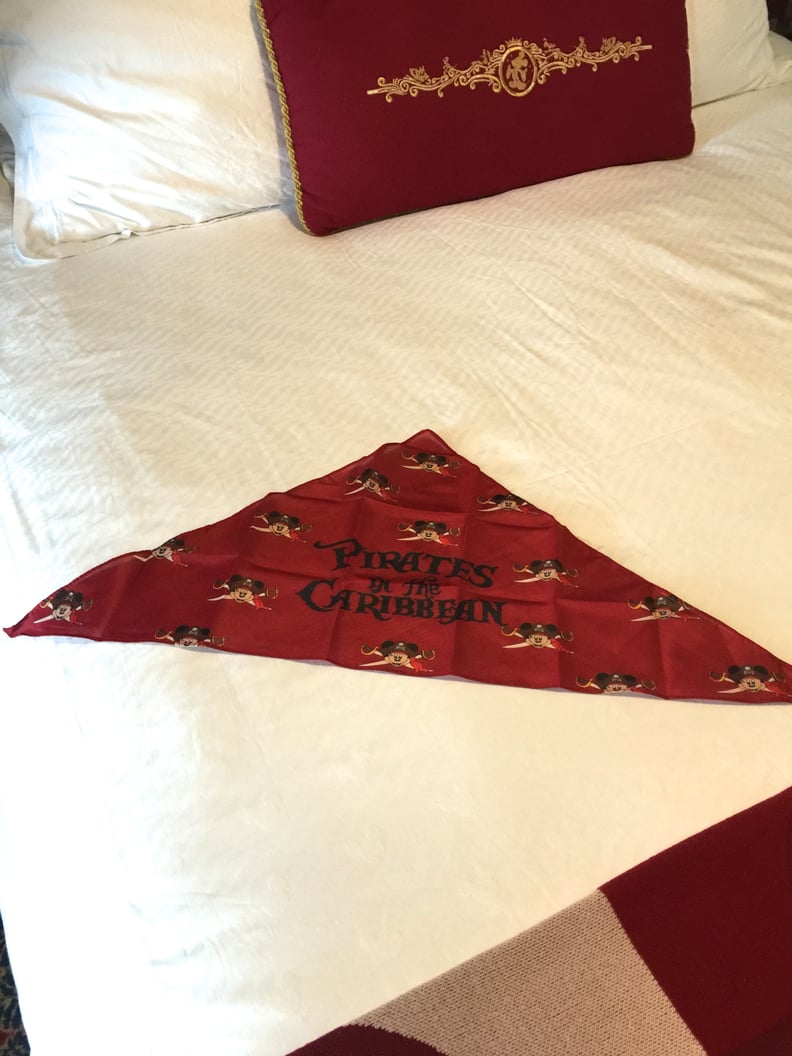 Don't miss themed events.
Events like "Pirates in the Caribbean" are not to be missed! Cruise-goers — especially seasoned vets of Disney cruises — go all out for these, and it's so fun to take part, or people watch if you don't want to get in the on the action yourself.
22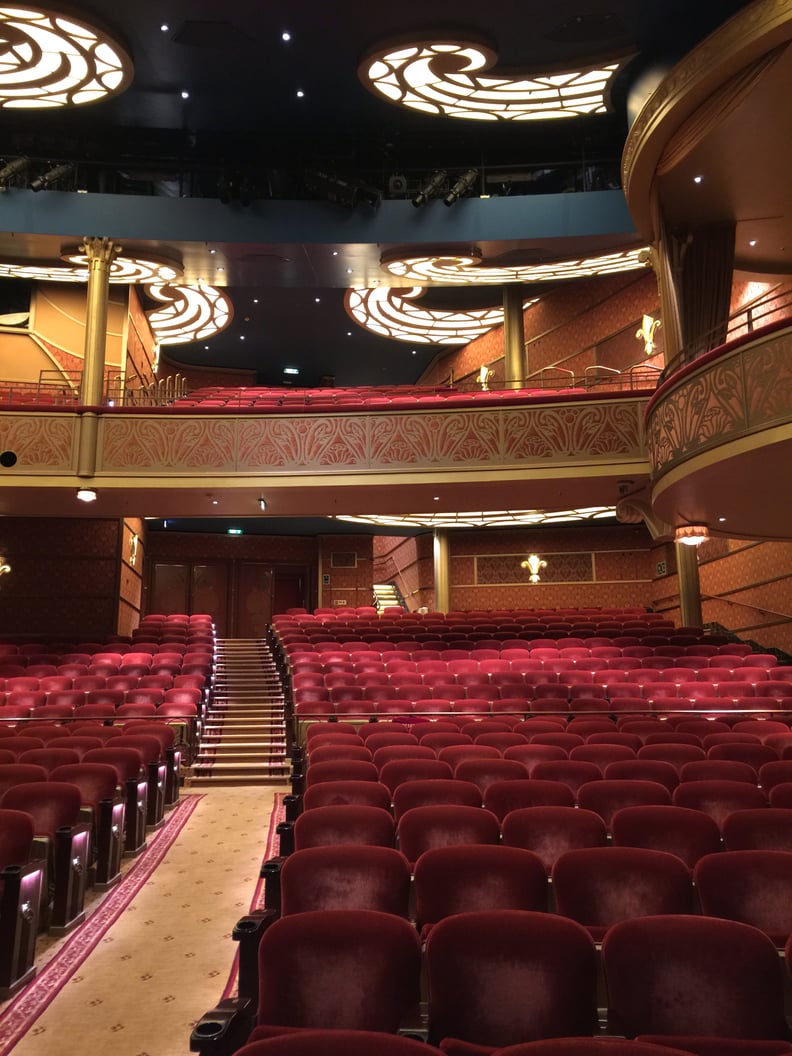 The live shows are legitimately good.
This probably comes as no surprise considering it's Disney, but the live evening shows throughout the trip are actually a must see. These aren't half-hearted attempts at live entertainment; they are full on performances with professional singers, dancers, lights, sound, and special effects. During my stay, there was an Aladdin musical, and Disney "Wishes," "Believe," and "Unforgettable Journey" — all of which offered different stories and performances that adults and kids alike could appreciate. You don't have to see them all, but definitely try to catch a few.
23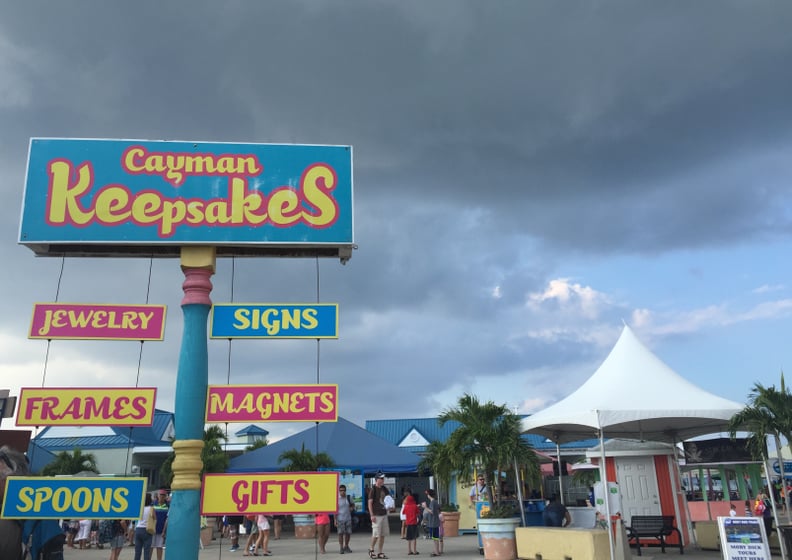 Take advantage of port days, but don't feel obligated to do all of the excursions.
There are SO many things to do when you get off the boat, and the Disney cruise line offers a help desk for ports and full brochures with information on the things you can do when you disembark, as well as the cost, activity level, and length of time the activity takes. Make sure to plan your excursion ahead of time if you want to do ones that require prebooking, but don't feel like you HAVE to do anything at all. On Disney Caribbean cruises, ports offer beautiful beaches to relax on, and there's a never-ending list of activities on board you can take advantage of while everyone is off the ship, which means less of a crowd and more time to do your own thing.
24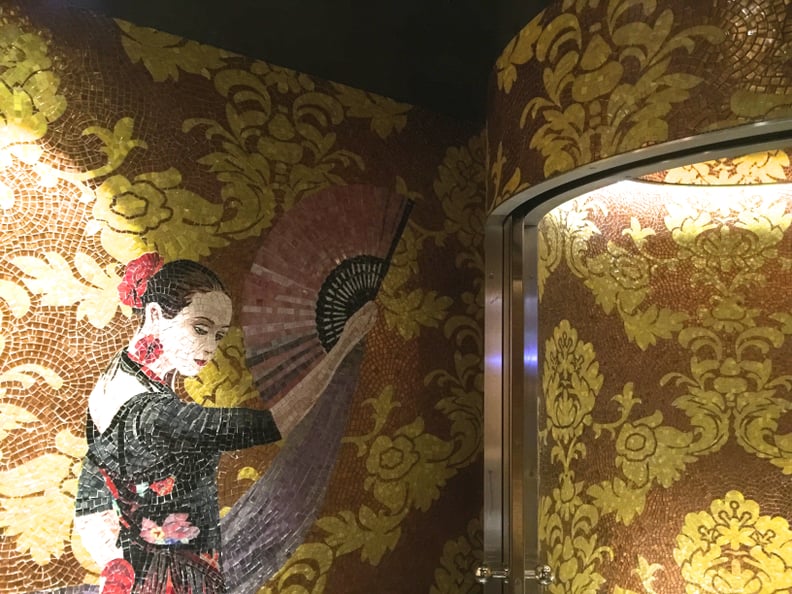 Don't miss special photo opportunities.
There is so much to see on the ship, so don't miss the gorgeous photo opportunities that make each Disney cruise stand out. Surprisingly, the second most photographed view on the Disney Fantasy is the incredibly detailed walls of the bathrooms located in between several of the 18+ bars. Unsurprisingly, the MOST photographed thing on the ship is the fancy Minnie Mouse statue in the middle of the ship's atrium.
25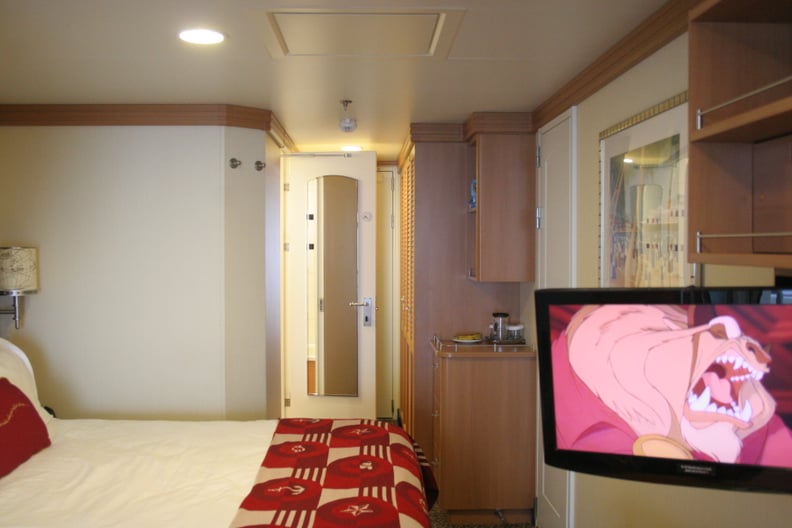 Do NOT miss the Disney and Pixar movies On Demand.
The Disney vault is a REAL thing, so if you have been craving some of your favorites and haven't gotten Disney+ yet, then your Disney cruise is the time to indulge in so, so many Disney and Pixar movies available to you On Demand in your stateroom (like Beauty and the Beast). Frozen just keeps getting better once you reach the double digits of watching it, though, seriously. And does anyone remember just how good Mulan is?!
26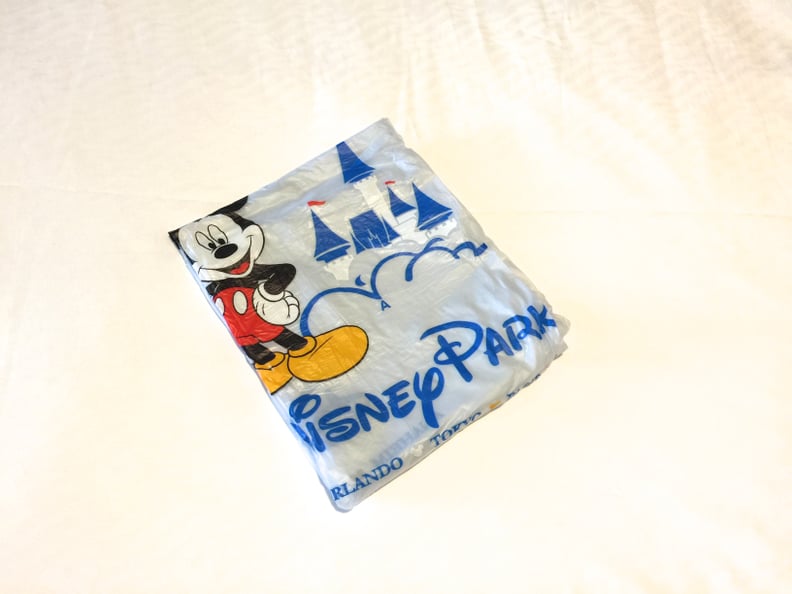 Disney won't let anything rain on your parade, literally.
Including rain. If you forgot your umbrella or rain jacket, the cruise line will provide guests with durable (and free!) rain ponchos so you can enjoy activities on and off the boat without worrying about getting too wet. Just another Disney perk.
27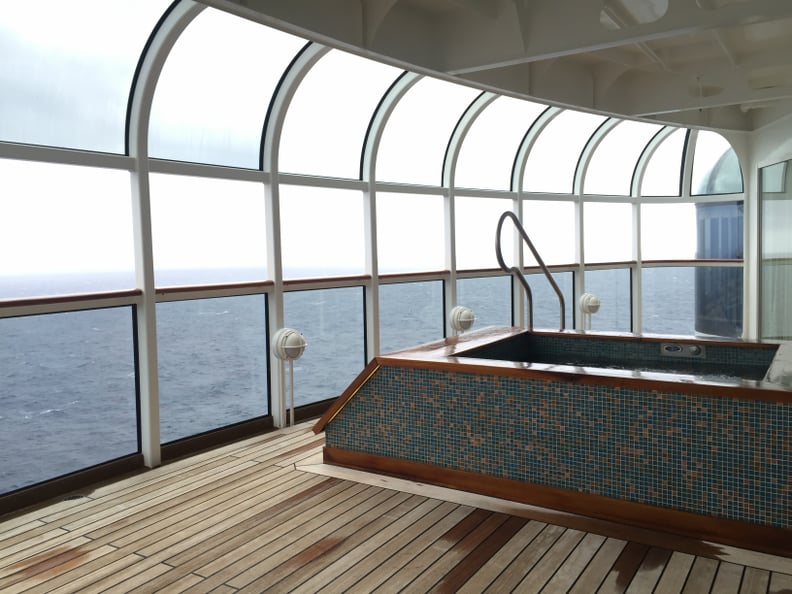 Book spa appointments early.
Spa treatments on board are popular, reserved for 18+ guests, and will definitely fill up, so make sure to figure out the package you want, and book it ASAP — ideally before you embark on the trip.
You can still arrange one once you get on board as well, but you may have to work with them on a time you'd like. If you want to save cash but still enjoy the spa atmosphere, book access to the spa center (on the Disney Fantasy and Disney Dream, it's the Rainforest Room) and enjoy hot tubs, water therapy, and a relaxing atmosphere for the day — all for a way lower price ($16!) than the actual packages.
28
Save money when seeing a movie by bringing food from the buffets.
Both movie theaters on the Disney Fantasy (yes, there are two, and they are AWESOME) had concession stands with drinks, popcorn, and candy, but these are charged to your Key of the World, and can cost you quite a bit (especially if you go see multiple movies throughout your trip like some . . . people did.) Snag free sodas and snacks at the stations a few floors above or order free room service and bring your goodies with you to the theater. You can carry around drinks — alcoholic and non-alcoholic — most places on the ship.
29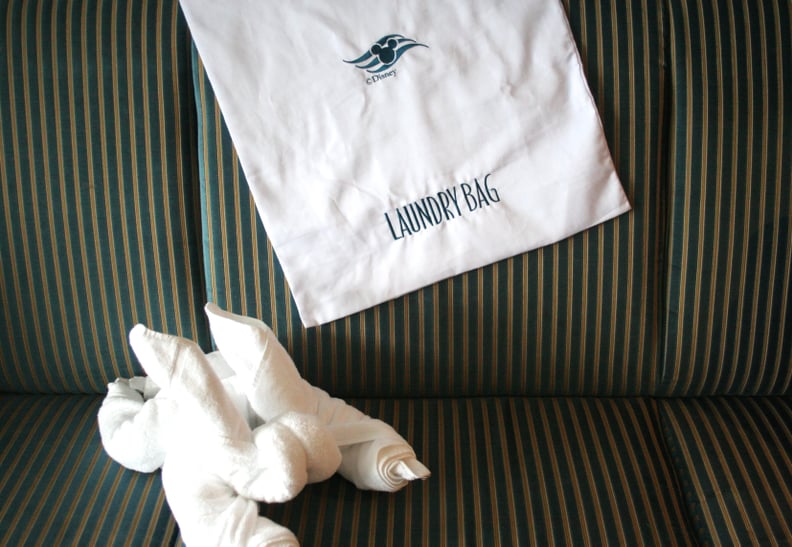 Do your laundry on the ship.
You can send your laundry out for a fee, or take advantage of 24-hour self-service laundry rooms on certain decks of the ship. You can use your Key to the World card to pay for the self-service laundry, so don't worry about bringing quarters.
30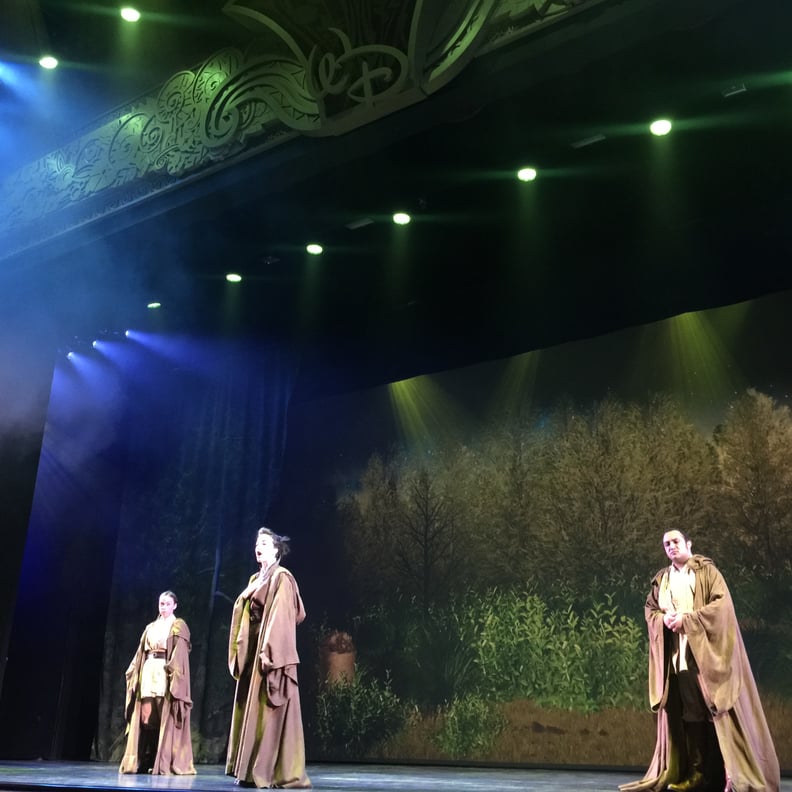 If you're a Star Wars fan, you MUST do a cruise with a Star Wars Day at Sea.
Imagine this: Star Wars music all day long (aka John Williams fan heaven), Jedi Trials of the Temple training (which is also offered at Disney World and happens to be cutest thing I've ever seen), repeat showings of the Star Wars: The Force Awakens on the day of and the rest of the saga shown leading up to the day, costume contests, character sightings and photo opportunities, Star Wars-inspired menus, Stormtroopers storming the pool areas, an epic grand finale with fireworks and character performances, and SO much more.
The events of the day and the entire atmosphere were a true fan's dream — and there were so many sweet moments when seeing how excited kids and parents alike were about it. It was seriously magical, and I don't use that word lightly. Unless I've spent seven days on a Disney cruise, and then I just can't shut up with it. Currently, the Disney Fantasy is the only ship that offers Star Wars Day at Sea, so keep that in mind when planning.
31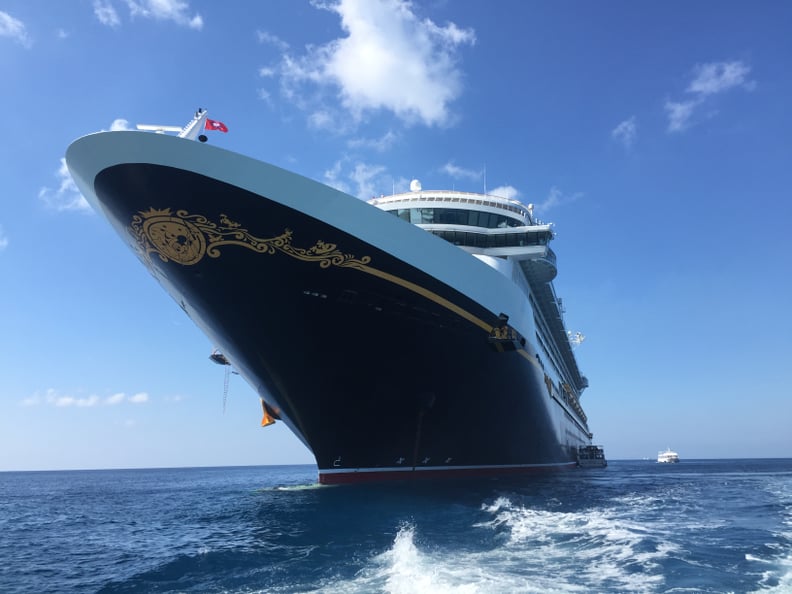 On port days, take an earlier ferry back.
Some ports allow the cruise ship to pull right up, but others — like at the Grand Cayman port — require the boat to remain offshore, which means you have to take smaller "tender boats" in.
Pro tip: Though you are given a time when the last ferry returns to the ship, try to get back on an earlier boat. The final ferry back is PACKED with the last haul of people heading back, so you'll have a more comfortable ride if you give yourself some extra time.
32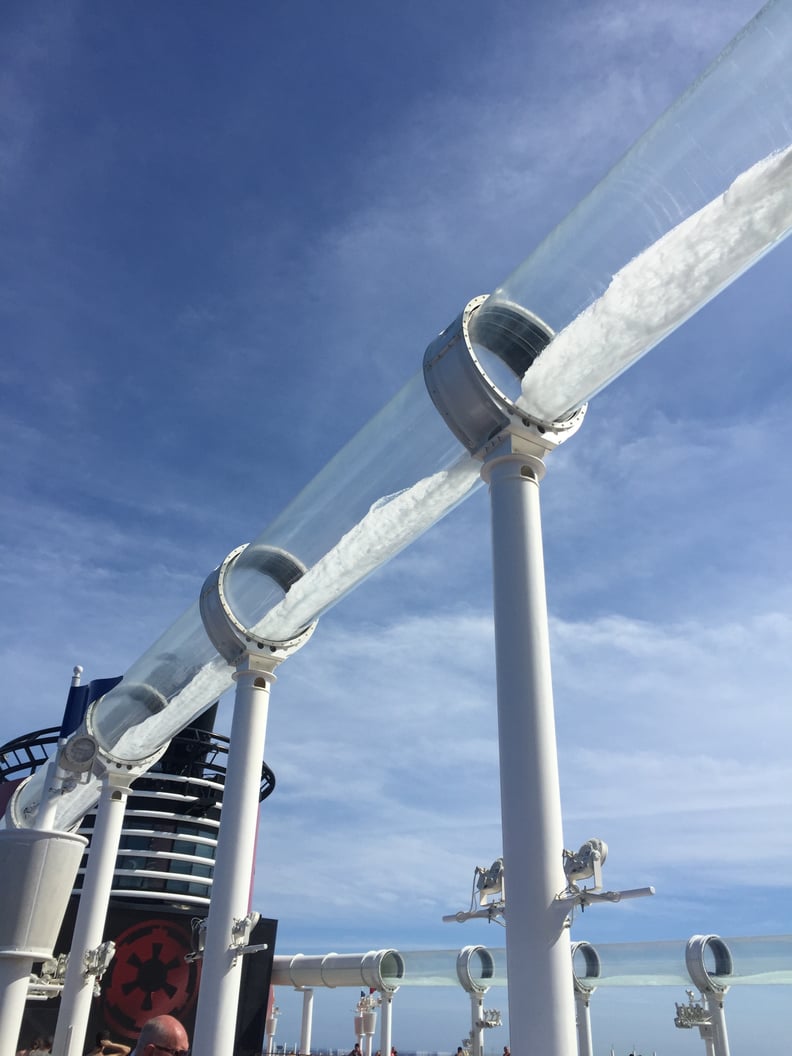 Do NOT miss the AquaDuck water coaster.
If you're taking the Disney Dream or Disney Fantasy cruise, then you won't be able to miss seeing the AquaDuck, the epic water slide that circles one of the decks of the ship. Riding it during the day, you can see over the ocean for miles, but a hack I discovered is to ride it at night too; the lines are shorter (aka nonexistent), and the ride lights up for a completely different experience than the one in the day, and it's open pretty late.
Tip: Don't put off riding the AquaDuck! The ride closes down if the winds are too high, so take advantage of it while it's running in case you experience inclement weather later and miss your shot. The ride itself is faster and more exciting than I thought it would be; I figured it would be more of a "lazy river" but it definitely has some drops that both kids and adults will appreciate.
33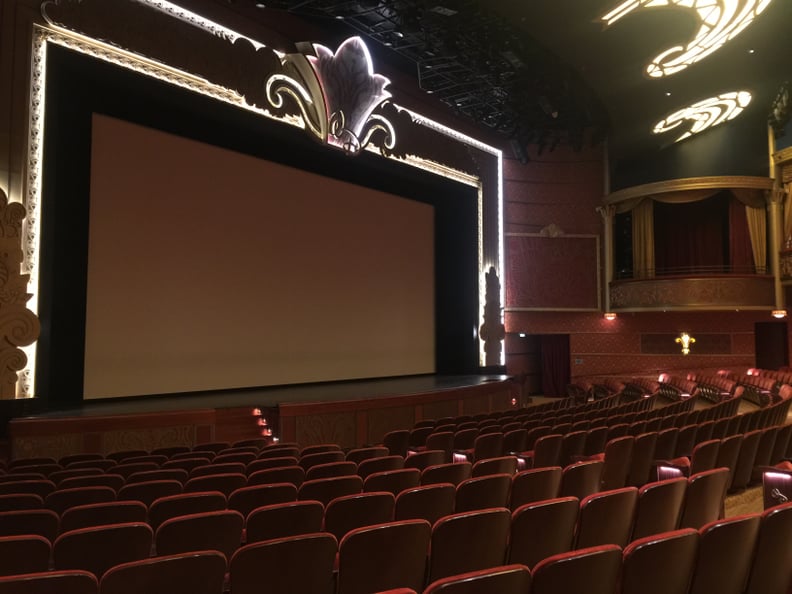 Find the best seats in the theater.
If you want to get in on the action of the live performances, then sit near the center of the room, toward the front. Characters often interact with the audience and those shows are usually best seen from this area if you want to get in on the action.
34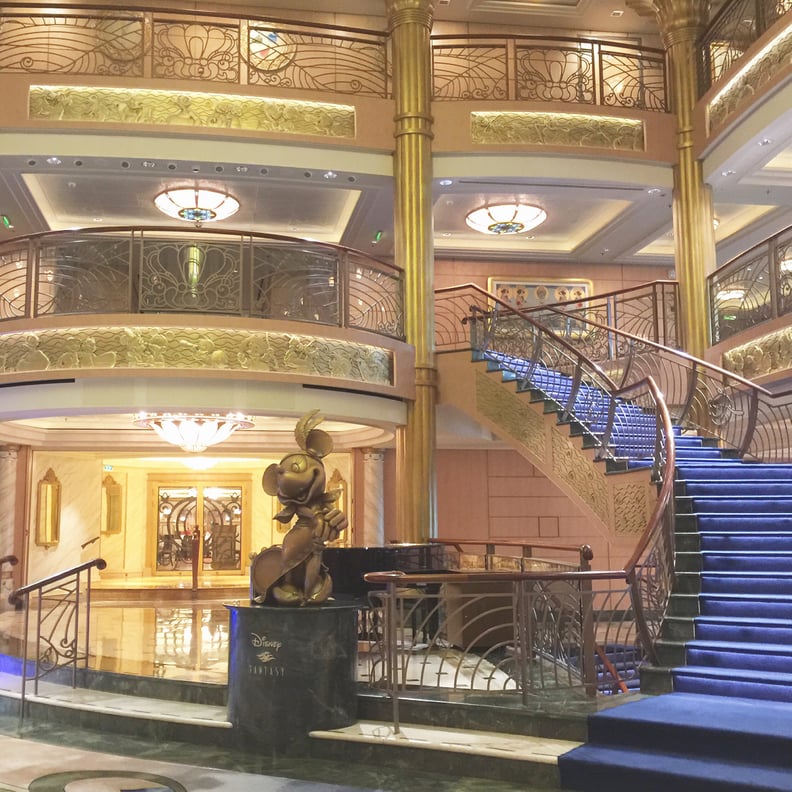 Formal nights are FORMAL.
It's not a HUGE deal if you don't really dress up, but when I read "Evening attire: Formal," I didn't know that meant gowns, tuxedos, suits, and cocktail dresses. It was nice to see everyone dressed up, but if you're caught unaware and wearing "cruise casual" to dinner, you may feel a bit out of place. By no means do you need to dress like you're going to prom (though some people do!), but you may want to wear your best look on this night.
Your daily cruise navigator sheet will tell you what the theme of the day is, as well what evening attire is suggested for the night.
35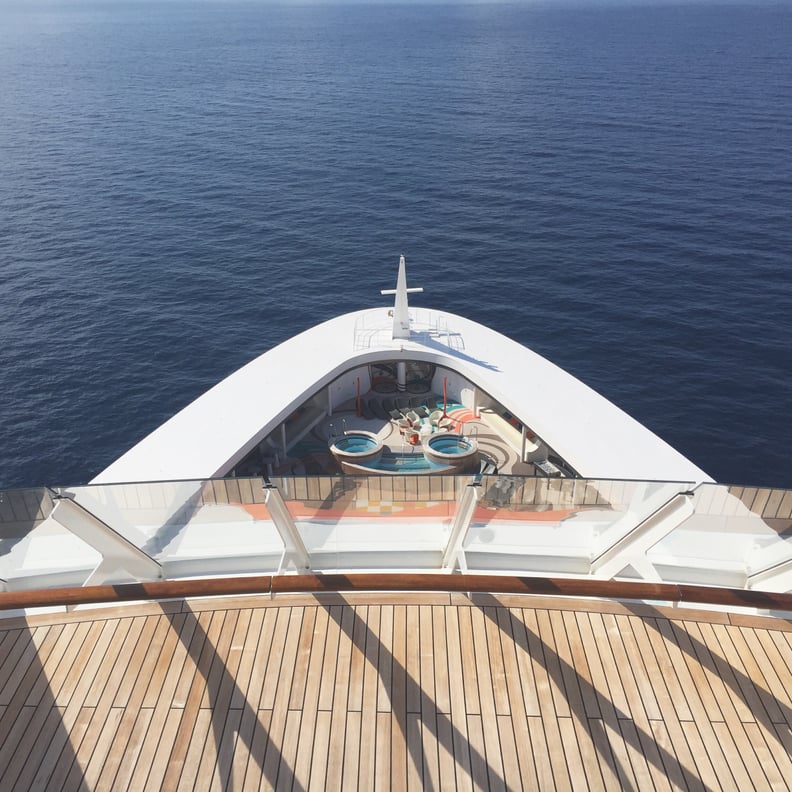 Take advantage of 18+ areas of the ship.
If you want to take the kids and commotion in smaller doses — or if you want a break from your own kids! — then head up to the 18+ deck on board, or take advantage of the other 18+ spaces on the ship like bars, the fitness center, and spa center.
36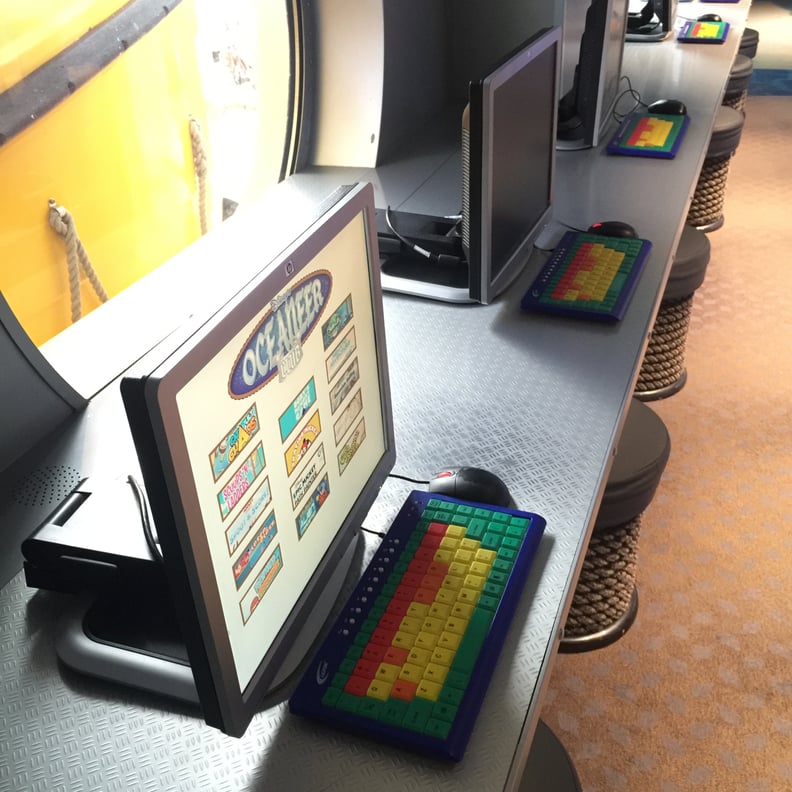 The youth programs are VERY impressive.
The Youth Lab (ages 3-13 on Disney Fantasy), Oceaneer Lab, and Edge (ages 11-14) offer an assortment of activities and adult supervision. From rooms themed after Disney movies (Andy's room and Pixie Hollow were personal favorites of mine) to dress-up rooms, craft rooms, cooking classes, computer games, animator studios and more — the options are endless. Hours vary depending on what "lab" your kid goes to, but most are open from 9 a.m. until midnight. Younger kids wear tracker bands that only work in the labs; the bracelets unlock Disney Infinity games but also allow counselors to know where each child is at all times.
37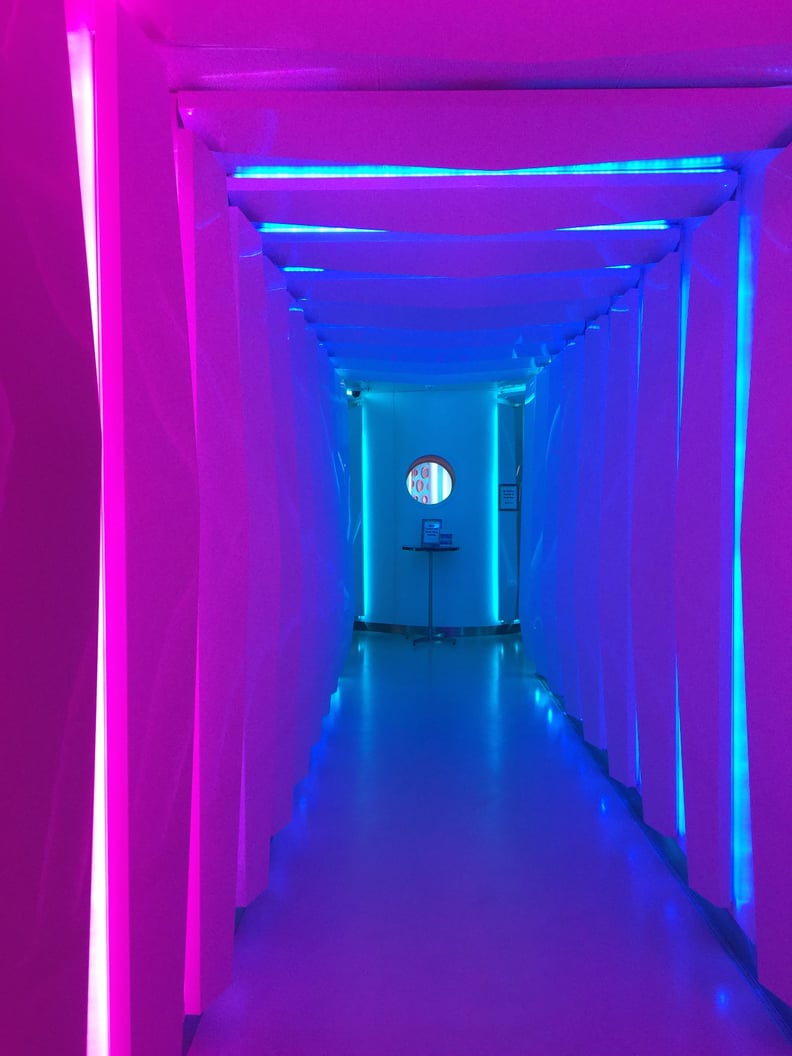 And the teen entertainment is NO JOKE.
On the Disney Fantasy, 14-17 year olds have access to Vibe, a lounge with a private movie theater, private video game pods, free soda and smoothies, their own pool and deck, special programs like cooking classes, and even a program that allows kids to work on a short film throughout the week and premiere it at the end of the cruise.
Parents are not allowed in this part of the ship — they can only pick up their kids from the entrance. There are plenty of counselors to keep an eye on things, but overall the set up is great for independent kids who want to do their own thing, and parents who want to feel comfortable leaving their children to their own devices for the day or for a few hours. Check out more information on D Lounge, Edge, Vibe, and other cruise ship places and events for younger guests.
38
Gratuity is included, and tipping is dealt with at the end of your cruise.
When purchasing drinks, movie snacks, meals from Palo, Remy, and restaurants with an extra fee, or other items that are not included in the cruise package, a certain amount of gratuity is included on your bill. Disney provides a suggested amount throughout your trip, and slips are provided at the end of your stay with the indicated tip amount for each server, stateroom server, or host, which can be adjusted at Guest Services if need be. This makes the overall process way easier and more clear.
39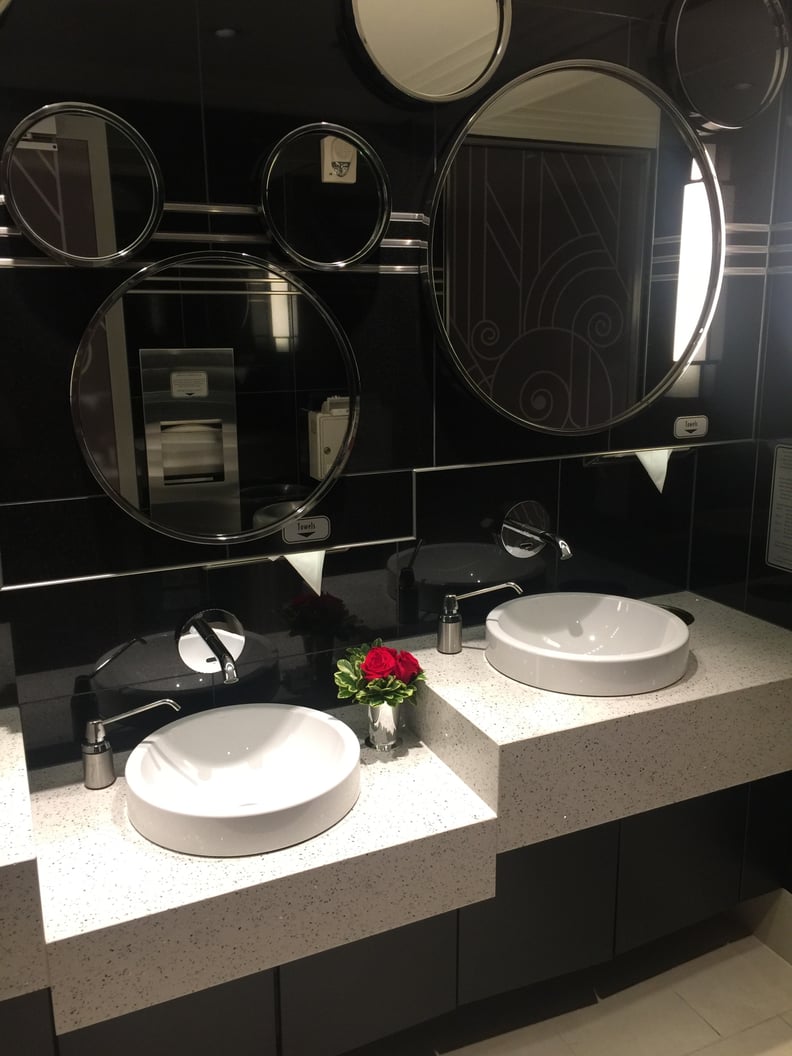 On a Disney cruise, cleanliness is actual MORE important than godliness.
Seriously. Don't quote me on this, but you can pretty much eat off the floor of the ship, because everything is impeccably clean. Upon entering restaurants and buffets and when returning to the ship after a port day, you are handed antibacterial wipes to clean your hands, there are staff members in or near all public bathrooms to keep everything in perfect condition, and let me tell you, I tried to find paper towels that weren't folded just so, or remnants of anything ANYWHERE, and . . . well the staff must actually channel Disney magic because the upkeep was essentially flawless. And don't even get me started on the staterooms.
40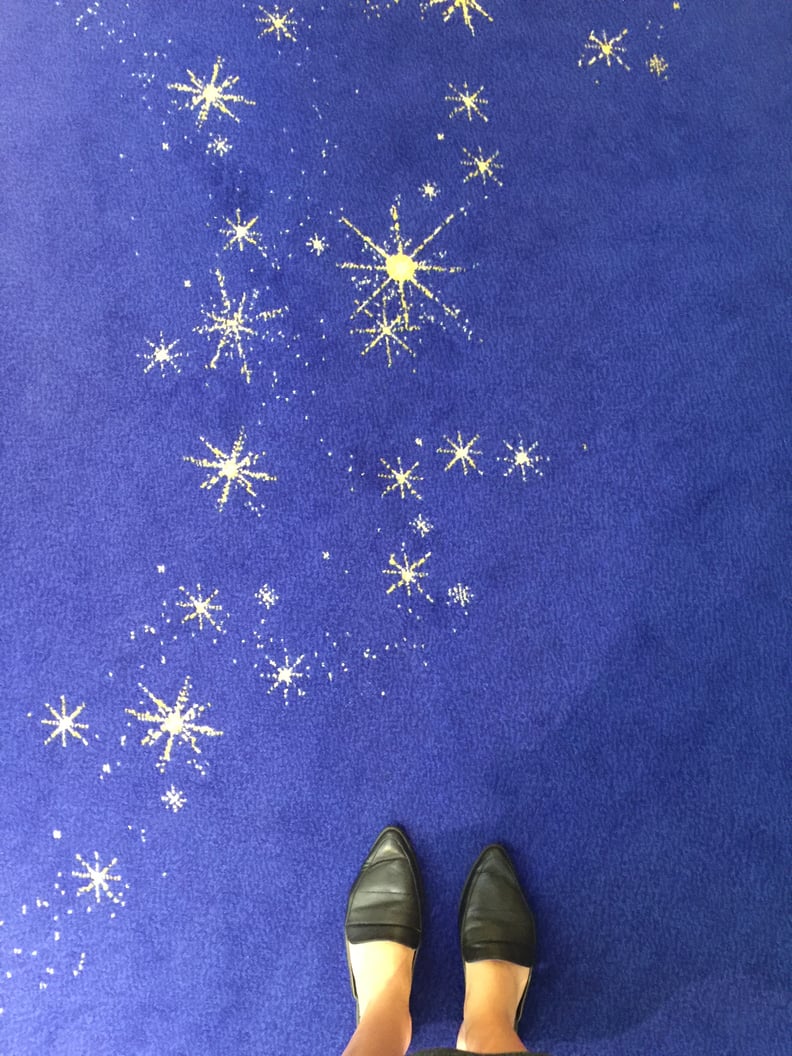 The carpet and music throughout ships is transitional.
Both the music around you and the carpet throughout the ships transition according to the part of the ship you're in and depending on what types of places are in that part of the ship.
41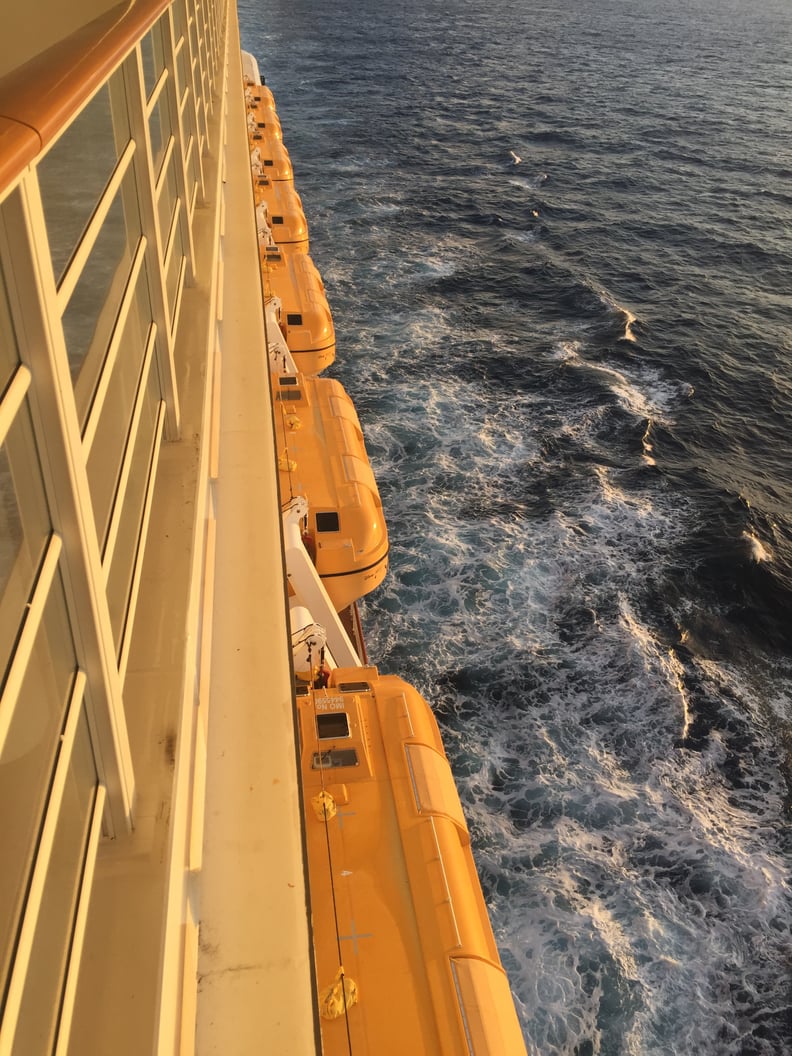 The lifeboats are a special color. And yes, there are enough for everyone . . .
The ship's lifeboats are yellow instead of orange, which used to be regulation for all cruise ships. Disney fought to have the specific lifeboat color in order to match the color of Mickey's shoes. They won, and now Mickey's yellow Pantone 99 is a patented color to be used only by Disney.
42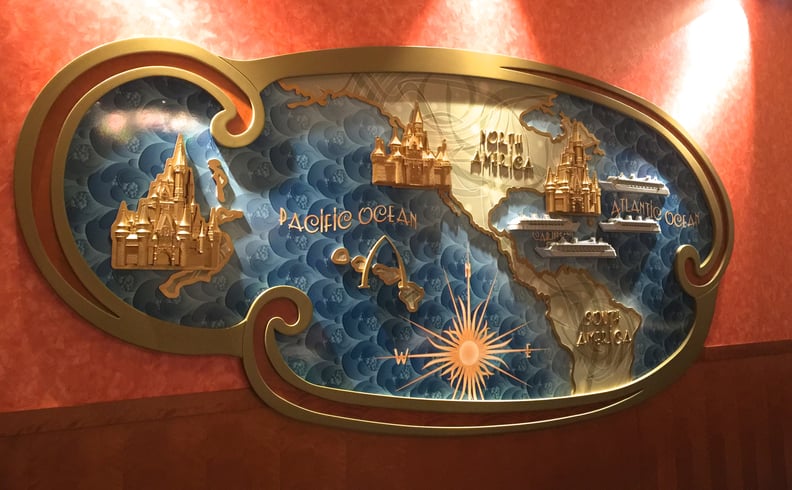 Resolve any issues with Guest Services the day BEFORE the last day of the cruise.
Avoid very long lines by getting a copy of your bill early and resolving any issues the day before the final day of the cruise; the last day is when everyone starts lining up and you'll spend your final precious minutes on the ship waiting instead of enjoying the ship's amenities.
43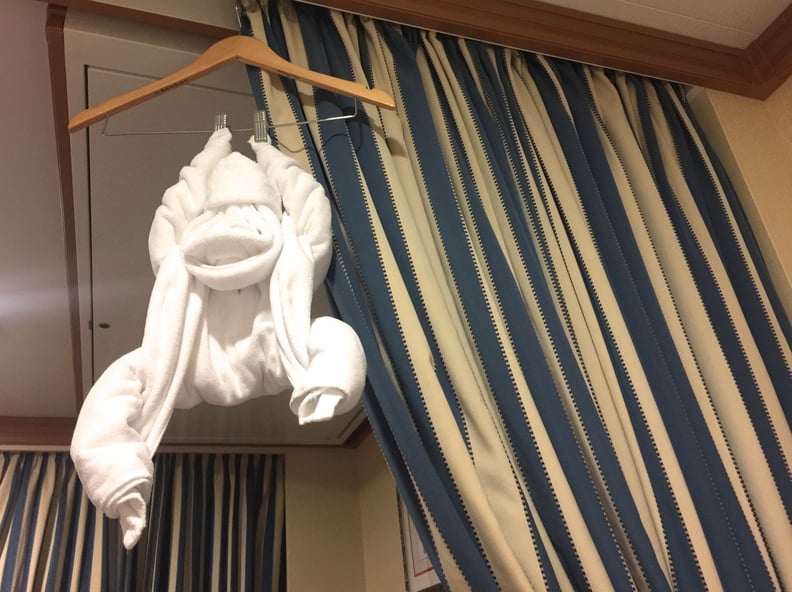 Take a minute to appreciate the small stuff.
There is so much going on at all times, but what stood out the most to me on my Disney cruise are the small niceties. Coming back to my room to find hilarious (and impressive!) towel art each day was a bonus that made me smile. The service on the ship is impeccable, something I anticipated in theory knowing Disney, but it was even more apparent and appreciated in practice.
44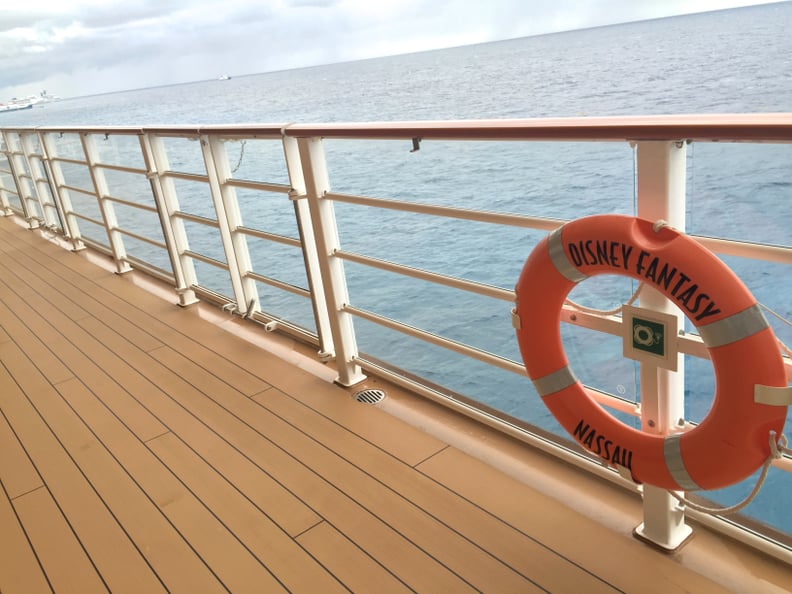 Don't assume anything!
I didn't think cruises were for me. I didn't think a Disney cruise was for me. But what I found — and I think many return cruise-goers on the ship agreed — is that the magic of a Disney cruise is that it's exactly what you make it. For families, it's a great experience for their kids and a way to relive Disney through fresh eyes; for couples and adult travelers, it's nostalgic, even romantic, it's relaxing, and it's a great escape from your routine, not to mention unlike any other vacation you could plan.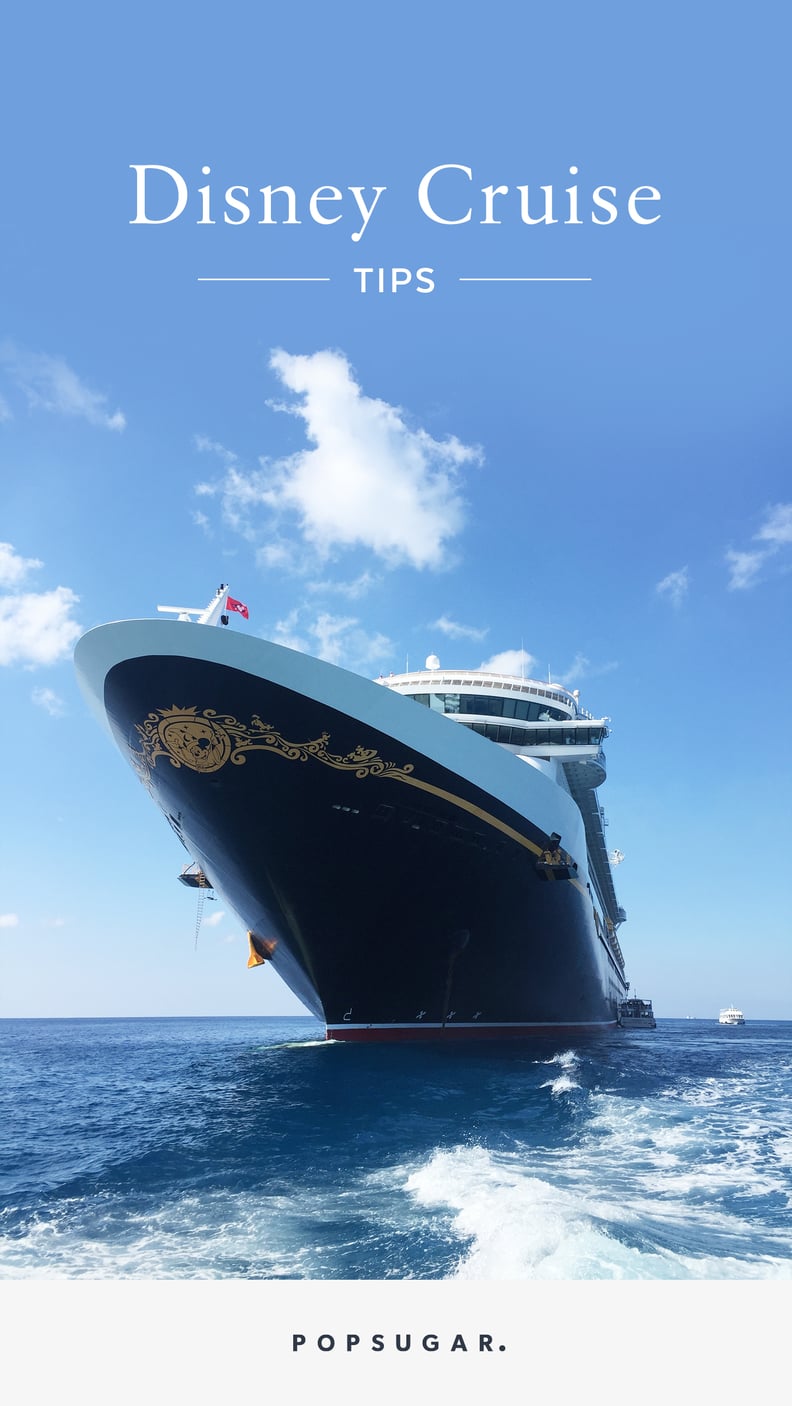 Pin It!