Why Every Animal-Lover Should Visit Farm Sanctuary in New York
POPSUGAR Photography | Hedy Phillips
POPSUGAR Photography | Hedy Phillips
I have always been an animal-lover. I've always had pets but always wanted more. Whenever I'm at a house party or in a new environment, I'm more likely to be spending time with the family pet or out back with the animals than with the people. Visiting Farm Sanctuary in upstate New York felt like a logical place for an animal-lover to spend a day, but there's so much more to this place than just those animals.
Farm Sanctuary is a sprawling location for rescued farm animals to have a better life than what they had before. In the Watkins Glen, NY, location (there are two other locations in California), there are more than 500 animals on site, including cows, goats, pigs, and turkeys. Many of the animals here have been rescued from homes where they were abused or neglected and brought to the sanctuary, where they are taken care of, nursed back to health, loved, and shared with visitors.
On a visit to the farm, you can take a tour through the 175-acre property and meet the animals up close with the guidance of a Farm Sanctuary staff member. On your visit, you'll get to go inside the animal fences and actually spend time with them and get to know them. I got to know Valentino in the cattle field, I got to talk to Jennifer in the sheep field, and I gave Dotty the goat a good scratching between her ears. Despite the rough lives these animals came from, so many of them still trust people and let them get close enough to give them belly rubs and attention.
Despite the rough lives these animals came from, so many of them still trust people and let them get close enough to give them belly rubs and attention.
Farm Sanctuary's mission is threefold. First and foremost, it is a rescue organization. It brings in animals that need help and gives them a safe place to live.
Secondly, the sanctuary provides an education about the animals and a vegetarian and vegan lifestyle to its visitors and the general public. But one beautiful thing about being at Farm Sanctuary is that you won't feel like you're being pressured to live that lifestyle. The staff will provide you with information about its rescues and animals in general and give you the tools you need to make your own informed decision on whether or not you choose to eat or use animal products.
And lastly, Farm Sanctuary is an advocate for animal rights and the responsible care of them. While the sanctuaries, and many other sanctuaries the world over, rescue as many animals as they can, they can only make a small dent in the problems these animals face, which is why it's so important for them to go further than just that and really encourage people to take care of animals.
Farm Sanctuary is a place any vegan should visit if they can and definitely a place for an aspiring vegan to learn more. However, if you're just a regular animal-lover, it's also a wonderful place to see. There are also plenty of ways to get involved, including sponsoring an animal of your choice or making a general donation. The real joy, however, is getting into these shelters and sitting down to get to know the animals. It's a really touching experience.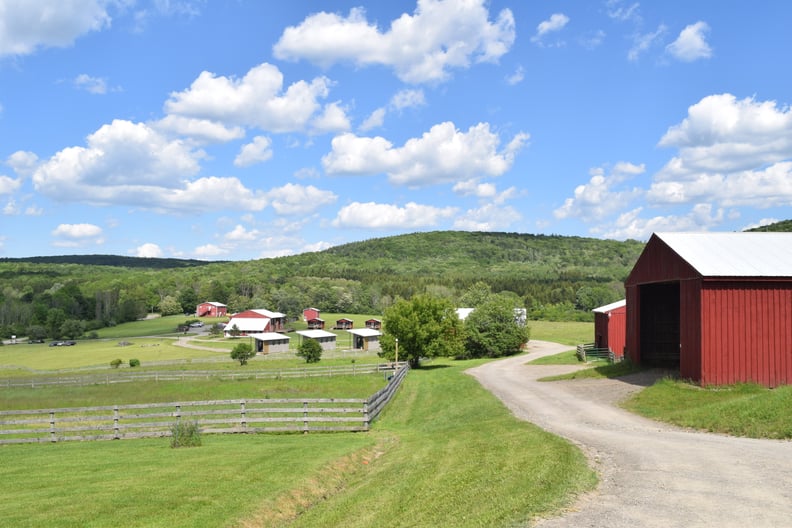 The sprawling location is beyond beautiful
Farm Sanctuary is the perfect place to bring a vegan picnic to enjoy under a blue sky that is so beautiful that it's almost unreal.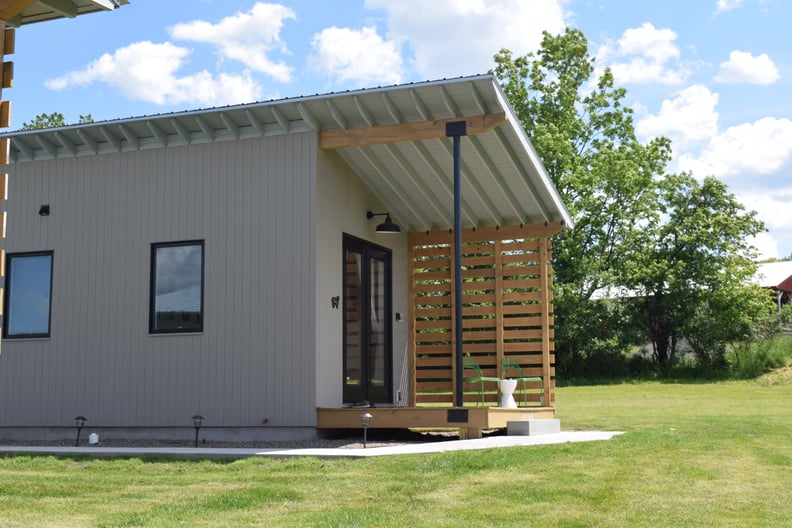 You can stay on site
Farm Sanctuary has tiny houses and cabins on site where you can stay. They book up quickly during the season the sanctuary is open (May through October), so make sure to book long in advance of when you want to visit. Your stay also includes a complimentary tour and breakfast.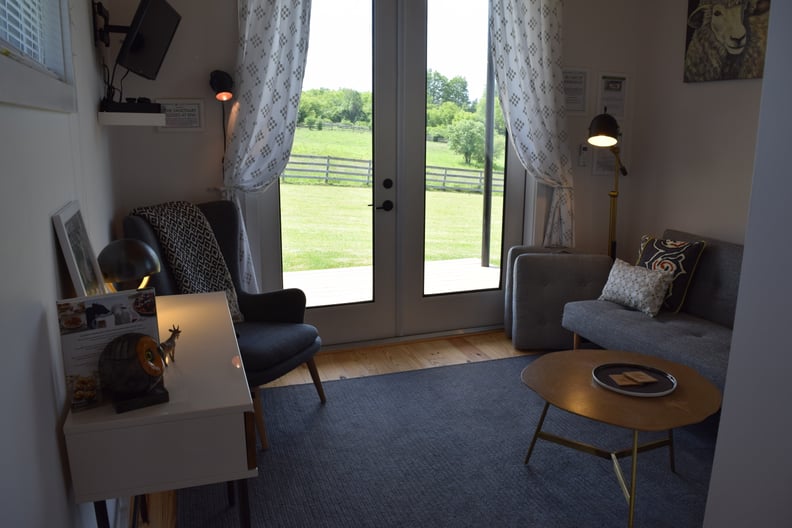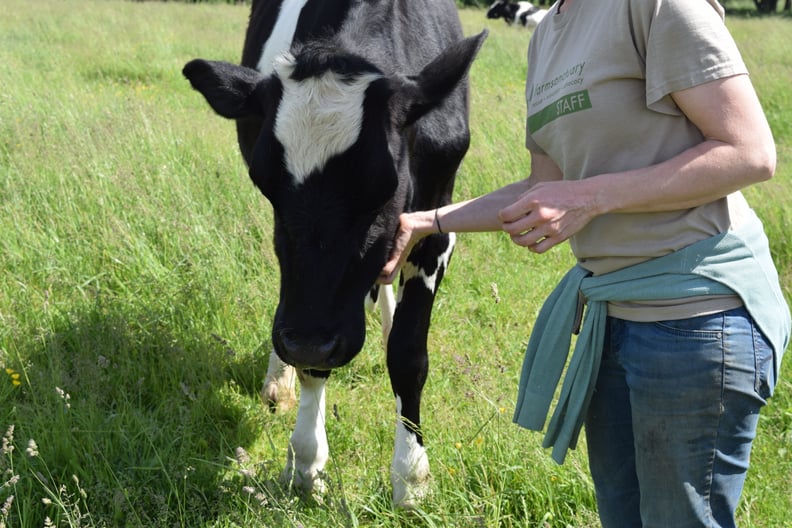 Some of the animals are super playful
While some of the cattle we met were quiet and reserved, some of them, like a guy named Valentino, were much more sprightly and playful.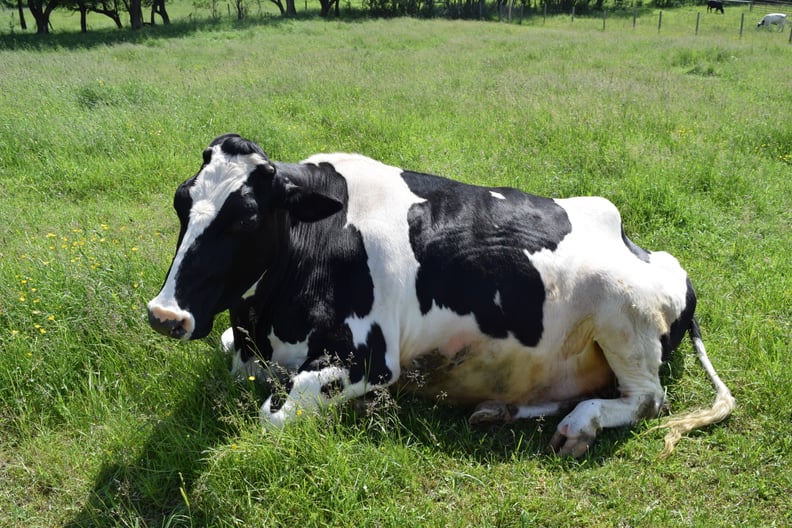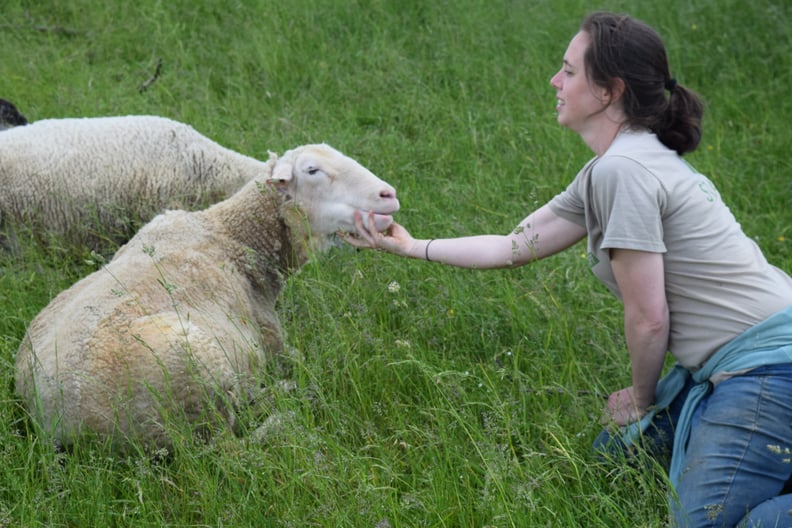 The sheep love chin scratches!
The sheep have a lot of fur, so naturally they love scratches. Some of them followed us around in the field just so they could get more scratches.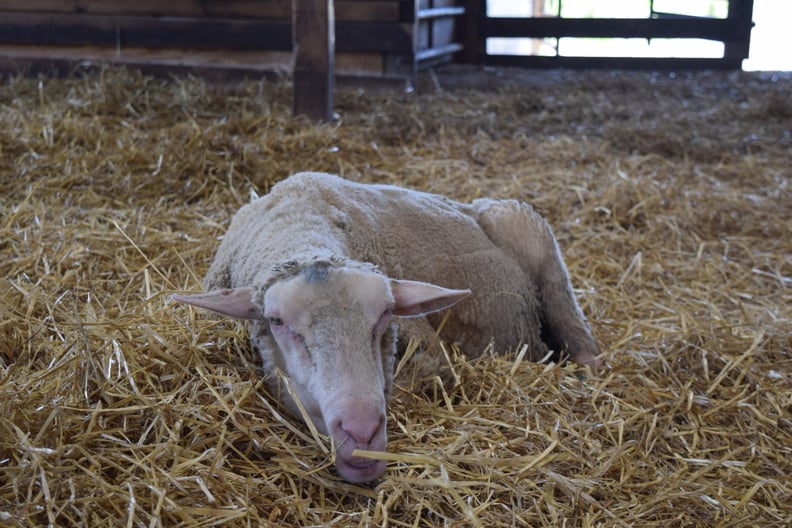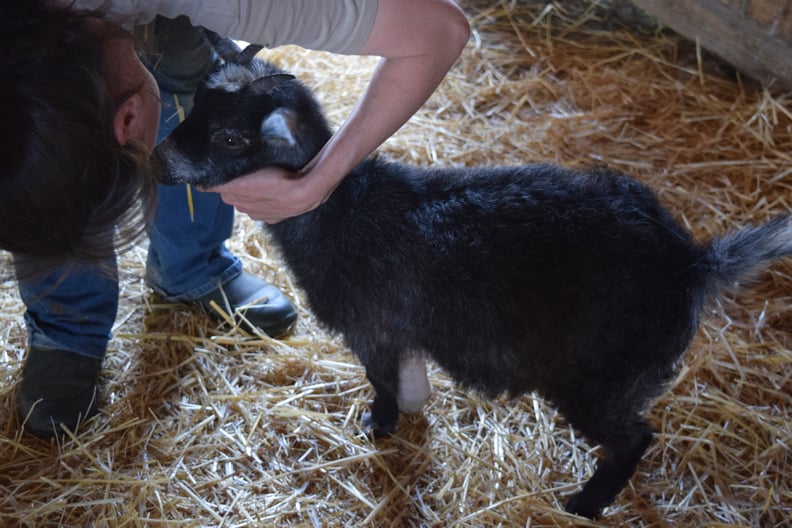 The animals just want to be loved
This little lady couldn't have been sweeter. She and some other animals here have a host of health problems or deformities due to neglect or abuse, so they require a lot of care and love.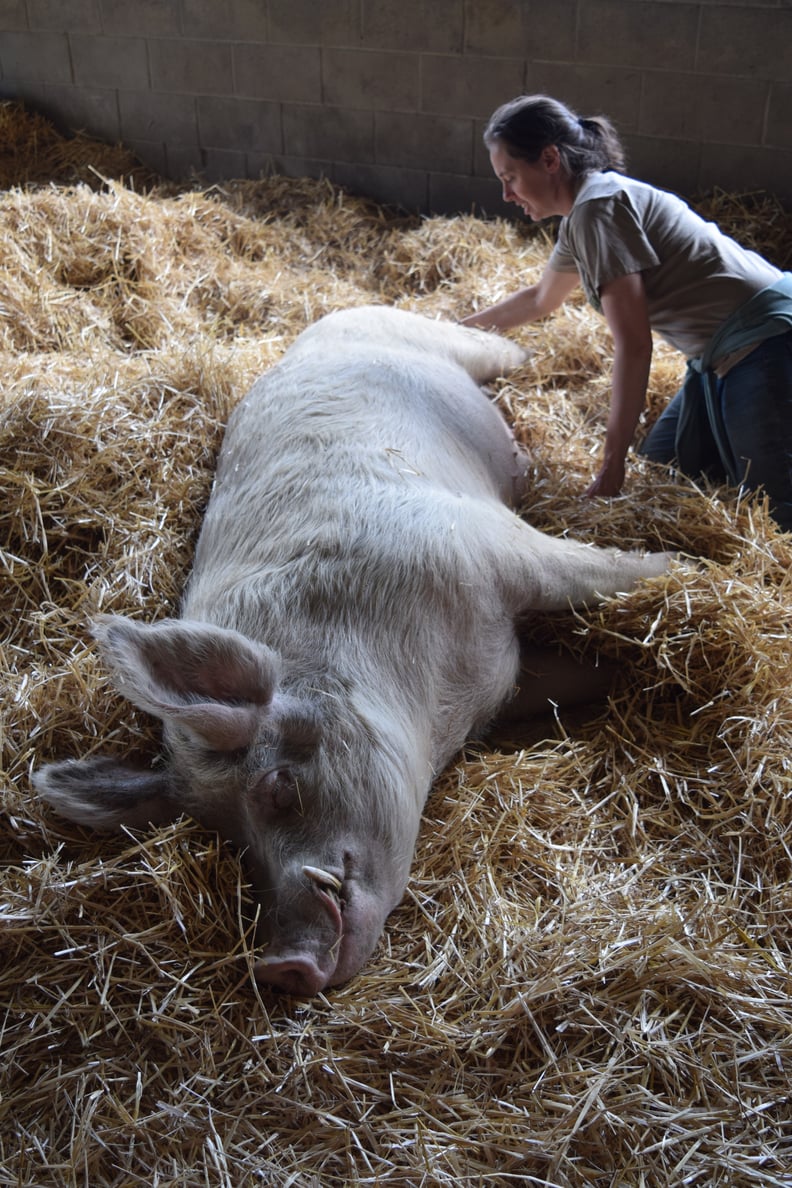 Even the pigs love belly and butt scratches
If you've ever dreamed of giving a pig a good belly rub or a firm butt scratch, this is the place to do it. The pigs will love you.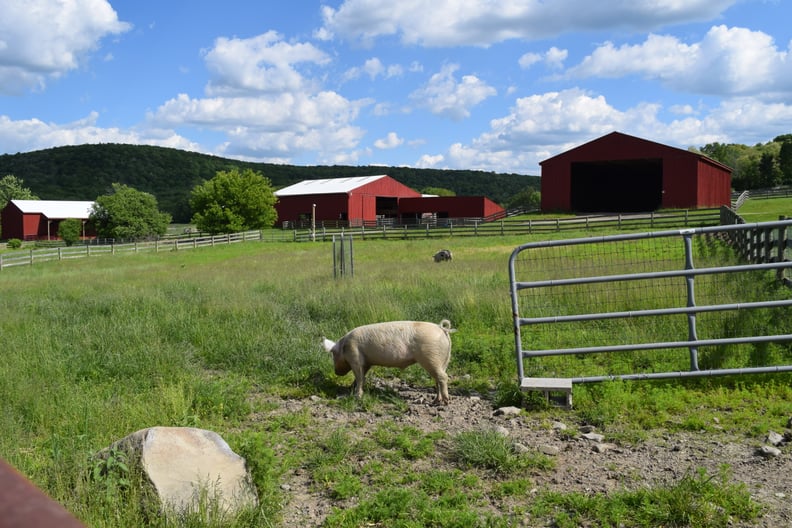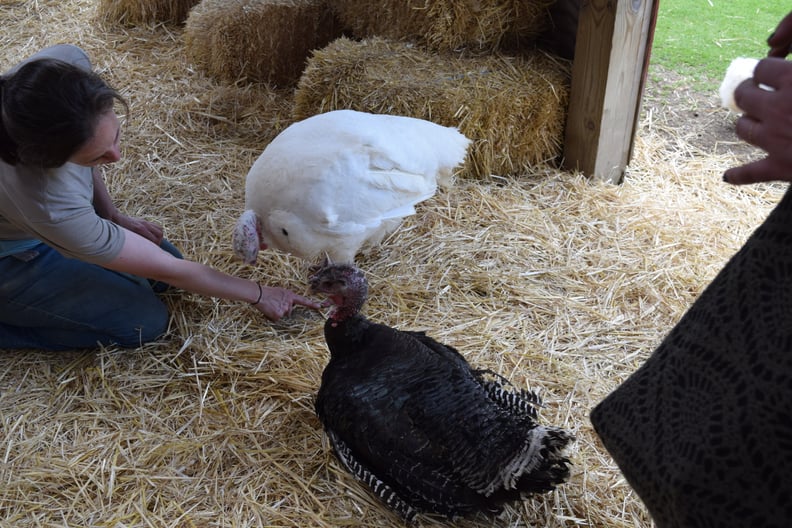 You'll learn so much about the animals
Farm Sanctuary is an unbelievable learning experience. You'll learn what is unnatural for animals who are bred for food or other types of human consumption. You'll meet chickens and turkeys who were bred to be unnatural colors and much larger than they should be. You'll meet sheep and goats that were left out to die and will forever be crippled now. It's a place that opens your eyes to things you may not have realized about animals.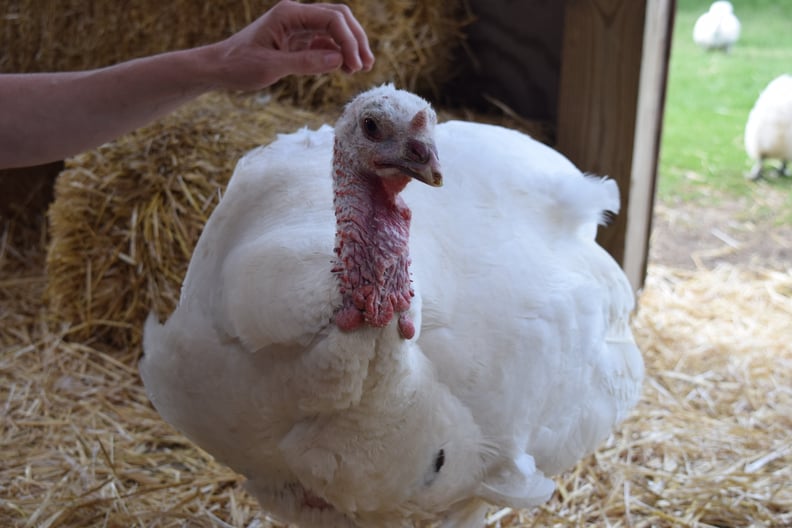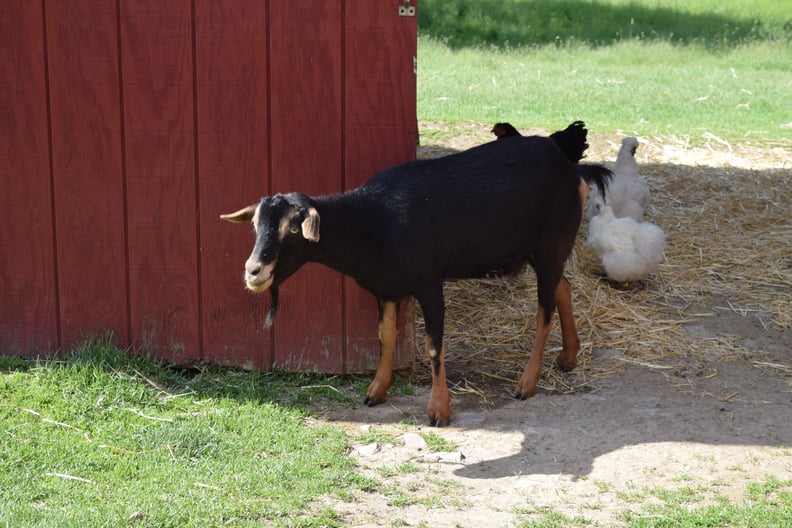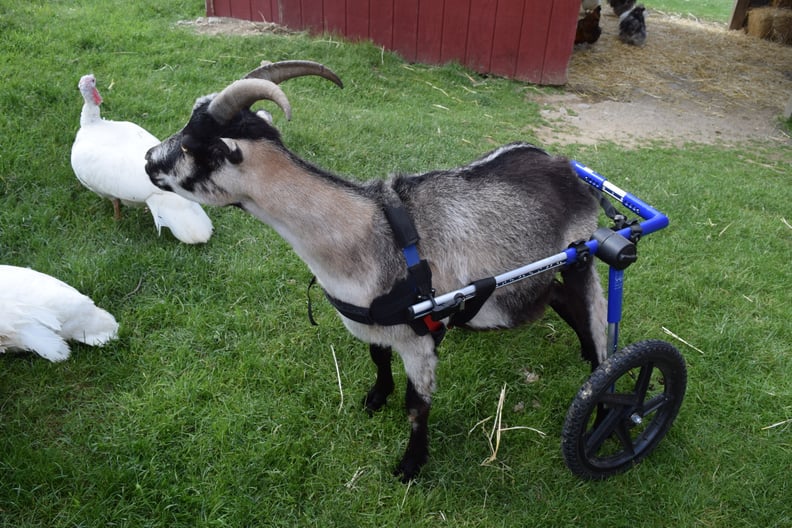 You'll definitely fall a little bit in love
The kind nature of these animals, like Benedict the goat, who has to use a cart to get around, will absolutely warm your heart.