This Gorgeous Bookstore Is Said to Have Possibly Inspired Parts of Hogwarts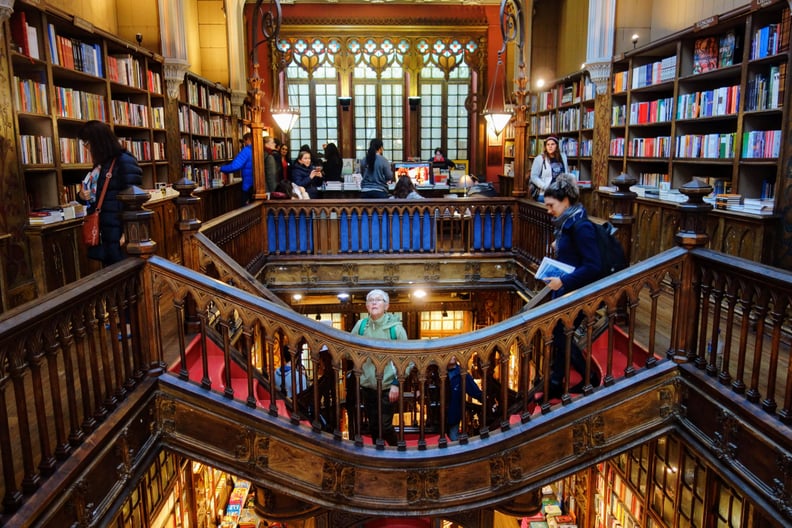 POPSUGAR Photography | Annie Gabillet
POPSUGAR Photography | Annie Gabillet
You've got a new place to add to your Harry Potter travel list. A magical bookstore in Porto, Portugal, called Livraria Lello seriously looks like every book-lover's dream. Not only is it absolutely gorgeous, but it also resembles the famous Hogwarts staircase in Harry Potter.
According to AFP, J.K. Rowling would frequent the bookstore when she lived in the city from 1991 to 1993. A nearby cafe called Cafe Majestic is also where the author wrote her first draft of Harry Potter and the Philosopher's Stone.
Livraria Lello's stunning twisting staircase and stair bridge would look familiar to any Harry Potter fan. Customers have said that the bookstore even reminds them of Flourish and Blotts, where Harry and other students would get their reading materials for school. True or not, the bookstore is completely stunning either way. The stained-glass ceiling includes the Latin phrase Decus in Labore (sounds like a spell to us!), which translates to "Dignity in Work."
Although admission to the bookstore costs three euros, the entrance fee is refunded if you purchase a book. University students also walk around in their traditional uniforms that feature black capes, making them look like Hogwarts students in their robes.
See the photos ahead!
— Additional reporting by Lauren Harano