This Hidden Beach in Mexico Is Difficult to Reach but Totally Worth the Trip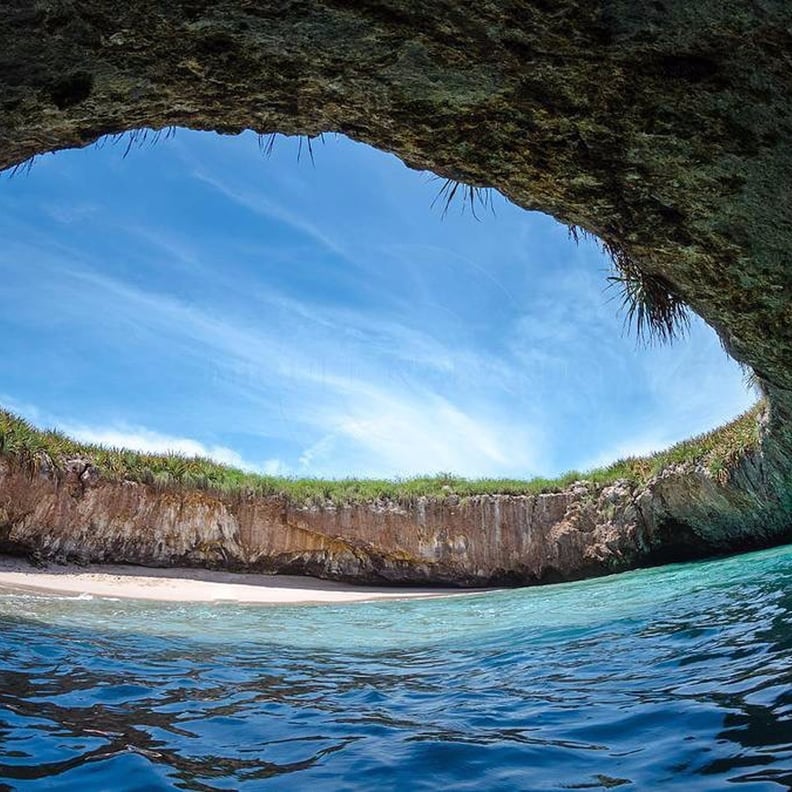 Puerto Vallarta's bucket-list-worthy gem goes by several names, including Playa Escondida (Hidden Beach) and Playa del Amor (Lover's Beach). Whatever you call it, you're not incorrect — because it fits all of those descriptions: fully hidden and romantic. As part of the Marieta Islands at Banderas Bay, Mexico, Hidden Beach looks like a hole in the earth that's completely invisible from the outside, unless you're viewing it aerially.
Islas Marietas National Park is a group of small, uninhabited islands formed by underwater volcanic eruptions. It is recognized by UNESCO as a protected biosphere reserve and has therefore been increasingly more difficult to get to over recent years. Though it is "hidden," it's definitely not a secret, as it's become a popular tourist site. The open cavern is home to marine wildlife and bird colonies, so the only activities allowed are swimming, kayaking, and sunbathing. The only way to get to Hidden Beach is via a water tunnel that connects to the Pacific Ocean. Your options of getting through are swimming or kayaking, since you're limited to six feet of space above the water.
Though the archipelago originated from volcanic activity, it's said that the hole was a result of military bombs tested by the Mexican government. Scientist Jacques Cousteau protested against harmful activity in the '60s, and the beach was eventually recognized as a national park in 2005. After seeing these photos, you'll understand all the efforts to preserve it. Check them out!