I Flew to the Maldives Roundtrip For $300 Using Credit Card Points — Here's How You Can, Too
The Maldives has been a far-fetched destination that I always dreamed of visiting one day (but didn't think it could actually happen), and I'm positive I'm not alone in that. Its turquoise blue waters, pristine white sand beaches, and luxe resorts with overwater villas makes it a top bucket list vacation, whether you're planning a honeymoon, family vacation, or just a tranquil solo getaway. After doing my research and reading tips on The Points Guy, I realized that this dream can actually very quickly become a reality. How? By simply racking up credit card points for things I would normally be spending money on anyway, and by taking advantage of sign-up bonus points when you get a new card.
Now, I'm no financial expert, but when I got accepted for the Chase Sapphire Preferred credit card, the process to redeem my points and use them for travel rewards was super easy. I ultimately was able to score a roundtrip flight to the Maldives for just $327 (originally around $1,200). Keep reading for my step-by-step breakdown on how you can do it too and where to stay once you're finally there!
01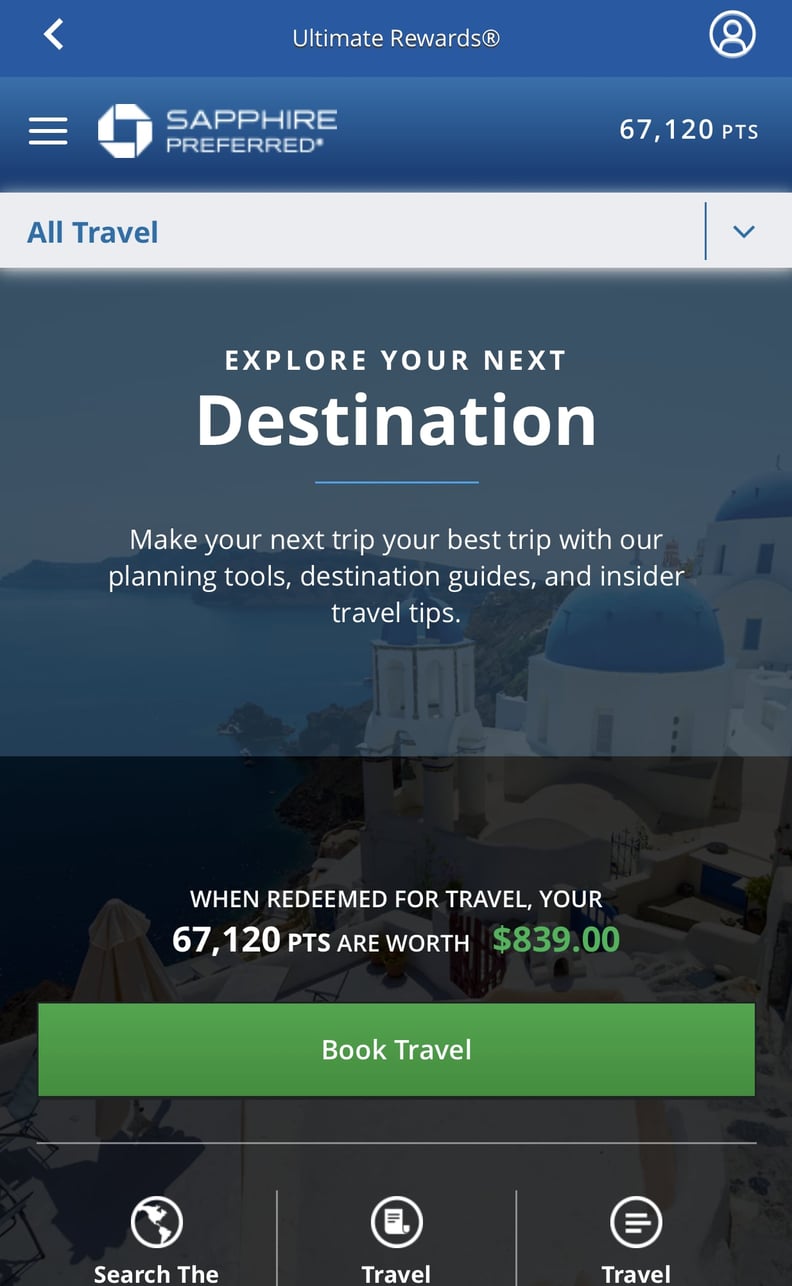 How to Book With Credit Card Rewards
Apply and get accepted for the Chase Sapphire Preferred Card: You'll automatically get 60,000 bonus sign-up points after spending $4,000 on purchases in the first three months from the account opening. That's at least $750 towards travel when redeemed. Plus, you get 2x points per $1 spent on anything travel and food related (yes, spending tons on Ubers can actually pay off now).
Log into your chase Ultimate Rewards account: Log in to your Chase account online (desktop or mobile version works) and scroll to click the "Ultimate Rewards" tab.
Open the Chase travel search: Now that you're on the Ultimate Rewards landing page, click "travel" on the top. It will clearly show you how many points you have and the monetary value it equals out to.
Select your flight: Simply search the flights you want to book, just like you would on any other booking platform. You can book anything from flights to cruises with your points!
Review and confirm: Now that you've chosen your flight routes, review and confirm that the trip's details are correct and scroll down to click "continue booking".
Book with points: This is where you'll enter your personal travel information (first name, last name, email, etc.) along with how you will pay. You can pay for your entire booking with Chase Ultimate Rewards points or you can pay with a combination of points and cash.
02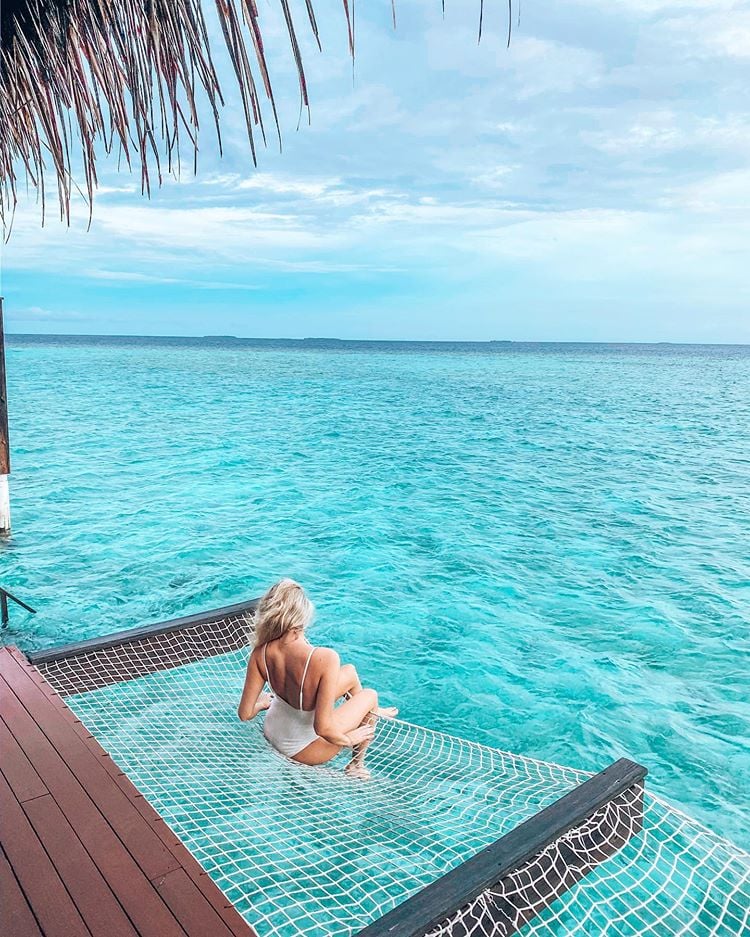 Where to Stay in the Maldives
Congrats, your flight is booked! Now the fun part is choosing which dreamy resorts to stay at while in the Maldives islands. Depending on the occasion you are traveling for, who you are traveling with, or what your budget is, the following three resorts are sure to cater to everything you're looking for.
03
For Honeymooners: Anantara Kihavah Maldives Villas
The 5-star Anantara Kihavah is the best option for a magical honeymoon because of the spacious private villas, in-room spa treatments, overwater bar, yacht sailings, and the coolest fine dining in the hotel's underwater restaurant called SEA. The luxurious overwater villas are perfect for a honeymoon, which come with a private butler or as the Maldivians call it, a "Thakuru." Newlyweds can experience anything from enjoying lunch on a private sandbank surrounded by the stunning blue lagoon or choosing any movie to watch outside under the stars with a huge screen, popcorn, and chocolate-covered strawberries.
04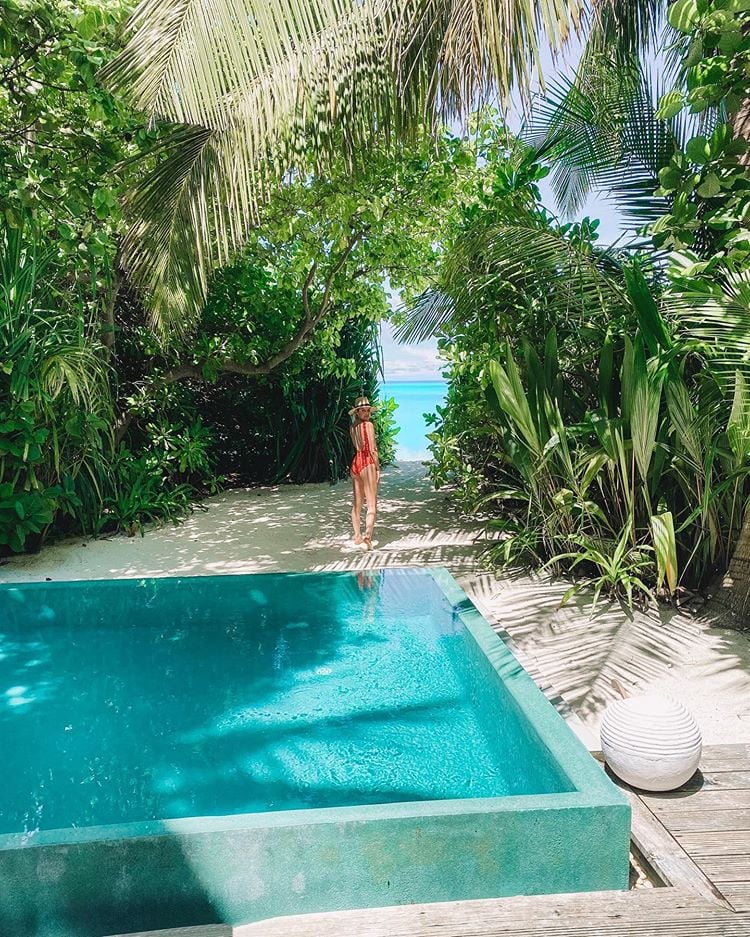 For Families: Niyama Private Islands
If you're planning a family vacation to the Maldives, Niyama Private Islands is one of the best resorts with kid-friendly activities and amenities. The Family Beach Pool Villa accommodates up to three adults and two children, has a "family sized" private plunge pool, and opens up right onto the beach. For parents who want some alone time, Niyama's kids club (for ages 12 months to 12 years old) will entertain all ages with cooking classes, performances, crafts, and more. To top it off, the food at Niyama is top-notch, especially at Edge, which is only accessible by boat and offers fresh local Maldivian seafood with a modern twist. The same amazing chef cooks for the underwater restaurant Subsix, which also turns into a nightclub with a DJ on specific nights. Don't forget to book a dolphin cruise that takes you to see hundreds of spinner dolphins out in the wild, swimming and jumping around your boat.
05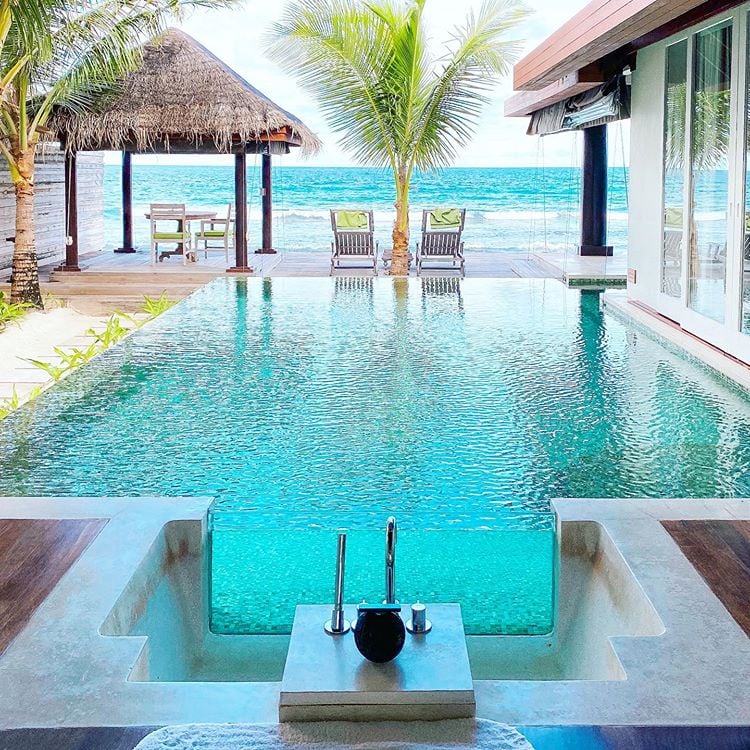 For Total Seclusion: Naladhu Private Island
One of the most secluded and intimate resorts in the Maldives is Naladhu Private Island, which only holds 20 villas total. It's truly one-of-a-kind and exudes the true meaning of luxury. Here, there's no set menu because the chef will cook up anything you're craving, whether it's a wagyu beef burger, tuna tartare, or a fresh Maldivian catch of the day. And the best part is breakfast is served 24/7! So yes, you can eat waffles at midnight in your villa if you want to (because who doesn't?).
Guests also have access to the nearby sister hotels Anantara Dhigu and Anantara Veli, but those hotel's guests do not have access to Naladhu. The villas are elevated right over the ocean so you can fall asleep hearing the waves crash or soak in the bathtub that connects to a private infinity pool overlooking the sea. The Living Room is the hotel's beachfront restaurant where you can dine for breakfast, lunch, and dinner. Overall, it's great for all types of travelers who are looking for more remote and peaceful island vibes.