How to Have the Most Epic 7-Day Honeymoon in Thailand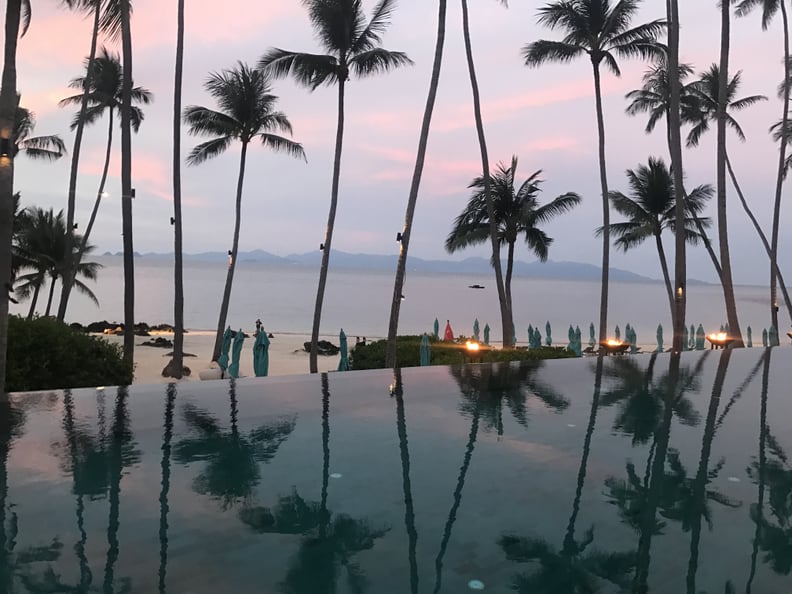 POPSUGAR Photography | Lauren Levinson
You likely have a friend who went to Thailand on his or her honeymoon. The vacation spot has earned its place on your bucket list. First of all, it's not easy to get to (we're talking at least 12-15 hours away if you don't have a layover). So if you have two weeks off for your 'moon, this is a good way to use up those days.
And it definitely has all of the over-the-top romantic, Instagrammable, once-in-a-lifetime destinations and experiences you expect from your first big trip as a married couple. I am talking hot pink sunsets, elephants, and spicy noodle dishes worth breaking your wedding diet on.
I traveled to Thailand for part two of my honeymoon last April (part one was in Bali, which you can read about here) and spent six nights in the gorgeous Southeast Asian country. We split our time between Bangkok, Koh Samui, and Chiang Mai. This provided the perfect mix of city, country, and island life.
The good news is once you get halfway around the world, you can live luxe on a nice budget. I'll admit we did splurge on hotels for the occasion, but there are plenty of fantastic options for all budgets. Keep reading to see exactly where we stayed, what we did, where we ate, where we spa-ed, and more.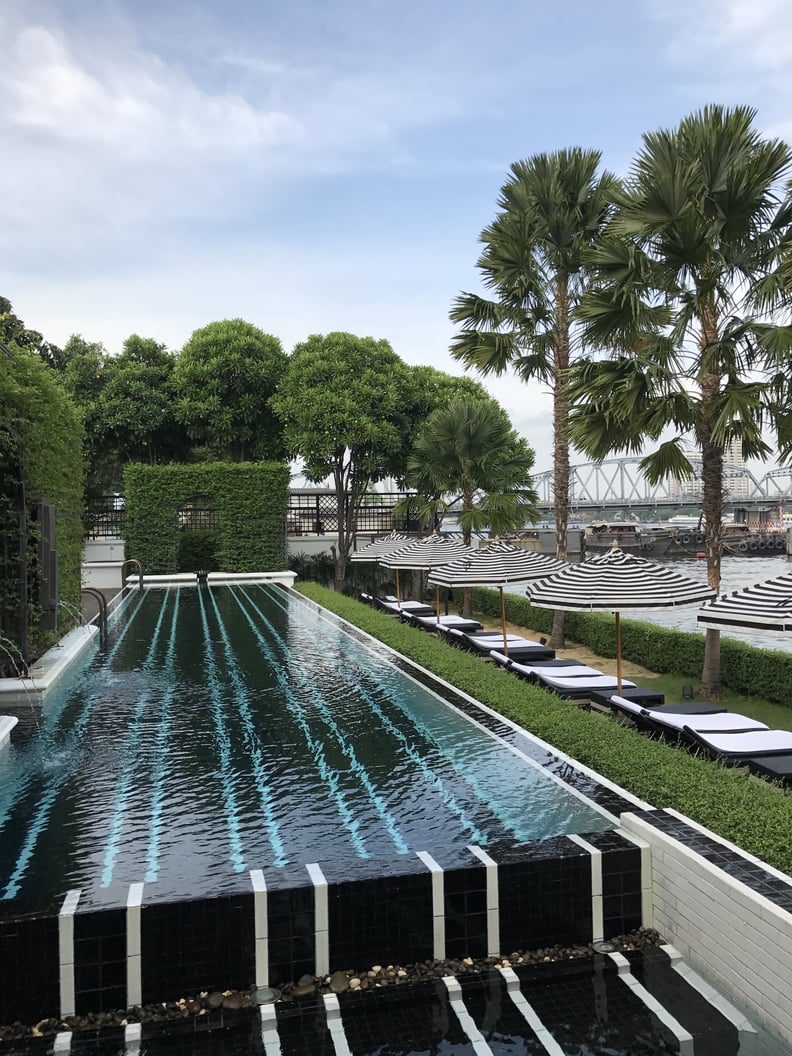 Bangkok: Where to Stay
We were only in Bangkok for one night, so we needed to make the most of it. As soon as I found The Siam hotel via a Google search, I had my heart set on it. I mean, look at this place! The hotel and spa are set on the water with this gorgeous outdoor pool (which came in handy when I needed to burn off extra helpings of pad thai). We also got to see some of the city via The Siam's boat shuttle, which was spectacular. The skyline lit up at night is gorgeous!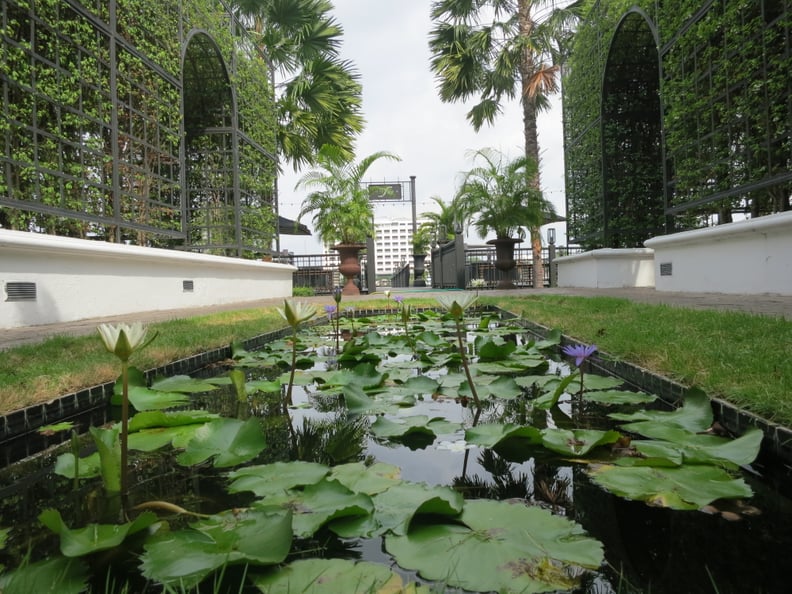 Here is another shot of the grounds at The Siam.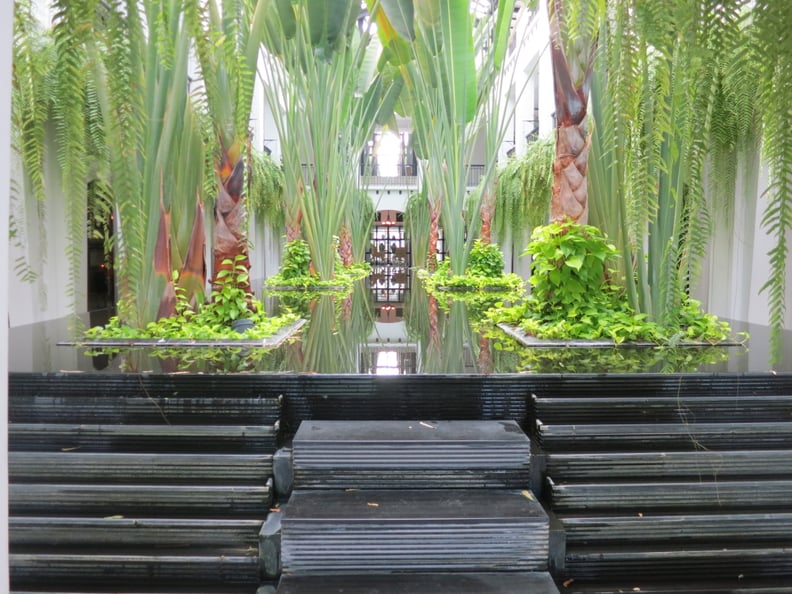 This is the lush lobby at The Siam.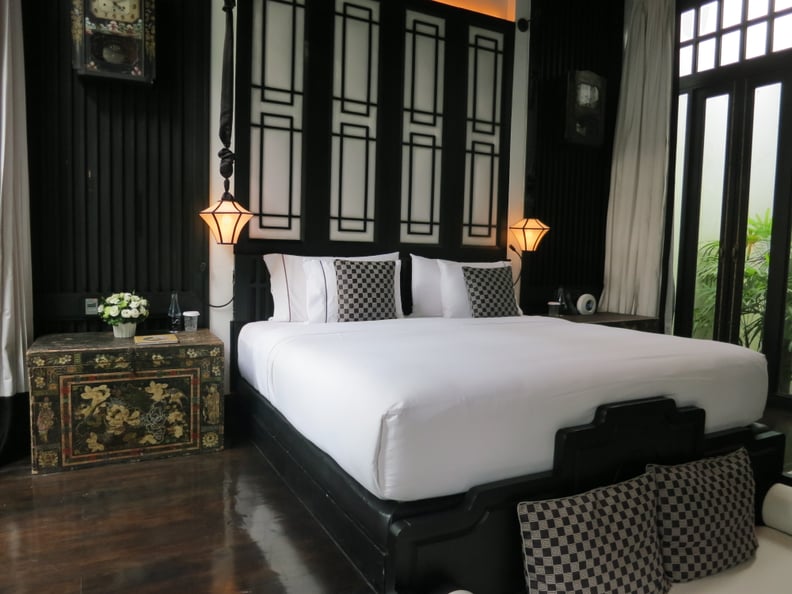 We were upgraded to a villa at The Siam, and this was our amazing room. A room at The Siam costs between $650 and $1,500 per night.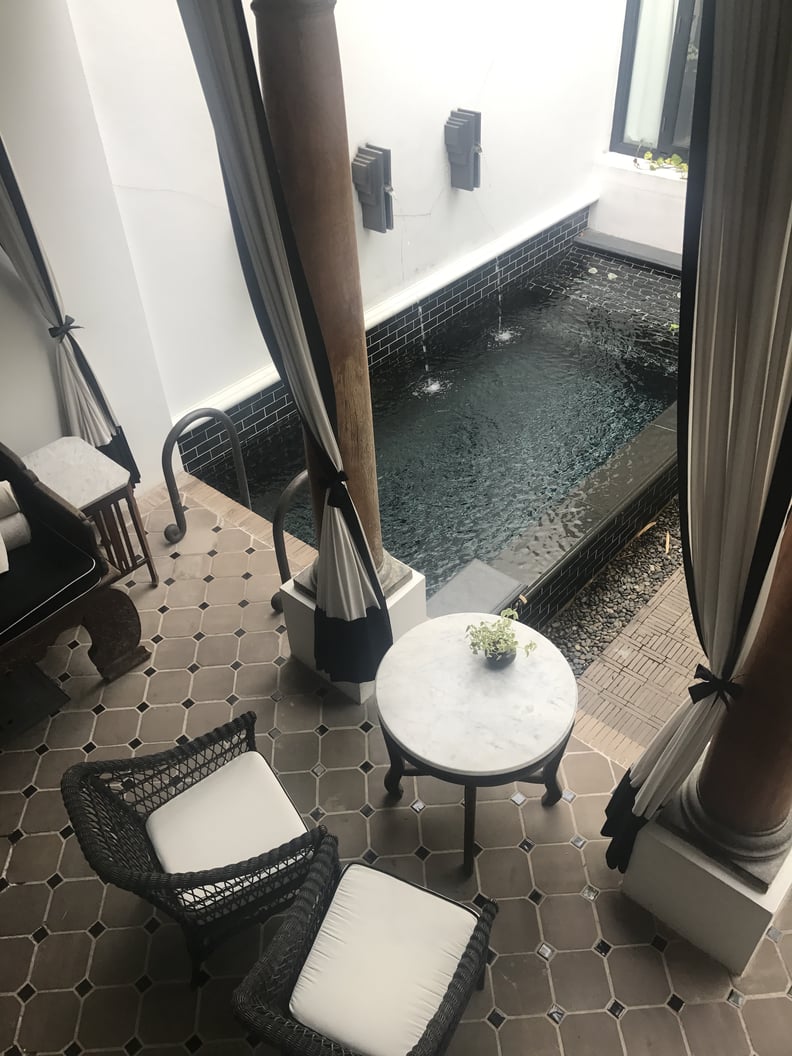 It had a private plunge pool, roof deck, and butler service.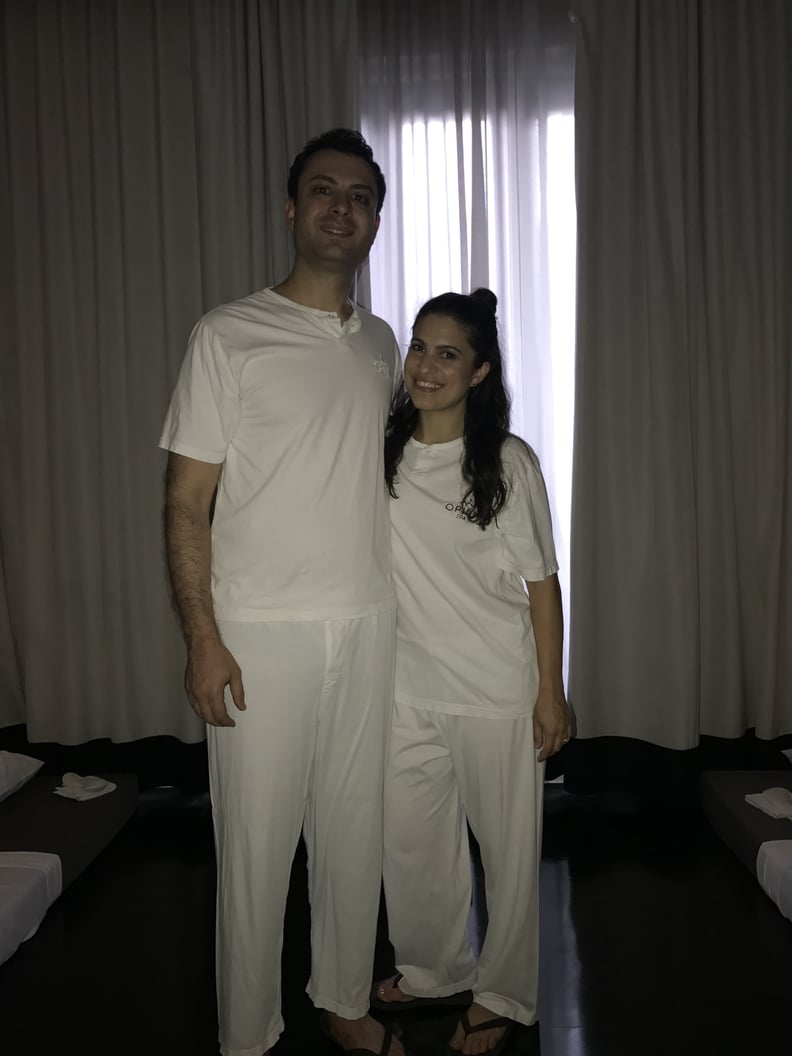 Bangkok: Where to Spa
As a beauty editor, I wanted to try a traditional Thai massage in Thailand! During this massage, you are usually given special pajamas (pictured) that you wear during your treatment. No oils and lotions are typically used. Instead, the masseuse stretches and massages out any tension. It's the perfect treatment to get after a flight — which is exactly what we did at The Opium Spa ($125 for one hour)! Plus, since you don't get greasy, you can go out right after.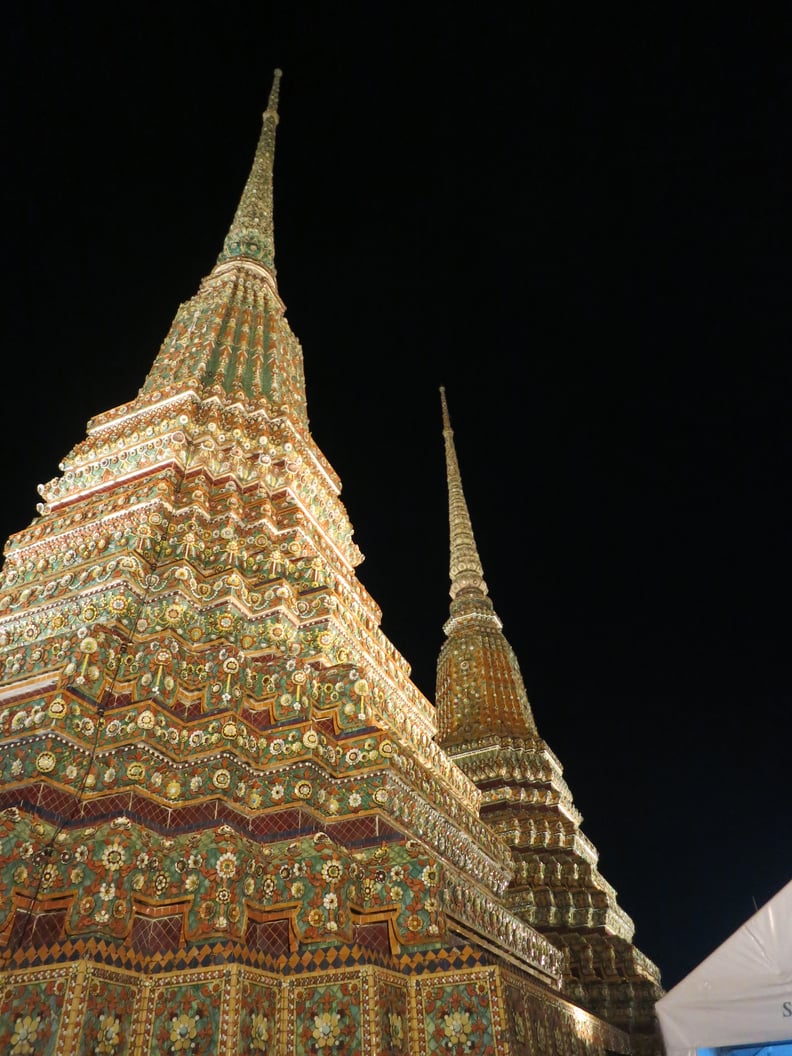 Bangkok: Things to Do
Since we only had one night and wanted to see the city, we invested in a private food tour. We booked a private tour through The Siam's concierge ($45 per hour for a private tour, minimum of three hours). Our guide, whose real name is Komsan Suwannarat but who goes by Jerry, brought us to see some lit-up temples, the flower market, and multiple courses of food.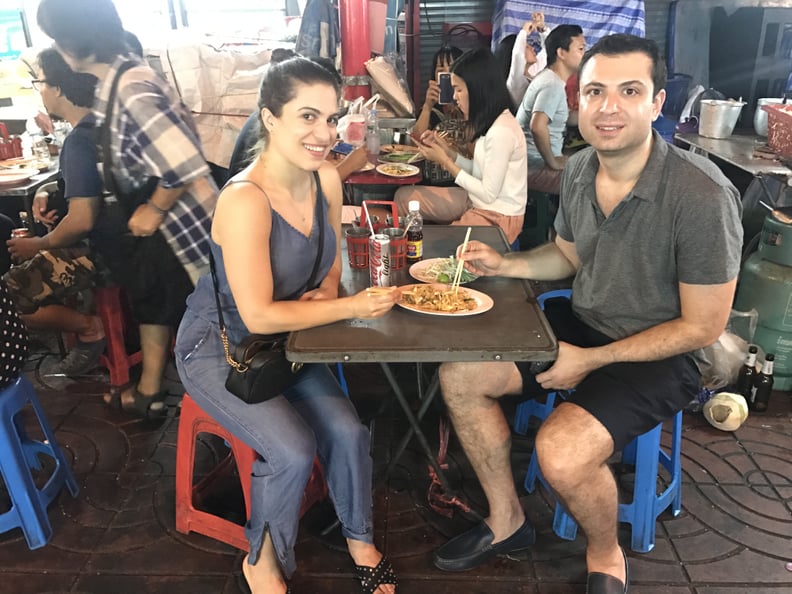 Bangkok: Where to Eat
Here we are eating pad thai on the street. Make sure you wear something comfy and roomy if you go on a food tour!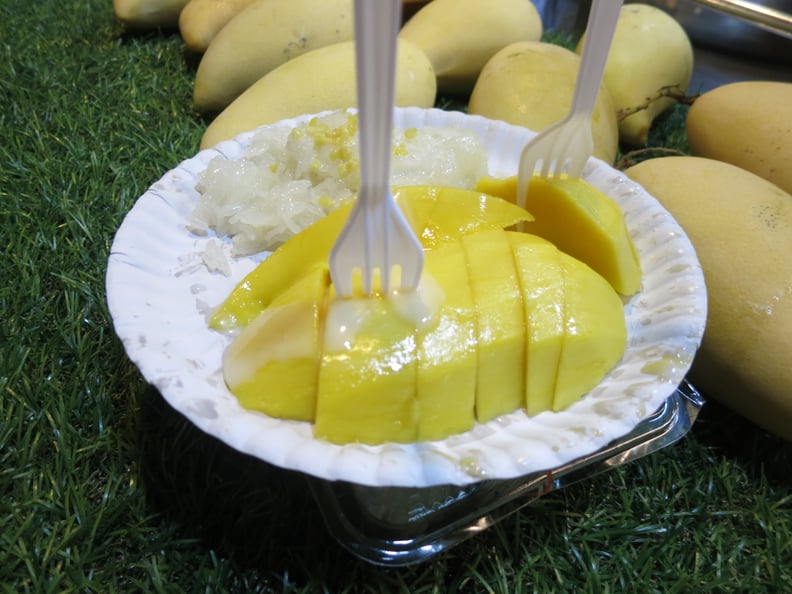 Do not leave Thailand without trying the traditional dessert, mango sticky rice! It's basically exactly as it sounds and topped with coconut milk sauce.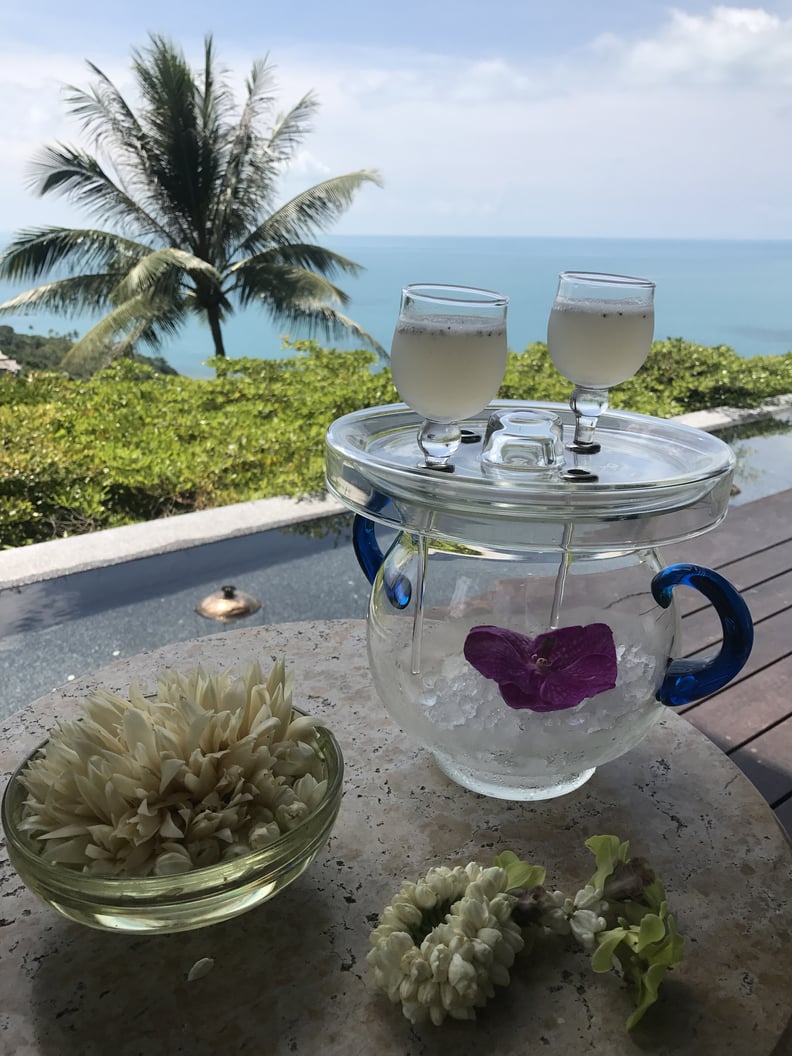 Koh Samui: Where to Stay
Next, we headed to Koh Samui, one of Thailand's dreamiest islands. We were deciding between Koh Samui and Phuket and chose the former based on when rainy season is for both spots. Make sure to research this when planning your trip! We stayed at the Four Seasons Koh Samui, since it's known for being one of those amazingly romantic honeymoon spots. Check out the view here, where we enjoyed our welcome drinks coupled with fresh jasmine.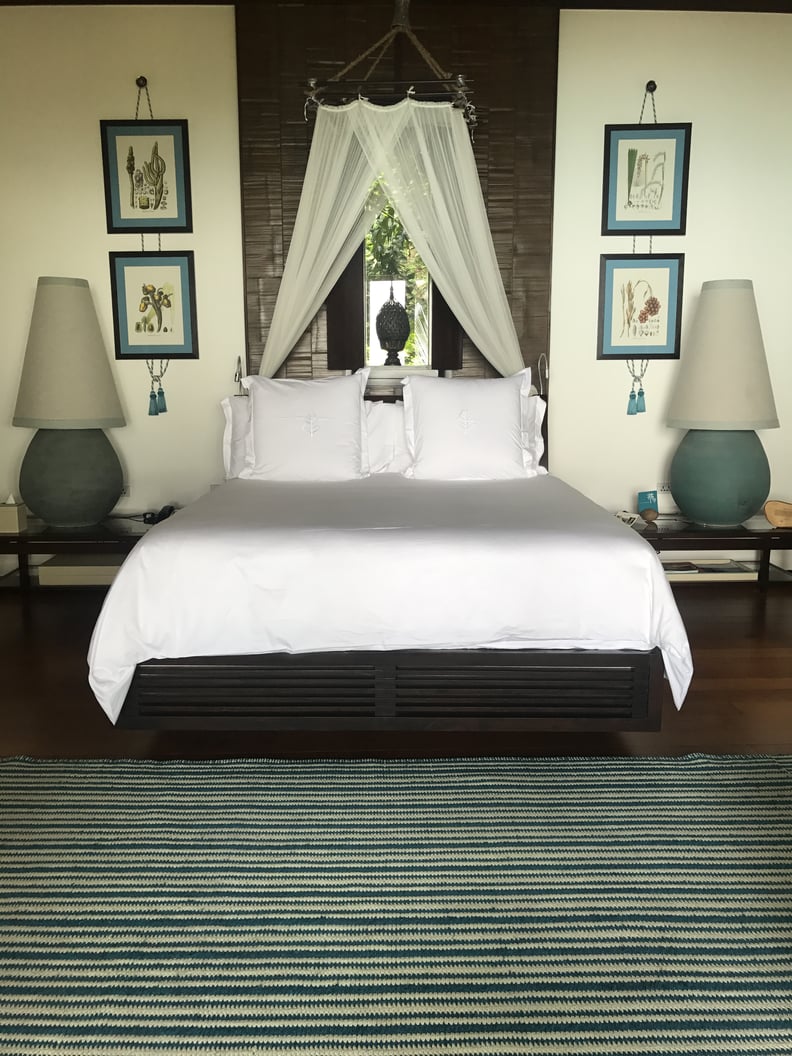 Every room at the Four Seasons Koh Samui is a private villa with plunge pools (starts at $800/night). It's stocked with everything you could want, from full amenities sets to a plunge pool and lightweight robes.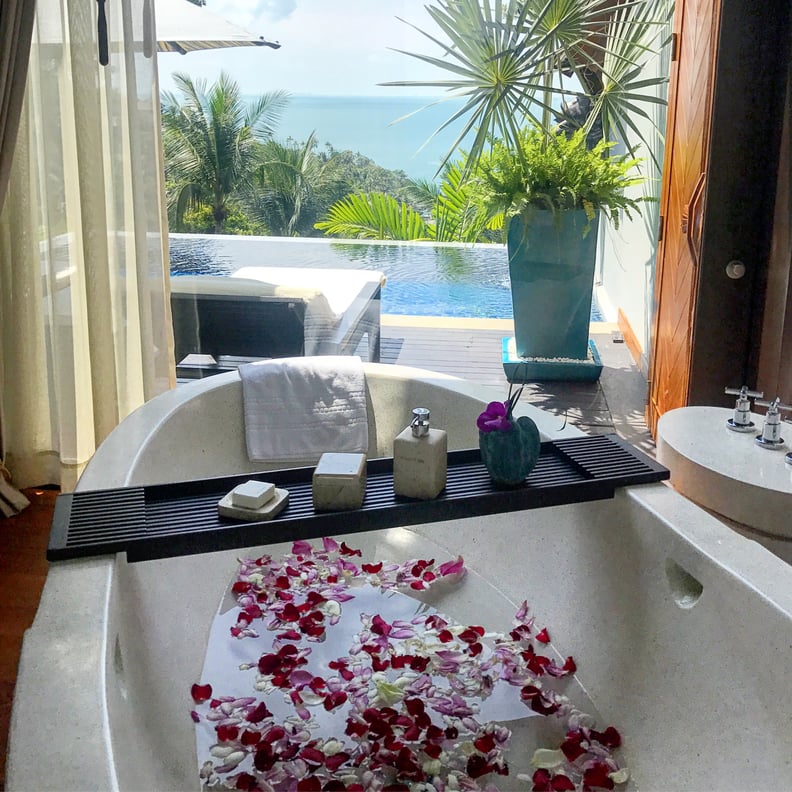 When we walked in, the bath was made up with rose petals! Like I said, this is definitely a place made for lovers.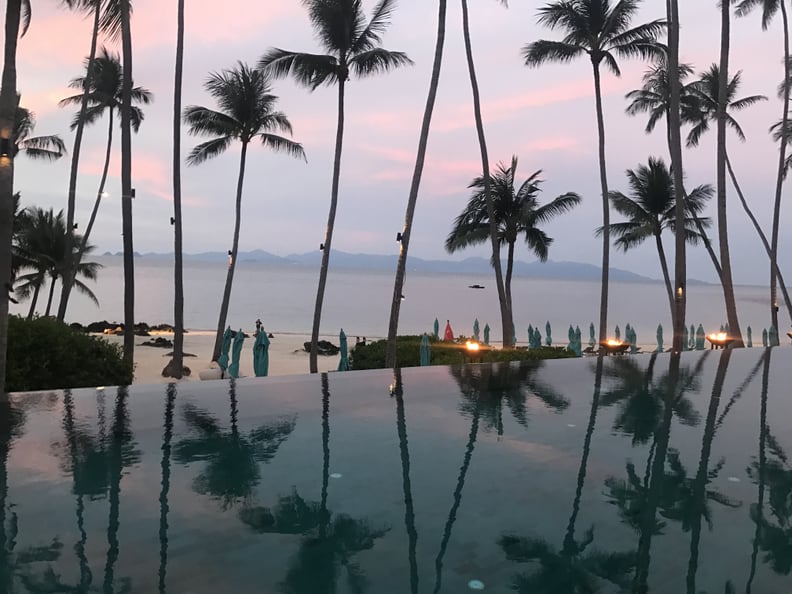 Koh Samui: Where to Eat
While the hotel had many restaurants, we chose to do a casual tasting menu by the beach bar, CoCoRum. The cuisine is Latin-inspired (and formally called Noche Latina), and you watch the chef cook right in front of you while also enjoying the amazing pink-sky sunsets (four courses for $85 per person). We also had a blast doing a rum cocktail tasting, which is part of an à la carte menu.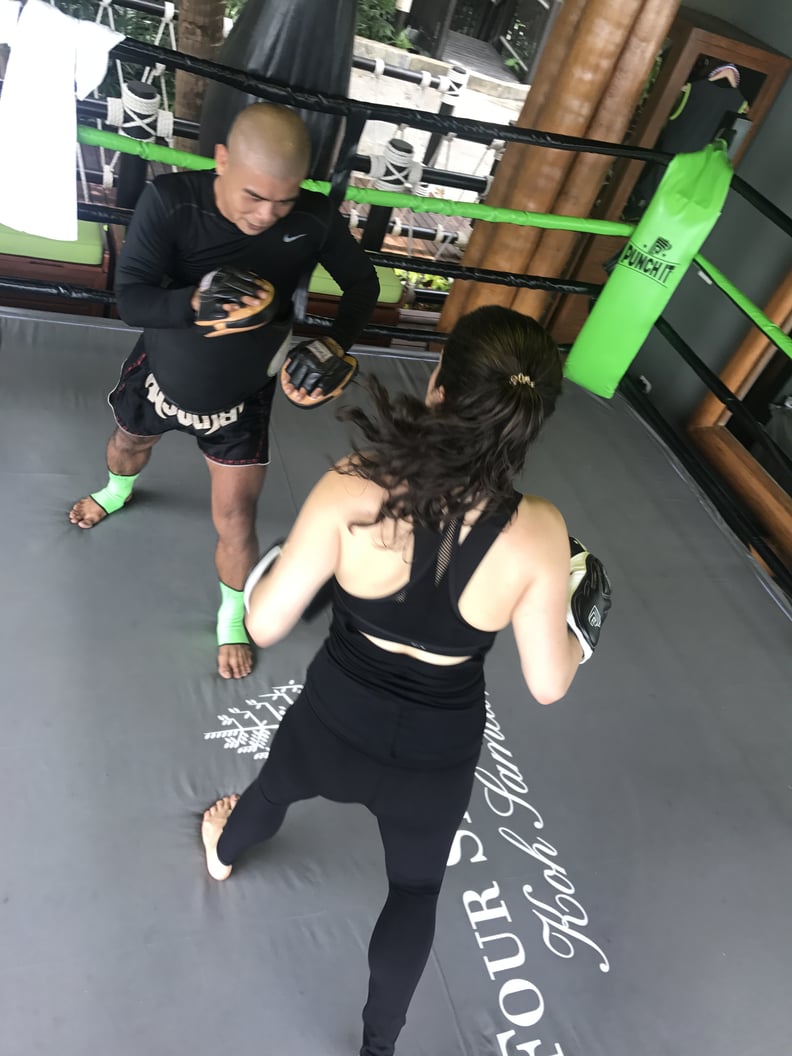 Koh Samui: How to Work Out
Even if you don't stay at the Four Seasons, I highly recommend stopping by to do a private muay thai boxing class with your honey. We had a blast doing this for an hour — yes, sweating in the island heat.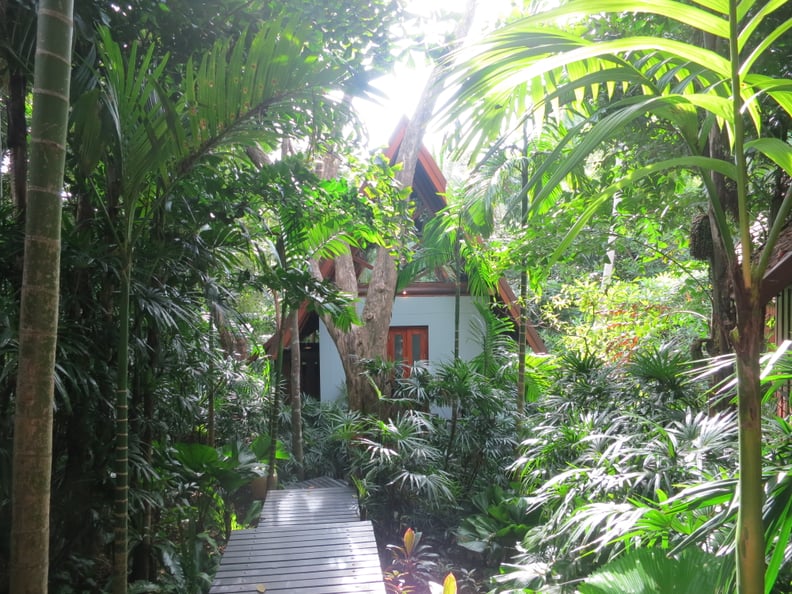 Koh Samui: Where to Spa
If you don't stay at the Four Seasons but stop by for a muay thai, go to the Secret Garden spa! It is worth it, and you may be sore after boxing so you can justify spending the money on a little body TLC. From the front, the spa looks small. But once you go through the main entry, you realize there is a whole world — a jungle! — back there. Each treatment room is a little hut (like a private villa) with bathrooms, massage rooms, etc. It's super private and romantic. This is a photo of one of the treatment huts.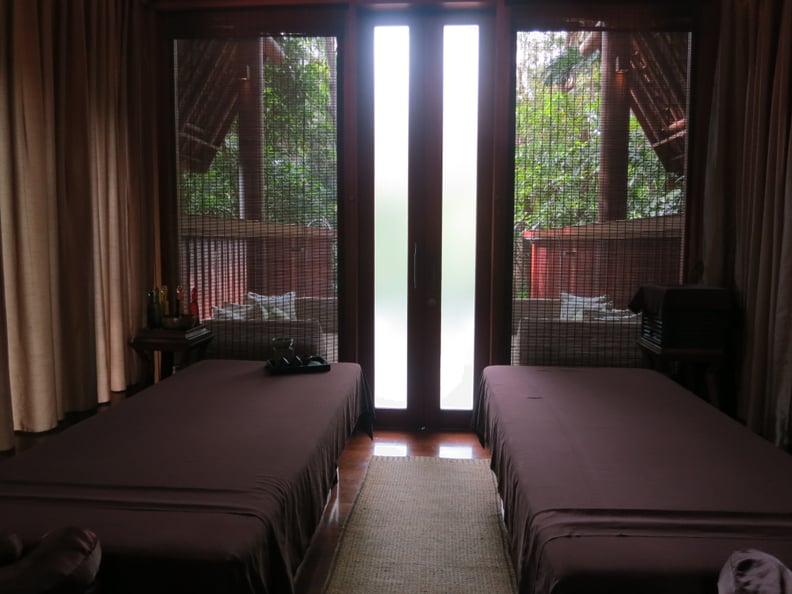 This is what the inside of the treatment rooms look like. I got a 90-minute Kala Coconut massage ($185), which is a signature treatment at the spa. My masseuse used a cool coconut shell and homemade hot coconut oil to kneed and massage my muscles.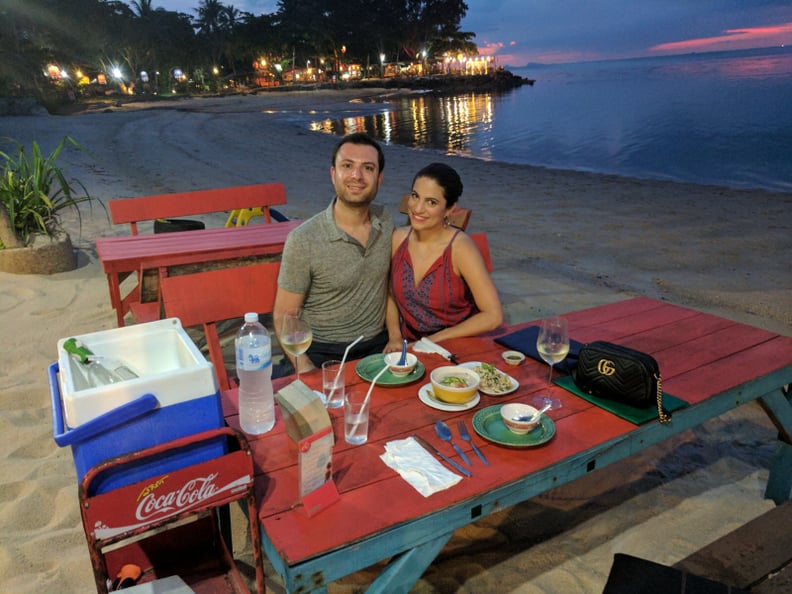 Koh Samui: Where to Eat
Balance out all of those pricey activities with an inexpensive, local meal. We dined at Haad Bang Po, a casual BYO authentic Thai restaurant. That said, it was romantic sitting on the beach, watching the sunset while we spent about $20 a person on a multicourse feast including a whole fresh fish. Thailand is known for its affordable and delicious local food, so don't leave without taking advantage of it!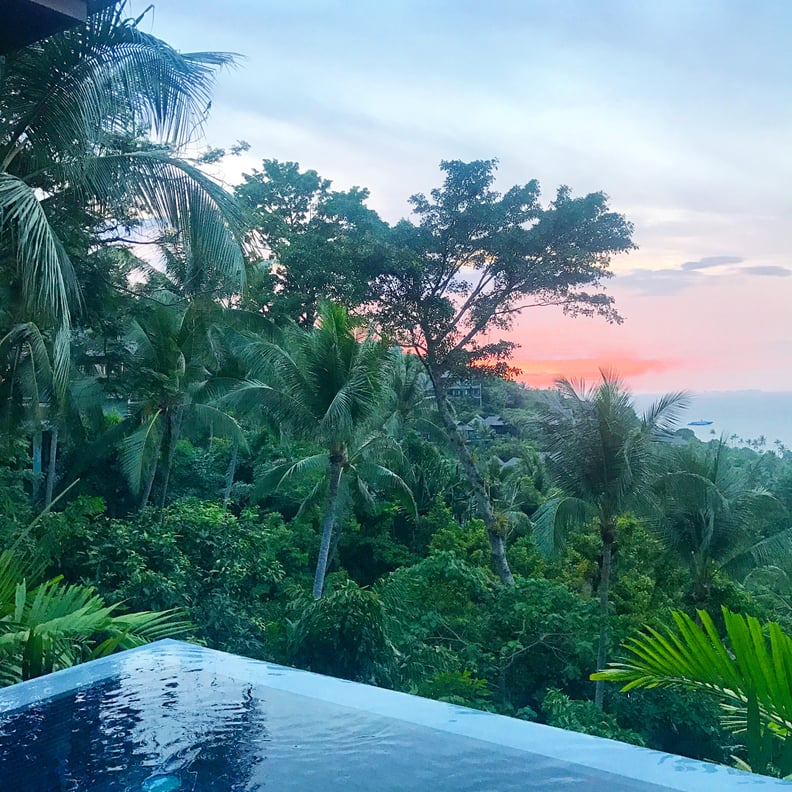 Koh Samui: Things to Do
No matter where you are, make sure you watch the sunset. Koh Samui is known for its stunning pink-and-peach skies.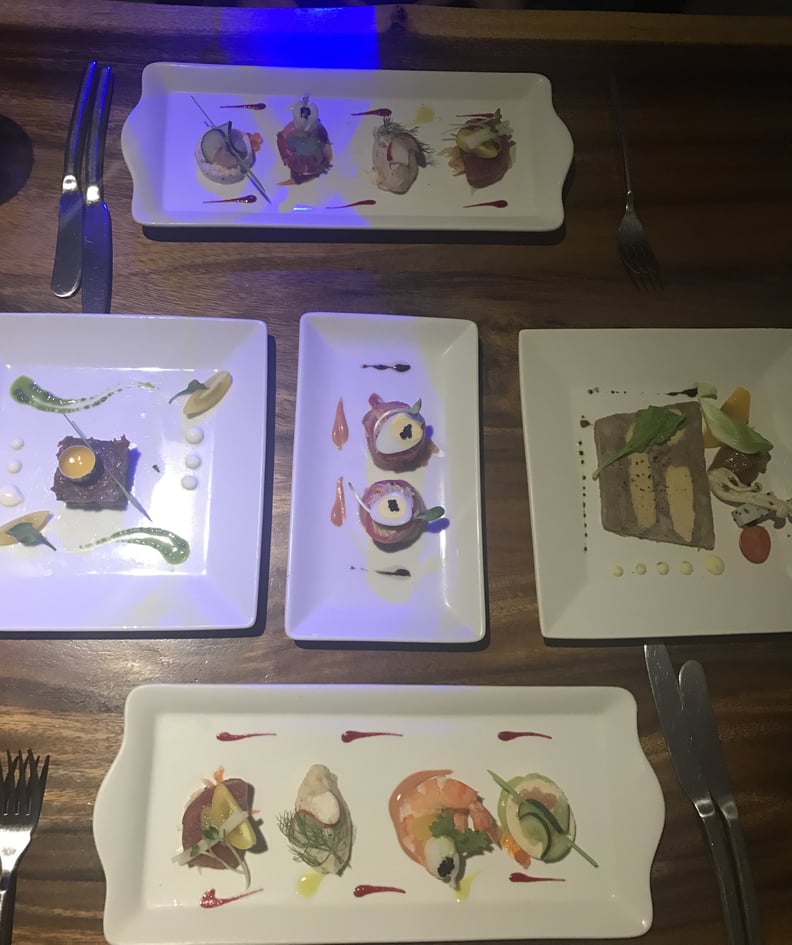 Koh Samui: Where to Eat
Shake things up and try Chez Francois in Fisherman's Village. It is a quaint French restaurant, where you can try a bunch of little dishes (pictured). Plus, chef Francois personally came out to greet us after our meal and wish us well. After dinner, walk around Fisherman's Village and grab a drink at Coco Tam's, a festive beach bar with swing chairs. We saw a fun lights show here while sipping on sweet rum drinks.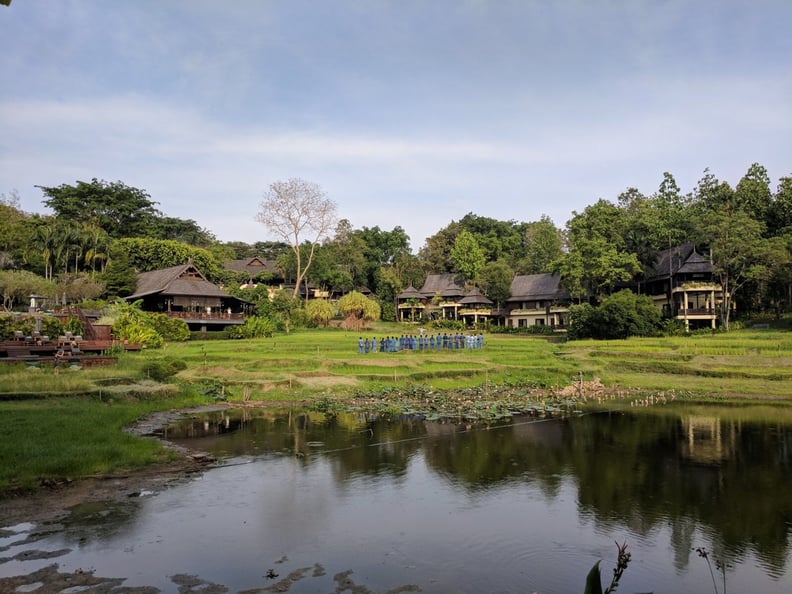 Chiang Mai: Where to Stay
Not to sound like a Four Seasons ad, but it was our honeymoon, so we chose another property from the luxury chain for the final leg of our trip: Chiang Mai. This was actually my favorite hotel and spot we visited during our Thailand trip. And if you can only go to one place in Thailand, it should be Chiang Mai. The northern part of the country is a completely unique experience than the rest of the country. Just look at the scene (those are farmers marching!) at the Four Seasons Chiang Mai. This was our view from our balcony, and at night, it got lit up like a fairy tale.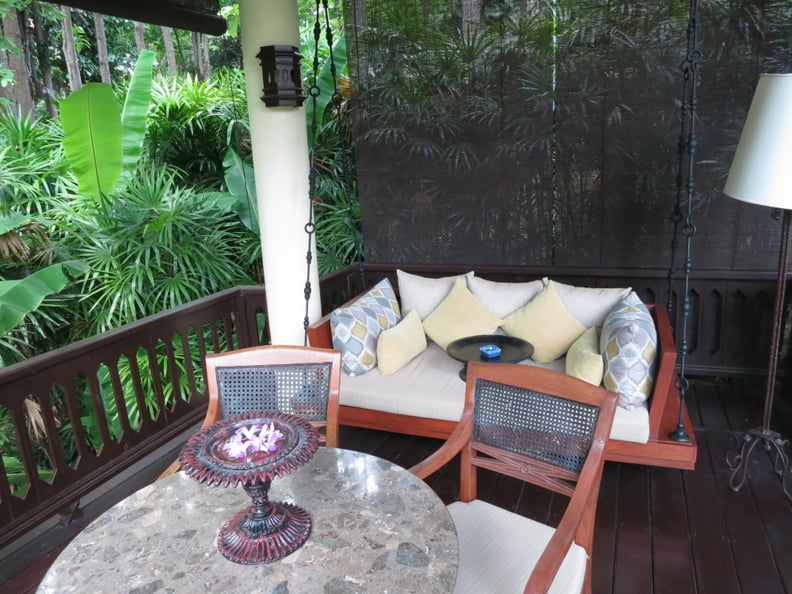 This was that balcony I mentioned, which I loved. We spent one night sitting out here drinking a bottle of red wine. It was perfect. We opted for a pavilion (starts at $550 per night) instead of a pool villa (starts at $875 per night), which I recommend. The regular rooms are spacious and have fantastic locations on the property. And the pool on site is really nice with multiple levels, so it feels intimate. That said, our friends did get a villa and loved it, as well. If you love to skinny dip, then you do need that private plunge pool.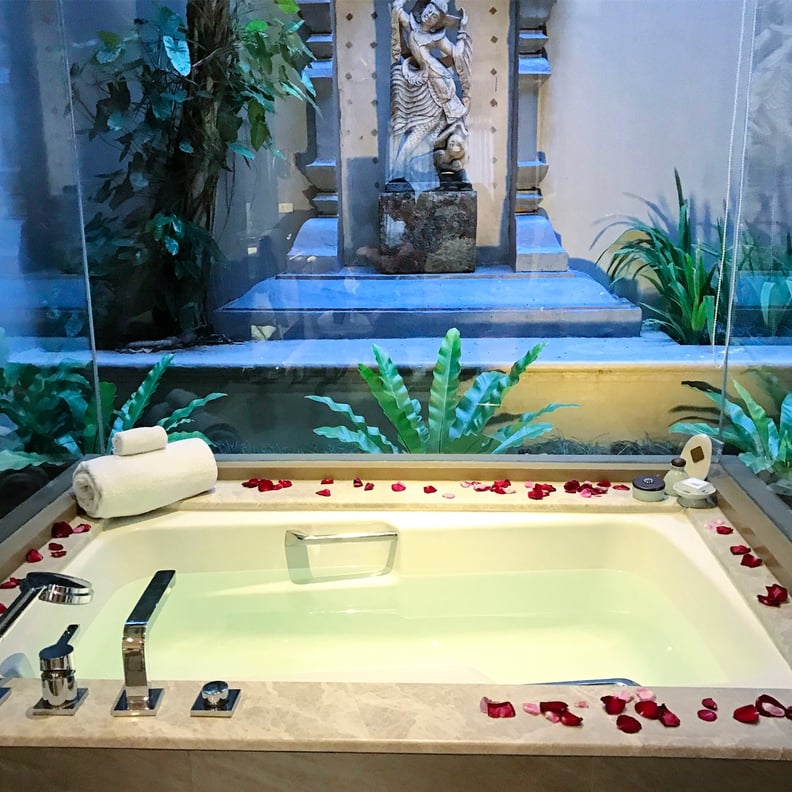 My other favorite part of the room was this tub, which of course came with rose petals. I pushed the petals into the tub for a heavenly soak.
Chiang Mai: What to Do
If you went to Chiang Mai and didn't do an elephant excursion, did you even go? We did a half day ($55-$170) at Ran Tong, a camp known to help protect elephants. We rode our elephant bareback (which doesn't hurt them), helped to bathe him, and then enjoyed a homemade lunch on site. Make sure to do your research when looking for elephant parks to visit so that you're spending those tourist dollars on places that protect the animals!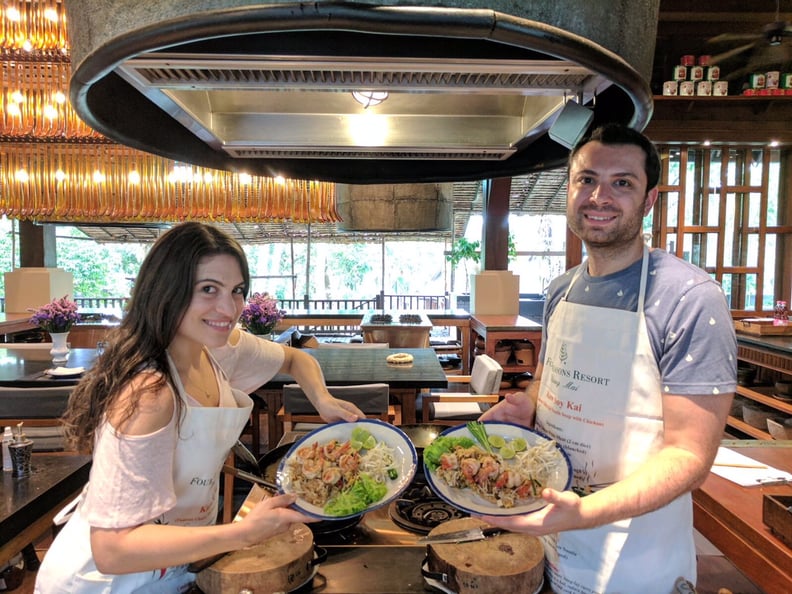 Chiang Mai: What to Do
We also took a cooking class ($191) at the Rim Tai Kitchen on site at the resort. We cooked alongside another couple (who we randomly happened to know from NYC — total coincidence!) and then all got to eat it in the cooking school's beautiful dining room. I definitely recommend doing something like this as it helps you understand the spices and flavors of the food you're eating.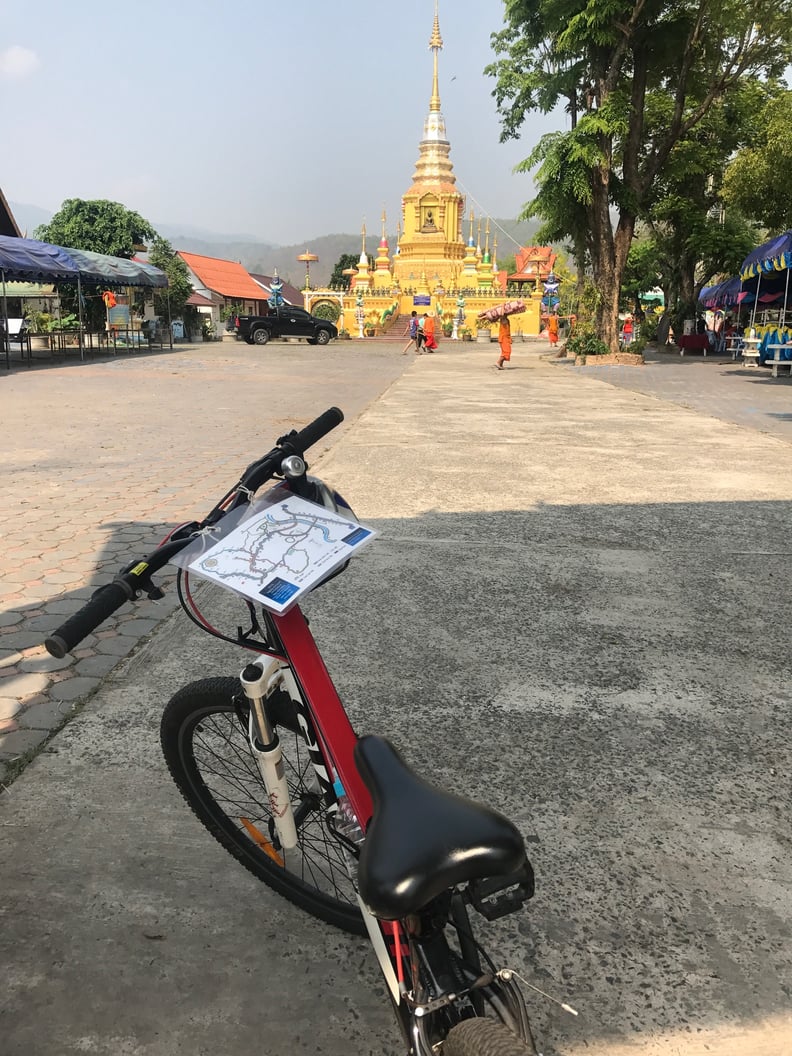 Chiang Mai: What to Do
To work off some of that Thai cuisine, we went on a small group bike ride ($45 for up to an hour and a half) to see the local town and temples.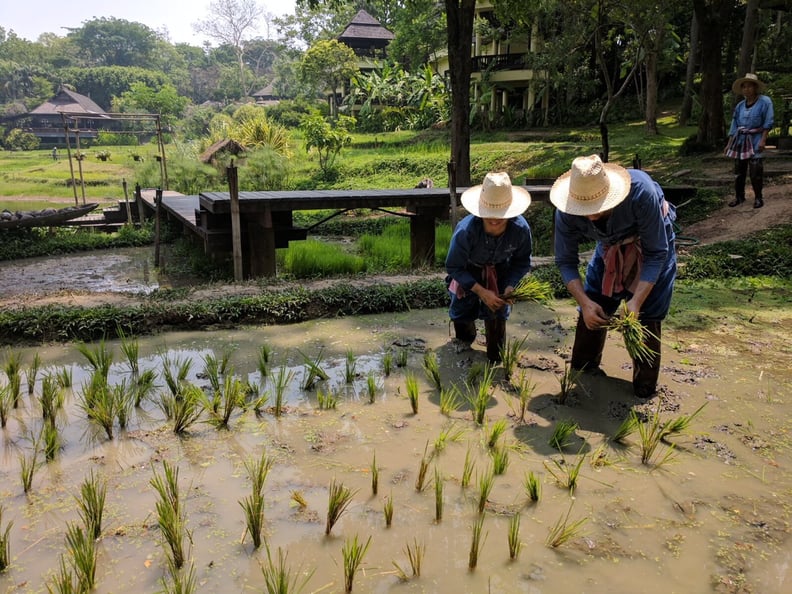 Chiang Mai: What to Do
There are farmers, as mentioned, on site at the Four Seasons Chiang Mai. One free activity is helping them plant rice. (This class is complimentary on Tuesdays, Thursdays, and Saturdays but costs $31 for other days or for private sessions.) You wear denim outfits and sunhats while going in the mud and literally planting rice with locals.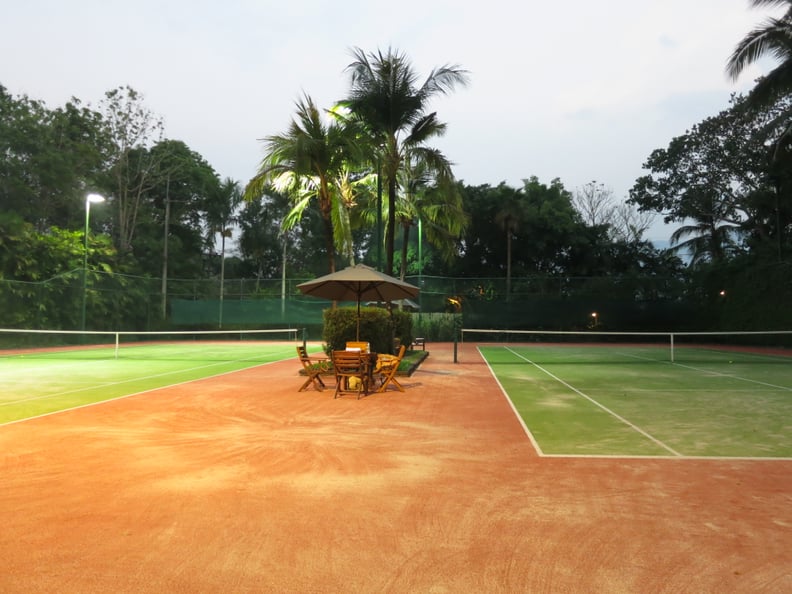 Chiang Mai: How to Work Out
We unfortunately did not have time to play tennis, but if we'd had one extra day, we would have loved to hit some balls on this court at the hotel. Wellness is a big part of Chiang Mai's holistic vibe.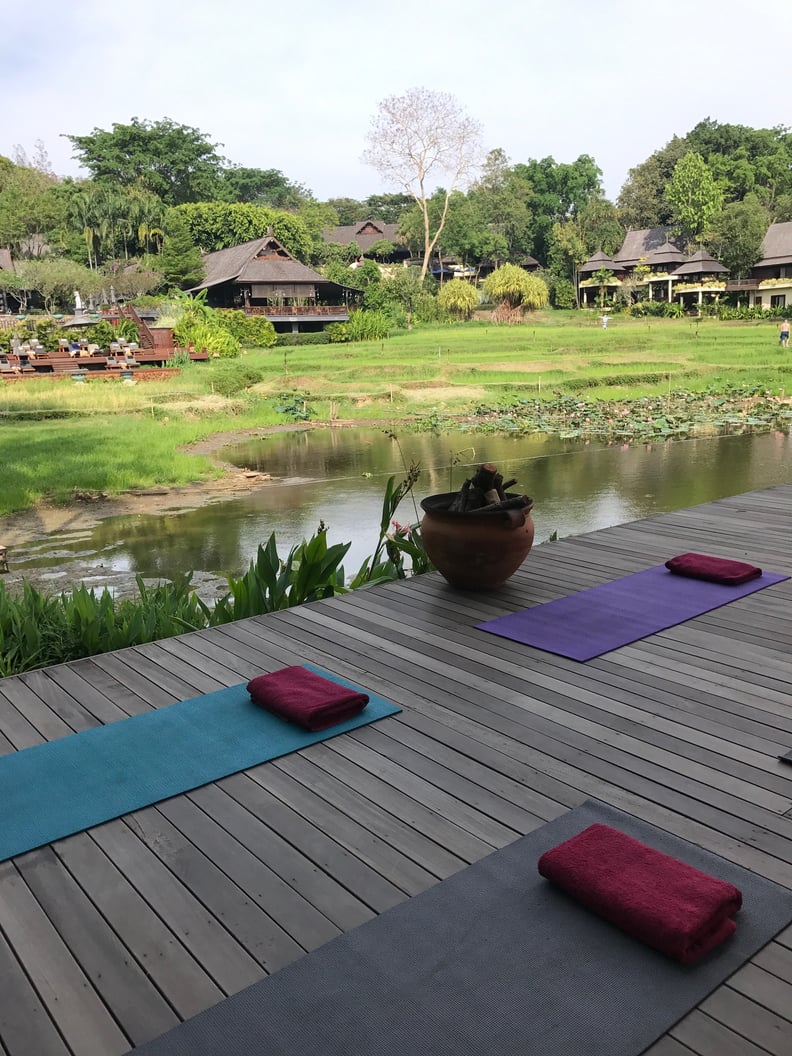 Chiang Mai: How to Work Out
I did, however, have time to take a late-afternoon yoga class at the outdoor barn. It was more stretch-y and breathing than flowing, but who wouldn't want to meditate in this setting?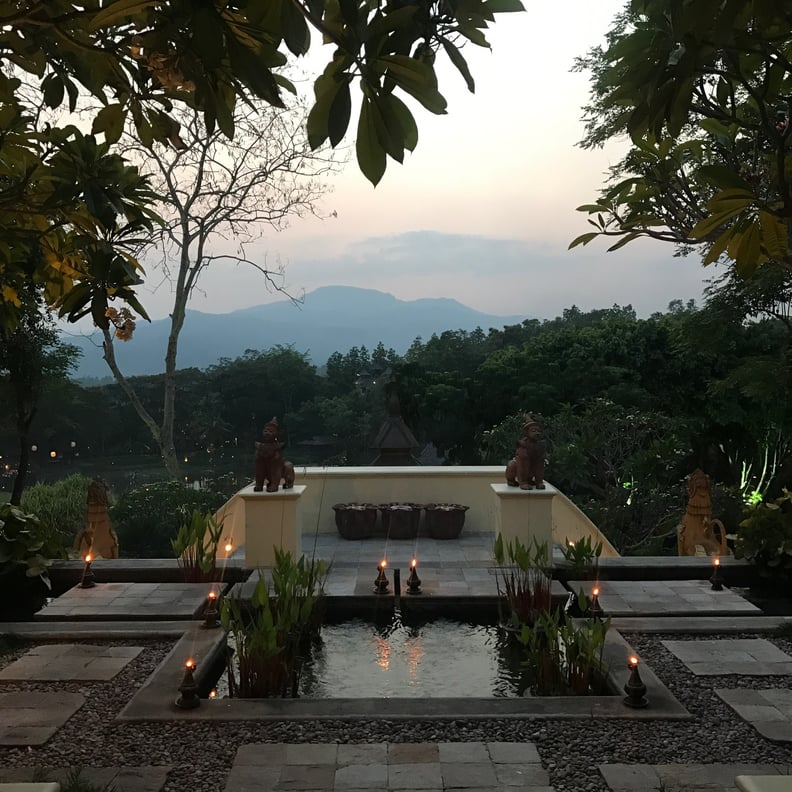 Chiang Mai: What to Do
This is not a photo of the night market — sadly, I did not get one. But it is an image of Chiang Mai at dusk. I highly recommend you visit the night markets for local goods (we got handmade pillowcases) and delicious street food.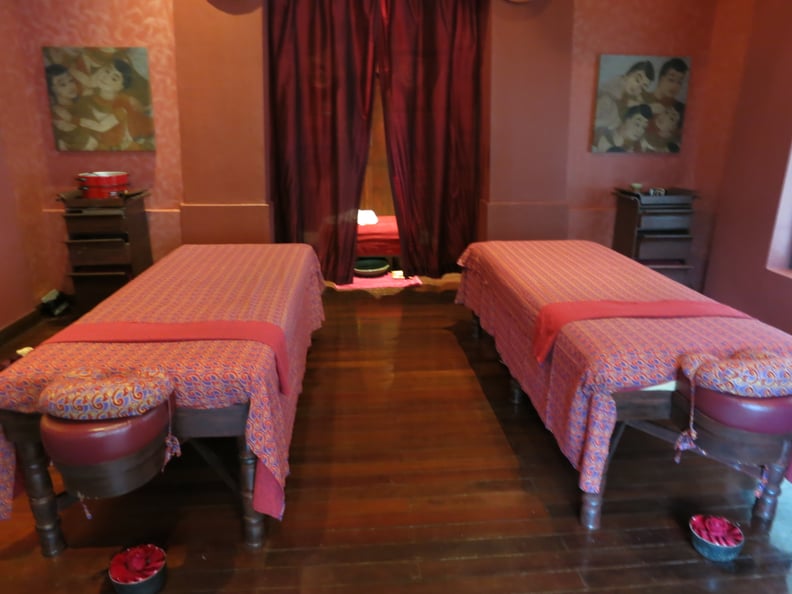 Chiang Mai: Where to Spa
We ended our trip with . . . well, another massage (what can I say, I am a beauty editor). This spa is inspired by traditional Thai jobs and traditions. I got a 90-minute Samunprai Massage ($168), which is part of the Farmer Collection of treatments. It is a Thai-style massage, incorporating acupressure with aromatherapy. What is most notable is that a hot poultice (which is basically a cloth circle that holds spices) was used on tender muscles. Spices like lemongrass, prai, turmeric, and kaffir lime peel were inside of poultices to help detoxify and heal soreness. We had a late-evening flight and got massages before heading to the airport. It ensured we had a relaxing trip home.