These 11 Sexy Spots Will Keep Intimacy at the Center of Your Vacation
If you are in the mood, you can get down anywhere, and something about being on vacation always brings the excitement up a notch. That said, while being in an exotic locale is sexy in its own right, some hotels really seem to try extra hard to keep sex on the agenda. These spots will make sure you have a good time — so good a time, in fact, you may never leave your room.
01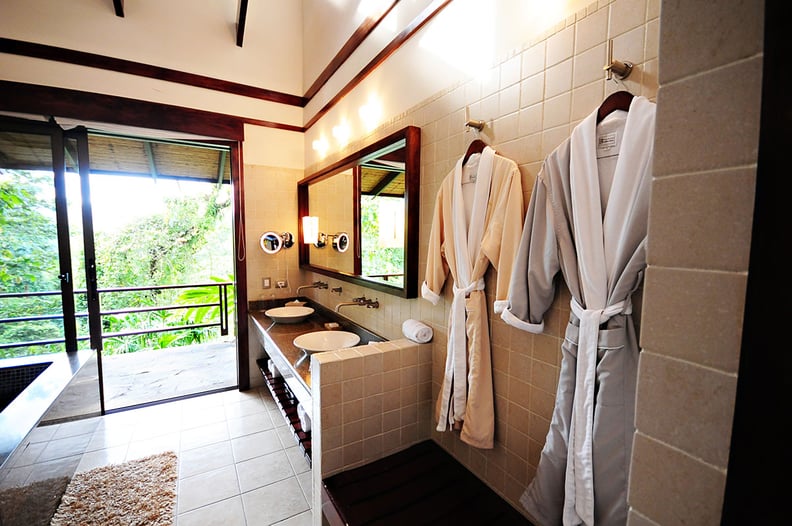 Costa Rica
Tabacón Thermal Resort & Spa is the perfect place for couples to get steamy while soaking in natural hot springs. The resort's spread across 900 acres of lush rainforest reserve near the base of Costa Rica's Arenal Volcano, with thermal springs and cascading waterfalls naturally heated by the volcano's magma and outdoor spa bungalows where treatments are rendered the sounds of rushing streams and local wildlife. To really turn up the heat, opt for a treatment that includes a soak in a private jacuzzi filled with natural spring water, curl up in a cabana with cocktails at the adults-only Shangri-La Gardens, or rinse off together after the springs in your room's see-through rainforest shower.
02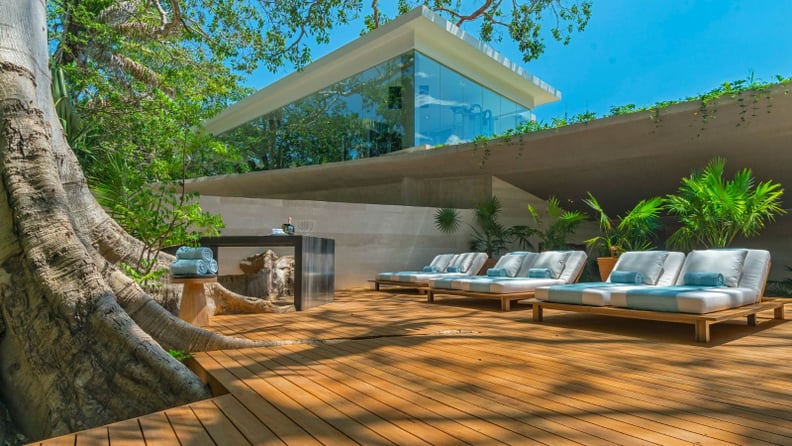 Riviera Nayarit, Mexico
Surfers and beach-lovers in search of a sexy escape can't miss W Punta de Mita, a new resort located on Mexico's coveted Riviera Nayarit. Just steps away from the rolling Pacific waves and sugar-soft shoreline, the resort's oceanfront oasis suites feature private decks with plunge pools that offer panoramic ocean views and showers with floor-to-ceiling glass windows that are perfect for a risqué rinse after a day at the beach. Couples who can't get enough alone time can arrange a private chef's dinner at Mesa 1, a table that sits on its own private island and offers just one daily seating.
03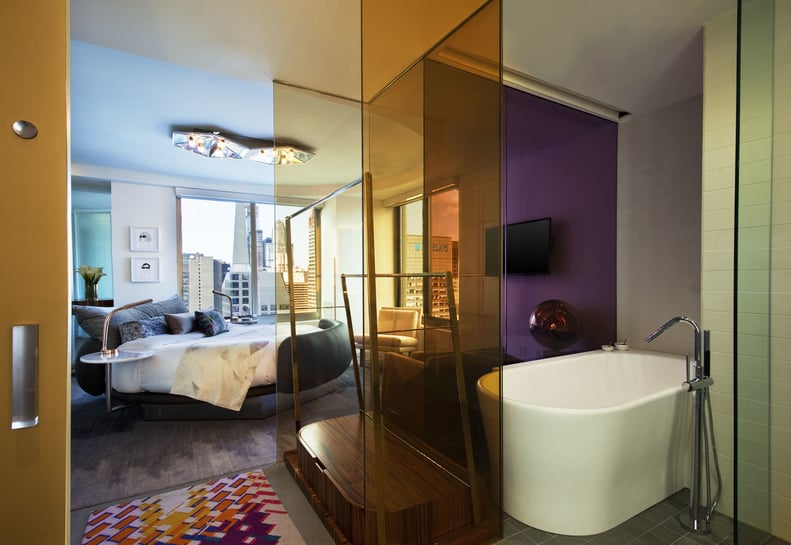 New York City
W Hotel Times Square has an especially sexy suite, the extreme wow suite which includes multiple "sexy features" including a round bed best enjoyed by two (or four!). The atmosphere in the room is the perfect combination of excitement and privacy. The suite includes eye-level peepholes built into the room's sliding doors; metal screens that can be left open or closed to separate the bedroom from the living room; and most importantly a bathtub that is separated from the bedroom with nothing more than a sheet of honey-tinted glass.
04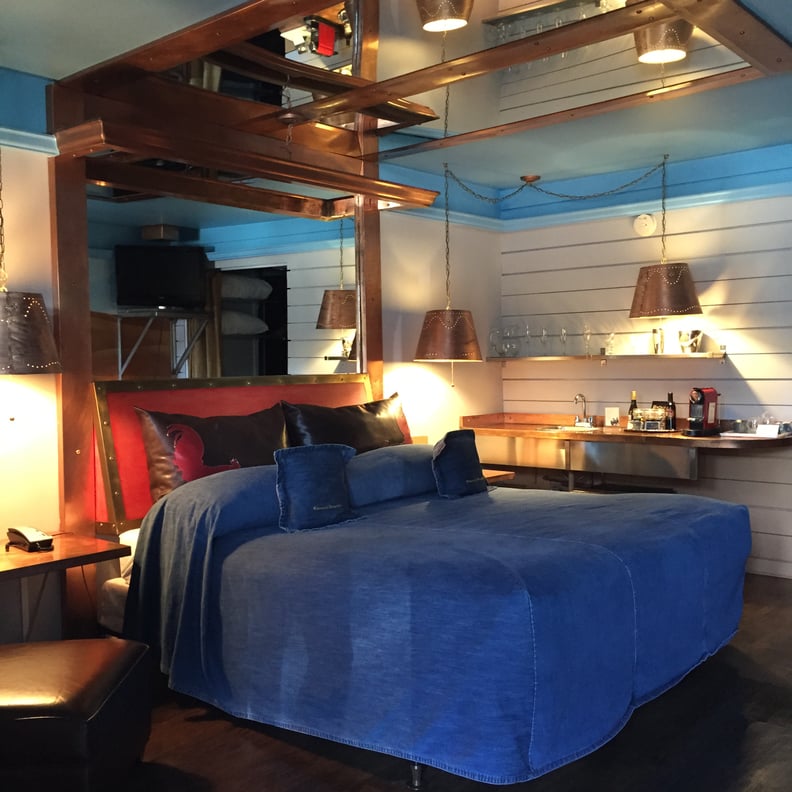 Los Angeles
The Farmer's Daughter Hotel in Los Angeles has the "No Tell Room," perfect for a seductive rendezvous. The No Tell Room is tucked away in a corner of the hotel and features a copper-encased mirror above the bed, a full wet bar, soft lighting that glimmers onto the ceiling and around the room, and playful amenities and minibar items like "Fix It" (a first aid kit) and "Do It" (condoms and lube). In the hotel's gift shop is cheeky merchandise including shorts printed with "Do It at the Daughter."
05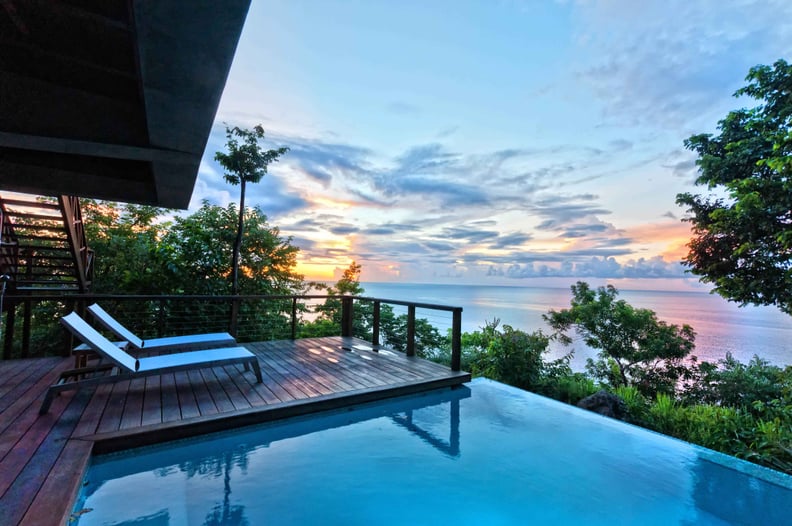 Dominica
Secret Bay is famous for romancing couples with its remote locale. In fact, it was created by a couple (a wedding gift from the owner's architect father-in-law) with couples in mind. Nestled in nature on the tip of Dominica, the tree-house-style villas are private and romantic, enveloped by lush rainforest landscape and offering dramatic views of the Caribbean Sea. Villas boast an oversize bathtub for two that faces a window, a personal plunge pool, outdoor showers and hammocks, and customized meals catered to couples' preferences.
06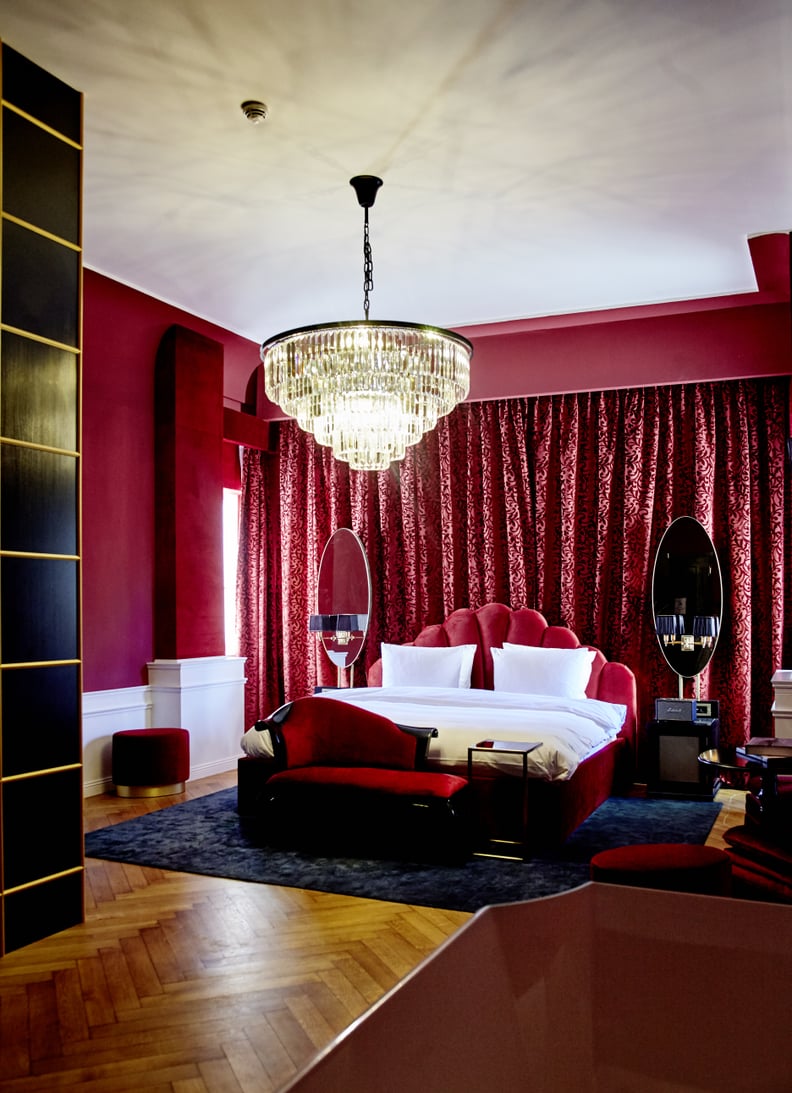 Berlin
The brand-new Provocateur Berlin hotel has mysterious romantic cozy corners designed by renowned interior designer, Saar Zafrir. Each room has a "provocateur mode," a setting allowing guests to spice up their stay and drift to a different world as the room's lights dim, seductive tunes commence, and video art plays . . . making you not want to leave your bed. But then again, you are on vacation — why should you?
07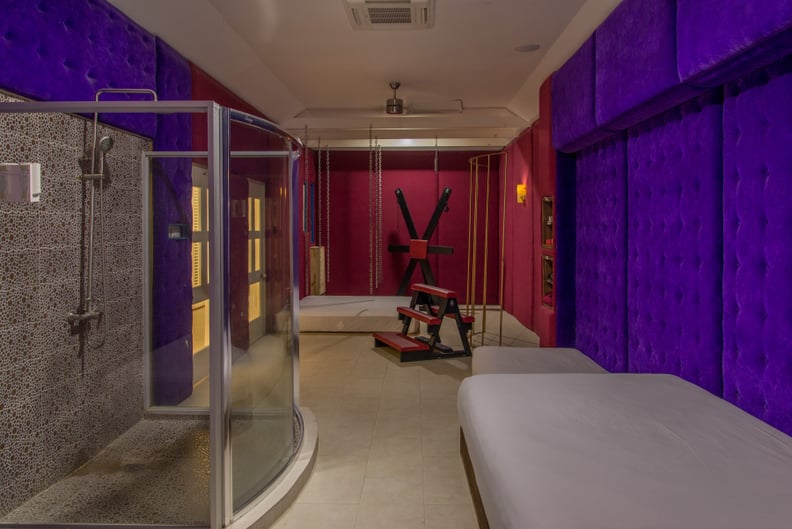 Negril, Jamaica
Situated on the white sand beach of Negril, Jamaica, Hedonism II is an adults-only, clothing-optional resort. With mirrors on every guest room ceiling, suites featuring semiprivate jacuzzis, and an after-hours Romping Shop playroom outfitted with dark lighting, multiple beds, sex swings, and exposed glass showers, Hedonism II has lived up to its name by becoming the ultimate sex-positive sanctuary. From nightly entertainment and events likes toga foam parties to nude snorkeling, catamaran excursions in the buff, and bottomless premium cocktails on a private beach, there's no shortage of fun or frisky here!
08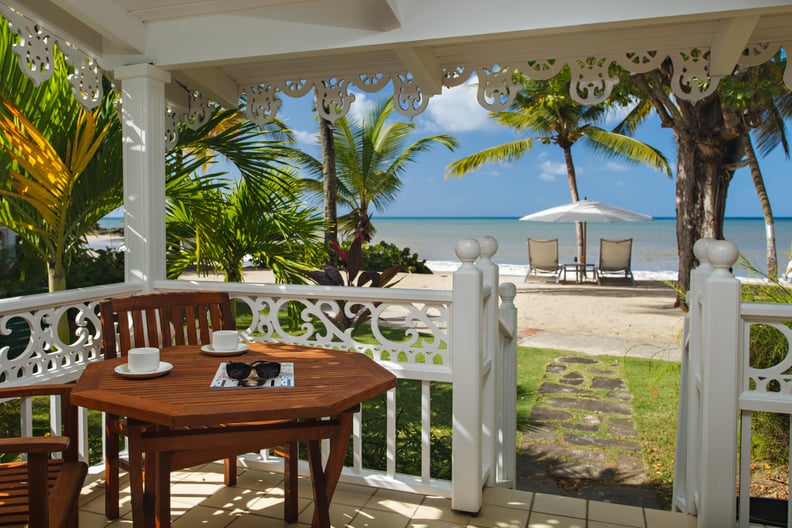 St. Lucia
Located on the beautiful island of St. Lucia, Rendezvous is the world's first "boutique" couples-only all-inclusive resort in the Caribbean. The 100-room property is surrounded by tropical gardens and lies on a two-mile stretch of white sand beach, allowing couples an intimacy not possible in larger resorts. The staff can arrange romantic private dinners in secluded areas on property or set the mood in guests' rooms with music, flower petals, candles, exotic scents, Champagne, and truffles. Guests can also get cozy and intimate in the resort's "secret garden," a space full of nooks and crannies hidden away with individual retreats for two. Away from all other guests, surrounded by lush tropical flowers and the sound of water lapping the pools and channels, couples can truly let loose and enjoy each other's company in the secret garden at Rendezvous.
09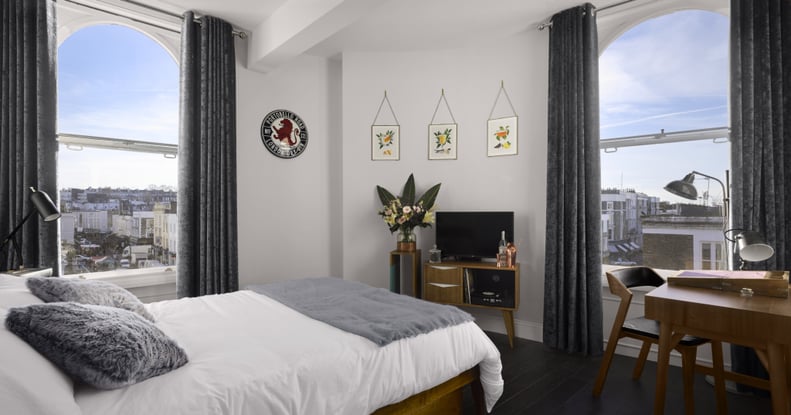 London
For a flirtatiously boozy night, a stay at the world's first gin hotel, The Distillery, means guests can "get a room" after a night of imbibing the mother's ruin. Located in one of London's most desired zip codes on Portobello Road, this gin palace encompasses multiple spaces from the ambient GinTonica, The Distillery's Spanish-inspired restaurant, to the hotel's private bar and dining room. Guests can then head up to one of only three luxury accommodations on the top floor of this first-of-its-kind immersive experience. The Distillery's four floors of ginspiration pay homage to gin and its historic roots while offering an intimate and seductive adult playground.
10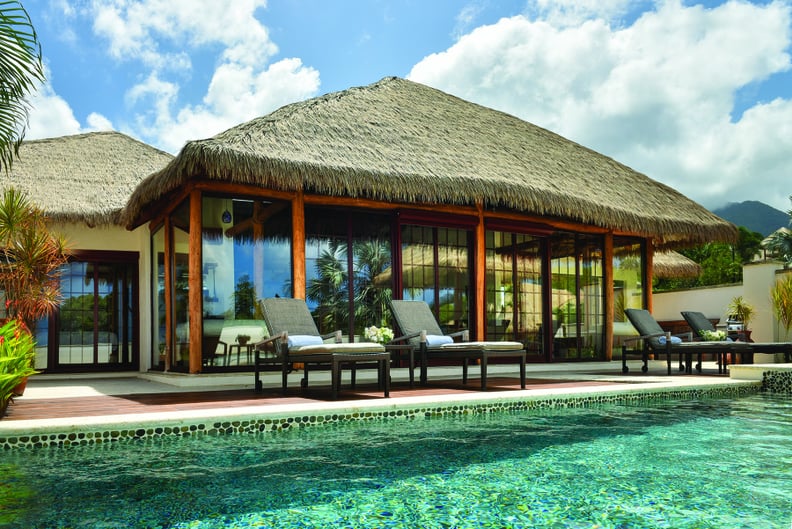 Nevis
Paradise Beach Resort on Nevis is a tiny seven-villa resort and has a private beach so guests can sweep each other off their bar stools and into the sand, while a personal concierge dedicated to each villa can deliver the wildest of requests — plus, private outdoor marble showers and pools in all villas to get clean (and/or dirty).
11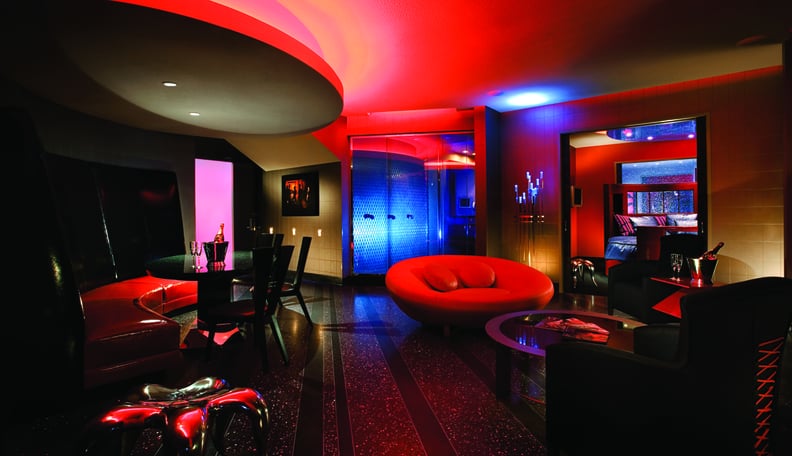 Las Vegas
The Erotic Suite at Palms Casino Resort in Las Vegas is extremely sexy and very suggestive — it features a show shower (picture a dancer's pole in the shower with a glass wall for outside viewing), wet bar, an eight-foot round king rotating bed with Egyptian cotton bedding, and a mirrored ceiling with leather and metal materials that finish the space throughout.