3 Tarotscope Predictions to Help Navigate Latinx Family Gatherings This Holiday Season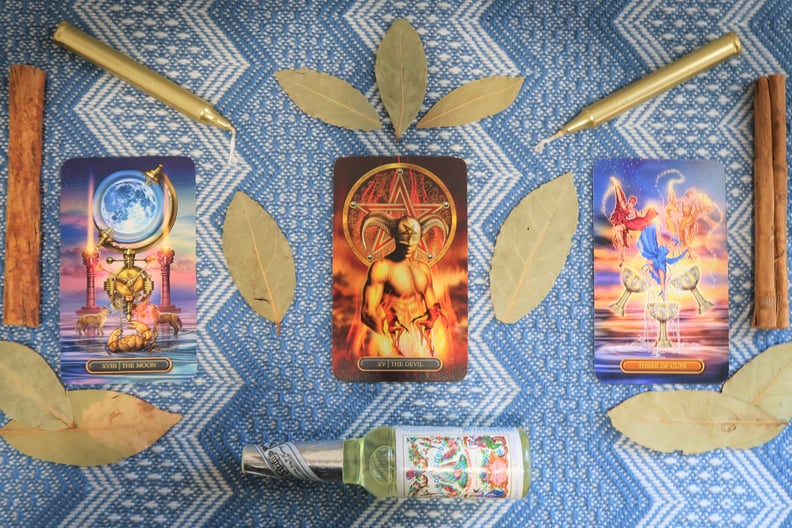 Esoteric Esa (Jasmin Alejandrez-Prasad)
Esoteric Esa (Jasmin Alejandrez-Prasad)
Family plays a huge part when it comes to Latinx culture and values. Familismo has been ingrained as an obligatory agreement for many as part of their upbringing. Whether you're practicing instilling healthy boundaries with your family or struggling to do so, we know the holidays can get hectic and bring out that inner tóxica/o no matter how dedicated one can be to their healing.
The overbearing burden of feeling like you need to respect disrespectful elders might not be a subject ready to be discussed this holiday season. However, what you can do is start mentally and spiritually preparing for any expected and unexpected drama. Here's where turning to tarot can help provide you with insight into the unknown with spiritual support. Tarot is a divination tool used to gain clarity from your higher self on matters when you feel you aren't intuitively open. It isn't intended to be used as a spiritually codependent fix, nor is it meant to perpetuate harmful cognitive biases. Tarot is a practice of brujería that has a longstanding stigma and hidden history in Latinx spirituality that is being reclaimed by many. Whether you're applying for a new job or nervous about the critique you'll receive en la sala this holiday season, tarotscopes are an open and honest way of measuring the perception of a situation and how to navigate it from a place of awareness.
Maybe you're excited to connect with primas and the rest of your family this holiday season; not everyone has to deal with tough family dynamics or dysfunction. Whether you have the holiday cheer on full display or you're dreading how you'll navigate holiday survival, let brujería give you some leverage before booking that flight. Here's your bruja holiday tarotscope with predictions to help you ground and protect yourself and shield unwarranted mal de ojo at the dinner table. These predictions apply for all zodiac signs.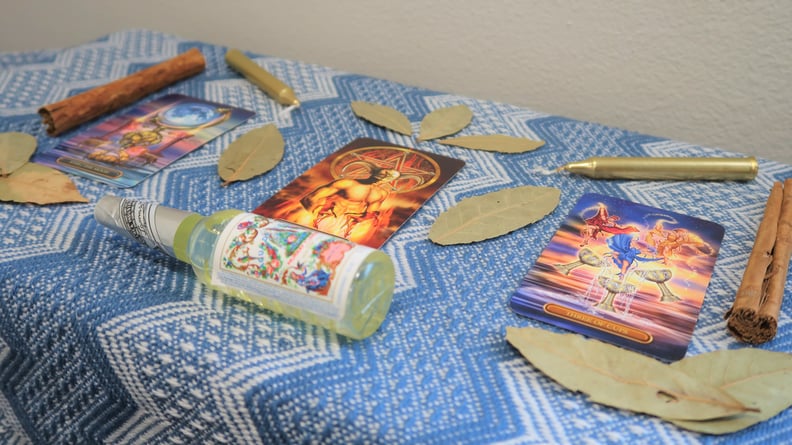 Tarotscope Prediction 1: The Moon Tarot Card
The moon card represents the energies of anxiety, illusions, and intuitive guidance. There's a fine line between intuition and fear and how we show up based on the illusions we convince ourselves of. As you gather with family this holiday season there could be an opportunity where you feel you need to be inauthentic. Maybe this is an act of survival or an old conditioned thought pattern you learned to display in order to maneuver through fear and distrust. This card is appearing to remind you that you deserve to speak your truth and show up as your whole self. You might perceive a situation incorrectly or assume you need to replay an old narrative of deceiving others, which in turn results in you dishonoring yourself in order to keep everyone happy. You might be delightfully surprised this holiday season as you learn that isn't the case and instead your family is creating a safe space for you to be held. Feel it out, and listen to your inner voice.
Tarotscope Prediction 2: The Devil Tarot Card
The devil card represents the energies of codependent addictions, obsessive cycles, and giving your power away to external situations. You might feel like you have no control over the outcome of your upcoming family gathering(s), and that is true. The devil card tempts us to feel limited and in turn revert toward being negatively reactive when triggers arise. There could be a pattern this holiday season where you feel oppressed by a cultural mindset or unhealthy expectations. The devil card invites you to sit with the emotions of anger, defeat, and frustration as you work through them. You could notice how some family members tend to think negatively, which then induces harm toward others. Be mindful of your sensitivity and protect your peace. The devil's energy can influence you to be argumentative, combative, or manipulative. In such a moment, ask yourself: "Will I allow this circumstance or person to get the best of me and take my power away?" Call your power back in during moments of friction this holiday season.
Tarotscope Prediction 3: The 3 of Cups Tarot Card
The three of cups card represents celebrations, parties, and happy situations. It's not all doom and gloom as one might assume. Latinx family gatherings are also joyous occasions full of love and celebration. Sure, there could be moments of misunderstanding, but this tarotscope is predicting an overall happy time. ¡Es hora de fiesta! You also might find yourself to be quite popular among the children and elders. Everyone wants to hear about your recent events and what you're up to next. Don't be surprised if the spotlight attracts the occasional amargada because it comes with the territory, sis. This tarot card is encouraging you to let loose while you reconnect with family. If this holiday season is full of tension, this card encourages you to focus on the now. Dig deep into gratitude and celebrate your challenges. Give yourself some credit for your ability to give others a chance. The success of this holiday season isn't reliant on the approval of your family. You create your happiness, and no one can take that away from you. Go where you're wanted, and that's within self-love.
How to Handle
Overall, this holiday season is presenting you with opportunities to trust your intuition more, feel all the feels, don't condemn yourself, and remember to celebrate life. Acknowledge your own unhealthy behaviors as they arise and be ready to approach toxic cycles as you navigate Latinx family gatherings this 2022 holiday season. Remember that you are not meant to be perfect. You're meant to be authentically and cosmically you. Happy holidays, amigas!