17 Reasons to Skip Bangkok and Visit This Northern Thailand City Instead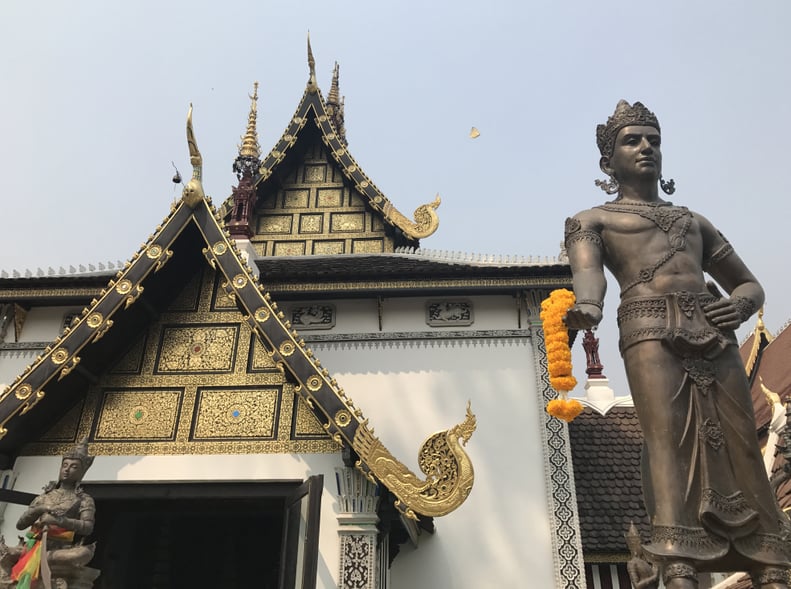 POPSUGAR Photography | Hilary White
POPSUGAR Photography | Hilary White
Thailand has been on my travel bucket list for as long as I can remember. I've dreamt of the sunny beaches of Phuket and the bustling streets of Bangkok for years, but I didn't know very much about Chiang Mai, the name of the province and the largest city in Northern Thailand, until now. Pandora jewelry recently opened a new crafting facility in the city of Lamphun near Chiang Mai, and I was able to attend the grand opening event of the environmentally friendly site. After staying a few days at the beautiful Dhara Dhevi resort, I decided to extend my trip and do some solo travel in the Chiang Mai province for pleasure once work wrapped up — and I'm so glad I did.
Going into this new adventure, I'd heard nothing but good things about Chiang Mai, from its lush green mountains, quieter way of life, and ancient temples to its delicious Lanna Thai cuisine. The province more than surpassed my expectations, and while I'd love to return to Thailand to visit all the other amazing parts of the country, I will most definitely be stopping back in to Chiang Mai to explore everything I didn't get to see the first time around and to return my favorite spots that I won't ever forget. Here's why you should visit Chiang Mai ASAP.
01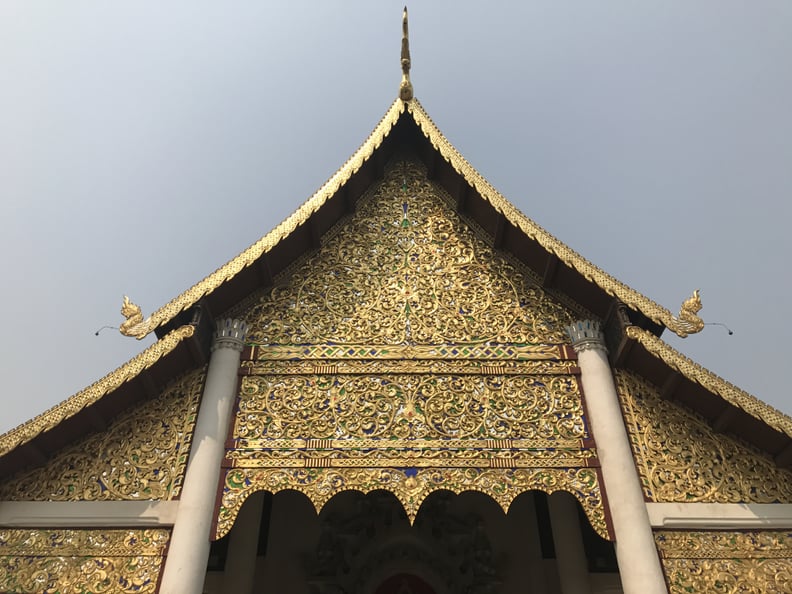 You can visit stunning Buddhist temples that are hundreds of years old.
There are more than 300 wats, or Buddhist temples, in Chiang Mai. Visitors can go into many of the temples and experience a very important part of Thai culture.
02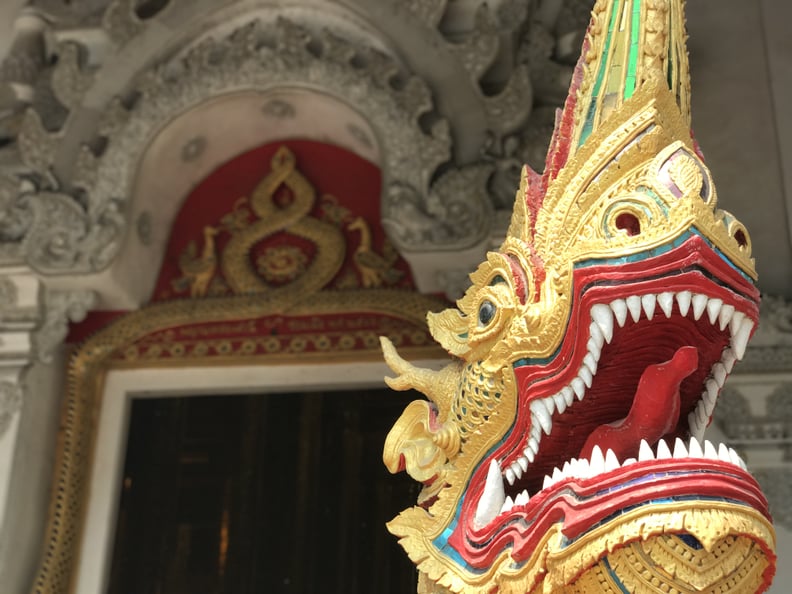 Several wats are enclosed in the Old City section of Chiang Mai, which is surrounded by a moat that once served as a defensive wall around the city.
03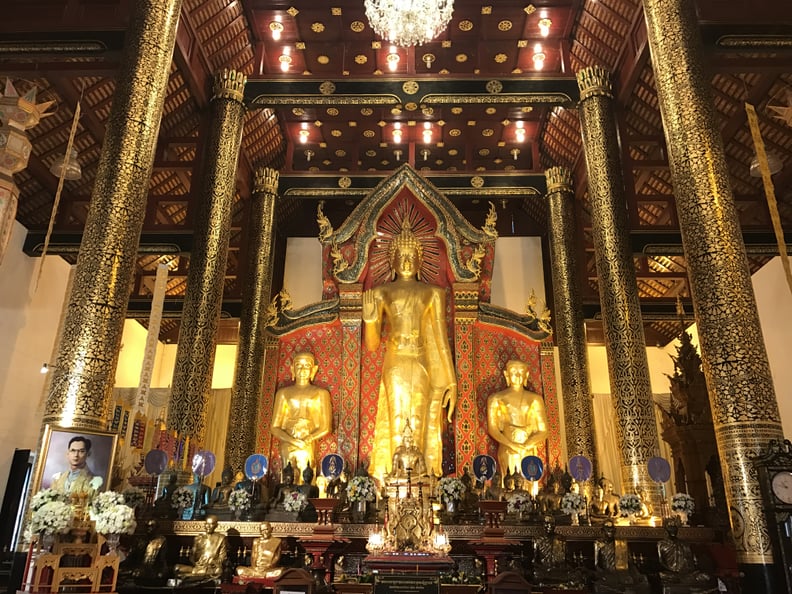 Temple-goers can offer gifts to monks, and they can view the gorgeous details, statues, and spiritual elements that the temples offer. I visited several temples while I was in Chiang Mai, but the Wat Chedi Luang temple grounds — comprised of three temples and whose construction began in the 14th century — was one that stood out to me. Located in the Old City, it's easily accessible to travelers.
04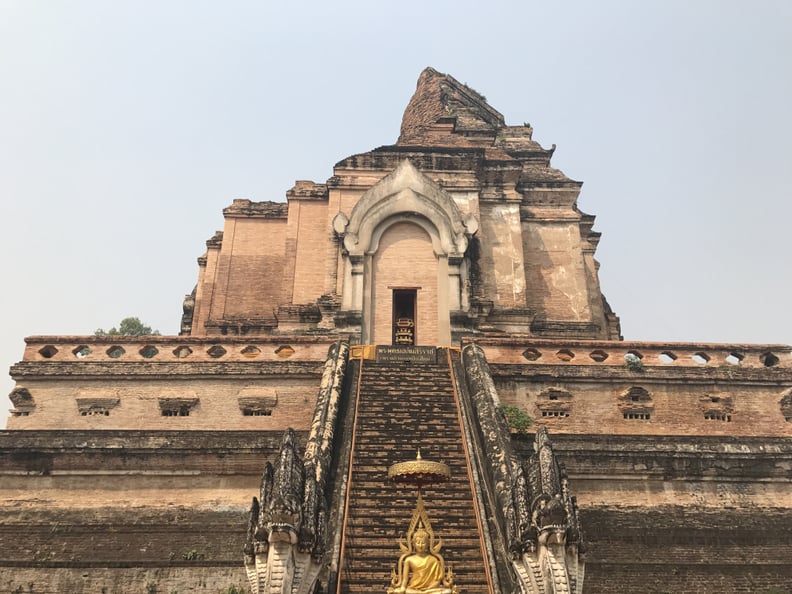 Learn the unique history of the area.
Chiang Mai, and Northern Thailand in general, has its own unique culture. Chiang Mai is the largest city in Northern Thailand and was established way back in 1296 (!). Lanna Thai is spoken by many of the area's inhabitants, and the province's proximity to Laos has also influenced Northern Thai culture.
Pictured here is Wat Chedi Luang, a stunning temple in the city built in the 14th and 15th centuries.
05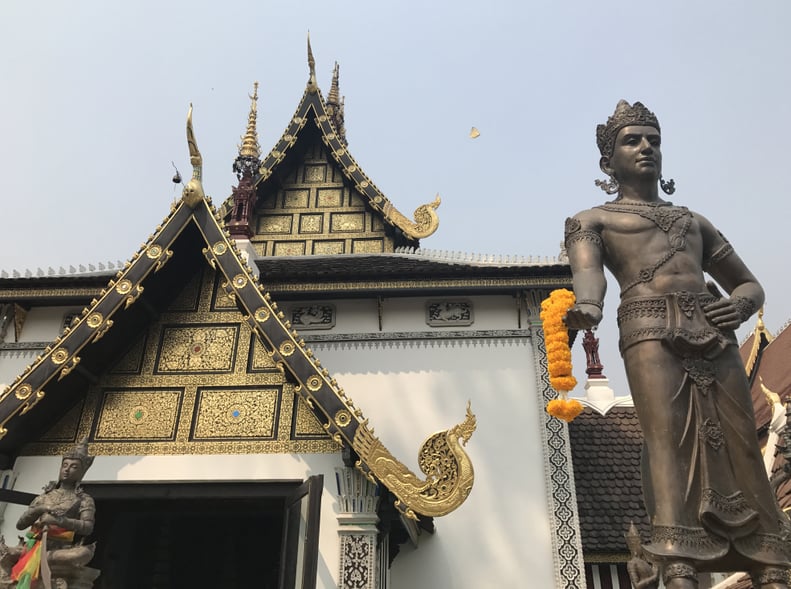 Though it is the largest city in Northern Thailand, Chiang Mai has less than an eighth of Bangkok's population. Travelers seeking a quieter location that still has the offerings of a metropolitan area will love the gem that is Chiang Mai. The city is surrounded by mountains, and in addition to its historic sites, it has a great coffee culture, local day and night markets, art scene, and countless different restaurants with an array of ambiances and types of food that will satisfy whatever craving you may have.
06
The transportation is easy and inexpensive.
Tuk-tuks — the well-known means of transportation in Thailand — are easy to find, inexpensive (we're talking a few dollars to get across the city), and quick. For 60 to 100 Thai baht (about $3 USD), depending on your bartering skills, a driver will be happy to take tourists to all the best spots in the city or anywhere else off the beaten path you'd like to go. Locals typically take motorbikes or drive cars to get around.
07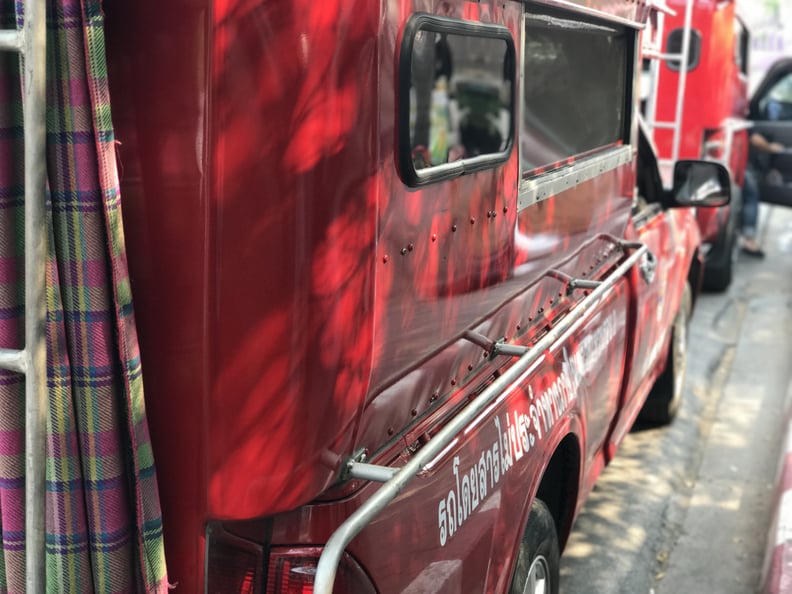 Chiang Mai also has songthaew, which are open red trucks with two rows of seats where passengers can sit. Unbelievably, these are even cheaper than tuk-tuks, meaning travelers can hail them and get around for about $1 USD, sometimes less (depending on where you're going). These are everywhere and easy to find when you need a ride. You may encounter a driver who doesn't speak English, but if you let them know your destination (or show them on your phone) and agree on a price beforehand (which you should do with tuk-tuks too), it's easy to make it work. It's also a chance for you to try learning some conversational Thai!
08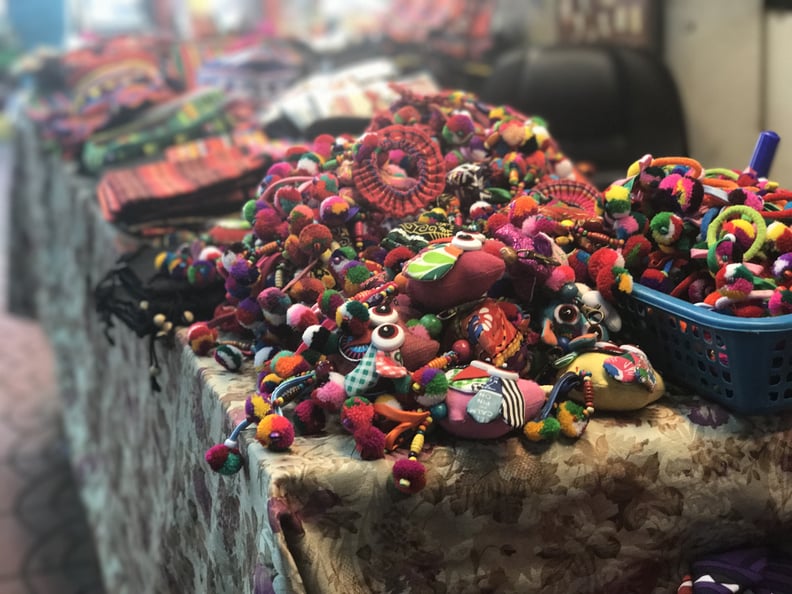 The Chiang Mai night market is unforgettable.
Chiang Mai's famous Night Bazaar is a shopping paradise in the center of city. Vendors set up stalls along the main street as the sun sets, but side alleys, side streets, and buildings along the road also are open and full of stands loaded with merchandise as well. Knockoffs are everywhere, and inexpensive fashion is a staple of the market. You can find handmade items for a fraction of what you'd pay in the US.
The market can be a bit overwhelming and touristy — I had some major sensory overload throughout the several hours it took me to cover as much of the market as I could — but the hustle and bustle, the sights and smells, and the overall atmosphere of the market was an experience I loved and will never forget.
09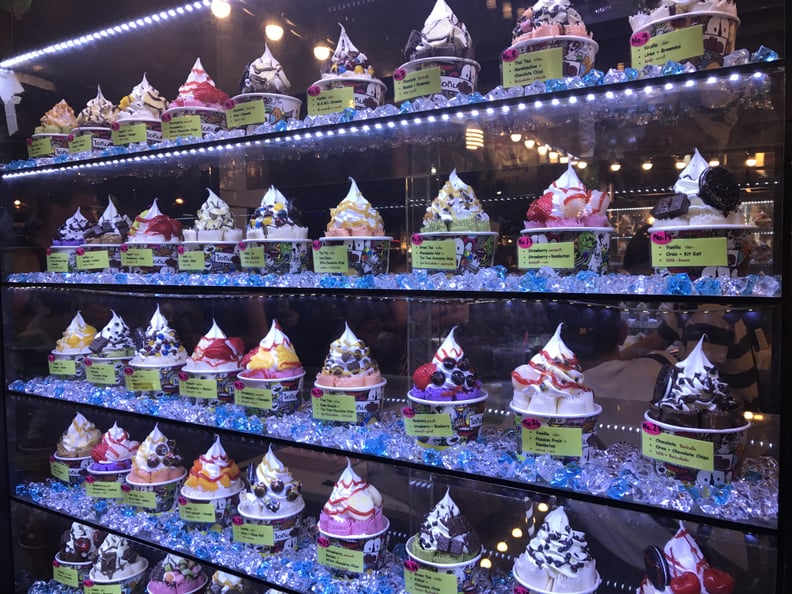 The Ploen Ruedee Night Market International Food Park was one of the highlights of the Night Bazaar for me. A large square of open food trucks and stands sits smack dab in the middle of the chaos of the market, but you when you step into the actual area, it's hard to tell what country you're really in. Food from all over the world — and of course some pretty amazing Thai food, too — is being sold (for next to nothing) everywhere you look.
Expats from every nation imaginable mingle at the tables in the center of the food park, and beer and wine is available there as well. The atmosphere is somehow both electric and communal, both multicultural and true to Northern Thailand's vibe.
10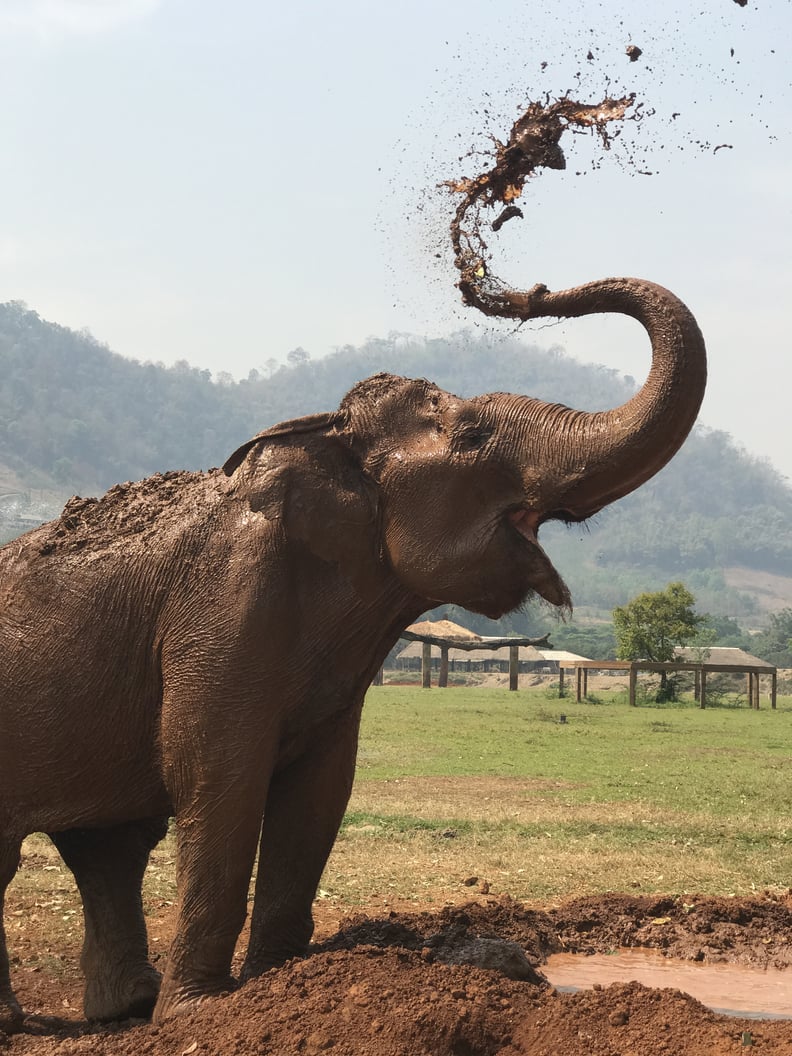 You can (and should!) visit the Elephant Nature Park just outside Chiang Mai.
Elephant abuse is a devastating reality both in Thailand and all over the world — and it's often done in the name of tourism. Elephants are broken, trained brutally, physically harmed, and overworked just so that people can watch them do tricks or ride them.
The Elephant Nature Park north of Chiang Mai city is on a mission to rescue elephants (and cats and dogs!) in order to rehabilitate and protect them. There's no riding the animals here; instead visitors are able to help feed and bathe the elephants, walk with them throughout the sanctuary, and observe their natural daily routines.
11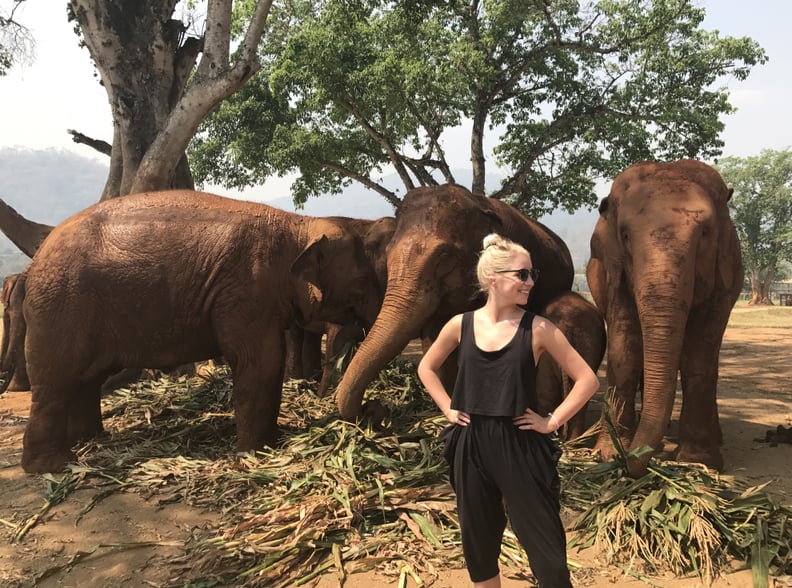 You can interact with the elephants, walk and care for the dogs, and even stay overnight or volunteer for a week at the sustainable, eco-friendly retreat! Hundreds of dogs and cats live in "kingdoms" on the property and roam through the area, completely at ease and happy with the lives they now have after being rescued.
Spending a day immersed in the work that the people are doing at this sanctuary and seeing the passion they have for rehabilitating and caring for animals was truly one of the highlights of my trip to Chiang Mai. Plus, they serve some amazing authentic (vegan) Thai food that guests can enjoy for lunch during their stay. The sanctuary is about an hour and half away from downtown Chiang Mai, but shuttles run to and from most of the hotels in the city and will pick you up and drop you off where you need to go.
12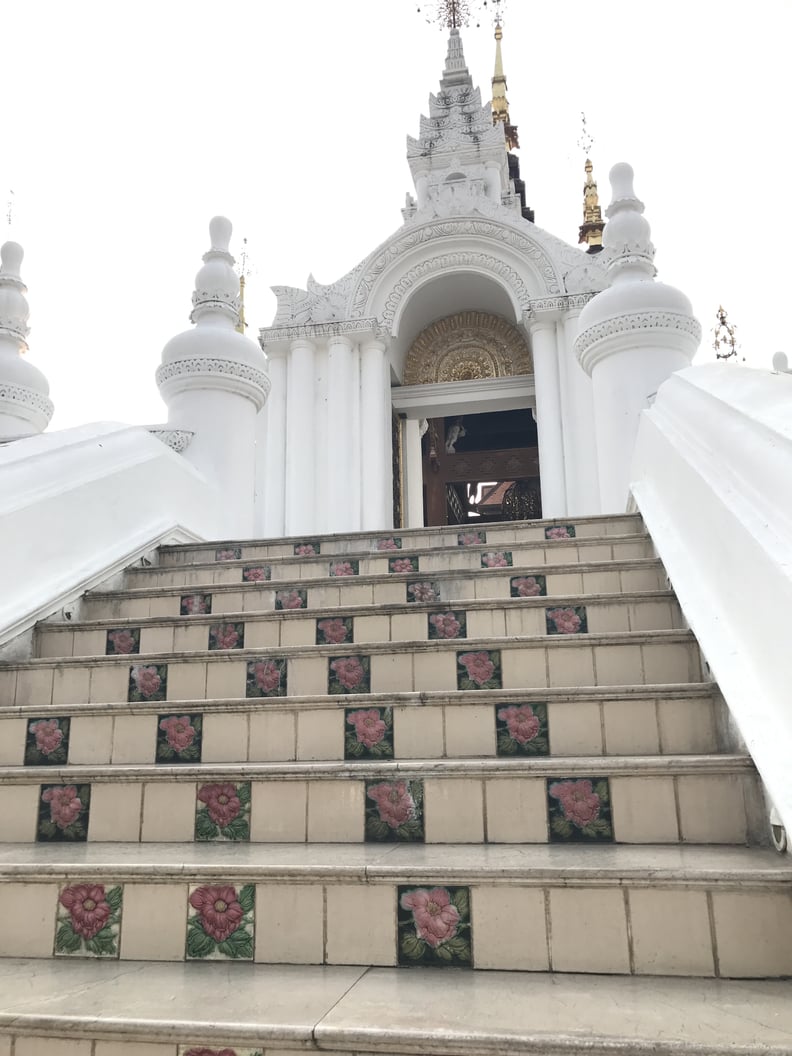 There are opulent hotels that look like they're from an ancient storybook.
For part of my time in Northern Thailand, I stayed at what was by far the most beautiful resort I've ever been to — the Dhara Dhevi in Chiang Mai. Spread over 60 acres of paddy fields and tropical landscapes, the property hosts several restaurants and bars, including one that offers authentic Lanna cuisine (spicy and delicious fare!), a renowned Chinese restaurant, and a place serving modern French cuisine.
The Dhara Dhevi was created based on the concept of an ancient Lanna city, "a place where traditional Lanna culture and Asian colonial splendour have been carefully brought together in harmony."
Guests can enjoy a drop-dead-gorgeous spa and wellness center that will relax them the moment they walk in, visit a crafts village on site that shows the daily life of the ancient Lanna culture, drop children off a kids' club, shop at the Kad Dhara Shopping Village on the property, or enjoy the serenity of a Dhara Dhevi's very own Jum Sri Hall Library.
13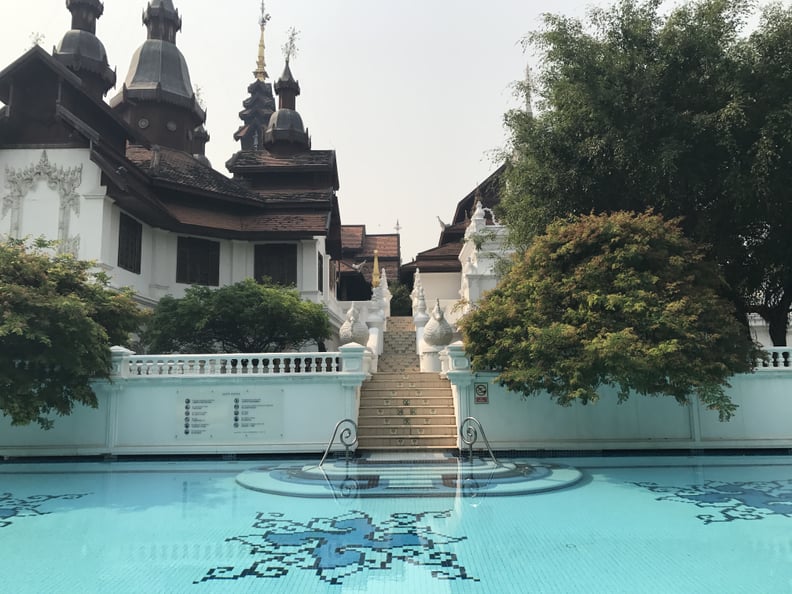 The Dhara Dhevi has 123 villas and suites and two beautiful pools and offers endless options of things to do. The biggest problem I had while staying here is that I truly found it hard to leave. There was so much to see, and every time I turned around, I was discovering a new part of the property more beautiful than the one before it.
14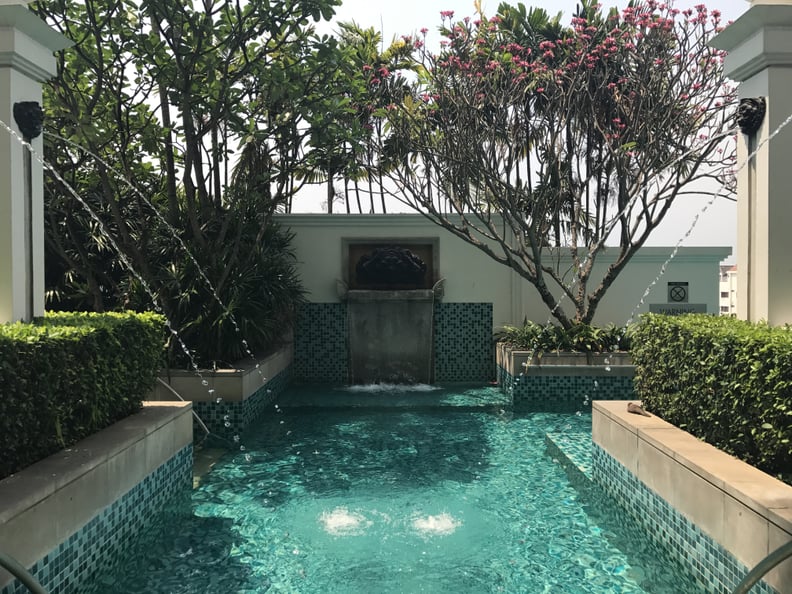 There are so many options for inexpensive (and still beautiful!) places to stay, too.
The opulence of the Dhara Dhevi will cost you a very pretty penny, but luckily, Chiang Mai is full of inexpensive hostels, hotels, and inns that are so reasonably priced, you won't believe what you can get for what you're paying.
Depending on what amenities you want, travelers can find hotels as low as less than $10 USD a night (these are your very basic hostels, etc.). Still, you can stay at a reputable and beautiful spot — boutique or chain — in a great location for a fraction of what you'd pay in the US.
For another part of my stay, I got a deal on a room at Le Meridien Chiang Mai. I chose the location because it's literally in the center of the night market, and I wanted to be able to walk from my hotel. With its modern decor and 20-plus floors rising over Chiang Mai, Le Meridien was a far cry from the ancient splendor of the Dhara Dhevi yet still offered exactly what I needed. The infinity pool and spa gave me a much-needed escape from the heat, and there was a restaurant and bar on site, 24-hour room service, and faster internet than I have at my own home in San Francisco. Though lacking in the Thai charm I loved about the Dhara Dhevi, for just around $100 USD a night, this place was perfect.
15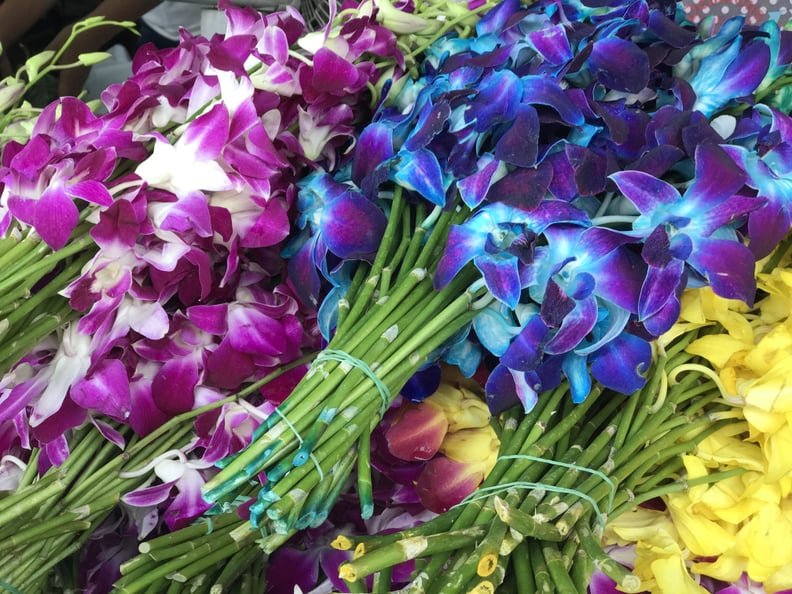 The day markets will give you a real taste of life in Chiang Mai.
While tourists flock to Chiang Mai's famous Night Bazaar, locals head to the Warorot Market just down the road for their needs. The market is mostly indoors, with several floors of kiosks that hold everything (seriously, everything) imaginable, from snacks, teas, candy, and fresh food to clothing, jewelry, flowers, and souvenirs.
16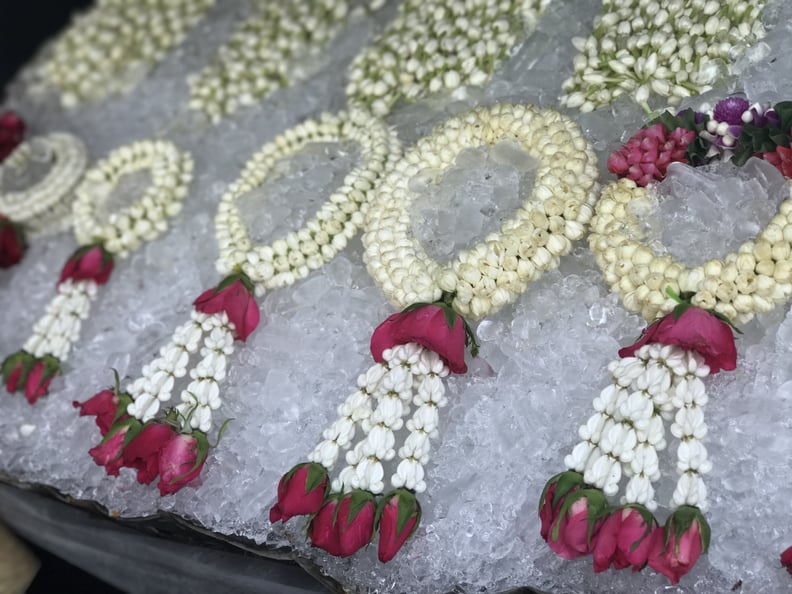 Within the commotion of the market, visitors can experience the daily lives of locals — and pick up some special souvenirs for cheap while you're there, too.
17 You can take a hike on the highest mountain in Thailand.
The Doi Inthanon National Park is located about 100 kilometers (around 60 miles) southwest of Chiang Mai. You can hire a guide for 200 baht (a little more than $5 USD) to lead you through the trails and provide interesting information about the park throughout your hike.
Hikers who reach the summit of Doi Inthanon will get stunning views and will pass waterfalls and wildlife on their way to the top.
18
It's very inexpensive to travel in Northern Thailand.
At the time that I was traveling in Northern Thailand, the exchange rate was about 1 to 34 (USD to Thai baht), which is very, very good. Not only is the US dollar strong, everything is already less expensive there too. For example, I went out to a trendy, authentic Thai restaurant and got an appetizer, huge portion of an entree, a large Singha beer, sparkling water (which costs as much as the beer does!), and — with tip — paid less than $15 USD.
Food, alcohol, clothing, transportation, hotels, fun excursions — it's all inexpensive, even for quality purchases. I picked up some unique articles of clothing and indulged in food and drink that I would have hesitated to drop money on back in the States and still actually saved money while I was there since I wasn't spending what I normally would over the course of a week in California.
19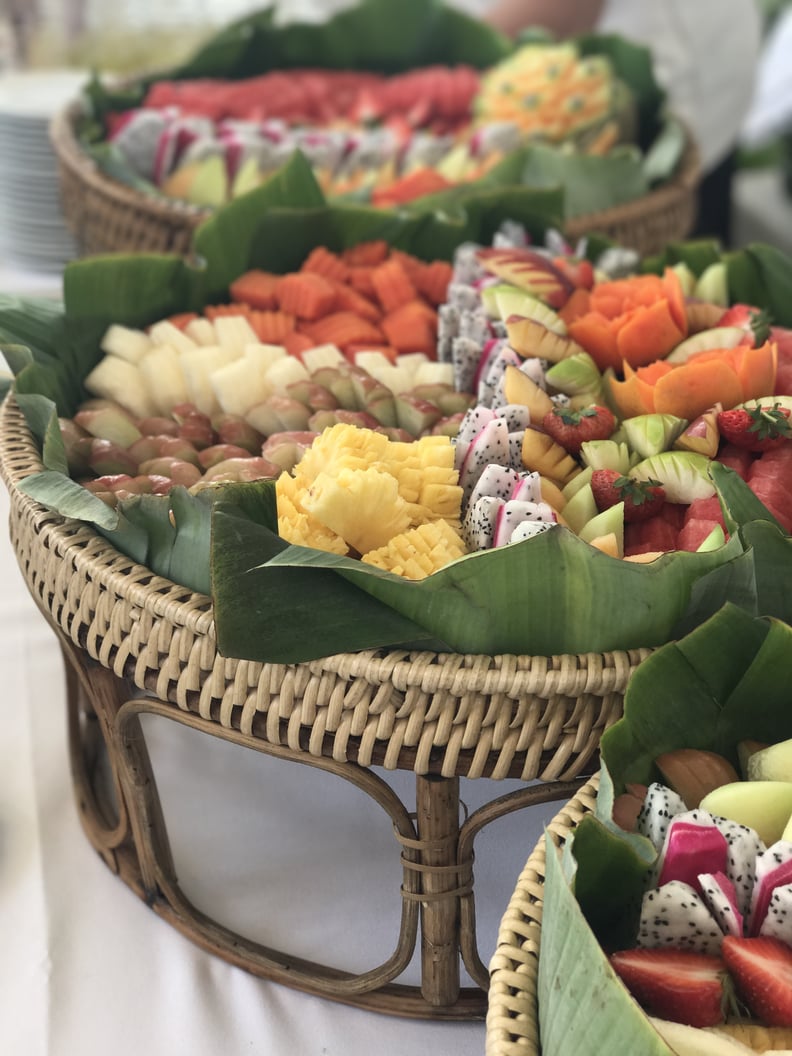 The food is phenomenal.
Mango sticky rice (or anything with mango), Thai curry, traditional Lanna cuisine, Northern Thai sausage, leaf-wrapped everything, khanom jeen rice noodles, fresh fruit — the list goes on and on.
Northern Thai food is full of flavor and spices, and the Lanna influence makes it stand out from some of the Thai food you may find in the Southern part of the country. I tried everything I could get my hands on and was never disappointed. I'm a bit of a baby when it comes to extremely spicy food, so there was a dish here and there that had me chugging glasses of water and ice-cold Singha at lightning speeds, but it was totally worth it.
20 Take in the mountain views.
21
Experience a Thai massage.
If you love massages but consider them to be a pricey luxury in the States, then you can't miss out on getting one (or two or three) in Chiang Mai. Many hotels and resorts have their own massage services on site that you can take advantage of, but if you're staying in a hostel or inn that doesn't offer an in-house spa, don't worry — it's easy to find a location near you in the city where you can get a quality massage for so much less than what you're most likely used to paying.
22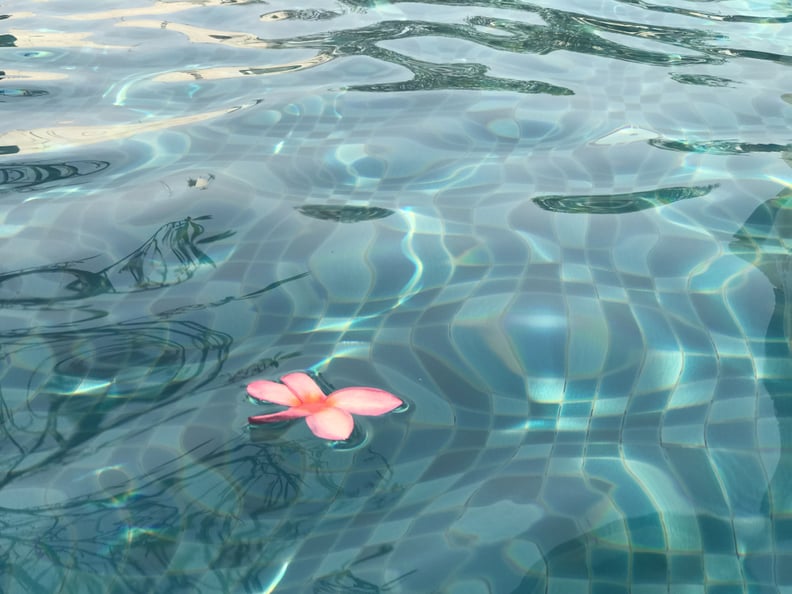 The weather is warm all year.
You may not be lying on the bright beaches of Phuket, but Chiang Mai has its fair share of sun — and heat. The green mountain backdrop is just as beautiful as any beach view, and Northern Thailand — from what I heard and experienced — lacks the the level of humidity that an oceanside city would.
When I was there, it never got below the 70s at night and was typically in the upper 90s and even the low 100s during the day.
23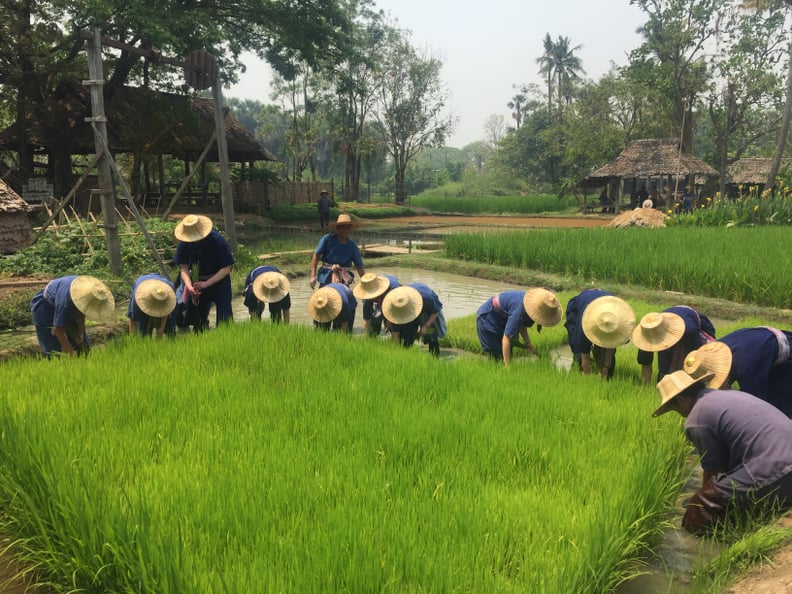 Experience the culture of Northern Thailand by getting hands-on.
From rice planting (which I did!) to cooking classes, art galleries, temple visits, museum tours, and the celebration of events like Loi Krathong and the releasing of lanterns at Yi Peng, Chiang Mai is a province and city with a rich, layered culture.
Thailand is known as "The Land of Smiles," which I believed had to be an exaggeration, until I spent time there and saw (and felt) for myself the kindness that exuded from so many of the people I interacted with.
24 Walk through the lush environment of the Queen Sirikit Botanic Garden.
Take the canopy walkway in the Queen Sirikit Botanic Garden, a lush attraction established in mountains of Doi Suthep in the Mae Rim region. The facility conducts botanical research and promotes biodiversity; guests can spend their visit drinking coffee, viewing flowers and gardens, walking trails, and enjoying great views of the surrounding area.
25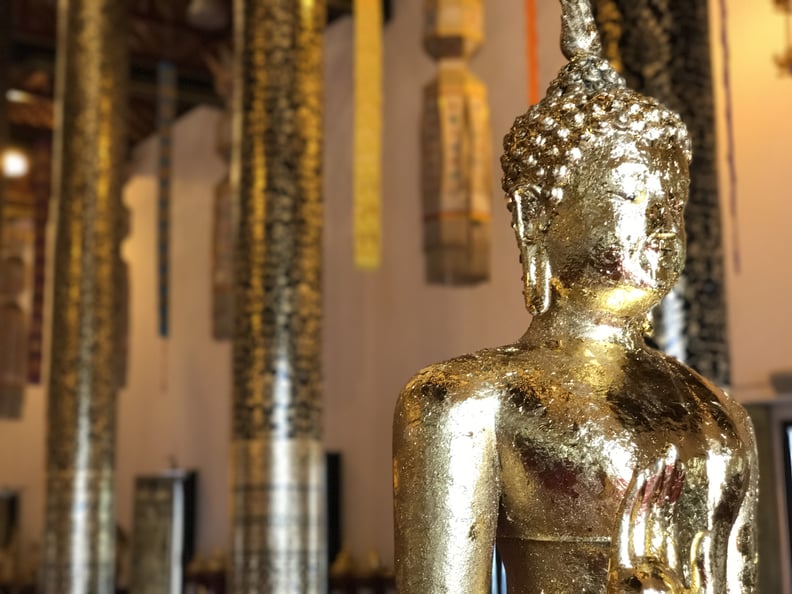 See a special part of Thailand you may not know about.
Chiang Mai is unlike any other place I've traveled to and one that everyone should make sure to visit if they can. Just a quick one-hour flight from Bangkok, this part of Northern Thailand can't be missed!
Travel expenses for the author were provided by Pandora.