This Latina Quit Her Corporate Finance Job to Live a Slower and Softer Life in Mexico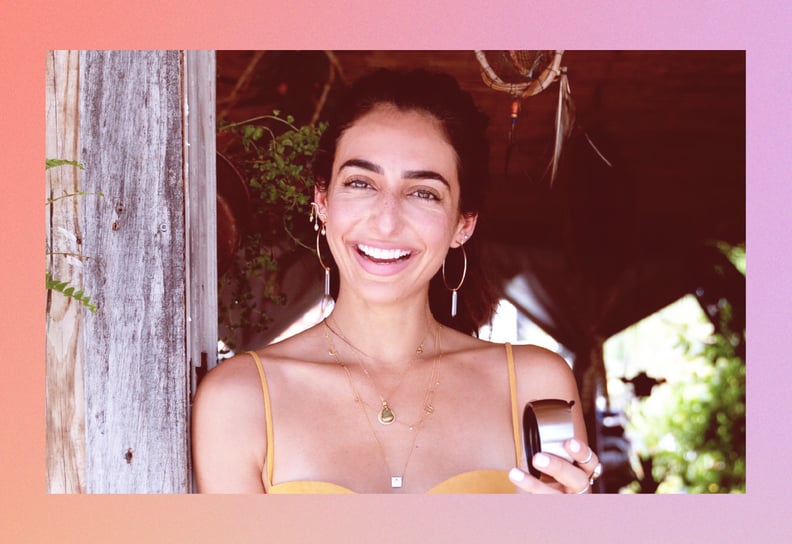 Santiago Rodriguez | Photo Illustration: Aly Lim
Santiago Rodriguez | Photo Illustration: Aly Lim
Knowing when to make a major life change takes more than knowledge. It takes courage, determination, the right mindset, and maybe even a bit of excitement for the unknown. For Valeria Hinojosa, founder of the lifestyle blog Water Thru Skin and a former private banker, it became evident she needed to make a holistic change after being offered a highly ranked job in finance.
"My bosses promoted me to VP of my division, and instead of celebrating, I started bawling, I started crying, and I got very anxious," Hinojosa tells POPSUGAR.
At the time, she had already been running her blog Water Thru Skin for about a year before she decided to quit that very day. Through her blog, Hinojosa has quickly become an inspiration for savoring the little moments, communing with nature, and creating a life that truly speaks to your soul and passions. Just take her morning routine as an example: every morning, she wakes up and makes her own cacao, a process she's picked up since she stopped drinking coffee and one that can take anywhere between 10 to 30 minutes.
"It's not just pouring things and doing it fast, but it's actually taking the time to connect with the ingredients and the earth and the herbs and the cardamom and smelling them," she says.
Born and raised in Bolivia, Hinojosa moved to Miami at 19 to be with her mother. She went to college and began working in banking after she landed an internship straight out of school. Living in Miami while working in finance, Hinojosa indulged in many of the industry's luxuries that were offered to her.
"You're a VIP for everything. You get the bonuses, the salary, and at that moment, I thought that that was happiness — pursuing the material stuff, climbing the ladder, making sure that I had the title, the status, that I could afford the car, my apartment, the VIP parties — and I got lost in that world," she says. But the Latina entrepreneur began to feel a disconnect between the life she was leading and her true passions.
"I was just trying to understand what my body, my mind, and spirit were going through. And I realized that it was directly related to pursuing a career that wasn't aligned with my values."
"I started losing myself. No one tells us this, but whenever we lose a connection with our essence and with our passions, we open the door for depression, and I experienced my first depression when I was 25 or 26," Hinojosa shares. "I couldn't talk about it because in the Latin community, this isn't something you talk about a lot. I was just trying to understand what my body, my mind, and spirit were going through. And I realized that it was directly related to pursuing a career that wasn't aligned with my values. And that's how my blog came to life."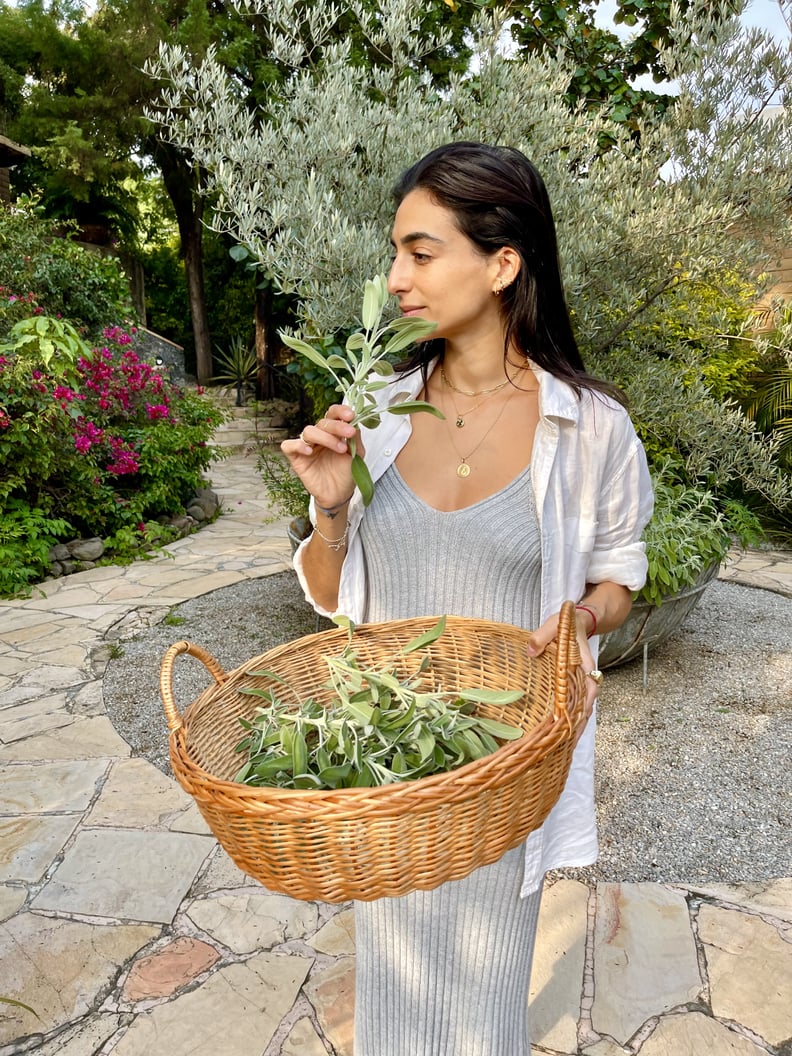 Image Source: Santiago Rodriguez
Hinojosa launched her conscious-living blog, Water Thru Skin, a year before resigning from her corporate job. "I started Water Thru Skin as a way of venting," she explains. "I just wanted to write about what made me come alive, and I wanted to share that with the world, and the field behind the platform was nature."
On her platform, Hinojosa started sharing her path and discoveries about sustainability, veganism, and other eco-friendly actions, all of which are now part of her daily lifestyle.
"No one in my family is vegan, and no one in my family understands much about recycling or composting, or fair-trade fashion, so I was doing my research and sharing that on my platform in a very digestible way for others to understand and be able to transform that into actions," she explains. Shortly after resigning from her job, the then-27-year-old moved into her mother's house in Miami and went bankrupt. "I had to file for bankruptcy because I didn't have a way to pay my bills," she says. "I was bartending and teaching yoga and nothing was enough, but that was my opportunity to redesign myself completely, because I hit the lowest of the low when it comes to what people think of a human professional."
Hinojosa was determined to make a career out of her blog and prove to her family that she "was worth more than a title or a career." She stayed on her mom's couch for eight or nine months, she says, and then she started getting sponsors for her blog. Hinojosa's future really took a turn after she was tapped by Airbnb, which had just launched Experiences. "We created the first Experience that was offering vegan options and yoga and connection with nature and paddleboarding," she says. "It was a more sustainable option to their Experiences, and it became one of the top ones, and that's how I was able to get off the couch and into my own apartment and create my career."
Today, the Bolivia native is fully emerged in a slow and conscious way of living. She and her husband, whom she met during the pandemic three years ago, moved to Mérida, in Yucatán, Mexico, where they're embracing their passions, planting their roots, and building a community. Before moving to Mérida, the couple visited Tepoztlán a year and a half ago in search of holistic therapies for Hinojosa's TMJ (temporomandibular joint) pain, which was causing her to experience electrical currents through half of her face.
"I was looking for the most natural way to understand what my body was trying to tell me, and I even went to a neurologist and the pain kept getting worse. I couldn't talk, and it was getting really bad," she says.
The couple's trip to Tepoztlán became the sign they needed to pack up their things in Miami and move. "In two weeks, all of the pain went away and it never came back, and that was the sign that I was looking for that this was the path that I needed to pursue: herbalism, holistic healing, and also that connection with my body, understanding that every symptom is a way of communication and it's trying to tell us something," she says. Although Hinojosa had already made a transition to a conscious lifestyle in the US, stress continued to linger. "We were trying to understand more about slow living because even though you're focusing on sustainability and doing something good, in the US, I felt the pressure of continuously creating content and being on my phone and my computer, and there's a lot of competition on social media and even in the sustainability industry, so that got to me," Hinojosa shares.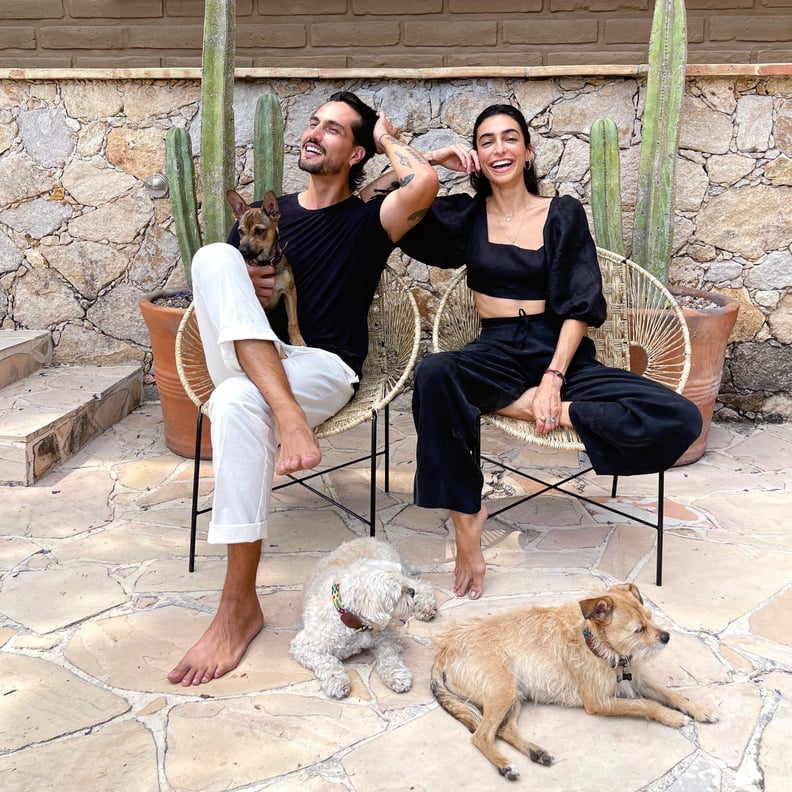 Image Source: Santiago Rodriguez
"Moving to Mexico was a way of telling myself it's OK to go at my own rhythm and that it's OK to create a career that was more aligned with the path or rhythm that I wanted to pursue . . . "
"Moving to Mexico was a way of telling myself it's OK to go at my own rhythm and that it's OK to create a career that was more aligned with the path or rhythm that I wanted to pursue, versus what I was taught to pursue or that society wanted me to pursue."
In addition, she shares that both she and her husband are enamored of Mexico's ancestral wisdom and what it has to offer when it comes to energy, healing, and herbalism. "Everything we've learned here is incredible," she says. "The healing, the curanderos, everyone has so much knowledge to offer, and sadly, that knowledge isn't being absorbed by the new generations because our generation is on their phones and has other goals in mind. And these healers have so much they want to offer, so we want to become that portal and make it very easy for them to keep sharing that message with the world."
Despite taking her time and cherishing a slower pace each day, Hinojosa is far from slowing down on her passions. Currently, she divides her time between creating content for her blog; running her other business, Casa Earth, with her husband; writing a book; and tackling their latest venture, a piece of newly purchased land they plan to transform into a sanctuary and place for healing based on holistic therapies, natural medicine, and herbalism.
"When we met, we both realized that we had the same dream, so finally, we made it happen," she says. "We'll have our curanderos and shamans that we've learned from here in Mexico teaching courses and opening the doors to all the wisdom that we don't get to see in books or that we don't get to connect with on a day-to-day basis, especially in the US. It's opening that door for everyone to realize that there are more ways to heal ourselves and there's a lot of opportunity to go deep and start connecting with your essence and again with nature."