This Bento Bag Has So Many Smart Features, It's Hard to Pick a Favorite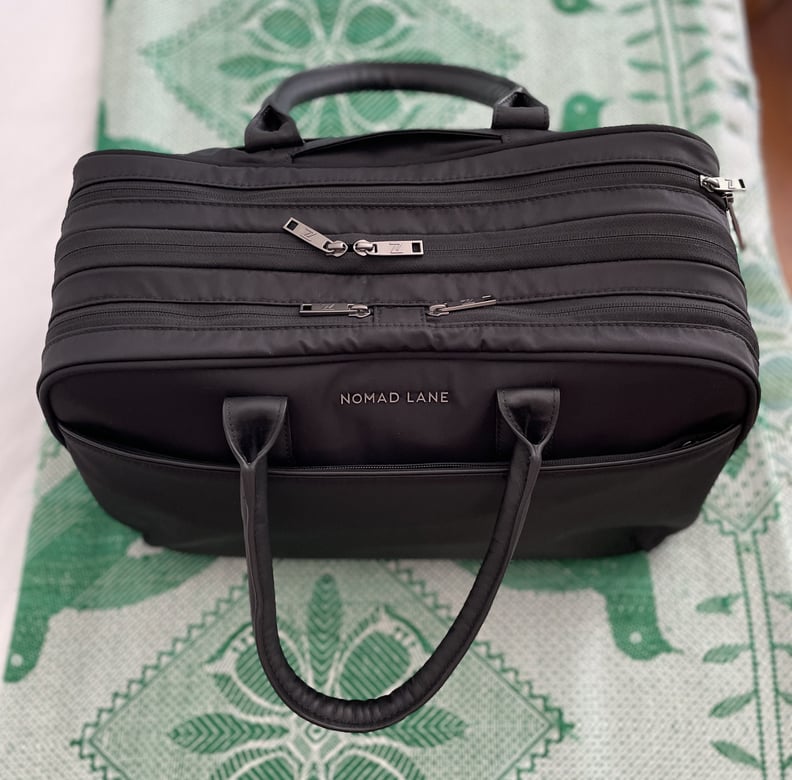 POPSUGAR Photography | Angela Elias
POPSUGAR Photography | Angela Elias
As POPSUGAR editors, we independently select and write about stuff we love and think you'll like too. If you buy a product we have recommended, we may receive affiliate commission, which in turn supports our work.
I'm a recovering overpacker, and I blame it on my failure to realize that bigger really isn't better when it comes to luggage. Now, I gleefully roll my carry-on suitcase and personal item past baggage claim and scour the internet for other travel-hack items, like this magnetic toiletry case and this neck pillow that works with headphones. My latest discovery is Nomad Lane's V4 Bento Bag ($298), a personal-item bag loaded with so many thoughtful compartments that packing cubes become irrelevant.
What I Like About the V4 Bento Bag by Nomad Lane
This bag is compact and lightweight enough to be used as a personal item bag or even an everyday commuter bag, but it can also work as a weekender. It packs like a suitcase in the sense that you can zip it open down the middle with each side laying flat to make packing easier, but it travels like a personal item because it can slide under an airplane seat. The bento aspect kicks in with all of the cleverly designed features and compartments: a removable/adjustable side strap, a front pocket, a stretchy key leash, a tech pouch, a toiletry pouch, a shoe bag, two internal compartments, an external wallet/phone pocket for quick and easy access, a convertible-trolley sleeve pocket, and an external water-bottle pocket that you can zip up when you aren't using it.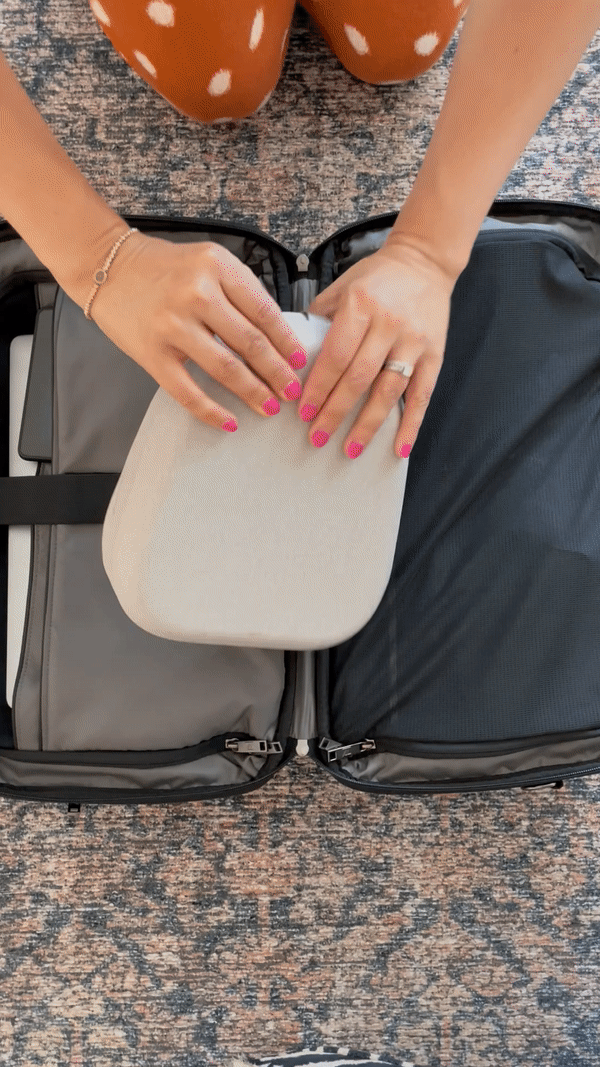 It has a padded inside pocket that can cradle my laptop and tablet, and I like that it includes a Velcro strap to hold them in place. I was even able to squeeze in my Sony Noise-Canceling Headphones case, which isn't small. The two security-friendly pockets that can be accessed from the top of the bag are perfect for stashing the toiletry and tech pouches that come with it. Having to fumble through a traditional suitcase during this process always makes me feel flustered and slightly exposed, so I appreciate that I can quickly pull them out without displaying the inside of my suitcase.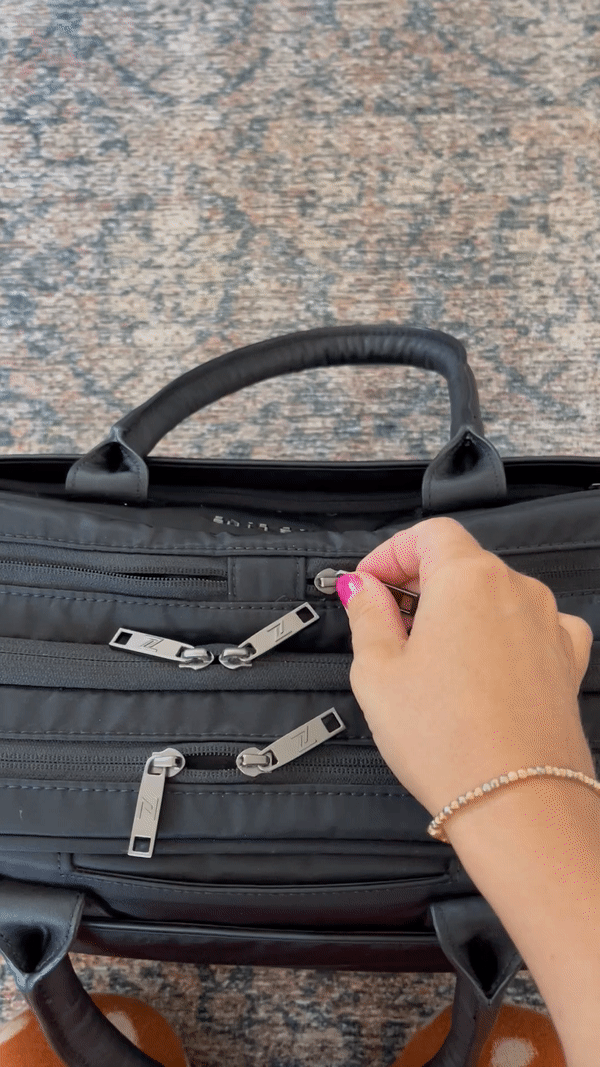 After packing my computer, tablet, chargers, and headphones, I was able to include two changes of clothes, pajamas, toiletries, and an extra pair of shoes all inside the bag, which is pretty impressive for the size!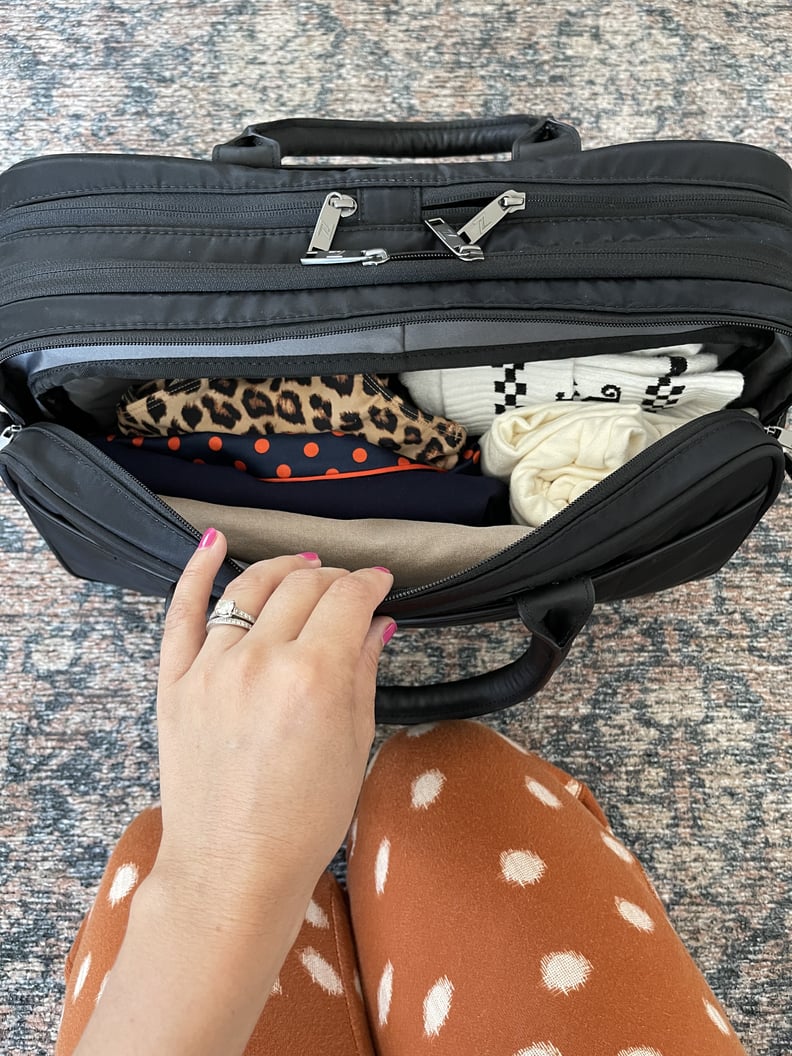 What's Worth Noting About the V4 Bento Bag by Nomad Lane
At $298, it's definitely an investment piece. And while it might seem steep for a bag that's crafted from nylon with leather handles, I was able to easily wipe away deodorant smudges and even a coffee spill, which made me appreciate the material. If you have a smaller budget, Amazon carries an older version of the Bento Bag by Nomad Lane for less. It doesn't have some of the perks of the new V4 version, like the included pouches and the easy-access wallet-and-phone external pocket, but it still has a strong 4.4 rating.
Another thing to consider is whether you'll most often be using the shoulder strap or the handles. I'm 5'6," and the shoulder strap feels comfortable to me, but one of the reviews I read mentioned that it felt a bit small on their 5'11" frame and that they wished it was a bit longer.
Who Is the V4 Bento Bag by Nomad Lane Best For?
This bag is ideal for anyone who wants to avoid checking luggage and prefers to zip in and out of security to get to their gate ASAP. If you're an ultralight packer or just want a more efficient personal-item bag, this is an incredibly versatile piece of luggage you'll find yourself packing for everything from flights to work commutes.
Additional Details
Size: 17 inches (width) x 8 inches (diameter) x 10 inches (height).
Material: prem weather-resistant nylon and LWG-certified leather.
Weight: less than 2.76 pounds with an overall bag volume of 24 litres.
Colors: Available in three color options.
Where Is the V4 Bento Bag by Nomad Lane Available to Shop?
Nomad Lane's new V4 Bento Bag is available to shop at Nomad Lane, and the older version of The Bento Bag ($248) is available at Amazon.
Rating:
★★★★★