Everything You Need to Know About Amazon's Treasure Trucks!
Gone are the days where you had to grab a map, fetch a shovel, and travel far, far away to uncover hidden treasure. Thanks to Amazon's latest launch called Treasure Trucks, troves of goodies will be brought directly to your neighborhood. That's right — the beloved truck program that first started in Seattle back in 2016 is now hitting the road to spread enticing surprises all across the United States. So if you're a lover of good deals, funky delivery methods, and amusing entertainment, brace yourself, because we're sharing everything you need to know about these trendy trucks below.
What exactly is the Amazon Treasure Truck?
With Treasure Truck, Amazon team members hand-pick one must-have item — tech trends, outdoor essentials, fresh foods, etc. — pack it onto the truck, and then send out text alerts on offer days to reveal the deals and let you know when they'll be cruising around town.
How do purchases with the Treasure Truck work?
If you want to buy the offered deal, you can do so via the Amazon app by simply clicking "I want this" and selecting your pickup time. Once you've completed your purchase, you will receive a confirmation email with the truck's address and can then pick up the discounted item in person.
What about canceling purchases? And returns?
Don't worry if you decide you need to cancel your order. You can seamlessly do so by tapping the "Cancel order" button in the app. And if life gets in the way and you somehow miss your pickup time at the location, don't sweat it. Once the pickup window you selected has expired, your order will be automatically canceled and you won't be charged.
You can also easily make returns, as the Treasure Truck abides by the general Amazon.com Return Policy.
What deals have previously been included on the trucks?
What makes this program alluring is how you never know what the deal will be until that specific offer day. It could be a product that's new, local, trending and/or delicious — you name it. Previous discounted items have included Huawei tech products, Hatchimals, and even the GoPro Hero4. To learn more about the past offer days, check out the Treasure Truck Twitter account.
But don't think it's just good deals. The Treasure Trucks come rolling with tons of memorable experiences, too. Each time you visit will be different, including the surprises and entertainment. From live performances by samba dancers to a 2-ton steak (yes, you read that correctly), make sure to bring your biggest appetite for fun.
Where are the Treasure Trucks?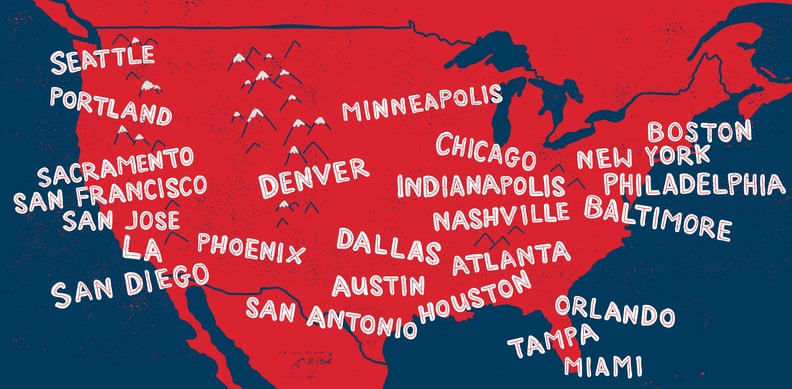 The Treasure Trucks are now operating in 25 cities across the following states:
Arizona: Phoenix
California: Sacramento, San Francisco, San Jose, Los Angeles, San Diego
Colorado: Denver
Florida: Miami, Orlando, Tampa
Georgia: Atlanta
Illinois: Chicago
Indiana: Indianapolis
Massachusetts: Boston
Maryland: Baltimore
Minnesota: Minneapolis
New York: New York City
Oregon: Portland
Pennsylvania: Philadelphia
Tennessee: Nashville
Texas: Austin, Dallas, Houston, San Antonio
Washington: Seattle
Itching to get in on all the fun?
Trust us, you'll want to climb aboard! And luckily, you can join in on all the fun with a few simple steps. Just download the free Amazon app on your smartphone, and click "Treasure Truck" by tapping "Programs and Features" on the main menu. From there, you can sign up for all the treasure text notifications. While not every day is an offer day, by signing up for these alerts, you'll always be in the loop and know when something new is being loaded on the trucks!