Justin Bieber's Butt Picture on Instagram
Justin Bieber Posted a Pic of His Butt, and Twitter Lost Its Sh*t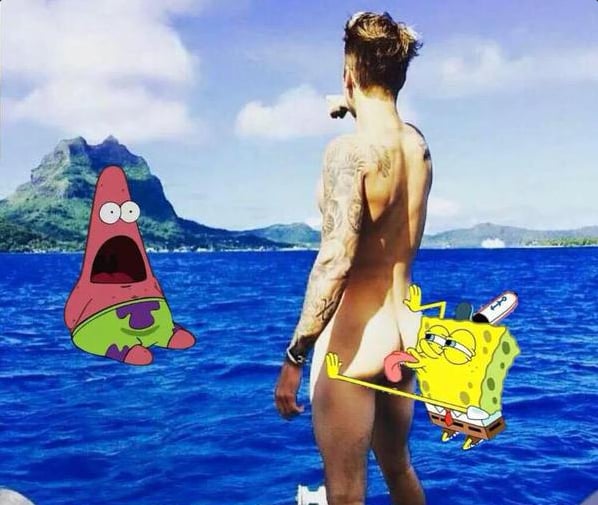 Source: Twitter user h0rnyBizzle
When scrolling through your Instagram and presented with a photo of your favorite pop star's butt, you'd probably "like" and scroll on . . . but Justin Bieber's diehard fanbase is incapable of such a normal reaction. After the 21-year-old posted a pic of his booty on the social network, Twitter went into a complete frenzy.
Beliebers everywhere totally lost their chill with no hope of finding it again, causing two hashtags to trend: #TurnAroundJustin and #LetsSeeTheRestOnShots (Shots is another social network popular amongst high school students). There were so many thirsty Vines, photo edits, and memes created in honor of the singer's derrière that even A-listers like Miley Cyrus got in on the fun!
Check out some of the best ones below — if his fans have anything to say about it, Justin will probably usurp Kendall Jenner for the most "liked" photo on Instagram.
Literally:
life is good
life is beautiful
thank you life
#LetsSeeTheRestOnShots pic.twitter.com/l1qfTbPtuw

— Jarøl (@caosftcalma) July 7, 2015
To all u people freaking out over #TURNAROUNDJUSTIN pic.twitter.com/XAr3lq6kmU

— charis saunders 🎙️ (@charisoliviaaa) July 7, 2015
Have you seen Justin's latest instagram pic? #LetsSeeTheRestOnShots pic.twitter.com/XBziJhliWc

— Callie (@CalliePhakathi) July 7, 2015
#TransformationTuesday pic.twitter.com/2zLApguonm

— الزهراء (@SEXDRIVENMCCANN) July 7, 2015
beliebers #TURNAROUNDJUSTIN pic.twitter.com/QdBzXRYMIV

— they're not 21 / 18m (@CALUMCCANN) July 7, 2015
beliebers when they realize Justin is naked in the middle of the ocean #LetsSeeTheRestOnShots pic.twitter.com/yC9hiP1FVU

— ☾JUSTIN FOLLOWED ME♡ (@MakeOutWithBieb) July 7, 2015
What every Belieber wants to do after seeing the pic #TURNAROUNDJUSTIN pic.twitter.com/uG71zVrpE1

— ⠀ (@MyBieberHeaven) July 7, 2015
Justin rn seeing our tweets #TurnAroundJustin pic.twitter.com/4jegqkanUi

— HE FOLLOWED ME (@bieberssexyhoe) July 7, 2015
the whole fandom rn be like #LetsSeeTheRestOnShots pic.twitter.com/05kDf0LA5g

— TYSFM DADDY ILY (@rauhltella) July 7, 2015
The reaction of Beliebers to see the photo of Justin #LetsSeeTheRestOnShots @justinbieber pic.twitter.com/9SQjv6Ttp6

— TYSM Justin♔ (@lm_lilly) July 7, 2015
The whole world be like #LetsSeeTheRestOnShots pic.twitter.com/FjEvrIMa4i

— CHILE CAMPEÓN (@BieberCondaEnHD) July 7, 2015
BIEBERS FANBASE HAS NO CHILL #TURNAROUNDJUSTIN #LetsSeeTheRestOnShots pic.twitter.com/qt7lBFBzsv

— justin bieber (@h0rnyBizzle) July 7, 2015
Justin's naked pic got me like #LetsSeeTheRestOnShots pic.twitter.com/PBjRSgKOCD

— PLEASE LIAM PLS✌ (@iconiczjm1d) July 7, 2015
Beliebers be like: #LetsSeeTheRestOnShots pic.twitter.com/2af5ULu6Yu

— Justin Bieber (@stillkidrauhl) July 7, 2015
My face #LetsSeeTheRestOnShots pic.twitter.com/HNfg90W81t

— ~ Salome ~ (@BIEBER5SOSCOL) July 7, 2015
Who did it better?? RT for Justin Bieber FAV for Kim Kardashian pic.twitter.com/lrwVWCGQf7

— Edmund (@HausOfEdmund) July 7, 2015
Basically lol #LetsSeeTheRestOnShots pic.twitter.com/fjD4xR4qmm

— ☾Justin Bieber (@bizzlecute_) July 7, 2015
Person: Where are you going Me: To Justin he is currently naked! #LetsSeeTheRestOnShots pic.twitter.com/uQ5aGRRdDb

— 5 DAYS (@IStalkHoran) July 7, 2015
Justin after he crashed ig #LetsSeeTheRestOnShots #LetSeeTheRestOnShots pic.twitter.com/cuBOLC1656

— ⠀ (@bieburskitty) July 7, 2015
OUR FANDOM REALLY NEEDS NEW MUSIC #LetsSeeTheRestOnShots pic.twitter.com/tCEhYFBasg

— TYSFM DADDY ILY (@rauhltella) July 7, 2015