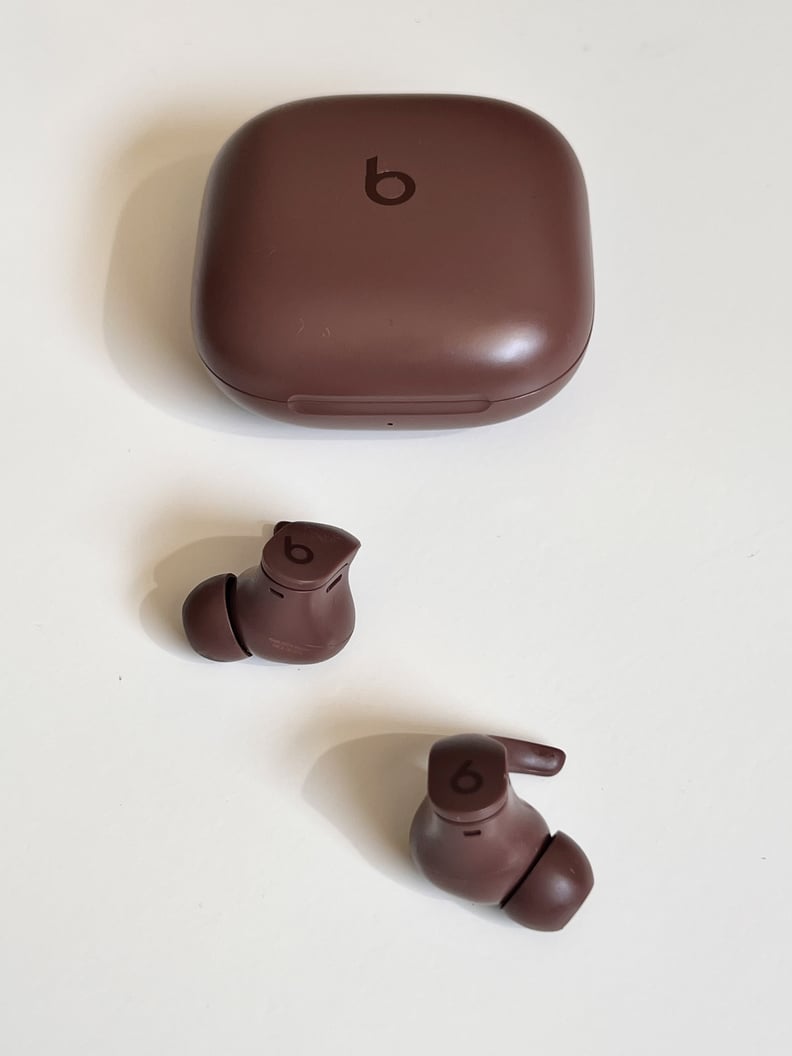 POPSUGAR Photography | Anvita Reddy
POPSUGAR Photography | Anvita Reddy
As POPSUGAR editors, we independently select and write about stuff we love and think you'll like too. If you buy a product we have recommended, we may receive affiliate commission, which in turn supports our work.
Having a good pair of high-quality headphones or earbuds is essential. Whether you're listening to a playlist, a riveting podcast or audiobook, or your favorite TV show, having the right pair can make or break the way you consume content. Beats is one of the best audio brands on the market, with a reputation for providing immersive sounds and an incredible music experience. After all, it was founded by the music legend Dr. Dre. I tried the brand's Studio Buds and loved the quality of these in-ear headphones. However, they also made a version ideal for anyone with an active lifestyle. The Beats Fit Pro Noise Cancelling Earbuds ($160, originally $200) put comfort at the forefront with flexible wingtips. They have three listening modes: active noise cancellation, transparency mode, and adaptive EQ. Plus, they are water and sweat resistant. I was already keen on trying them out, but when I found out that Kim Kardashian is a fan of these earbuds and even came out with her own collection, I had even higher expectations.
What I Like About the Beats Fit Pro Earbuds
First and foremost, the sound quality of the Beats Fit Pro Earbuds is one of the best when it comes to in-ear headphones. The audio is crystal clear, with crisp vocals and deep bass. With its spatial audio features, these earbuds deliver a surround-sound-like experience that elevates your content. Music feels like a concert, watching videos feels like a movie theater, and listening to audiobooks and podcasts feels like I'm sitting in front of the speaker.
The active noise cancellation mode is probably the one that I use the most; it blocks out the rest of the world, so you have a truly immersive sound experience. I can work out without hearing weights clanking on the floor, footsteps on treadmills, and unnecessarily obnoxious grunts. The mode helps block out the humming sounds on flights, too. The sound quality and noise cancellation are so good that there have been several instances when I got too immersed in the audio experience and accidentally missed my subway stop. And for that reason, I actually sometimes end up utilizing the transparency mode, too. After all, you should be aware of your surroundings.
These earbuds are also one of the most comfortable pairs I own, and I can wear them for hours without feeling irritated by them, especially with their pressure-relieving vents. The Fit Pros fit into my ear like they were built for my ear canal, plus they are equipped with flexible wingtips that secure the earbud in place. I can also comfortably sleep in these in-ear headphones, which makes them a must for traveling.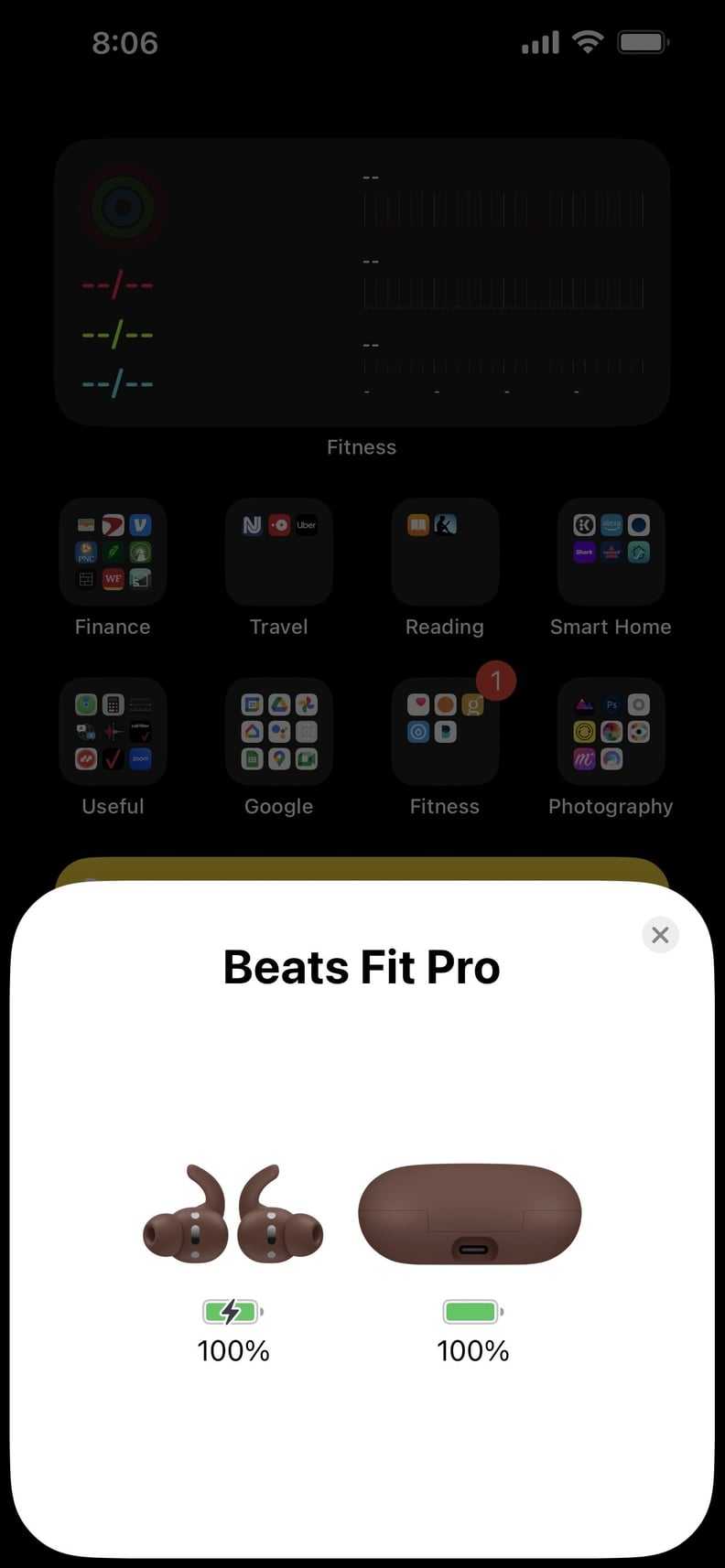 One of the coolest things about the Beats Fit Pro Earbuds comes down to their Apple H1 chip. This lets you seamlessly integrate your Beats with your Apple products and even switch between them automatically. I can listen to something on my phone, then effortlessly take a Zoom call from my laptop, then watch something on my iPad without disconnecting and reconnecting the Bluetooth. Plus, with Apple's H1 chip, you can pair any other Beats or AirPods to the same device, and both have an immersive listening experience while consuming the same content.
What's Worth Noting About the Beats Fit Pro Earbuds:
Although these earbuds come with a cute carrying charging case, there are times when the case takes up quite a bit of room in my handbag, especially smaller evening bags or clutches. The Fit Pros also come with a USB-C to USB-C charging cable, and if you don't have a compatible charging brick already, a USB-A to USB-C charging cable works just as well.
The Beats Fit Pro and the Studio Buds are pretty similar in terms of compatibility, sound quality, and controls. However, the biggest difference is the fit and comfort level: the Fit Pros stay in my ear more securely compared to the Studio Buds. If you're someone who isn't a fan of in-ear buds, whether it's due to discomfort or because they don't stay in your ear, these might be an alternative to consider because of their nifty wingtips.
Who Are the Beats Fit Pro Earbuds Best For?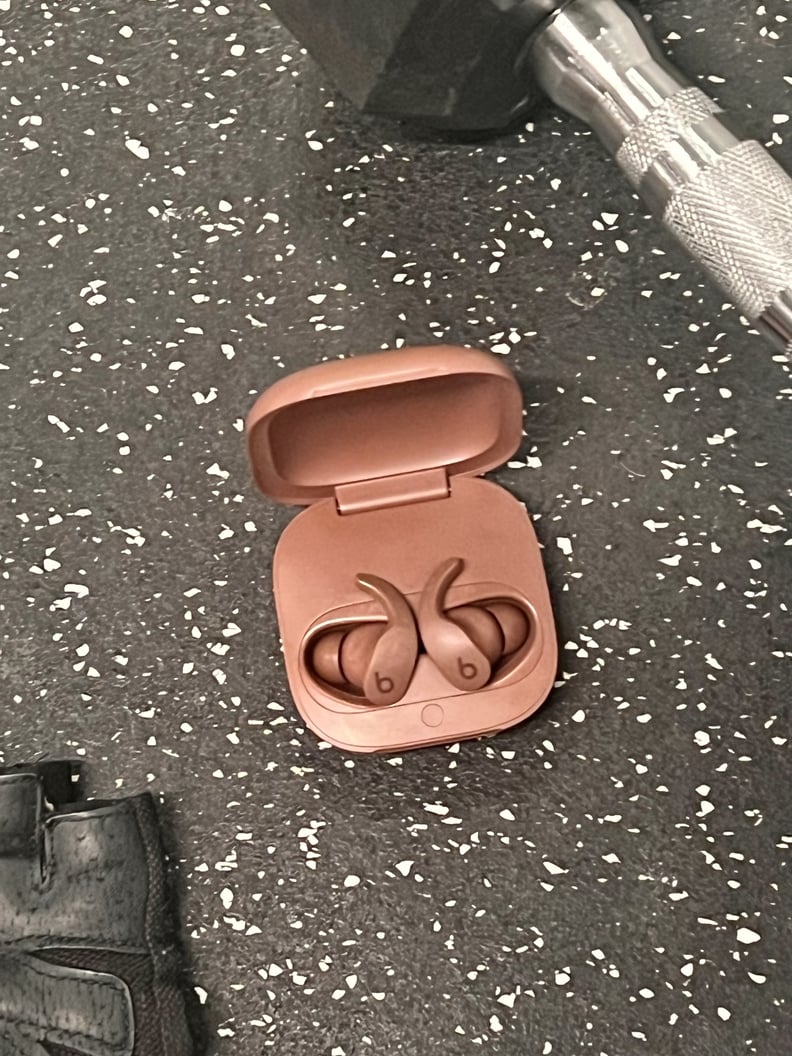 The Beats Fit Pro Earbuds are great for anyone and everyone who loves to get immersed in their content. Although they're marketed toward those with an active lifestyle, you don't have to be a gym rat to truly reap the benefits of these in-ear buds. These stay securely in place when I'm rushing through the streets of NYC, getting my cardio in at the gym, and even if I'm just lounging around. The Beats Fit Pro Earbuds will surely keep up with your lifestyle, whatever it may look like.
Are the Beats Fit Pro Earbuds Worth the Splurge?
With stellar noise cancellation, dynamic listening modes, and seamless device compatibility, the Beats Fit Pro Earbuds are worth every single penny. As someone who tries and tests a wide range of headphones and earbuds, I still always gravitate toward my Beats Fit Pros. I use them almost every day.
Additional Details
The Beats Fit Pro Earbuds offer up to six hours of listening time and up to 24 hours combined with a charging case.
They have three distinct listening modes: active noise canceling, transparency mode, and adaptive EQ.
These earbuds come with three different sizes of silicone eartips, so you can get a secure and comfortable fit.
The Fit Pro Earbuds are sweat and water resistant.
They come with a USB-C to USB-C charging cable.
These earbuds come in nine colors.
The earbuds are compatible with Apple and Android products.
Where Are the Beats Fit Pro Earbuds Available?
The Beats Fit Pro Earbuds are available on Amazon, Target ($160, originally $200), Best Buy ($160, originally $200), and Walmart ($160, originally $200).
Rating:
★★★★