As POPSUGAR editors, we independently select and write about stuff we love and think you'll like too. If you buy a product we have recommended, we may receive affiliate commission, which in turn supports our work.
Today was all about the Apple Watch, but there are plenty of other brands making smartwatches that are just as good, if not better. These mobile devices are fashionable, fitness-focused, and appealing to the masses.
Historically, we've loved the Moto 360 for Android phones and the Pebble for iPhone, but it's time for some new watches to take the stage this year. Ahead, take a look at the newest, hottest devices for 2015.
—Additional reporting by Lisette MejiaSource: Sony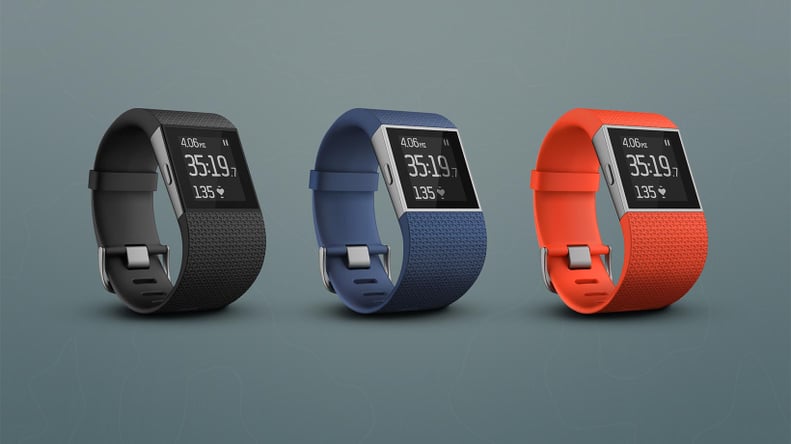 Fitbit Surge
Fitbit is calling its Surge smartwatch ($250) a "fitness super watch." In addition to tracking all-day activity and sleep quality, the Surge has wrist-based heart-rate monitoring. Built-in GPS tracks your route during runs and hikes without a phone nearby. The wearable wirelessly syncs data to phones or laptops, and its battery lasts up to seven days.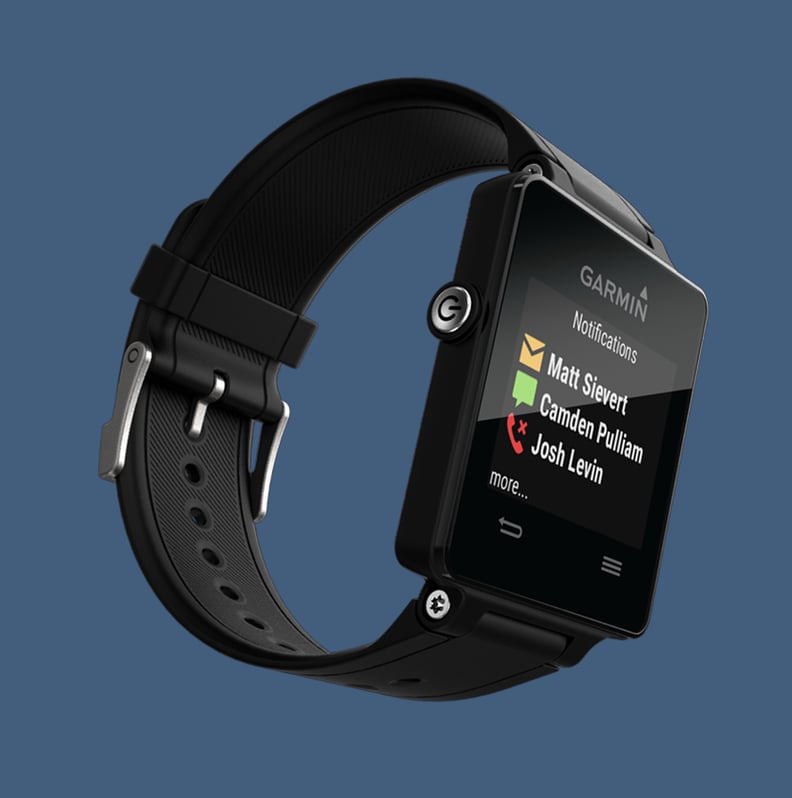 Garmin Vivoactive
Garmin has always been the wearable of choice for hardcore fitness-focused cyclists, swimmers, and runners. Now, it's a great choice for those who want a watch for both work and workout. Vivoactive ($250) is a budget-friendly everyday smartwatch with a robust activity tracker and GPS features. It's water-resistant up to 50 meters.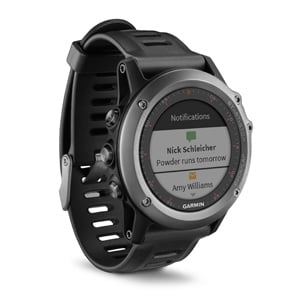 Garmin Fenix 3
The Fenix 3 ($500) is the ultimate GPS watch. It's been designed to withstand very rugged conditions (up to 100 meters in water, 50-hour battery life) and provide very detailed navigation. Garmin's new Connect IQ program means that, like the company's other new watches, the Fenix is compatible with a variety of smart third-party apps (calendars, watch, faces, etc.). You'll also receive notifications from an iPhone or Android device.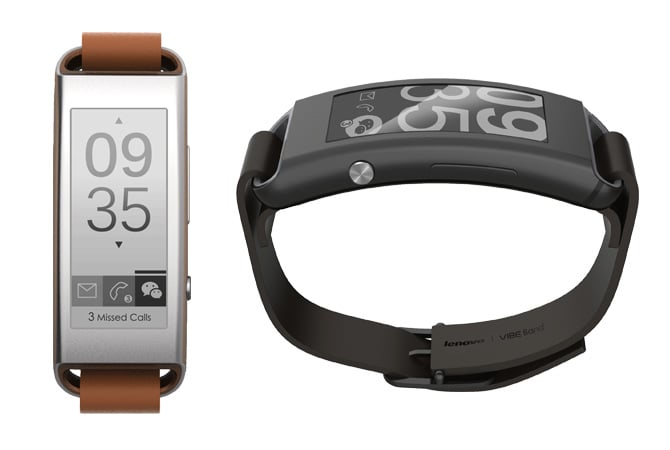 Lenovo Vibe Band
The Vibe Band VB10 (inquire for price) rocks an eink display, which means that it boasts an amazing battery life (up to seven days). It works with Android devices to show the wearer phone, SMS, and social notifications on their wrist. There's also a feature that can help you find your phone by forcing it to ring with a tap of a button.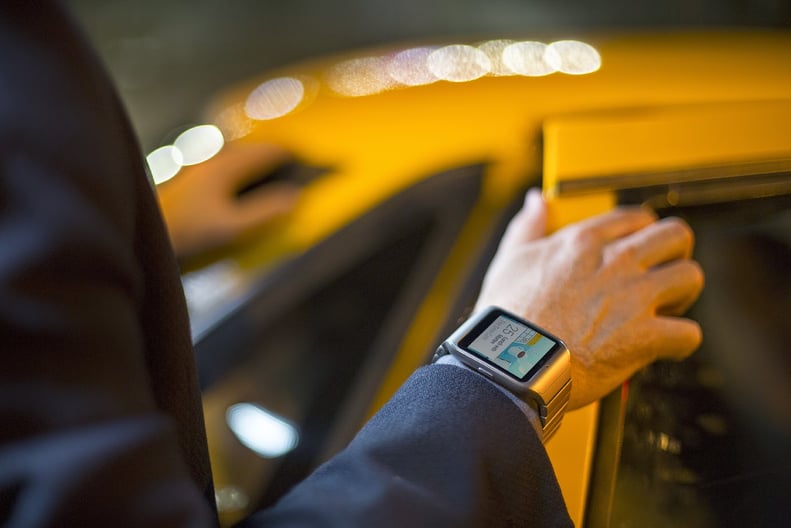 Sony Smartwatch 3
The Sony Smartwatch 3 ($250) will now come in a stainless-steel band. It works with Android phones, and the watch itself is powered by Android Wear. The Smartwatch 3 can track activity without a phone and can recognize voice commands, offers notifications, and Google Now cards when synced with a phone.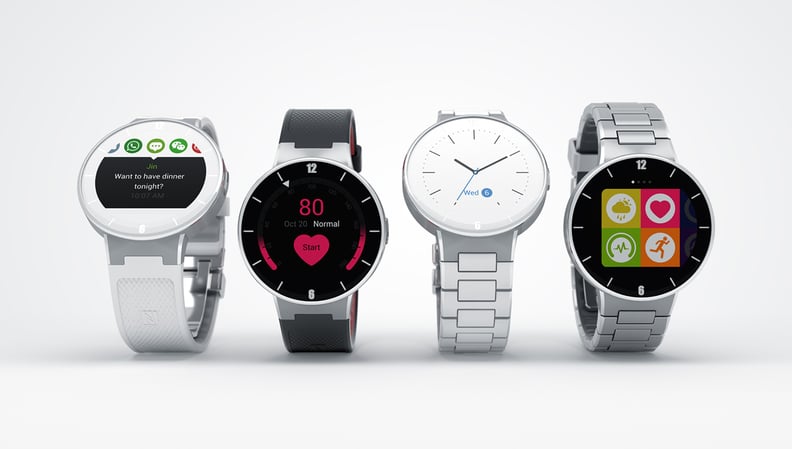 Alcatel OneTouch
The Alcatel OneTouch ($149, available in March) is much like the Apple Watch. It has its own health monitor, sleep tracker, and works with a companion app for both iOS and Android. This is big, because it means that the Pebble Smartwatch isn't the only pre-Apple Watch wearable tech contender for the iPhone.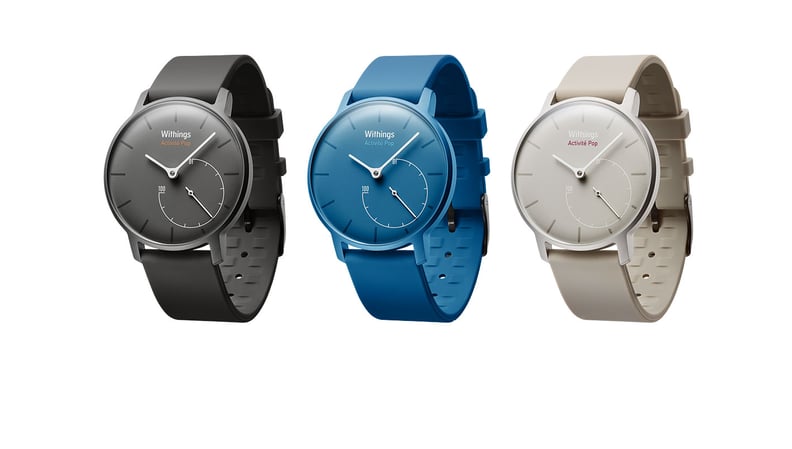 Withings Activité Pop
This CEA Innovation Winner is truly fashion-forward. The Activité Pop ($150, available in March) has a completely traditional, analog interface. There are health trackers hidden beneath, and the smaller dial actually shows the percentage of your progress throughout the day. When you hit your goal, the watch vibrates. It will launch with iPhone compatibility first, with an Android app to follow. The watch will sync automatically with the Withings' Health Mate app.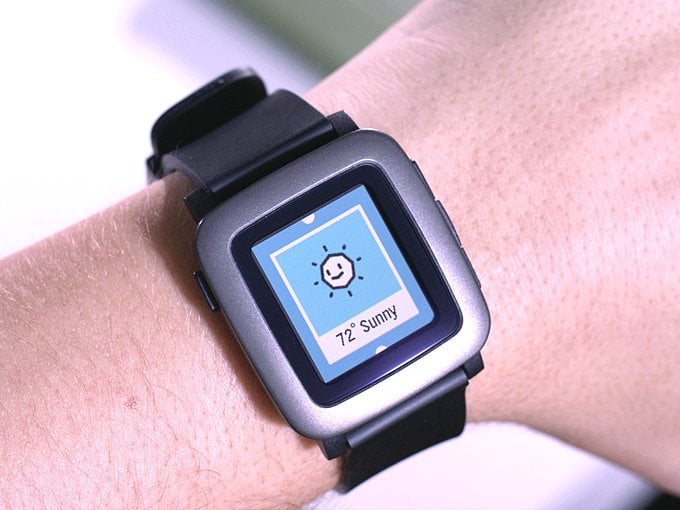 Pebble Time
The new Pebble Time ($159 on Kickstarter, $199 post-Kickstarter) will start shipping in May, but it's already garnered lots of buzz. The new interface displays info like notifications, news, and weather chronologically through a timeline. Plus, there's a color epaper display and a new microphone that lets you respond to notifications.