OMG, the Hello Kitty Cafe of Your Dreams Is Coming to the US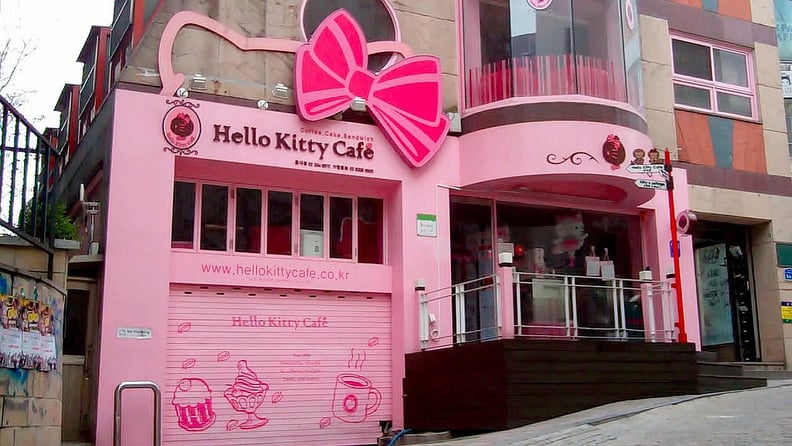 Update:
The Hello Kitty cafe will finally open at the Irvine Spectrum Center in Orange County as the end of November, according to the LA Times. It will start as a pop up in a metal shipping container and will then open at a permanent location sometime next year.
Original story:
Hello Kitty fans, are you sitting down? Because this news is major. There's already a Hello Kitty-themed coffee shop in Seoul, South Korea, and the US will finally get its own this Summer. The lucky location: Orange County, CA, according to LAist, which got the scoop while touring the new Hello Kitty Cafe mobile truck at the first ever Hello Kitty Con. There, Hello Kitty Cafe's managing partner Allan Tea said that everything from the food to the decor will star the famous Sanrio character.
"He said their main focus will be on cafe-style food: artisan pastries and desserts, as well as savory foods like salads, sandwiches and sliders," writes LAist. "They'll also be serving coffee drinks like espresso."
Until it opens, you can reserve the mobile food truck cafe — which serves Hello Kitty-themed treats like doughnuts and macarons — for private parties in the Southern California area. Between this and the Hello Kitty airplane, it seems like the world is becoming a better place, one cat (err, girl) at a time.
Get a better idea of what the Hello Kitty Cafe here in the US will look like by checking out these photos of the Hello Kitty Cafe in Seoul.
Want even more Hello Kitty?
I Ate at the Hello Kitty Food Truck, and Here's What Happened
You'll Freak Out Over This Hello Kitty Plane
10 Hello Kitty Facts That'll Change the Way You See Her
The Hello Kitty Keyboard Is What Texting Dreams Are Made Of
Source: Flickr user librarianidol