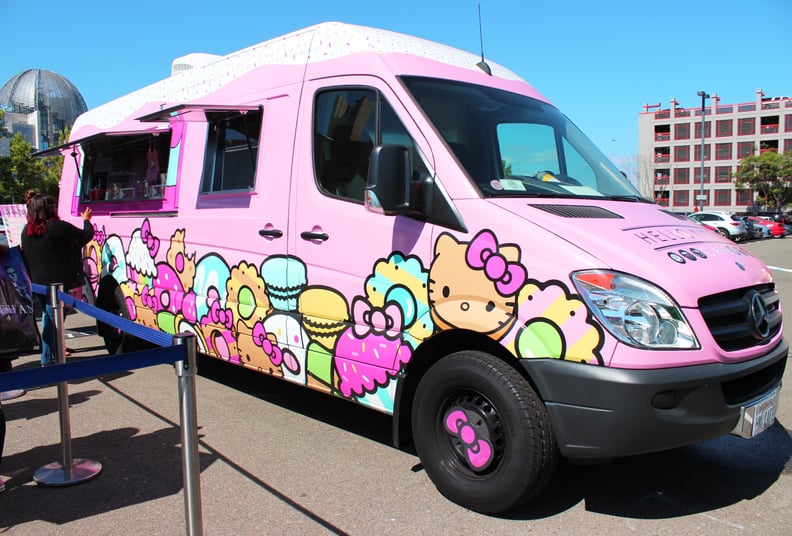 POPSUGAR Photography | Brinton Parker
POPSUGAR Photography | Brinton Parker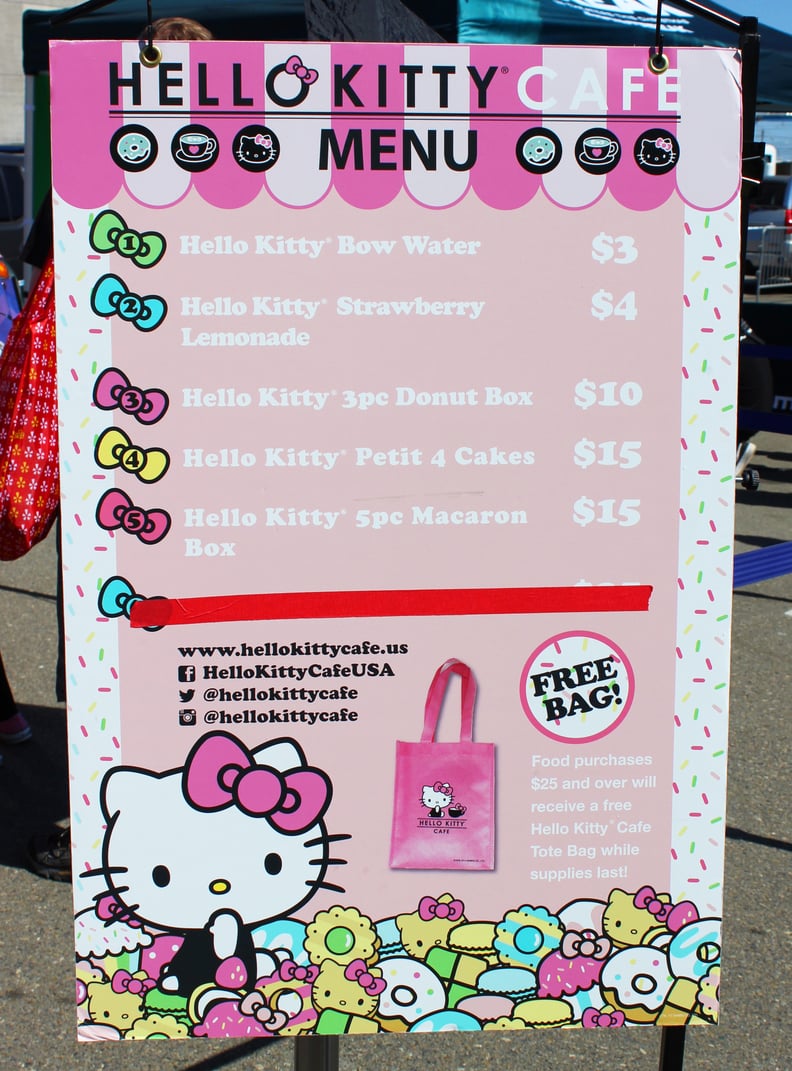 It'd be pretty hard to miss the cafe on wheels thanks to its bright pink paint job and mile-long line. OK, so it's not really that long, but when there are doughnuts at stake it certainly feels like it! A short-but-sweet menu (literally) advertises the truck's offerings, which include doughnuts, French macarons, petit four cakes, strawberry lemonade, and water bottles.
Though the prices are a bit steep for everyday dining, that's the price you pay for insanely adorable eats . . . right?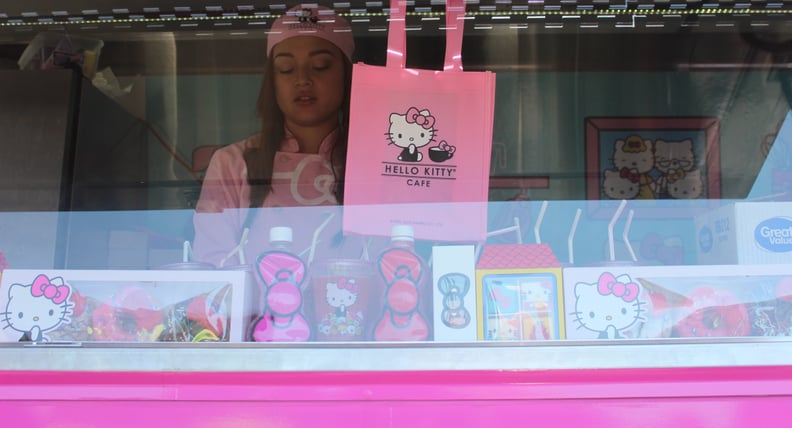 The truck's service counter shows off all the available menu items for customers waiting in line. Employees clad in pastel pink uniforms bustle around within the truck, quickly and efficiently serving the line of kitty-obsessed patrons.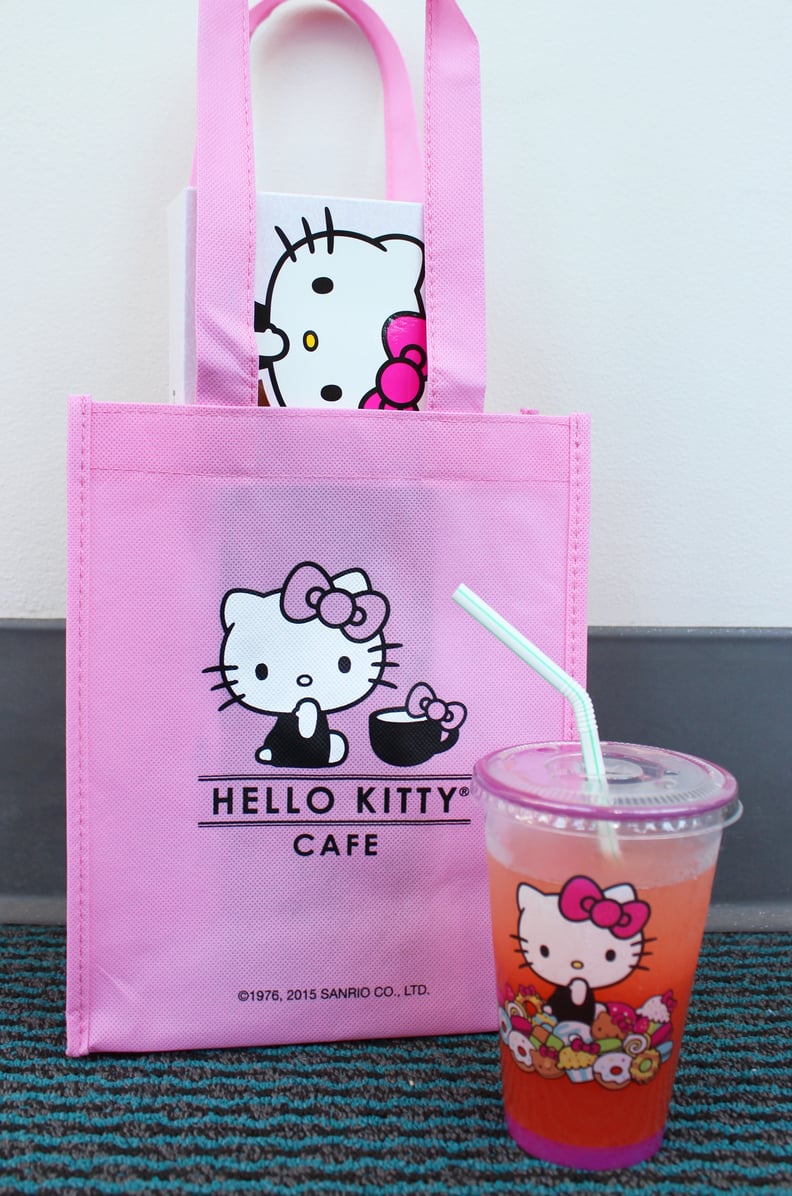 Despite the succinct menu, I had trouble deciding what to order — so I ended up with a box of doughnuts, some adorable cakes, and a strawberry lemonade to boot. Thankfully, my $29 order also came inside a pink fabric bag. I'd have had trouble carrying my haul back to the convention center otherwise!
My entire experience at the Hello Kitty Cafe truck was simply sweet, but I had yet to taste test and determine whether the novelty munchies were worth the wait! After all, how good can technicolored treats topped with bows actually taste?
I should never have doubted. When I finally found a spot to sit down and enjoy my long-awaited snacks, I wasn't disappointed — in fact, I was impressed with the moist sweetness of the petit fours and refreshing tartness of the strawberry lemonade.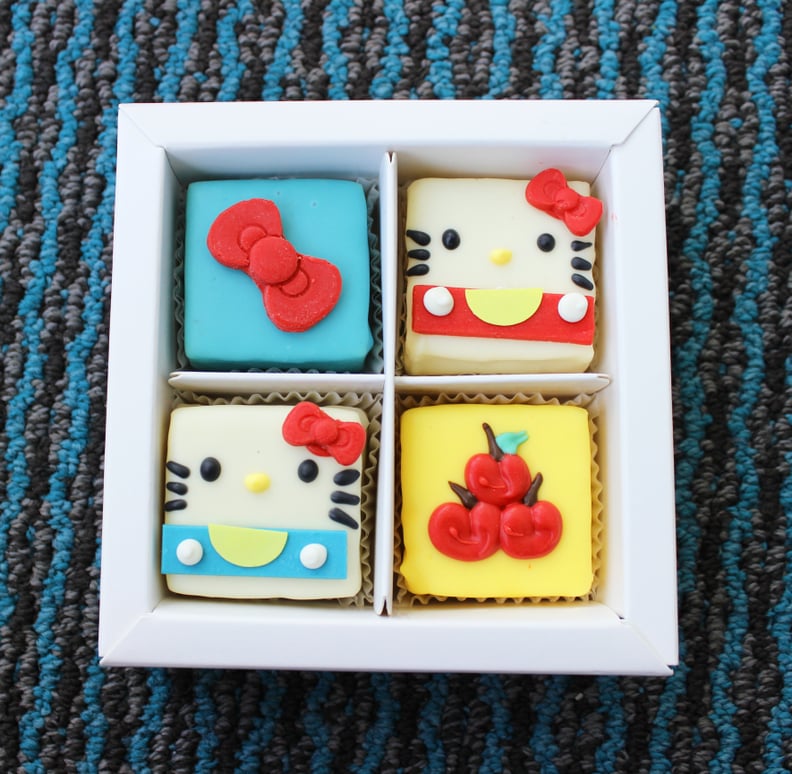 Each of the tiny cakes had tasty filling inside; my favorite was strawberry cream.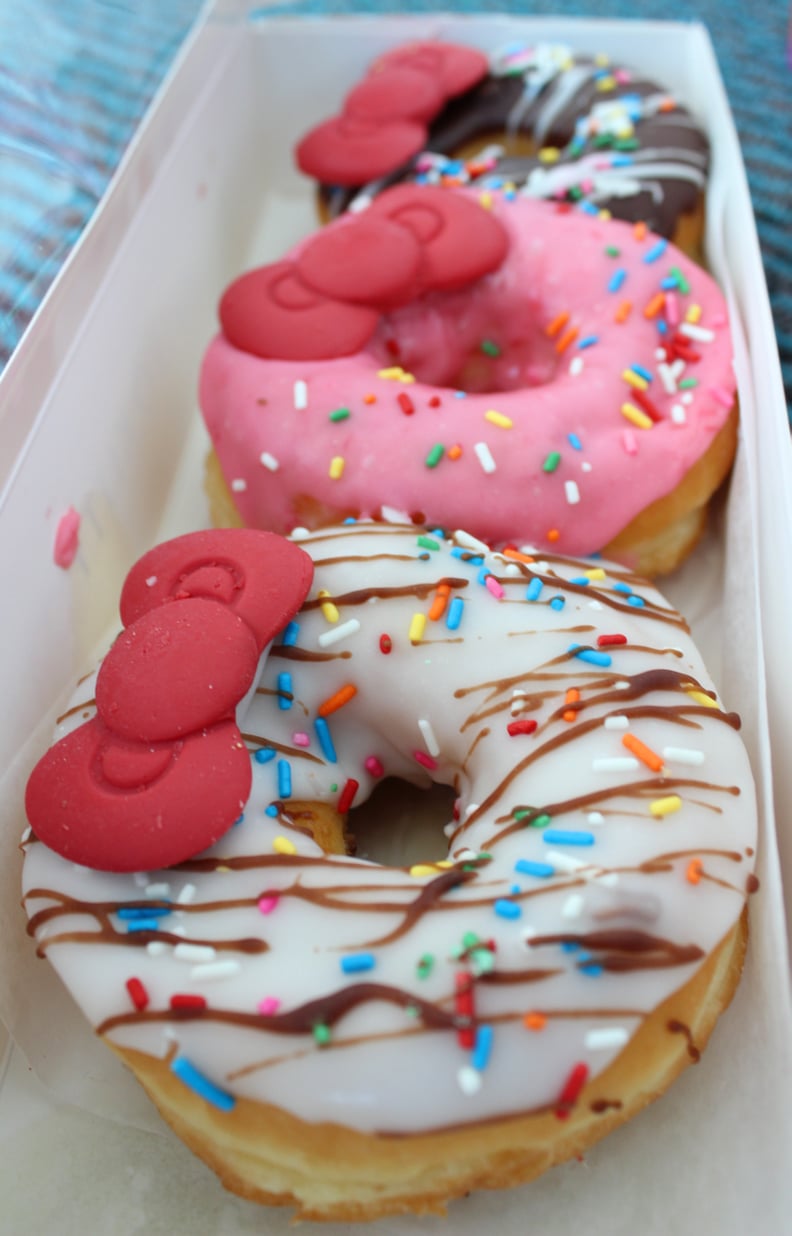 While the bow-topped doughnuts were my least favorite purchase, they still made for a tasty (albeit supersweet) afternoon bite. And more importantly, the tasty treats from the mobile Hello Kitty Cafe were some of the prettiest treats I've ever eaten. Teenage boys even stopped to ask, "Where'd you get those? My girlfriend would die if I brought some back."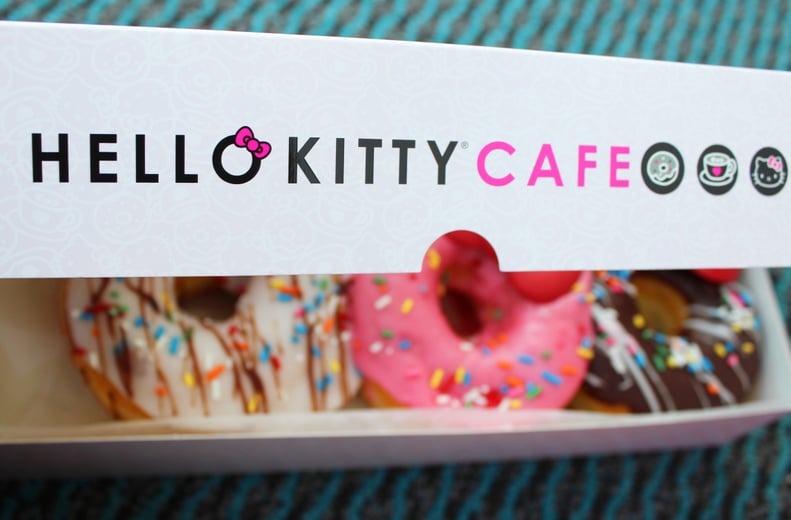 The doughnut box was almost as pretty as its contents, with bows and Hello Kitty details across a subtle doughnut print.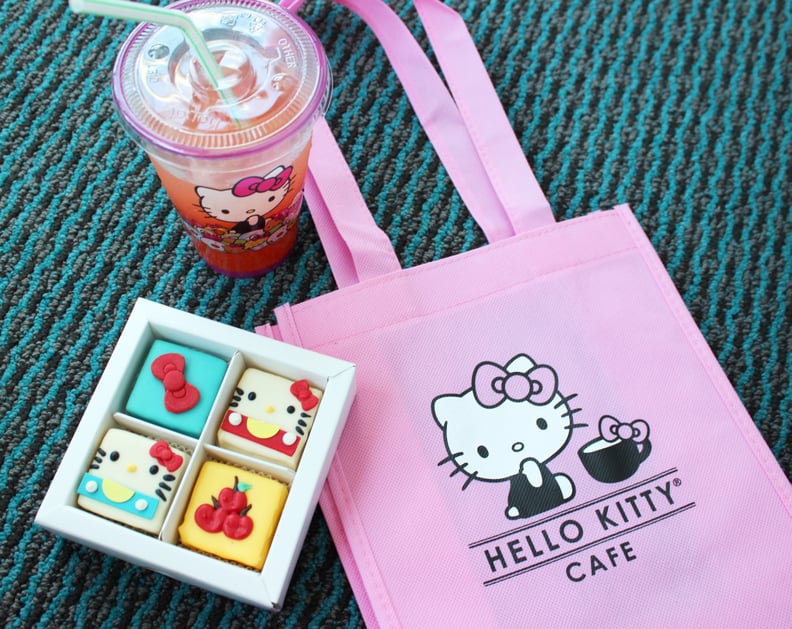 Suffice it to say that my trip to Hello Kitty's first venture into the on-the-go culinary industry was definitely worthwhile. Whether you're a diehard fan or simply want a yummy dessert, you'll love the pink truck's offerings!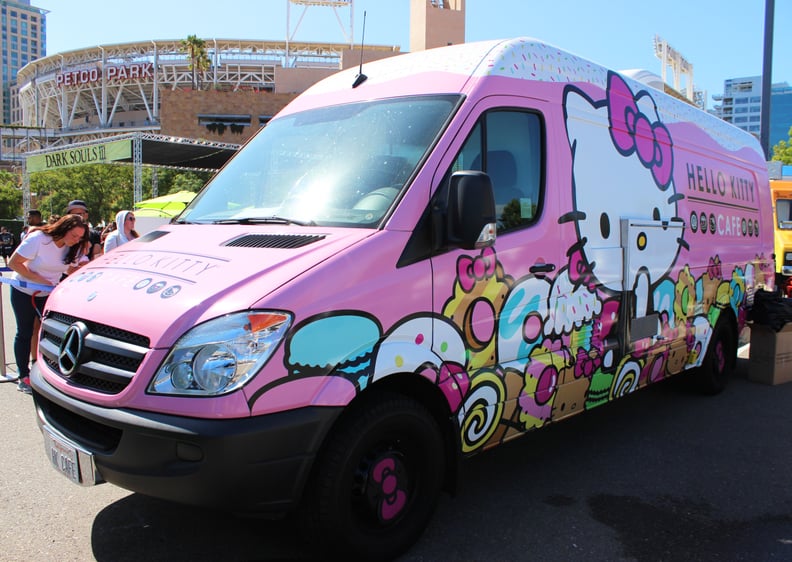 Seriously, how could you resist stopping at an eatery this awesome? It's a pink daydream, right down to its Hello Kitty bow rims.