With a great deal of personal information at our fingertips, it's no wonder most of us rely on a screen lock for our smartphones. We've gotten pretty used to facial recognition software, entering in numbers, or typing out passwords to unlock our phones. While I, for one, am incredibly grateful for this technology, I've admittedly had moments where I stopped using a screen lock at home just so I could access my phone faster, only to turn it back on when I'd leave the house. I was stuck in this continuing, repetitive cycle until I started playing with my phone one day and figured out an extremely convenient way to allow my phone to do that work for me.
This feature on Android phones allows you to turn off your screen lock when you're in a trusted location, like your house. It will automatically turn it back on when you leave that location. You can even set it up so that your phone stays unlocked only when it's on you or held by you, when it's connected to another trusted device like your car's Bluetooth, and when it matches your voice when you ask it to unlock your phone. It's incredibly easy to set up, too.
On your Android phone, go into your Settings > Security or Lock Screen and Security > Smart Lock. You should then see a screen that looks like this: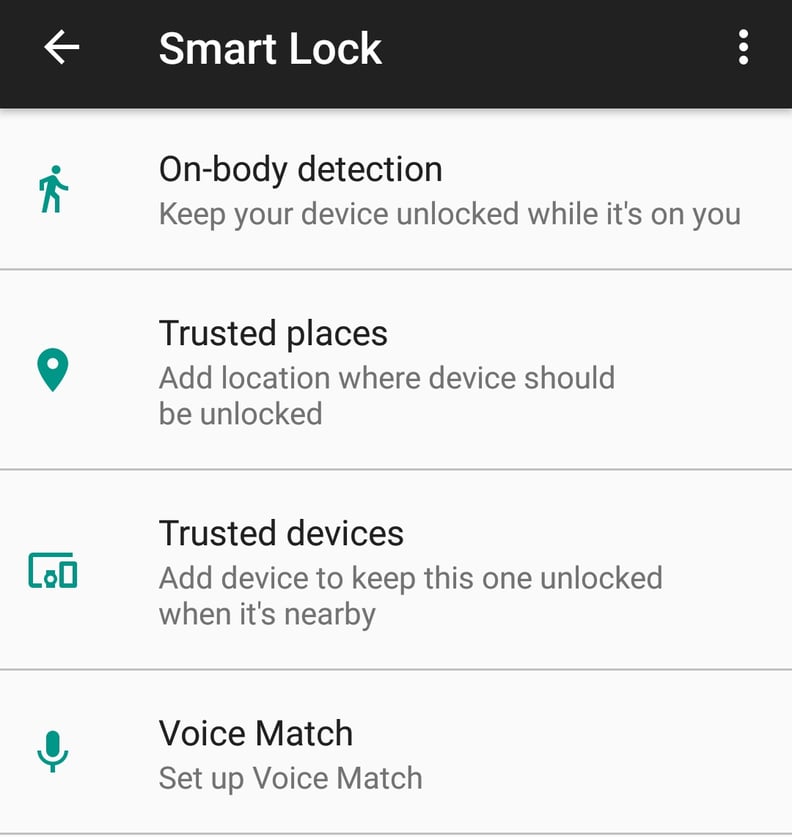 From here you can choose:
On-body detection
With this option, you only have to unlock your device once and as long as the phone recognizes that it's on you (i.e., in your hand or pocket), it'll stay unlocked until you set it down.
Trusted places
You can set up a trusted location (like your house) via Google Maps and your phone will stay unlocked while you're in that location.
Trusted devices
When your phone is connected to a trusted Bluetooth device (like your Bluetooth watch or your car's Bluetooth), your phone will stay unlocked after you set up this feature.
Voice Match
After you set up Voice Match, you can unlock your phone simply by using your voice beginning with, "OK, Google." You can choose to turn on one or all of these features for the ultimate balance between privacy and convenience.