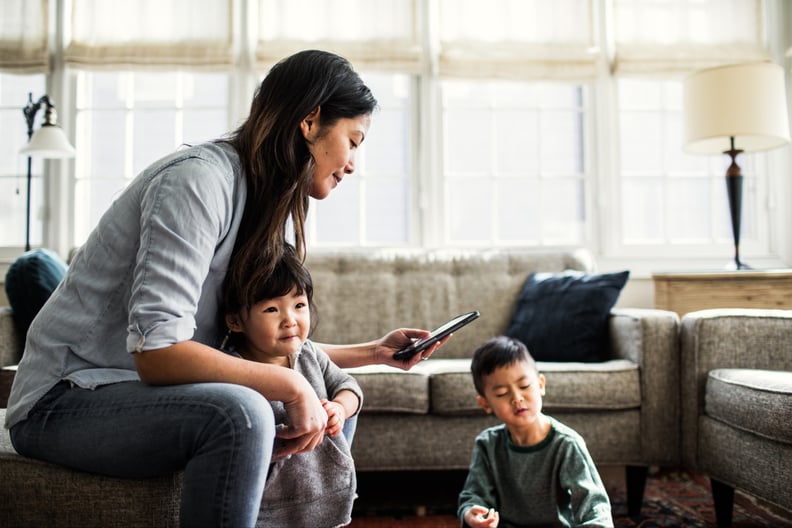 Getty | MOMO Productions
Whether you're checking emails, perusing Instagram, or building a team of adorable cube-shaped creatures on Pokémon Quest, everyone could stand to spend a little less time staring at a phone screen. However, even if you don't have commendable willpower (or an excellent phone hiding spot), you can still achieve a new year's resolution of less screen time and more face time — and no, making phone calls via FaceTime doesn't count.
With iPhone's Screen Time feature, you can control everything from app usage to content controls, both for yourself and for your family (Be warned: the amount of time you actually spend on your phone might just freak you out a little bit). Check out this gallery for a step-by-step guide to easily monitoring both your own phone activity and your child's.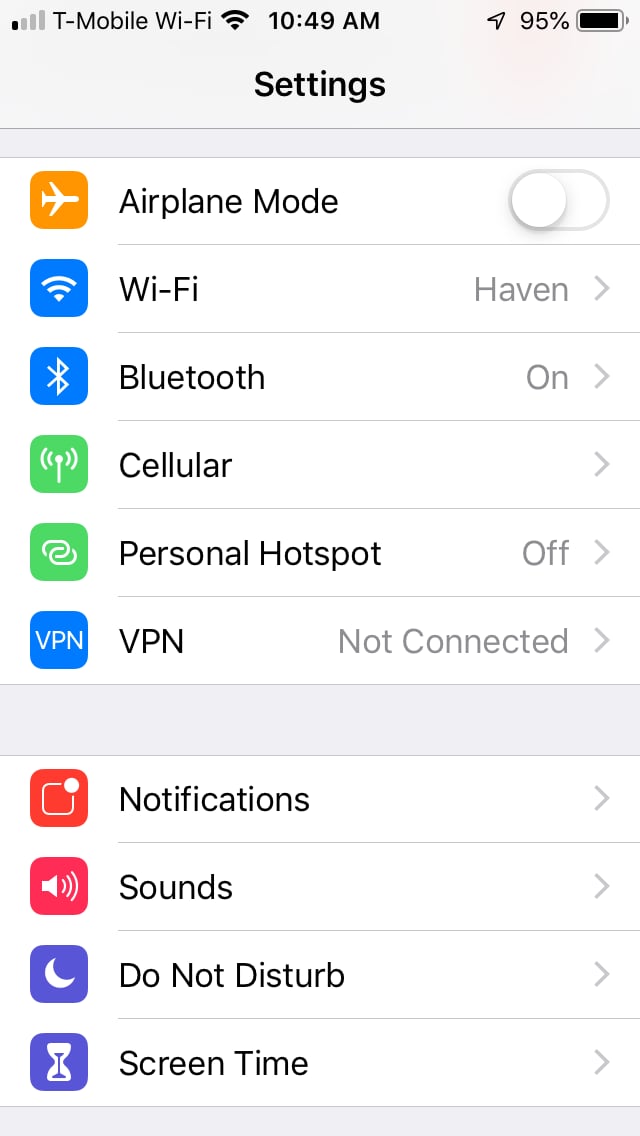 On Your iPhone, Go to Settings and Find Screen Time
The Screen Time menu option can be found halfway down the Settings menu page next to a purple hourglass icon.
Tap Turn on Screen Time
Selecting this will then turn on the Screen Time feature to track your phone usage.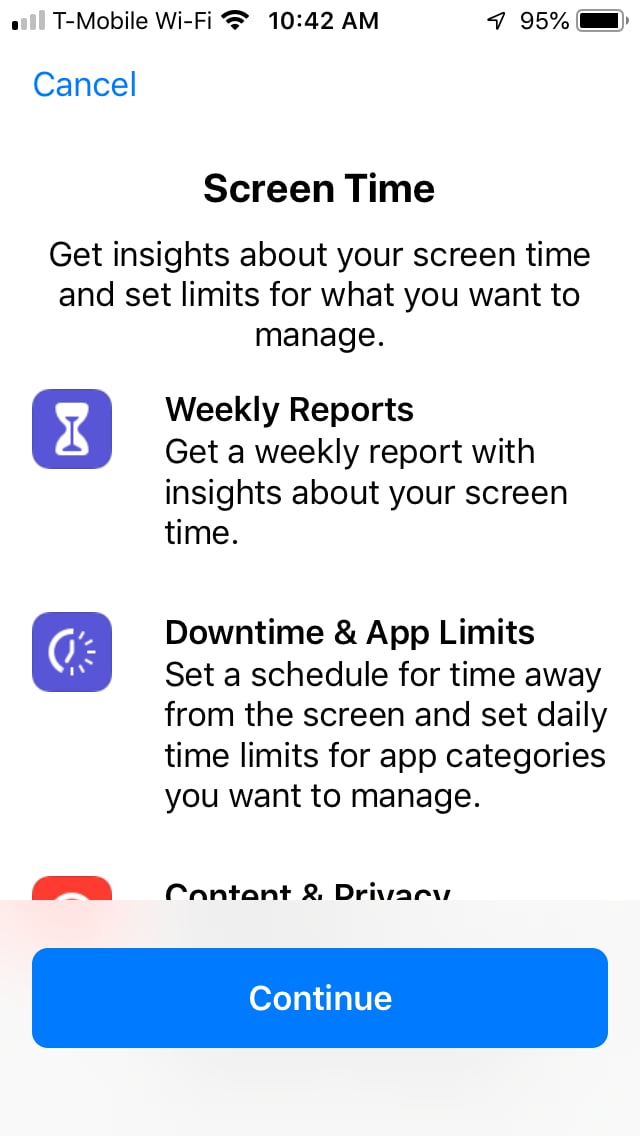 Tap Continue
This screen just offers more insight into what the Screen Time feature tracks and what information it can provide.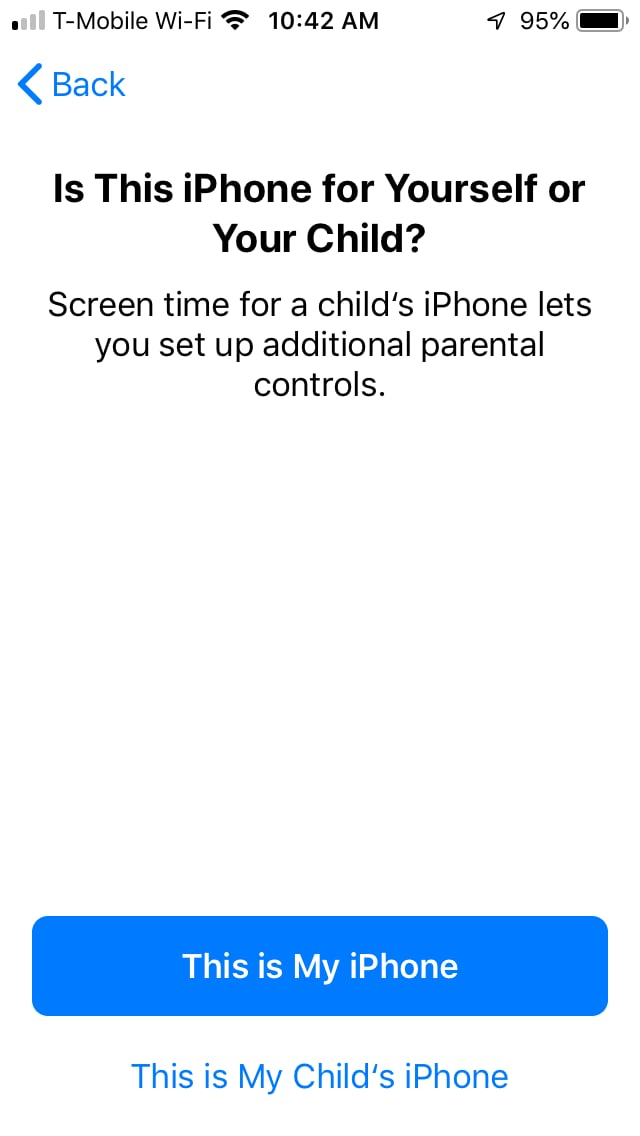 Select This Is My iPhone or This Is My Child's iPhone
If you're looking to manage your own screen time, select the first option. If you want to track or limit your child's screen time, select the second.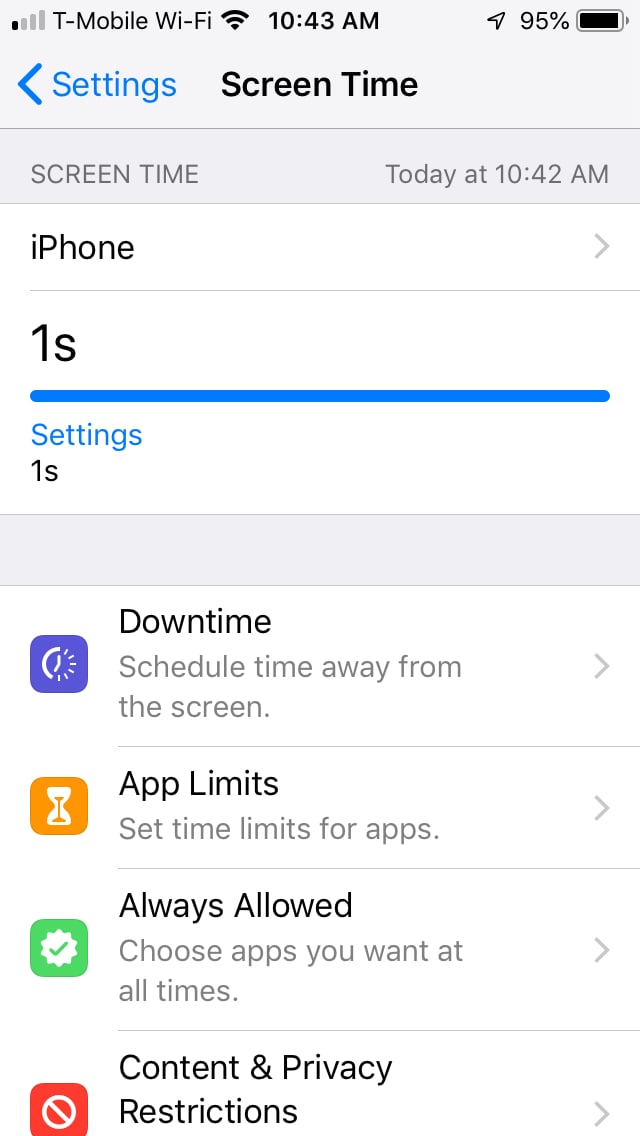 View Your Report and Set Limits
If you're managing your own screen time, you can schedule time to spend away from your screen, time limits on certain apps, and even manage your privacy settings.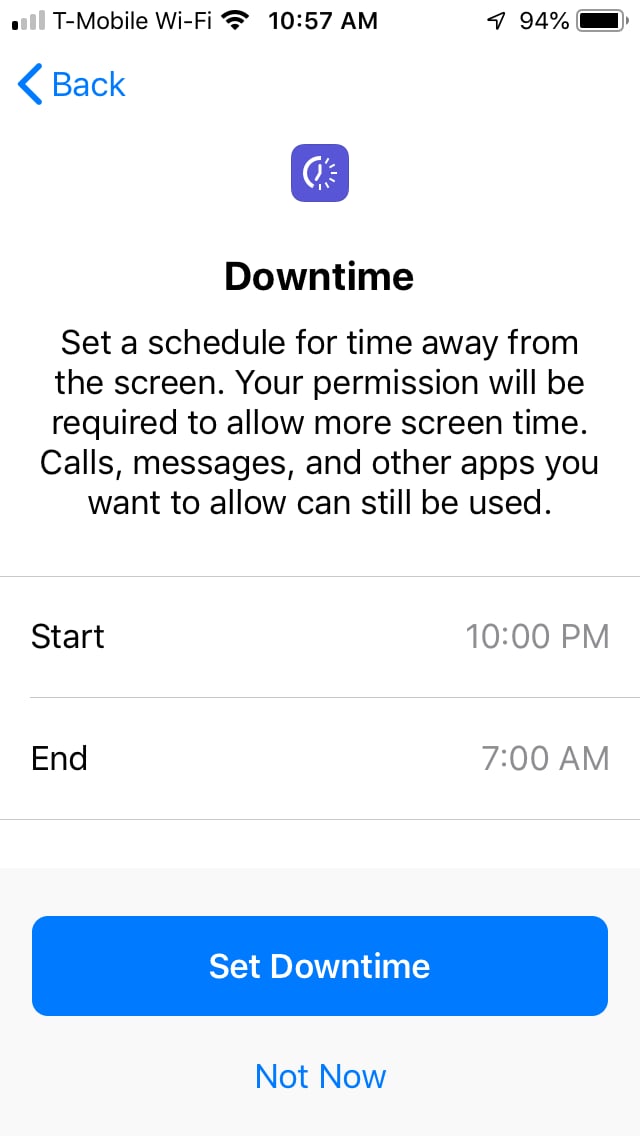 Set Downtime For Your Child
If you select This is My Child's iPhone, you'll first be given the option to set scheduled time for Downtime.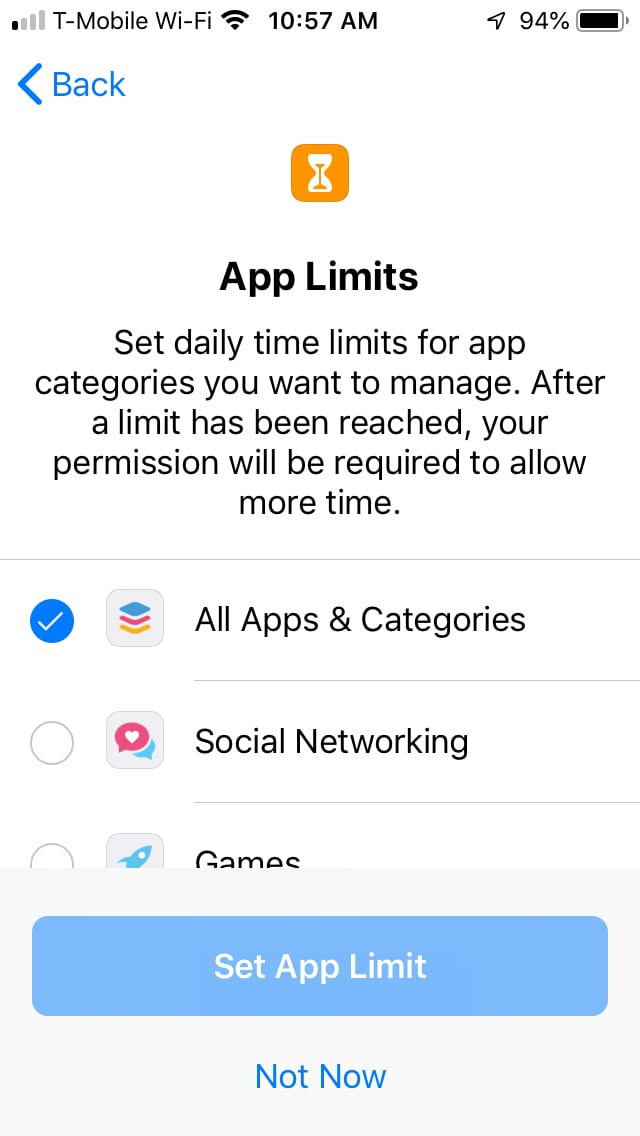 Set App Limits For Your child
After choosing to set or skip Downtime, you'll be given the option to set daily time limits for certain apps.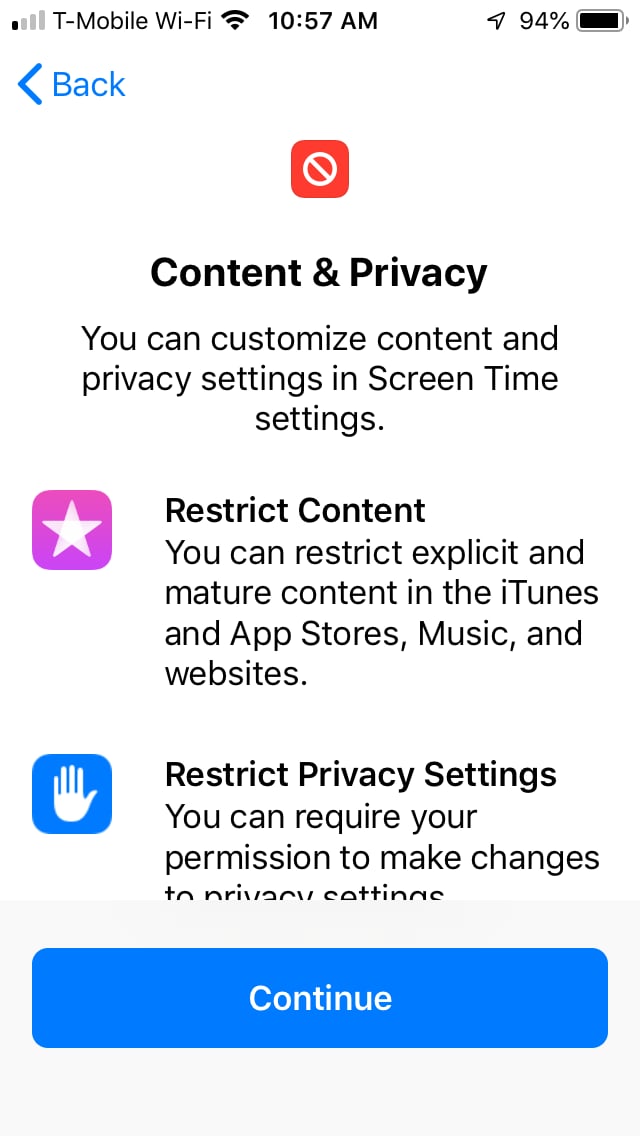 Set Content and Privacy For Your Child
After choosing to set or skip App Limits, you'll be given the option to customize your child's content and privacy settings.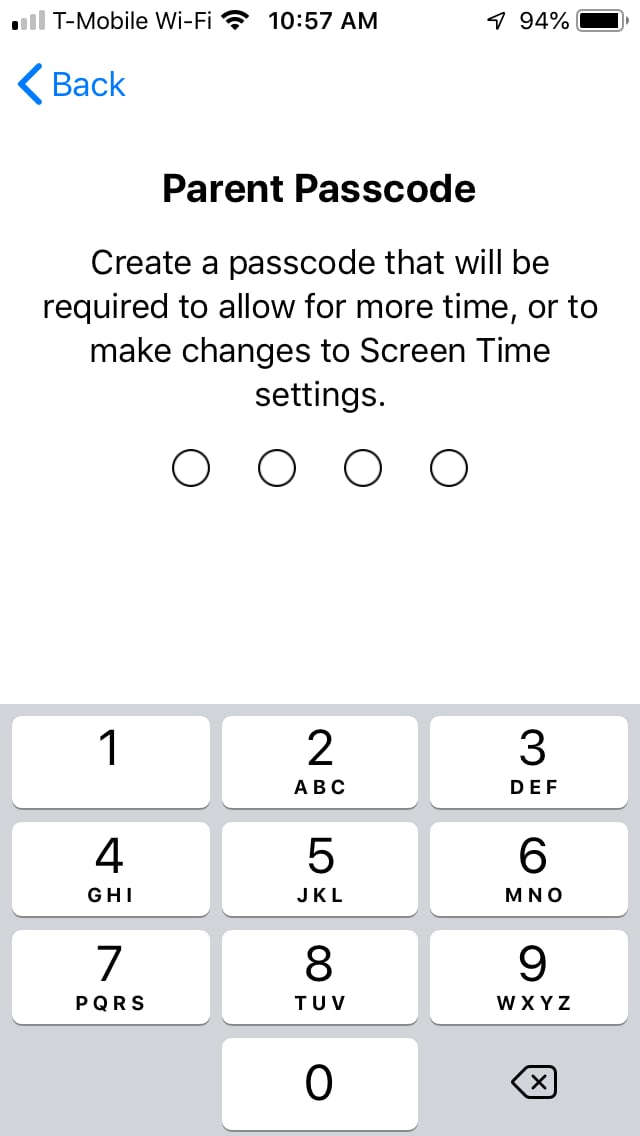 Set Parent Passcode
The last step to setting controls for your child's Screen Time is to create a passcode, so only you can extend time or make changes. After you set up your child's Screen Time, Family Sharing can also allow you to view reports and adjust settings any time from your own device.
If you're already in a family group, go to Settings, click Screen Time, and tap your child's name. If you need to create an Apple ID for your child, go to Settings, find [your name], click Family Sharing, and then select Screen Time. If you're new to Family Sharing, tap Set up Screen Time For Family and follow the instructions to set up your family.