Endlessly clogged inbox got you down? Nell Diamond shares two easy habits she's adopted to keep her inbox organized. As the founder and CEO of Hill House Home, a lifestyle company for high-end bedding, bath, and home accessories, Nell is used to combing through dozens upon dozens of emails each day. The mother and entrepreneur stopped by POPSUGAR Play/Ground in her home city of New York to chat about what it takes to be a badass boss lady.
Nell said she relies on Gmail's relatively new "snooze" feature, which was part of the Gmail updates released last year. "If there's an email in my inbox that I can't immediately do something about personally — I either need to wait for an action item from my team or need to wait for a million other things — I snooze it until the day I'm supposed to have a check-in so that I see it pop up in my inbox when I actually have to act on it," Nell said during Play/Ground's Female Frontier panel. "That's to avoid the idea of my inbox reminding me of things I have to do in a week. I don't need that. I just need to know what I need to do now."
Along with her email-snoozing tip, Nell also shared a bonus hack that helps to keep her inbox as uncluttered as possible. "My other rule is that if I can respond to an email in less than one minute, I do it right now and I don't wait because the emails that are actually the quickest will just pile up, and six months later I'll respond to someone being like, 'Hey, sorry for the delay, just been a little busy.'" Ha, been there!
If you're a Gmail user looking to step up your email game and get on Nell's level, read on for a quick look at how to snooze an email on your desktop. Inbox zero, we're comin' for you.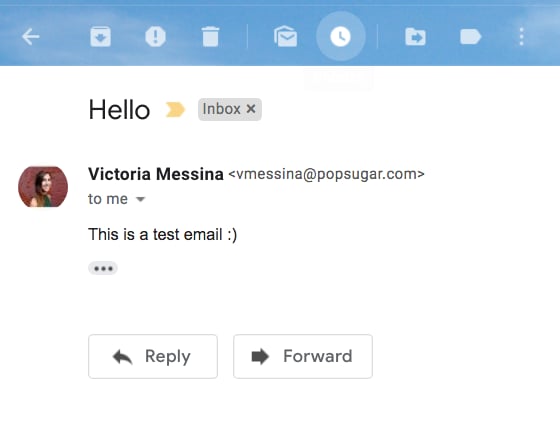 How to Find the Snooze Button For an Open Email
If you've already opened the email message you wish to snooze, first look for the clock icon directly above your email.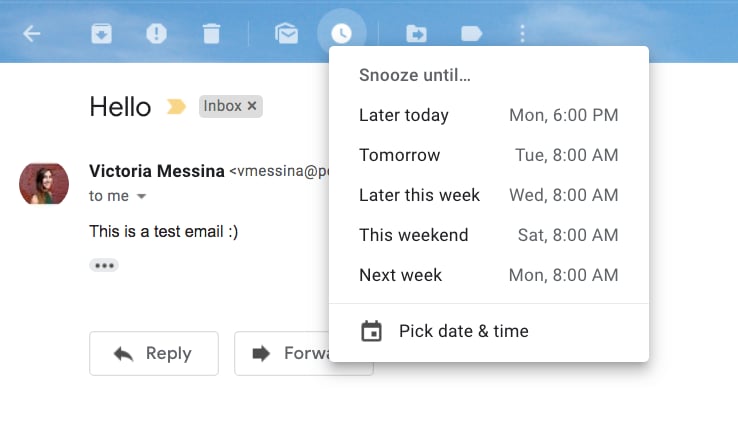 Selecting Your Snooze Options
Once you click the clock icon, a list of snooze options will appear for you to choose from. The last "pick date & time" choice allows you to select a specific time the email will reappear in your inbox again.

How to Find the Snooze Button For an Unopened Email
If the message you wish to snooze is marked as unread, hover your mouse over the email in your inbox so that four icons pop up on the right hand side. Click the clock icon on the far right and the same options mentioned above will appear for you to schedule your snooze.