The time (heh) is ripe for smartwatches. With the Apple Watch coming just around the corner and Google's Android Wear software designed just for wrist-bound gadgets, it certainly seems like the future of computing will be found on our watches. Last month, Samsung unveiled one of the most powerful smartwatches to hit the market, the new Gear S. It has its own 3G data connection, which means that it doesn't need your phone nearby to tell you directions or the morning's headlines.
A 2-inch super AMOLED display makes it taller than Samsung's previously announced wearable tech, the Gear Live. But the new Gear S's screen is curved (fancy, right?) so that its giant screen fits snug on your wrist and can be viewed from many angles. The device itself is waterproof and attached to a flexible, thick band that makes the watch feel more like a cuff.
One of Samsung's biggest announcements was a new partnership with Nike. A new Nike+ Running App designed specifically for the Gear S was announced. It allows users to leave their phones at home and find their way through mapped runs, progress trackers, and mobile motivation provided by the Gear S. The app provides information like distance, pace, heart rate, and time when the wearer simply raises their wrist.
Curiously, the watch is available in white, black, or . . . Swarovski. That's right, you can purchase a blinged-out version of the watch in which the band is covered with gold Swarovski crystals. The smartwatch, which is rumored to cost between $350 and $400, hits the US market on Nov. 7 with AT&T, Verizon, and Sprint. T-Mobile will release the device on Nov. 8 and charge $5 a month for unlimited talk and text, plus 500MB of LTE data. AT&T and Sprint will charge $10 a month for users to add it to their Family Share plans. Verizon has not yet unveiled their pricing plan. Source: Andrew Burton / Getty; Front Page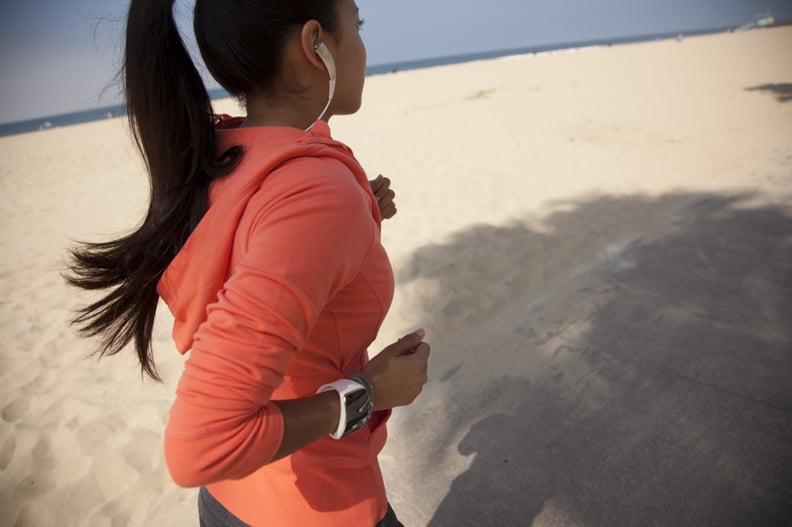 This runner is wearing the Gear Circle, a new wireless headset that works with the Gear S. Source: Samsung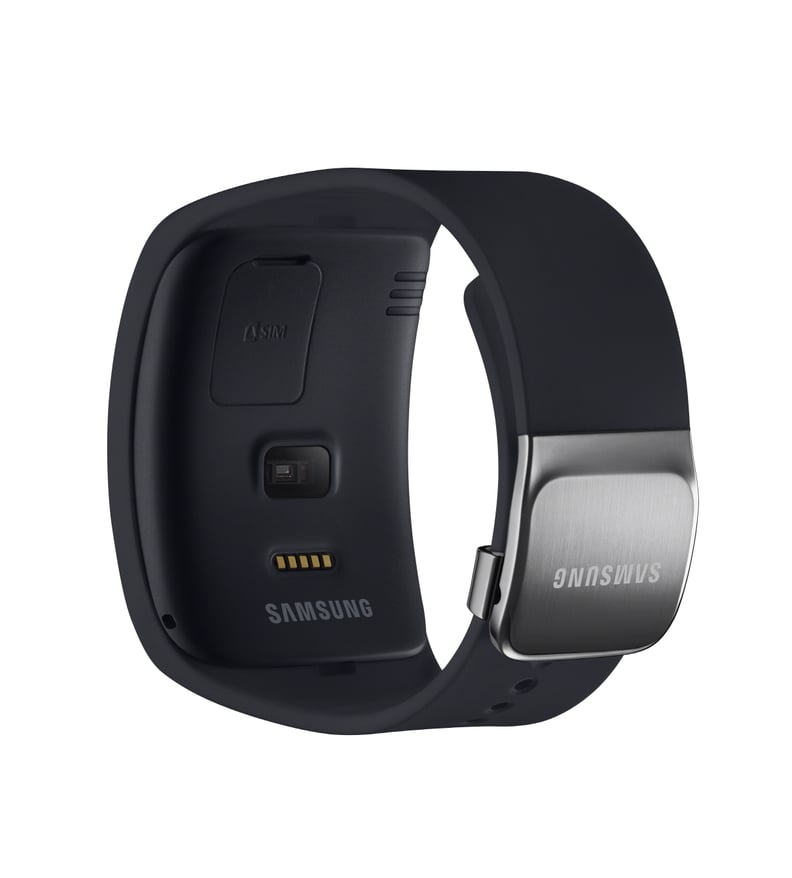 A SIM card can be installed on the rear of the wristwatch. The Gear S has 4GB of internal memory and 512 MB of RAM. Source: Samsung