Healthy Travel Guide For New York City
Heading to the NYC Marathon? Here's the Only Travel Guide You Need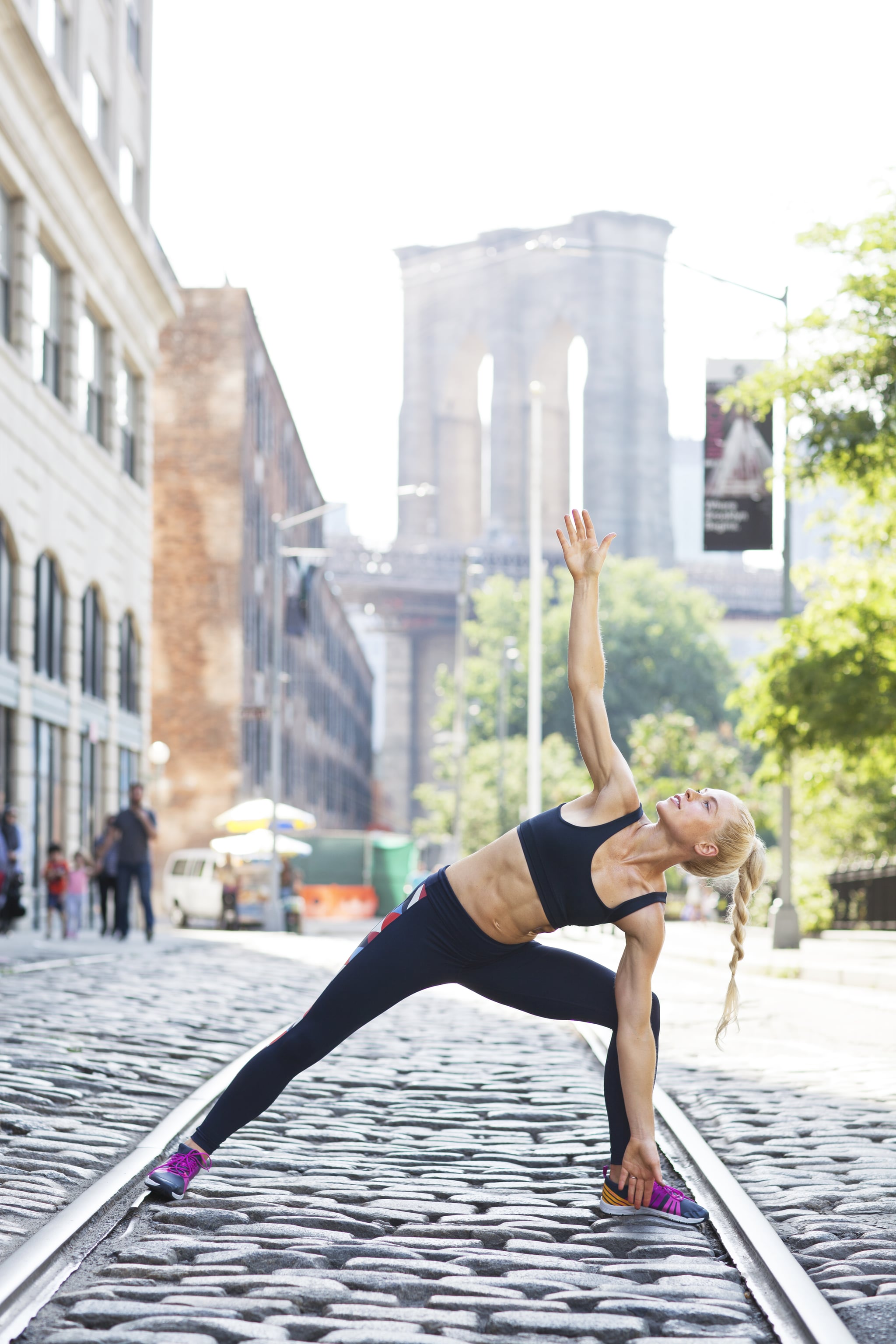 Every year around this time, I start plotting my trip out to New York City to cover the marathon. In my first few years going out there, anything outside of my work schedule seemed to involve drinks, late-night shows, and decadent restaurant eats. It's a lot different these days. The only way I can stay healthy and sane during my annual trip is by throwing in a nice dose of workouts and healthy eats. And that's what's great about NYC: for every cocktail bar pushing its latest artisanal concoction, there's a new boutique fitness studio opening down the block. If you're heading there for the marathon or just have a trip in the works, let this be your guide on moderation while there.
Travel Logistics
Who to fly: When it comes to flying to NYC, JetBlue is hard to beat. Its headquartered in New York, so it's no surprise that there are a lot of flights coming in and out of the area from the airline. JetBlue has flights to and from all major airports (JFK, Newark, and LaGuardia) around NYC, with service between the NYC area and almost 100 US cities and close to 200 flights each day.

Besides the sheer number of flights, passengers will appreciate that JetBlue has the most legroom in coach out of any airline, as well as free snack stations located throughout the plane. Runners: carbo load to your heart's desire! And because running the NYC Marathon is no easy feat, treat yourself on the way home to JetBlue's Mint Class. It's the most affordable first-class option that you'll ever come across and has flat-lie beds, allowing you to lie back and take care of that body that just ran 26.2 miles.

Where to stay: There are a lot of great hotels in New York, but when it comes to marathon weekend, I am partial to Kimpton's Ink48. It's a short walk to the Marathon Expo at the Javits Center, and the hotel has free bike rentals, which will help keep your feet fresh for the race. During marathon weekend, there's lots of fitness-oriented amenities for guests to partake in: iPod Shuffles preloaded with playlists for your run, gluten-, nut-, and dairy-free snacks for your minibar, and running guides who will take you through sightseeing tours.

Perhaps what I love most about the Ink48 is its location; since it's on the west side of the city and just below the park, getting back from the marathon finish line is much easier compared to staying in other areas of Manhattan.
Where to Work Out
The sheer amount of workout studios in NYC is overwhelming. Because of this, I try to focus on trying new studios that don't have locations outside of NYC. If you don't come from a city with a lot of studios, definitely hit up these classic workouts who have their roots in New York: SoulCycle, Barry's Bootcamp, and Flywheel Sports. If those have been checked off of your list, make sure to give one — or all — of these a try.
Where to Eat
When it comes to dinner in NYC, I tend to indulge, but these are some great fast-casual spots for healthy lunches during the day.
Image Source: POPSUGAR Photography / Rima Brindamour