Gluten-Free Thanksgiving Side Dishes
Gluten-Free Eaters, Give Thanks! 10 Healthy Sides
Like us on Facebook
Worried about the gluten-free sides you'll be serving at Thanksgiving this year? No need to stress about that part of the menu! Here are 10 healthy and delicious options that will do your meal justice. Both gluten-free eaters and gluten lovers will enjoy one (or a number!) of these additions to your table.
Sausage, Apple, and Squash Stuffing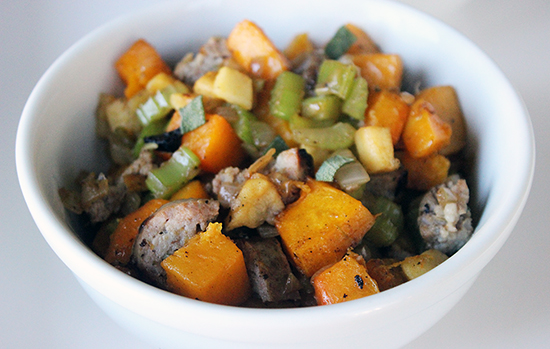 Photo: Lizzie Fuhr
To all the gluten-free gals out there, meet your new favorite Paleo and gluten-free stuffing. Sweet butternut squash stands in for cubed bread, while high-quality sausage and an assortment of other traditional ingredients like apples, celery, and onion round out the recipe.
Creamy Cauliflower Mash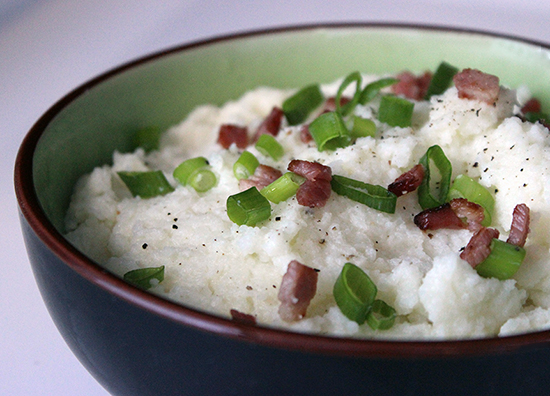 Photo: Lizzie Fuhr
Lighten up your standard, starchy mashed potato side with this Paleo-friendly twist on tradition: creamy mashed cauliflower. This decadent-tasting dish has that texture you're craving, reminiscent of the classic, while the baked-potato toppings like scallions and diced bacon make the dish even more delicious.
Panko-Crusted Green Bean Casserole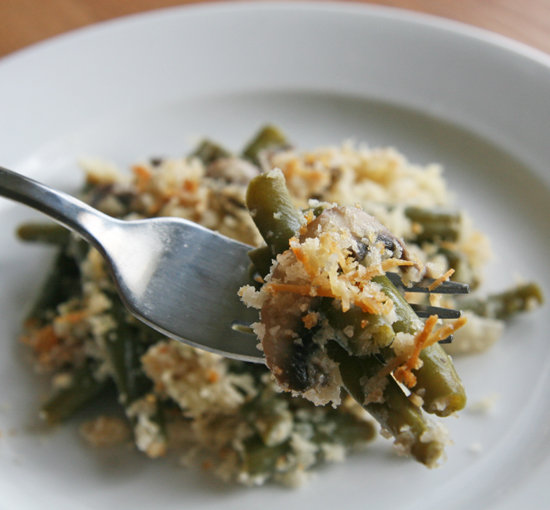 Photo: Lizzie Fuhr
Freshen up your casserole with this healthy green bean recipe from Bobby Deen. Panko and parmesan cheese are a healthier and gluten-free revamp of traditional toppings, while fresh mushrooms up the veg factor. Trust us — this lighter riff on the classic casserole is better than the original. Just be sure you're using gluten-free panko!
Cornbread Dressing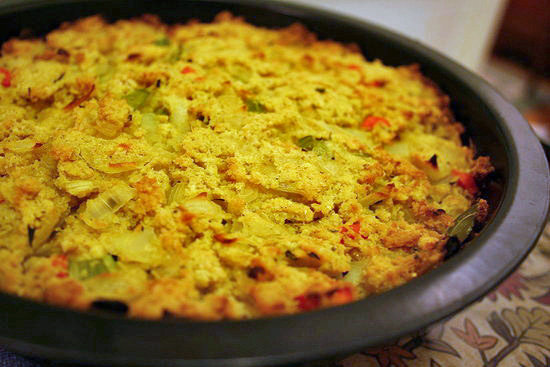 Photo: Anna Monette Roberts
An old family recipe with a gluten-free twist? We're sold on this gluten-free cornbread dressing for our table this year. You'll be happy to know that making this recipe suitable for dairy-free eaters is also a breeze!
Sweet Potato Casserole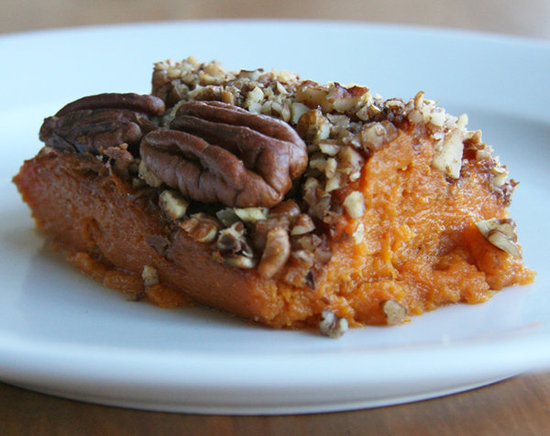 Photo: Lizzie Fuhr
Sweet potato casserole is traditionally gluten-free, and this lightened-up casserole weighs in at under 210 calories per heaping serving. The flavor is familiar, but this recipe is fresh, new, and easy to follow.
Quinoa Stuffing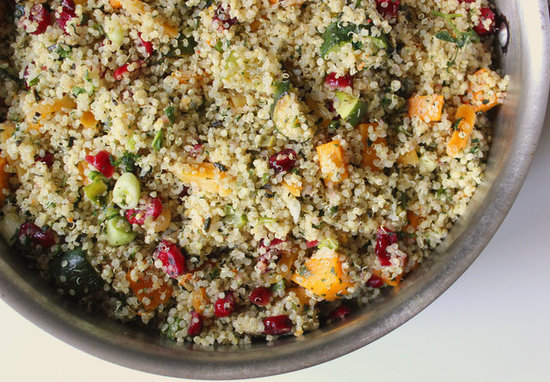 Photo: Leta Shy
Instead of a dense, bready mix to stuff your bird, this quinoa stuffing offers a lighter option loaded with Fall flavors, like butternut squash and dried cranberries. With a kick of mint, this vegan, gluten-free recipe adds unique flavors to complement your Thanksgiving turkey.
Spicy Sweet Potato Salad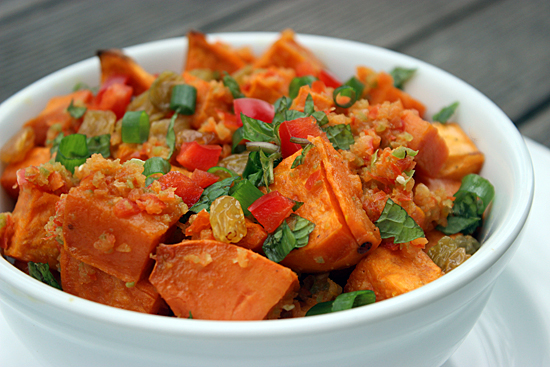 Photo: Lizzie Fuhr
Cooking for a table of guests with dietary restrictions ranging from Paleo to gluten-free and all the way to vegan? This spicy sweet potato salad is the answer to your prayers. High-fiber sweet potatoes lay the base, while an antioxidant-rich red pepper and jalapeño dressing ties everything together. You're going to love these leftovers the day after Thanksgiving.
Balsamic Brussels Sprouts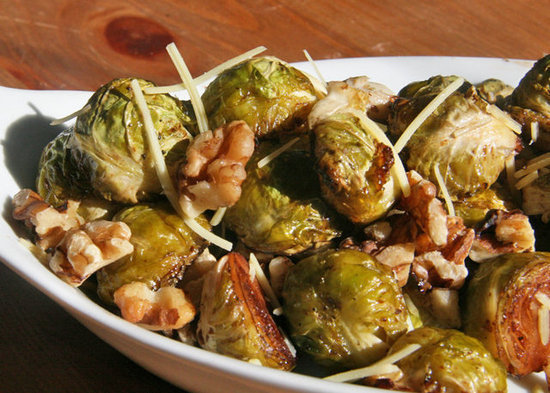 Photo: Lizzie Fuhr
These easy roasted brussels sprouts are not only packed with fiber, they also offer a truly delicious taste — with very little hassle in the kitchen. Adding walnuts provides a boost of healthy fat and the extra crunch you're craving.
Kale and Chard Mix
Photo: Susannah Chen
Instead of a creamed spinach or swiss chard recipe that uses flour, get your green on with this nutrient-rich jewel-toned Winter greens salad. Kale and chard provide the hearty base, while pomegranate arils add some crunch, sweetness, and immunity-boosting power.
Low(er)-Carb Mashed Potatoes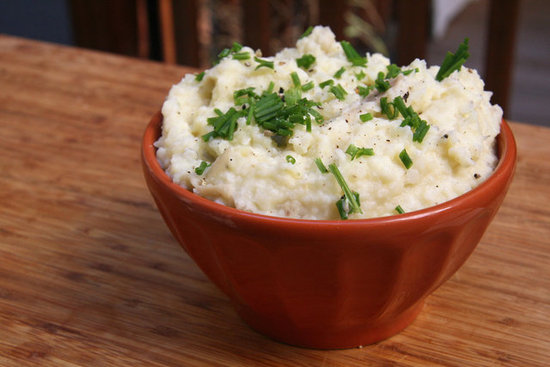 Photo: Michele Foley
Mashed potatoes are gluten-free, but it's butter, cream, and more butter that traditionally give the dish its richness; these ingredients are hardly necessary as long as you have our lower-carb recipe that uses a secret ingredient.
Image Source: