Healthy Green Bean Casserole Recipe
Green Bean Casserole Goes Healthy and It Couldn't Taste Better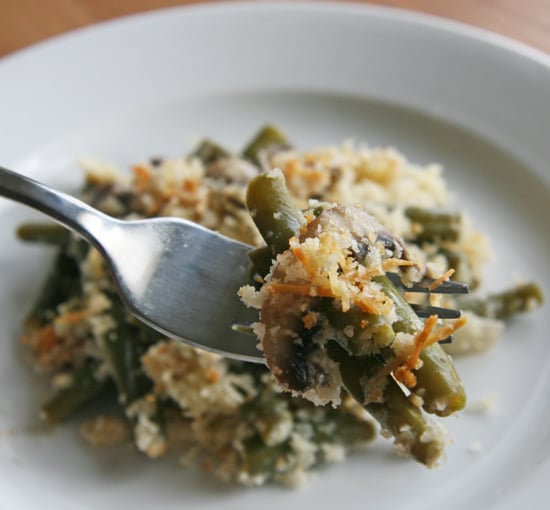 Green bean casserole is one of those comforting and nostalgic recipes that always had a home at my Thanksgiving table. But between the fried topping, condensed soup mix, and canned beans, the original leaves lots to be desired if you're looking for a healthful option. In this fresh and tasty casserole from Bobby Deen's show Not My Momma's Meals, panko and parmesan cheese offer a healthier revamp of french-fried onions, and the addition of mushrooms ups the veg factor. I'm thrilled to say it: this significantly less weighty version is even better than the original.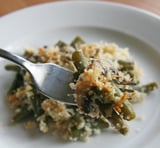 Ingredients
Nonstick cooking spray, for greasing
5 cups sliced green beans
4 1/4 cups low-sodium chicken broth
1 cup panko breadcrumbs
1 cup grated parmesan
1 tablespoon plus 2 teaspoons canola oil
1 1/2 cups diced onions
2 cups sliced baby bella mushrooms
2 tablespoons cornstarch
1/4 cup water
1/2 cup reduced-fat sour cream
1/2 teaspoon House Seasoning, recipe follows
1/2 teaspoon salt
For house seasoning:
1 teaspoon kosher salt
1/4 teaspoon garlic powder
1/4 teaspoon black pepper
Directions
Preheat the oven to 350°F. Spray a 1 1/2 quart baking dish with nonstick spray.
Boil the green beans in the chicken broth for about 20 minutes, and then drain, reserving 1 1/2 cups of the chicken broth.
Meanwhile, mix together the breadcrumbs, parmesan, and 2 teaspoons of the oil in a small bowl. Set aside.
Heat the remaining 1 tablespoon oil in a large skillet over medium heat. Saute the onions until translucent, 2 to 3 minutes, and then add the mushrooms and continue to cook for 3 to 4 minutes longer. Remove from the heat.
Pour the reserved 1 1/2 cups chicken broth back into the pot that the green beans boiled in, and bring to a boil. Add the green beans to the skillet with the mushrooms and onions.
While that is coming to a boil, combine the cornstarch and 1/4 cup water in a small bowl to make a slurry. Slowly pour the slurry into the boiling broth, whisking constantly as it thickens, about 2 minutes.
Pour the thickened mixture over the green beans, mushrooms, and onions. Add the sour cream, house seasoning, and salt. Stir well.
Pour into the baking dish and sprinkle with the panko-and-cheese mixture. Bake until the casserole is hot, about 10 minutes, and then broil until the breadcrumb topping is slightly browned, 1 to 2 minutes.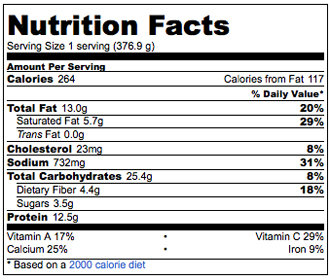 Information
Category

Side Dishes

Cuisine

North American

Yield

6 servings