How to Do a Reverse Smoky Eye
Modernize Your Smoky Eye With This Edgy Twist
As POPSUGAR editors, we independently select and write about stuff we love and think you'll like too. If you buy a product we have recommended, we may receive affiliate commission, which in turn supports our work.
We love rocking a smoky eye, but the latest twist on the look takes the classic style from sexy to smoldering. Allure spoke to makeup artist Lucia Pieroni about getting the runway-inspired look.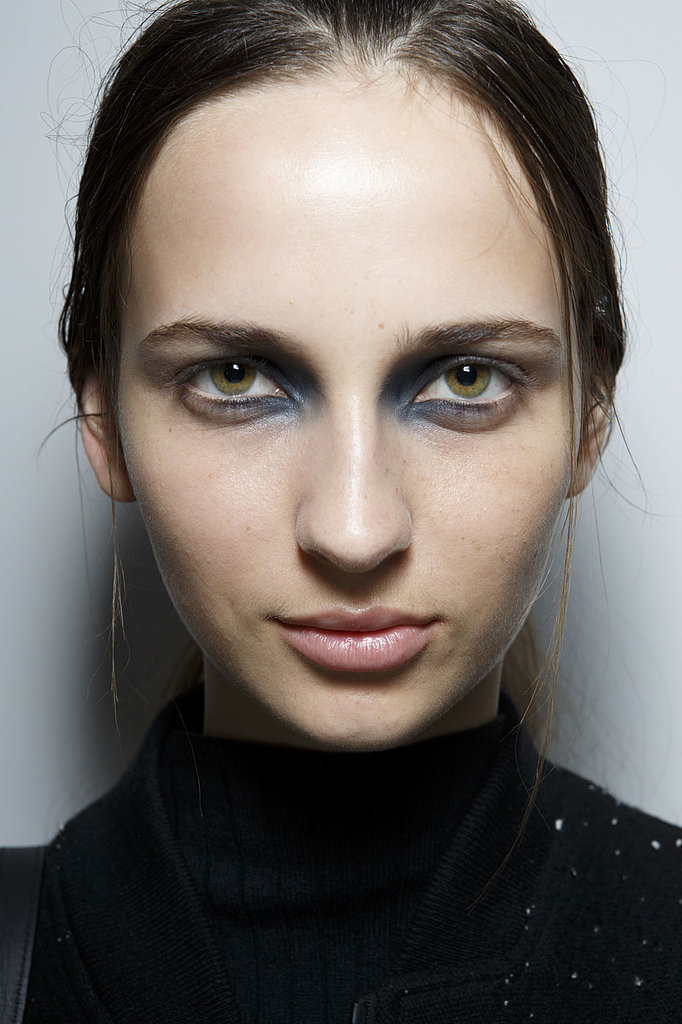 We've all heard of the accidental smoky eye (when you don't do such a great job of removing your eye makeup — or have one of those nights where you skip that step entirely — and then wake up with perfectly smudgy liner). But at the Giles spring 2015 show in London this week, the models wore an unusual variation on the classic: an inverted smoky eye.
The idea was to create a look of "weird beauty," said makeup artist Lucia Pieroni, something with elements that should be pretty but aren't. Giles Deacon's inspiration for the show, after all, was a Victorian lady who has fallen from grace and is headed to a disco with a diversion through the jungle. (Got that?) Pieroni started by sliding the dark shadows (MAC Eye Shadows in Soot and Black Tied) to the inner corners of the eyes, leaving the lids clean from the center out. The brows were brushed up, and lashes were left curled but bare of mascara.
Another edgy statement came from British nail guru Marian Newman, who painted the first third of the models' nails green (with MAC Nail Lacquer in Deep Sea) and the top two-thirds black (with MAC Nail Lacquer in Nocturnal). "It's not a luna [aka half-moon] manicure," she said, waving the foam animal paw with painted claws that was sent out with invites to the show. "It's a motif taken from the clothes, but it actually reminds me of [drug] capsules."
More from Allure:
How to Create a Smoky Eye
Burberry Proves the Red Lip Is Here to Stay
Marc Jacobs's Models Went Barefaced on the Catwalk