What Does Becky With the Good Hair Mean?
Why "Becky With the Good Hair" Has a More Powerful Meaning Than Infidelity
Being the other woman is never fun or a good idea — but being the other woman when it comes to Beyoncé's marriage is reputation suicide. Enter scene: Rachel Roy.
Let's back up — at the 2014 Met Gala, Solange Knowles notoriously hit Jay Z in an elevator. Allegedly, she was pissed that Jay Z had cheated on her sister, Beyoncé, with fashion designer Rachel Roy. Jay Z worked with Rachel when she was the creative director of Rocawear, a clothing company Jay Z launched with Rachel's now-ex-husband, Damon Dash.
The elevator incident went viral but had died down in the media until Saturday, April 23, when HBO released Beyoncé's new visual album, Lemonade. In it, Beyoncé sings, "He only want me when I'm not there / He better call Becky with the good hair." While it has not been confirmed that Lemonade is biographical, it certainly seems to shed light on her marriage to Jay Z and its rumored problems.
After the album debuted, the internet was teeming with conspiracy theories. We knew there was a "Becky" (the other woman), but we didn't know who she was.
Then, Rachel inserted herself into the situation by sharing a photo on Instagram captioned: "Good hair don't care, but we will take good lighting, for selfies, or self truths, always. Live in the light #nodramaqueens." This clue about having "good hair don't care" caused people to point fingers at Rachel for being Becky.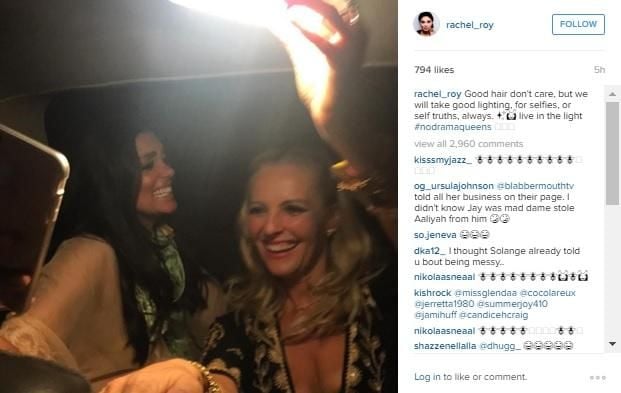 She also shared a more positive photo that said: "All you shld seek in friendships is love & no judgement, growth & laughter." Rachel eventually made her Instagram private and tweeted: "I respect love, marriages, families and strength. What shouldn't be tolerated by anyone, no matter what, is bullying, of any kind."
The BeyHive (as Beyoncé's fans call themselves) is swarming Rachel's social media accounts with spiteful comments as well as lemon and bee emoji.
Sleeping with someone else's husband is definitely in the wrong, but so is cyberbullying.
Some people believe there is a bigger issue surrounding "Becky." Rather than trying to figure out if Becky is or isn't Rachel, they point out that there are racial undertones to Beyoncé's lyrics. The inference is that "Becky" has desirable, sleek hair, while Beyoncé has a naturally curly texture under the wigs and without hot tools. It sheds light on an overall picture when it comes to how black coarse hair is perceived, since the former is "good" and the latter is assumed to be the opposite.
"The fact that people are trying to figure out who Becky is defeats the purpose of this lyric — and the whole performance to me," said social media editor Larissa Green, who is biracial. "Being pushed aside because our hair is coarse and doesn't follow a straight and narrow is something very real to me. I think her lyric means: if you can't handle it, then that's no one's problem but your own."
Black journalist Bené Viera shared a lengthy Facebook post on the matter. Some highlights include:

"And if you're writing that it's mainly about infidelity and marital strife w/Jay you've missed the mark. Let's start here though: Beyoncé made #Lemonade for Black women first, then Black people as a whole. . . . If you didn't know what 'call Becky with the good hair' meant without Googling, put your pen down. . . . Put aside the gossip for a second to dig a bit deeper. . . . This is about so much more than her working through a man cheating. It's about black womanhood and that journey of coming into your own. Deciding that love is transformative. Telling us, black people, black women, that with love and hope we will win. Realizing our power as women. And healing. Lemonade tackles lineage, generational curses, black feminism, the work women put into relationships, how anger can fuel greatness, sisterhood, loving ourselves, reconciling with being a daddy's girl while simultaneously being disappointed with how he did your mom, power, healing, freedom. Black women ALWAYS being given lemons but making lemonade. Don't reduce it to a story about infidelity. Please."
Read into it what you will — these are just theories and speculations until Beyoncé goes on the record to officially explain it.
Update June 30, 2017:
JAY-Z recently released a new album 4:44 on which he addresses "Becky." In his song, "Family Feud" (a telling name itself), he included the lyrics: "Yeah, I'll f*ck up a good thing if you let me / Let me alone Becky!"
The couple recently had twins, so from the outside it looks like things are OK and Becky is out of the picture. But again, interpret as you please.