Did Jay Z Cheat on Beyonce?
Beyoncé Debuts Lemonade, Ends Up Serving Tea Instead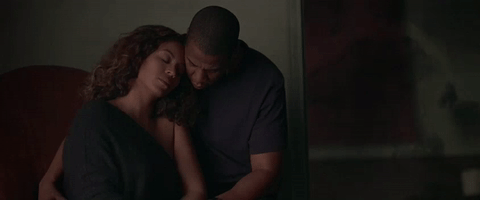 During the premiere of her visual album Lemonade on Saturday night, Beyoncé let fans in on some very personal moments between her and her husband, Jay Z. Judging from a lot of the imagery throughout the film, plus the very telling lyrics — including "Today I regret the night I put that ring on" and "You try this sh*t again, you gonna lose your wife" — it seems as though the couple, who recently rang in their eighth wedding anniversary, are no strangers to a marital rough patch.
Rumors have persisted about the state of their relationship (remember all those divorce rumors back in 2014?), and this isn't the first time that Beyoncé has alluded to any strife. But with Lemonade, it seems that she pretty much confirms that at some point, Jay Z was unfaithful, she was very pissed, and although things may not ever be the same between them, she has worked to forgive him.
Less than 10 minutes into Lemonade, Beyoncé asks straight up, "Are you cheating on me?" During the reggae-inspired "Hold Up," Beyoncé appears to float through the streets in a yellow Roberto Cavalli gown, wielding a baseball bat and asking, "What's worse, looking jealous or crazy?" She alludes to smelling his "secret" and implores him to imagine a world in which he never rose to fame, accumulated wealth, or "had the baddest woman in the game up in your sheets."
On the rock-tinged "Don't Hurt Yourself," which features The White Stripes' Jack White, Bey screams, "Who the f*ck do you think I am? / You ain't married to no average b*tch, boy." In one section of the movie, Beyoncé plays the piano while singing the ballad "Sandcastles," a song that could also be sung from the perspective of her mother, Tina Knowles, and Jay makes a cameo, laughing, cuddling, and lying next to his wife in bed. Lyrics include "We built sandcastles that washed away / I made you cry when I walked away."
"Every diamond has imperfections," Beyoncé croons in the track "All Night," singing about building back her trust in someone and musing that "With every tear came redemption, and my torturer became a remedy." We may never know exactly what has gone on in Beyoncé and Jay Z's marriage — not that we're really entitled to that information — but Lemonade is definitely the closest we've ever gotten to going inside one of the most high-profile and private celebrity relationships ever.