Much has been said about how Rihanna's Fenty Beauty foundation is groundbreaking for its diverse shade range. A lot of attention has been paid to how she catered to people with deeper skin tones — a population notoriously underserved by makeup brands. Perhaps you haven't realized, however, that the lighter shades among the 40 were made to be inclusive as well. Now, new reviews from albino women have shed light on just how much Rihanna thought of all people with this launch.
Mississippi-based Krystal Robertson posted photos of herself trying out the Fenty Beauty Pro Filt'r Foundation ($34) on her Instagram and the closed Facebook group BeautyBook. "I had a small freak out today...my neck and face finally match each other," she wrote, adding that she was wearing the Fenty Beauty Pro Filt'r Instant Retouch Primer ($32) as well. "Didn't realize I was this light....loving the feeling of the foundation so far tho. Also I'm albino I have no pigment so it be hard to get a nice match...always end up orange. Now, I'm rethinking all those times I went orange." She wore shade #110 and told us that, because she lives an hour away from Sephora, she figured out her color by looking at reviews before ordering online.
"It actually means the world that she not only made diverse shades for all women of color but she brought us all together. When I was in Sephora all the women were doing their swatches and complimenting each other — all skin tones — and giving advice," Krystal told POPSUGAR.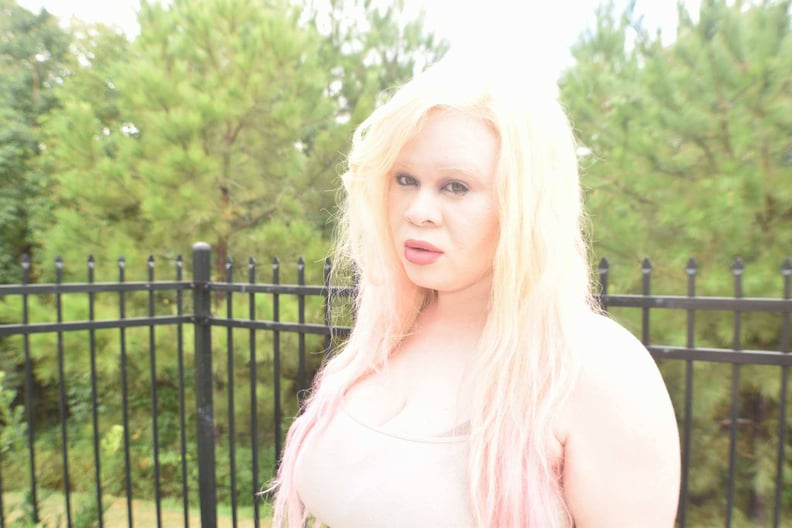 Over on Instagram, she wrote, "It's a new world great job @badgalriri 😍😍😍😍." Then, the megastar herself shared Krystal's post right on her Instagram Stories with a kissing emoji. Fenty Beauty also shared her photo on its Instagram Stories with the hashtag #THENEWGENERATIONOFBEAUTY. "I felt that me finally being myself was worth it! Those pictures had no filter," Krystal reacted. "Fenty Beauty reached out to me which was a nice gesture, and I felt the real genuine pride they have for the brand! They know they're killin' it!"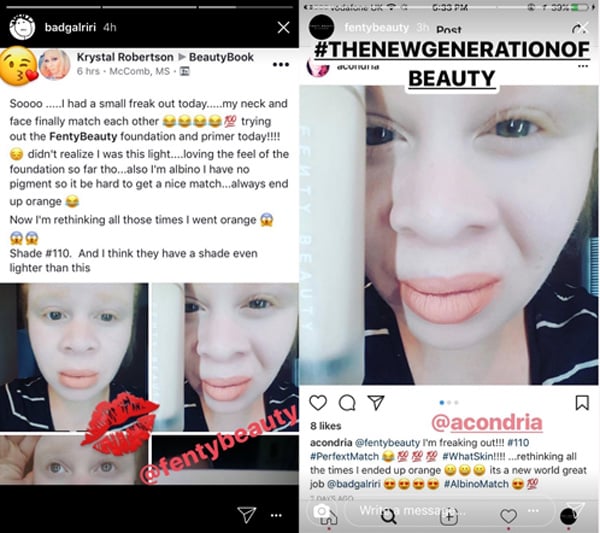 That's not the only review that has come from someone with albinism. UK-based Frey Prevett posted a comprehensive review of shade #100 (the lightest) on her Facebook as well, praising the "damn good shade range" and claiming that "this is the first ever foundation I've had that matches the color of my neck!" They kept updating how the foundation was working as time passed (even through falling asleep with it on) and told POPSUGAR they were so detailed because "I have a couple of friends who also have albinism, and lots of other friends who are pretty pale, and they'd asked me on an earlier post to review what I thought of it."
"Out of the dozen or so foundations I've purchased in the past couple years, only one of them has been wearable at all," Frey said. "And although a lot of high-end products have lighter shades, it's frustrating to be expected to pay triple or more what a drugstore foundation would be because there are no shades that match you."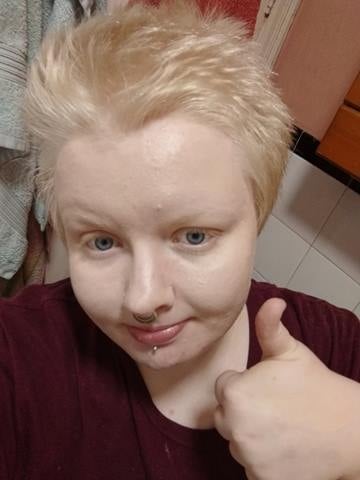 They added that, upon hearing about the Fenty Beauty launch, they were skeptical because they thought the foundations would all be medium/tanned shades as usual and "nothing for either end of the spectrum." "I was definitely pleasantly surprised when I saw pictures of the shade range and found out it wouldn't cost the earth too!" Frey said.
Consider this yet another testament to Rihanna's commitment to celebrating diversity — she did not come to play. There's a reason Fenty Beauty was in development for two years, and we have to say it was well worth the wait.