Allow the BET Awards to Serve as Some of the Best Manicure Inspiration of 2021
Celebrities really brought their beauty A-game to the 2021 BET Awards, giving us some of the best hair and makeup looks of the year — and you can bet they didn't disappoint when it came to their manicures, either.
No longer a tiny afterthought, these days manicures often take the limelight of any look. At this year's BET Awards there was no shortage of inspiration for our next nail appointment. Crystals were the main trend from the red carpet with the theme being the more the better (which is a personal motto of mine when it comes to manicures), thanks to Saweetie, Taraji P. Henson, and Queen Latifah. Summer was also on Bri Steves's and Coi Leray's minds with brightly colored, on-trend manicures that caught our eyes.
Read on to check out all of the best and most creative celebrity manicures from the 2021 BET Awards.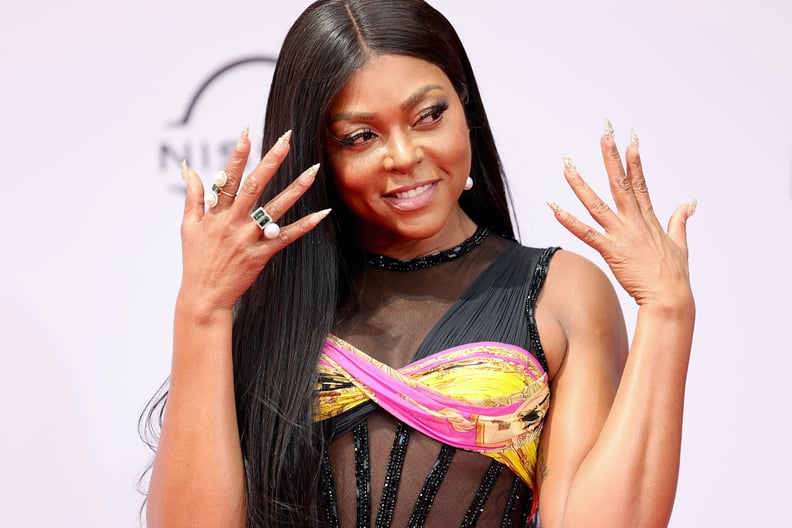 Taraji P. Henson's Crystal Stiletto Nails at the 2021 BET Awards
Taraji P. Henson served up some of the best crystal stiletto nails we've seen in a very long time. If you're looking for an epic new set, consider this your sign to get all the crystals you can possibly dream of.
Lil Nas X's Minimalist White Manicure at the 2021 BET Awards
Lil Nas X always brings it on the nail-art front, and the BET Awards were no different. This plain white manicure might've been minimalist, but that was to keep all the attention on this incredible floral crystal-embellished suit.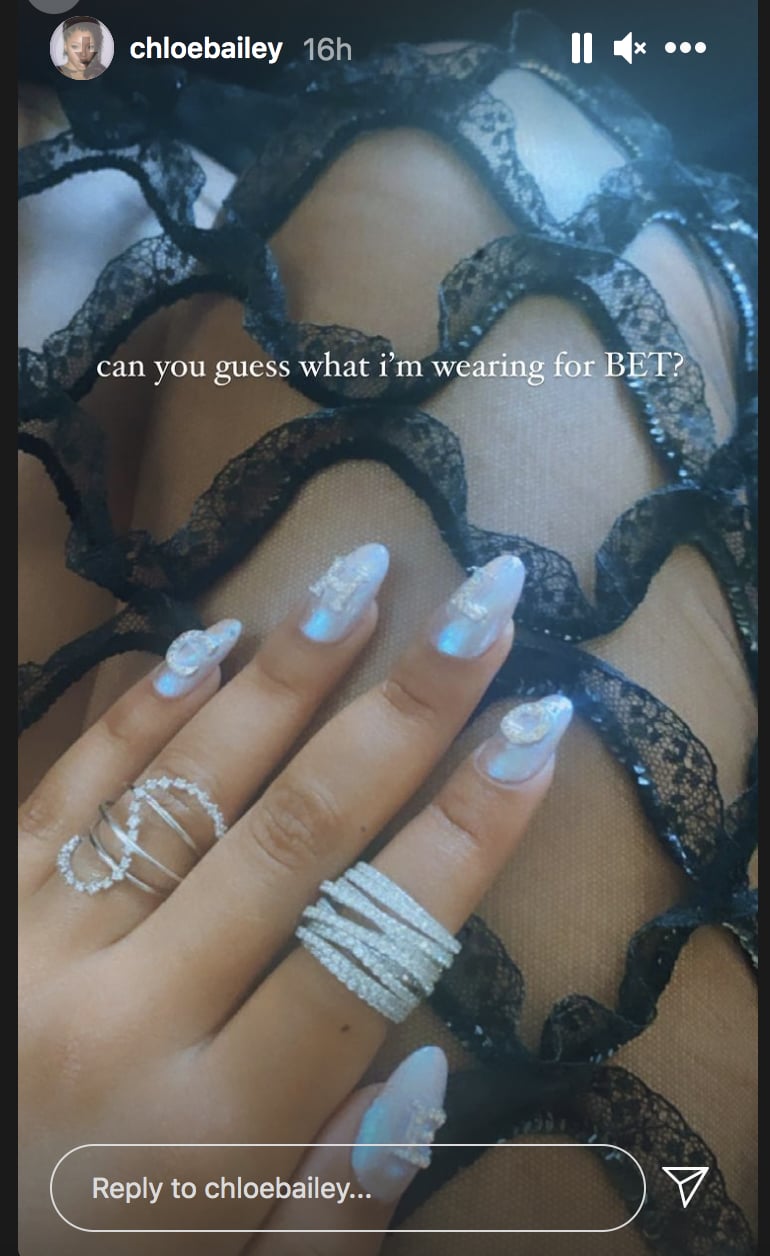 Chloe Bailey's Crystal-Embellished Name Manicure at the 2021 BET Awards
OK, so we now absolutely want to get our names written on our names in 3D crystals after seeing Chloe Bailey's red carpet manicure. Aside from the sparkly initials, we're also in love with the pearlescent blue/purple hue underneath.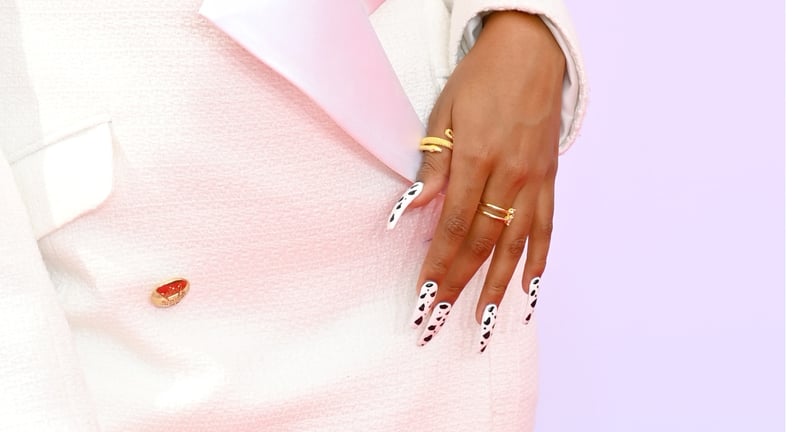 Bri Steves's Animal-Printed Manicure at the 2021 BET Awards
Bri Steves officially made us want to try this fun cow-print design on our nails immediately.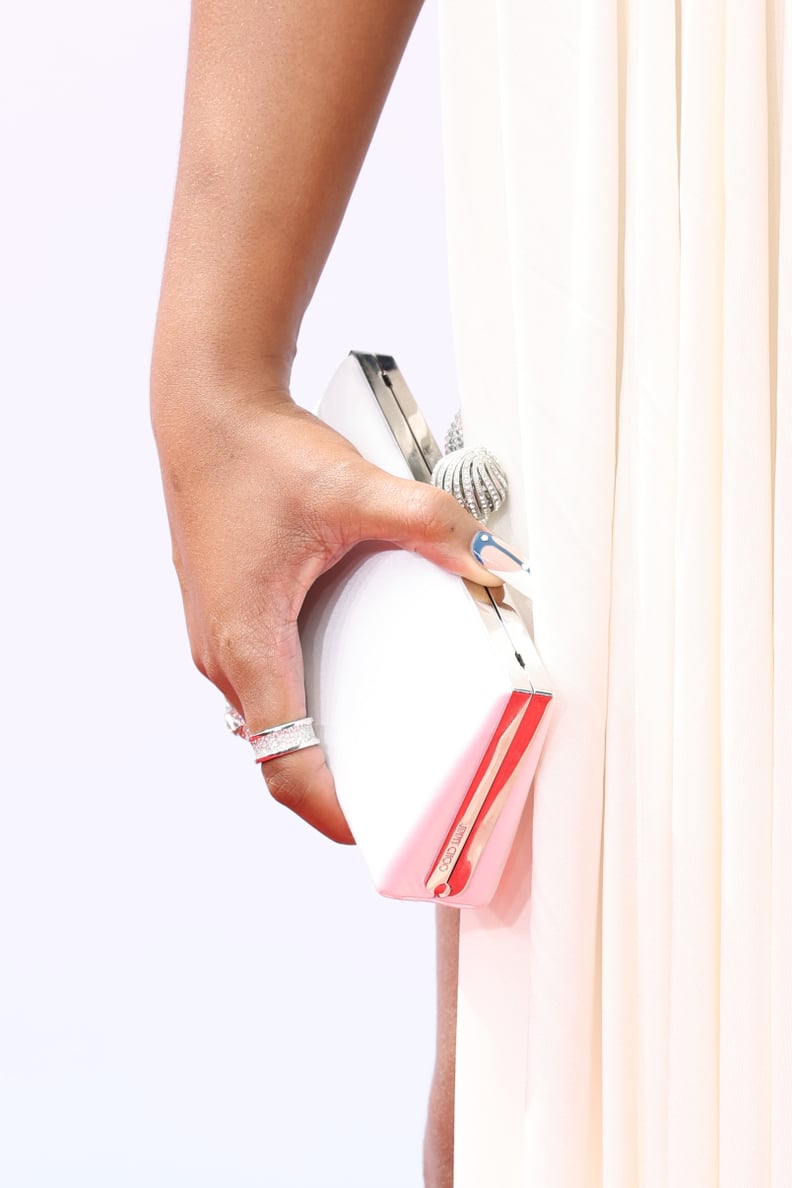 Megan Thee Stallion's French Manicure at the 2021 BET Awards
Megan Thee Stallion showed us exactly how to do a french manicure with a twist, incorporating a blue reverse french and a minimalist line down the middle, topped off with crystals for a final, dazzling touch.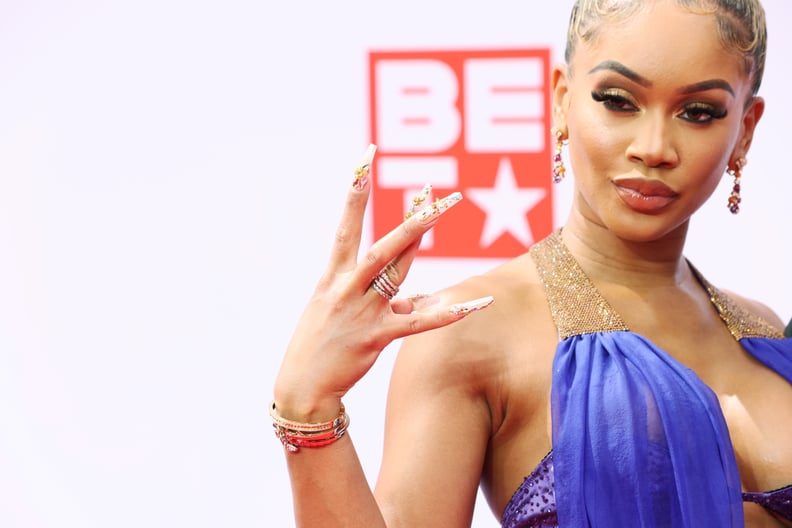 Saweetie's 3D Crystal-Embellished Manicure at the 2021 BET Awards
Saweetie's nails are possibly the most intricate of the night, featuring dozens of crystals and 3D gold flower accents. They're truly a work of art.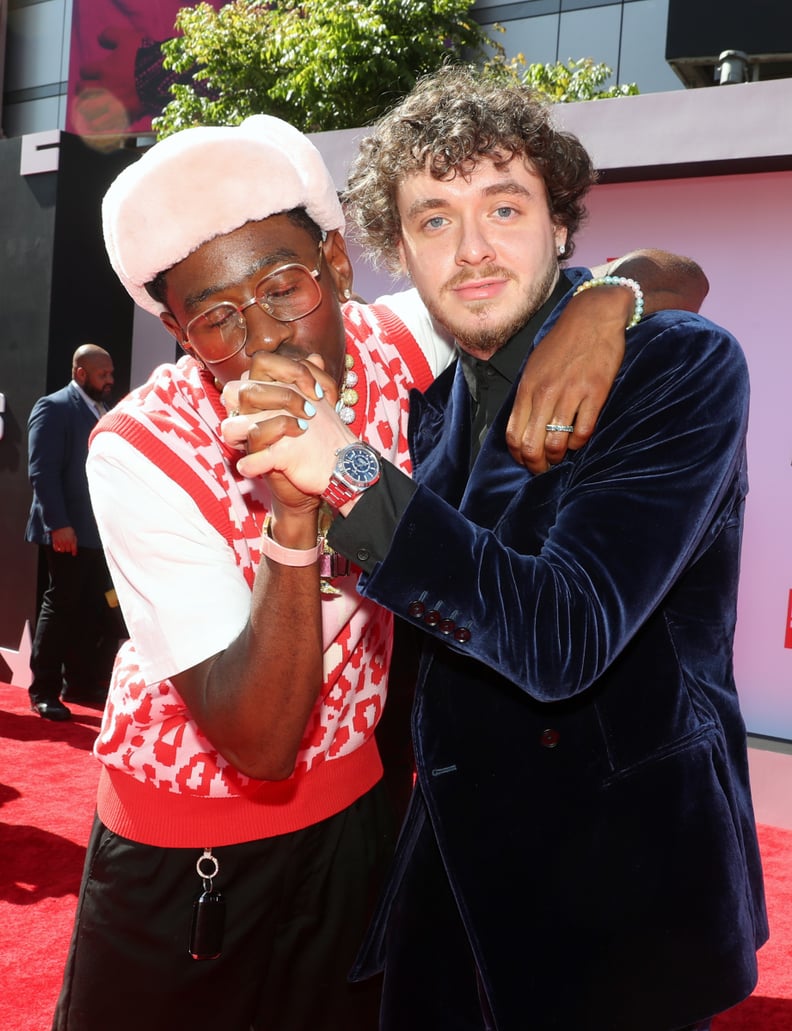 Tyler, the Creator's Baby-Blue Nails at the 2021 BET Awards
Thanks to Tyler, the Creator and his minimalist baby-blue set, we now know the polish shade we're getting the next time we jump into the salon chair.
Coi Leray's Multicolored Swirl French Manicure at the 2021 BET Awards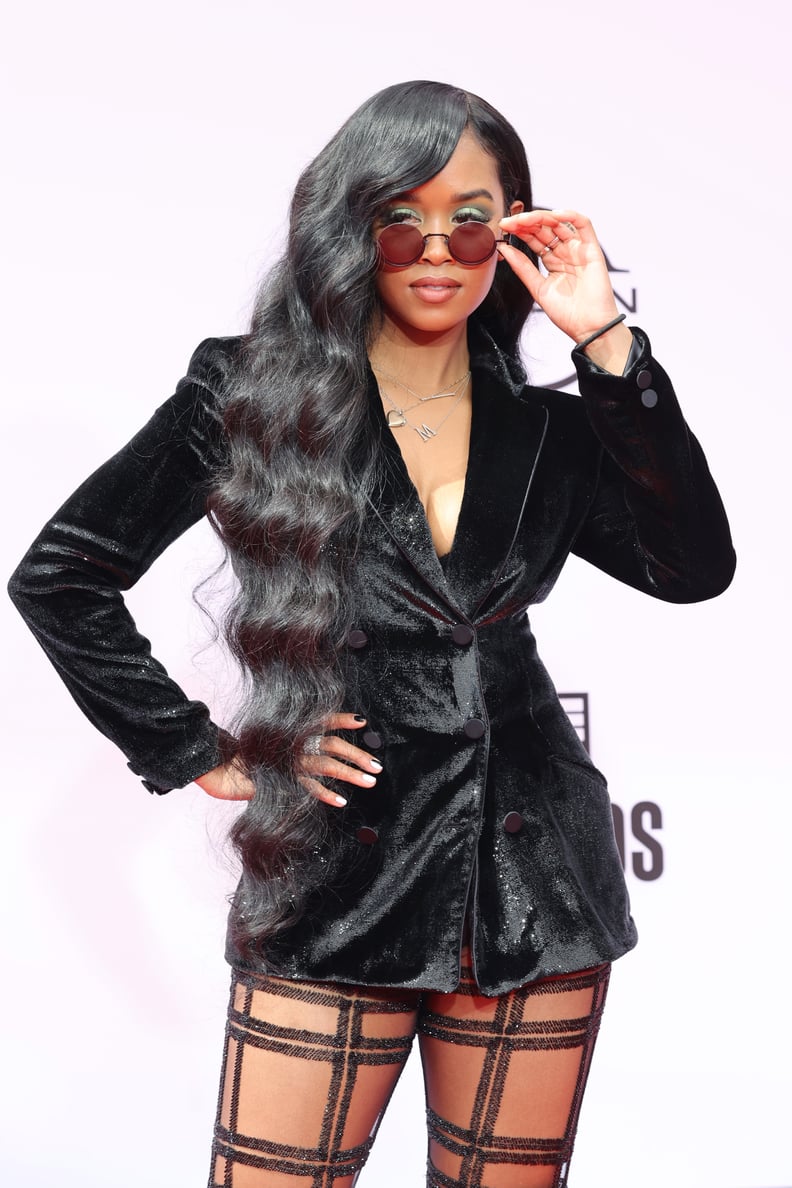 H.E.R.'s Black and White Manicure at the 2021 BET Awards
H.E.R. may have gone for a vibrant green eyeshadow, but she kept her manicure subtle with a black and white design.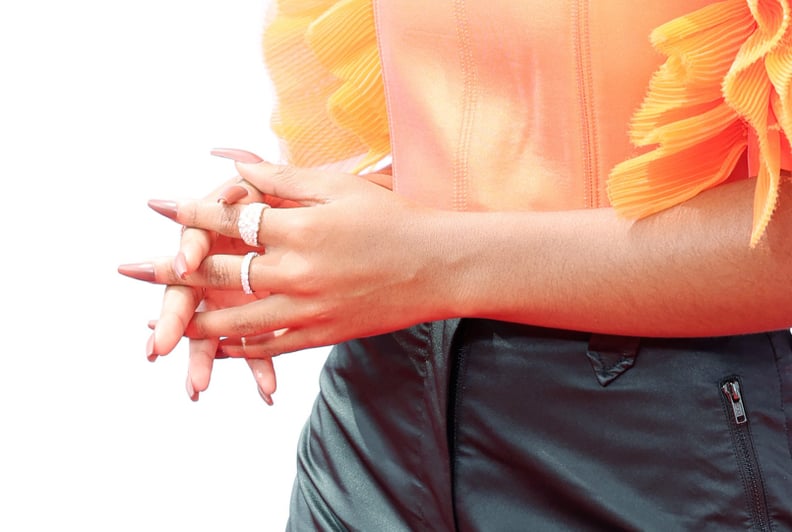 Marsai Martin's Neutral Matte Manicure at the 2021 BET Awards
Proving that sometimes simplistic is the prettiest way to go is Marsai Martin and her long neutral matte acrylic nails.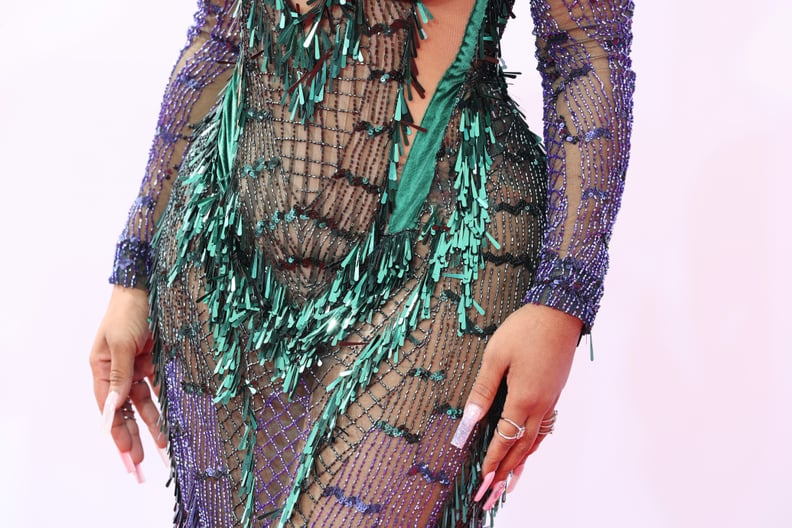 Yung Miami's Jelly Pink Glitter Manicure at the 2021 BET Awards
We've got jelly pink glitter on our mind after spotting Yung Miami's super-long set.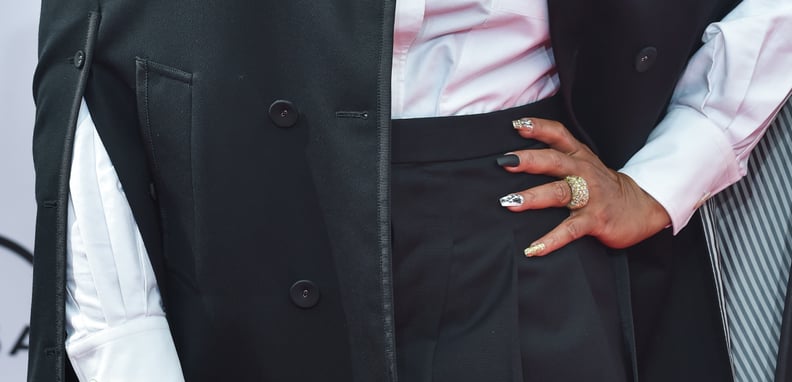 Queen Latifah's Black and Gold Nails at the 2021 BET Awards
Queen Latifah's nails gave us just about everything we could possibly dream of: matte black, crystals, gold glitter, and more crystals. We can't get enough of this beautiful set.