10 Makeup Bags That Pro Travelers Love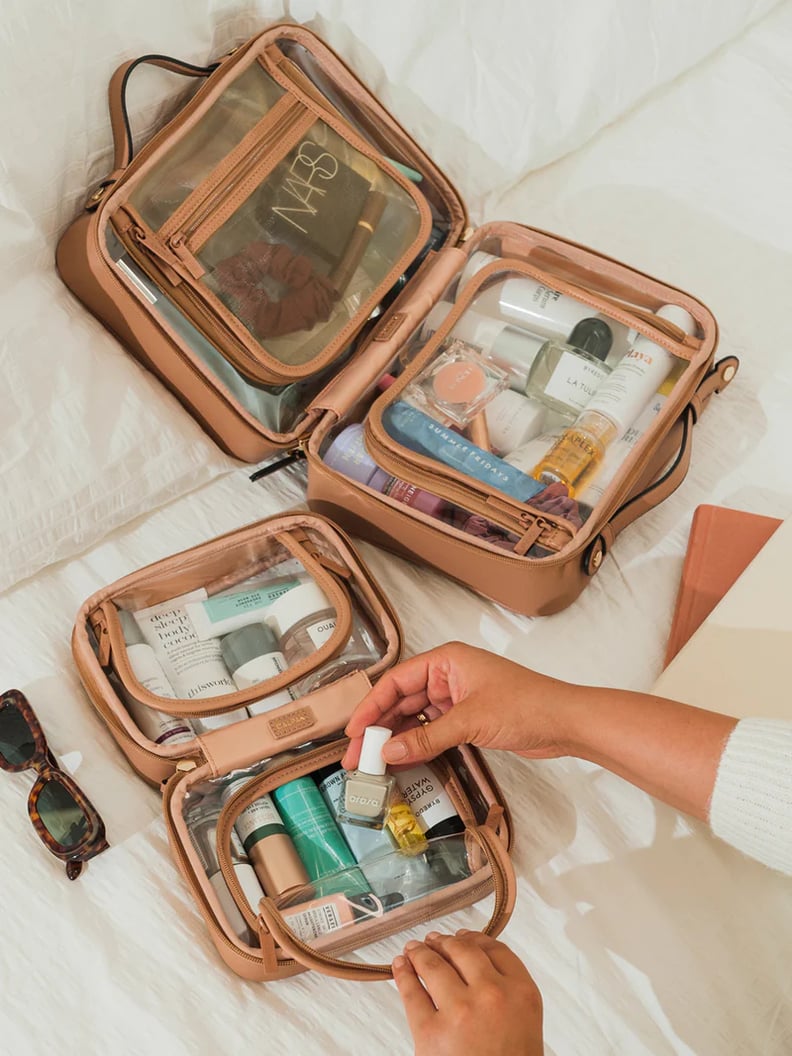 Calpak
freepeople.com
As POPSUGAR editors, we independently select and write about stuff we love and think you'll like too. If you buy a product we have recommended, we may receive affiliate commission, which in turn supports our work.
Vacation season is in full swing, and when it comes to packing efficiently and in style, we got you covered. Whether you're going on a two-week global adventure or a quick weekend getaway, knowing what to pack and how to pack it is truly a challenge, especially if you're prone to overdoing it. From the best carry-on suitcases to the most useful personal-item bags that can store it all and fit underneath your seat, we found the best of the best when it comes to travel essentials. But, the one thing that often gets overlooked is a travel makeup bag. We know there are plenty of options to choose from, and that's why we narrowed it down to the top 10 picks that prioritize organization, durability, and of course, style.
To truly help you cut the clutter and pack efficiently, we rounded up the best travel makeup bags on the market. These smart choices will help you store all your beauty essentials, including your must-have skin-care picks, go-to hair products, and all your makeup, including a few extras. Some of these travel makeup bags prioritize depth so you can store everything upright; other options let you hang the bag, so you can keep your counters cleared off and see everything you packed. Plus, we found a few that are also clear and TSA-compliant. There's no doubt you'll find your match, so shop our top picks ahead.
— Additional reporting by Krista Jones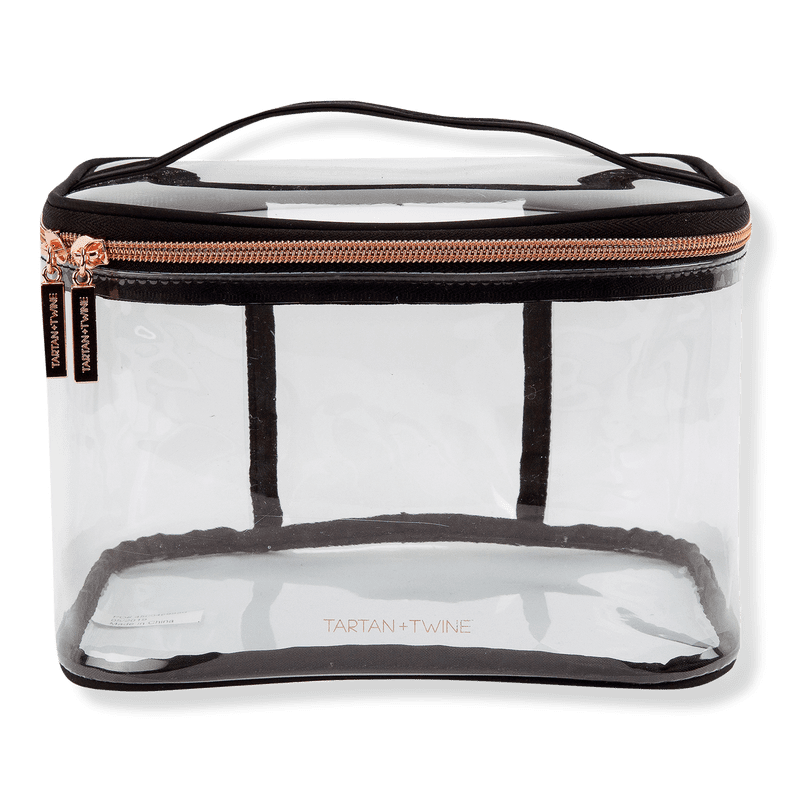 Best Clear Train Case Cosmetics Bag
Tartan + Twine Basics Clear Train Case ($14)
If you're looking for a cosmetics bag that's functional and affordable, this Tartan + Twine Basics Clear Train Case is a must for all your travel needs. Its spacious main compartment boasts depth that lets you store most of your products standing upright. The completely clear design is not only great for you to be able to see everything, but it's also TSA-compliant.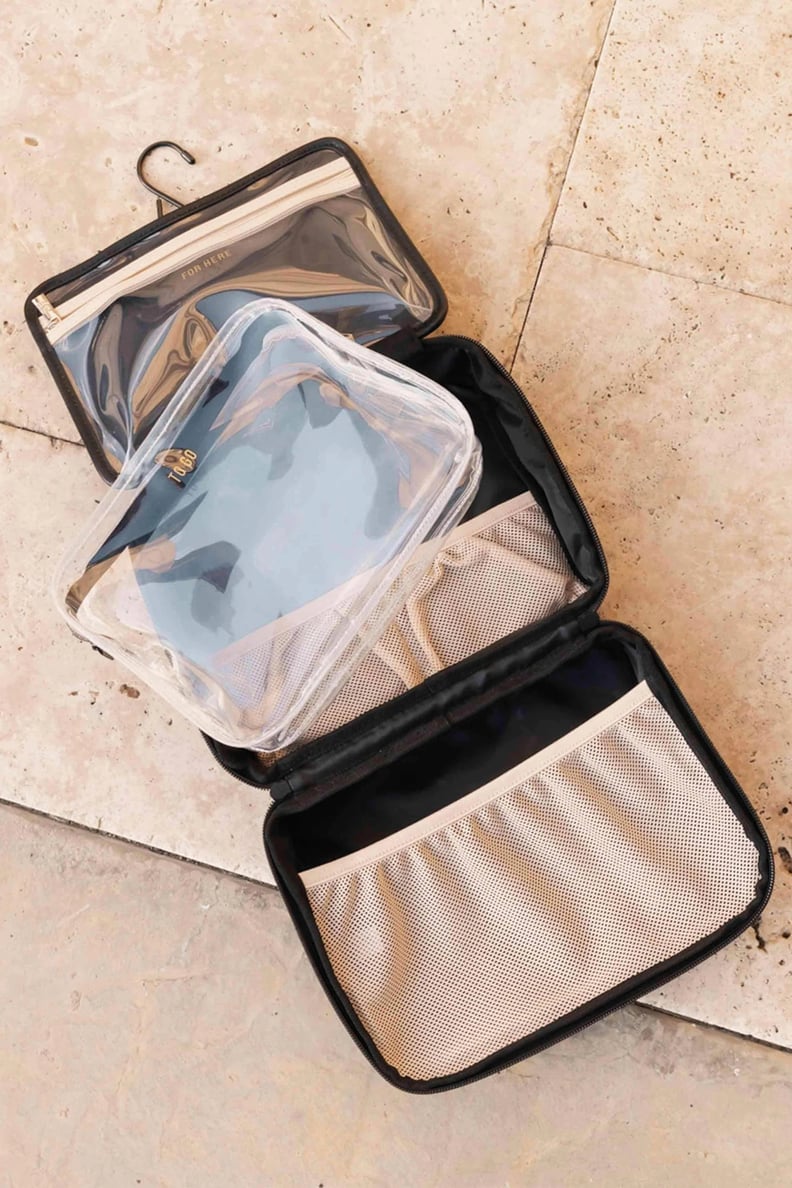 Best Stylish Hanging Cosmetic Case
Béis The Hanging Cosmetic Case ($68)
The Hanging Cosmetic Case from Béis is a sleek option for those who like to prioritize convenience. The interior features three sections, including two with mesh pouches, one clear zippered section, and a TSA compliant clear to-go pouch for all your liquids. Although it looks slim and streamlined, this cosmetics case can carry it all, whether it's your skin-care routine, makeup, or hair must haves. You can this anywhere in your hotel or bathroom for convenience.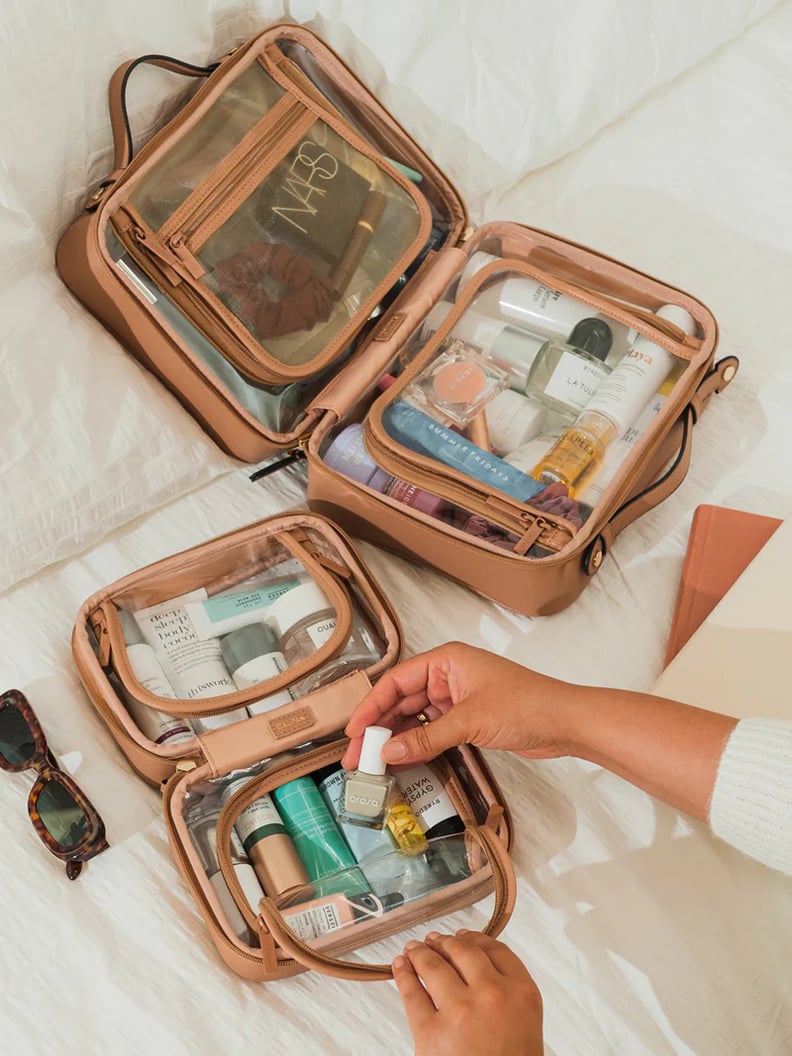 Best Clear Cosmetics Cases
Calpak Mini Clear Cosmetics Case ($75)
Calpak's Clear Cosmetics Case has gone viral for its undeniably chic look and its practical and functional design. It's a durable, water-resistant cosmetic bag that lets you see all your beauty essentials and keep them organized. The Clear Cosmetics Case has two spacious zippered compartments and two carrying handles for easy and secure transport. Plus, it has a mesh interior zippered pocket for small items as well. It is eight inches wide, four inches tall, and six inches deep.
If you're looking for something bigger, the Medium Clear Cosmetic Case ($85) is 9.75 inches wide, five inches tall, 7.5 inches deep and the Large Clear Cosmetic Case ($95) is 11.5 inches wide, 5.25 inches tall, nine inches deep.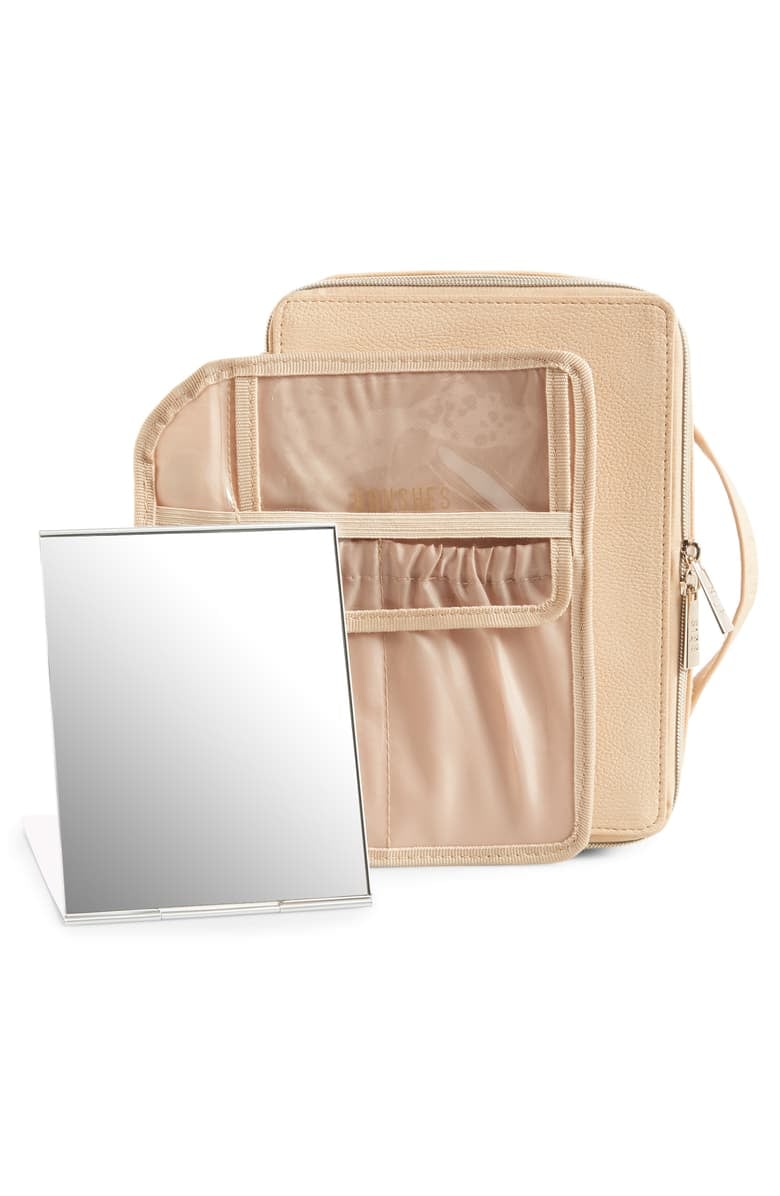 Best Travel Cosmetics Bag With Structure
Béis The Cosmetics Case ($68)
Béis's The Cosmetics Case features a removable sleeve that you can use to store and access your makeup brushes without having to dump them all on your countertop. This cosmetics case has a depth of seven inches, which allows you to have some products stand upright and take up less space. Plus, it even comes with a mirror, and who doesn't love that? It comes in black and beige.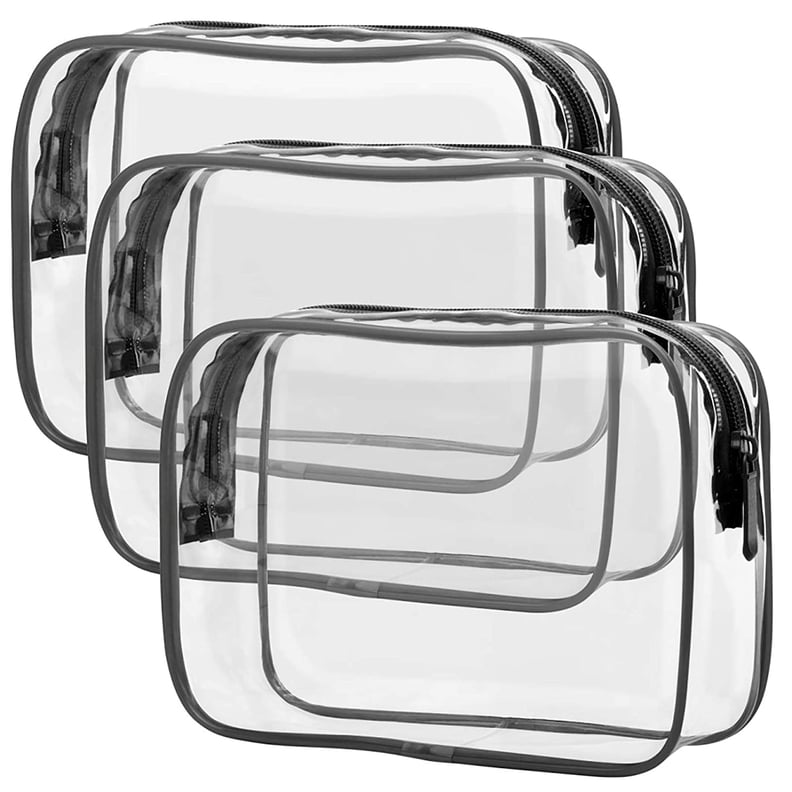 Best TSA-Approved Clear Makeup Bags
Packism TSA Approved Clear Makeup Bags ($13, originally $14)
If you're looking for a no-frills option that is TSA-approved, this set of three from Packism is a must. Each clear travel toiletry bag lets you follow the 3-1-1 liquids rule. The clear bags are made from thick PVC that's durable and flexible to fit all your necessities. You can get this set in plenty of other seam colors. These bags are also great for other items like cords and chargers, medicines, and even small toys.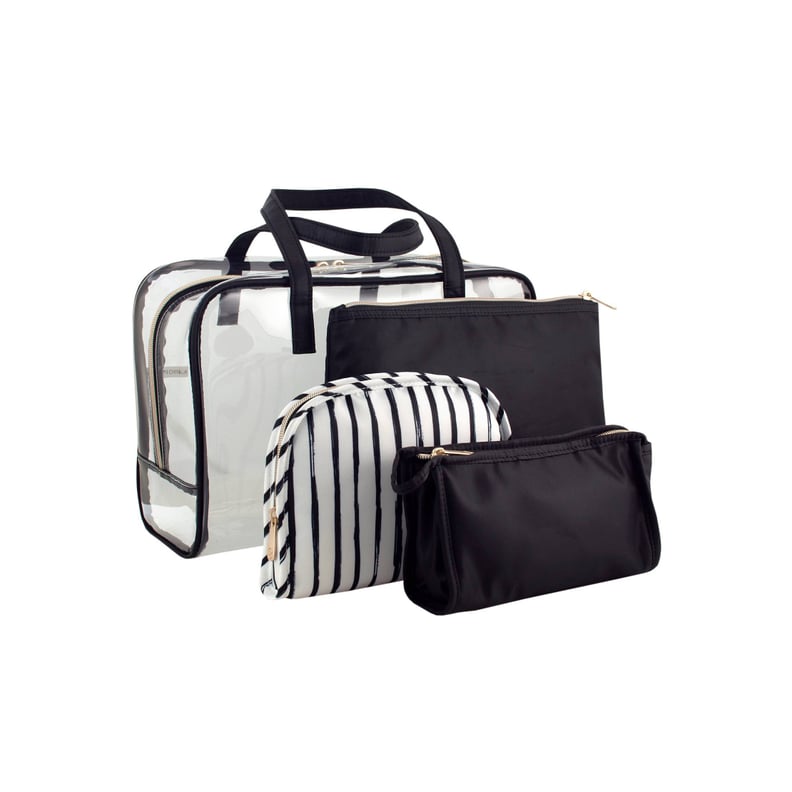 Best Travel Cosmetic Bag Set For Organization
Sonia Kashuk Makeup Organizer Bag Set ($35)
If organization is your biggest priority when traveling, the Sonia Kashuk Makeup Organizer Bag Set has everything you need to make your life easier. This bag set comes with a large clear weekender bag, a large zip pouch, a pencil case bag, and a round-top pouch. You can use each of the pouches to store by look, routine, or product type or size. Plus, they all fit into the larger clear weekender bag. All of them are equipped with zippers to keep each product safe and secure.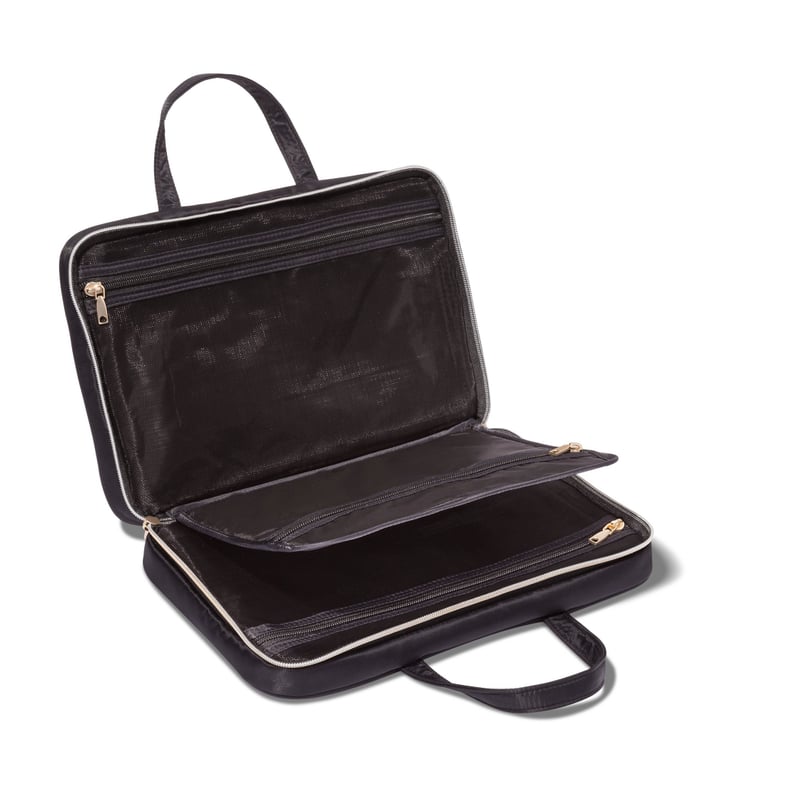 Best Travel Makeup Bag For a Streamlined Routine
Sonia Kashuk Weekender Makeup Bag ($20)
If you're someone who only likes to take the essentials with them while traveling, the Sonia Kashuk Weekender Makeup Bag is a sleek and slim pick. This makeup bag features two zipped compartments and a center organizer with a zipper pocket allowing you to keep everything organized. Whether you're going on a weekend getaway, a friend's wedding, or just getting some R&R on a two-week trip, this Weekender Makeup Bag can store everything you need without fail.
Best Durable Makeup Organizer That's Affordable
365park Large Leather Makeup Organizer ($14, originally $24)
If you're looking for a makeup organizer that's durable, spacious, and affordable, the 365park Large Leather Makeup-Organizer is a stylish and smart choice. This cosmetics case is made of high-quality PU leather material with a nylon lining; it's waterproof, scratch-resistant, and fast-drying. The 365park Large Leather Makeup Organizer has two distinct sections, a transparent upper layer for easy access products, and a larger bottom layer ideal for full-sized or bigger products. The larger section also has a place dedicated to your makeup brushes and four divided compartments. This comes in nude and a pale pink.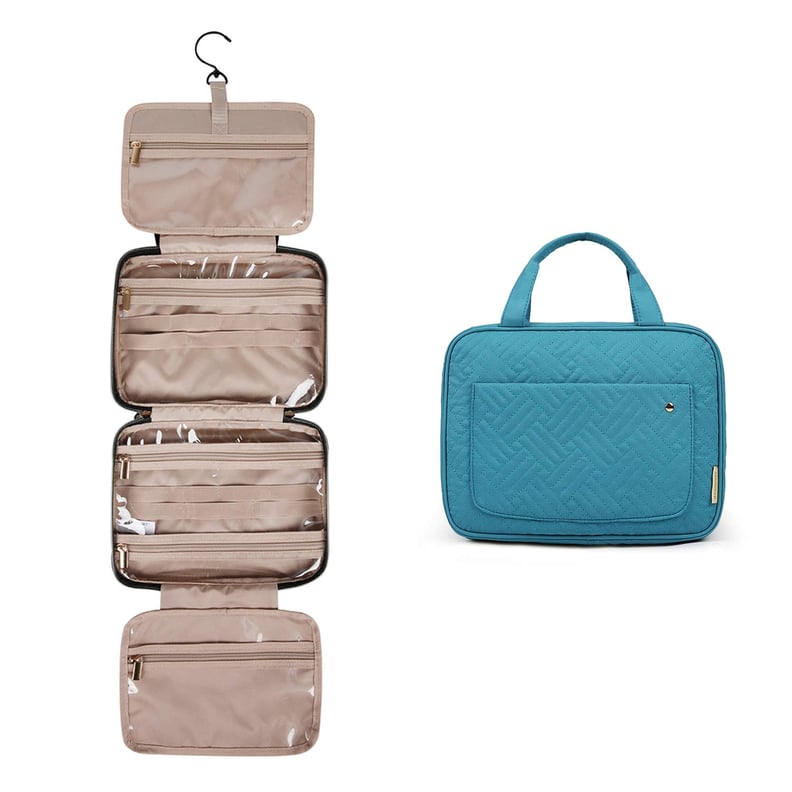 Best Affordable Hanging Travel Cosmetics Bag
Bagsmart Toiletry Bag Travel Bag ($25)
This Bagsmart Toiletry Bag Travel Ba is the ultimate travel-friendly choice. It's so easy to hang up in a hotel (or just about anywhere), so you can easily access your products. Each section has elastic bands that help keep your products secure and sitting upright. Plus, one of them is equipped with two zippers, to make accessing your things that much more convenient. To top it all off, the inside is completely transparent so you can see all your items easily. You can get this in medium and large sizes, as well as in plenty of fun colors.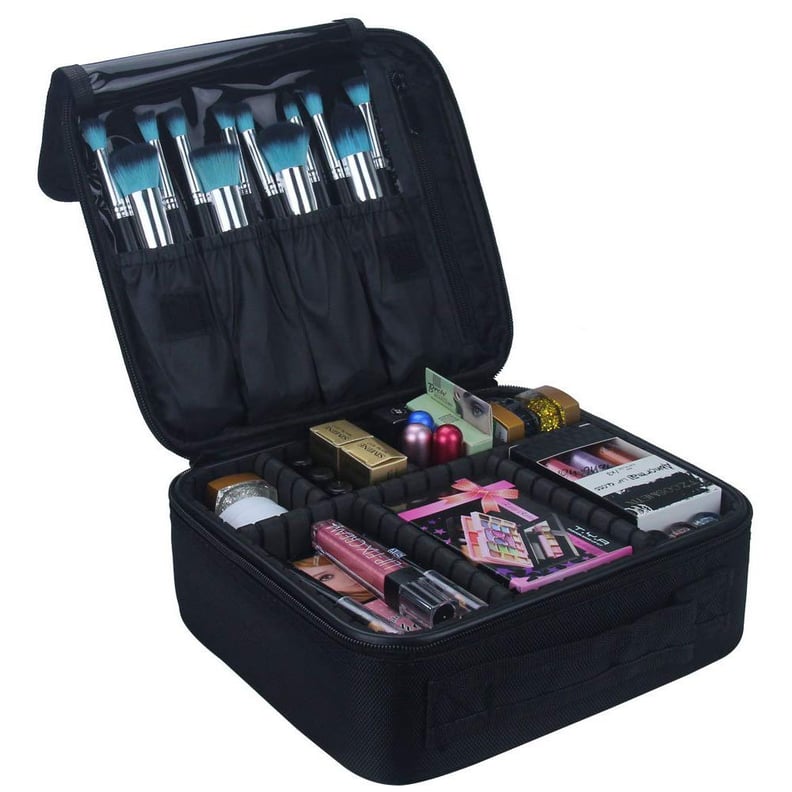 Best Travel Cosmetics Case With Adjustable Compartments
Relavel Travel Makeup Train Case ($20, originally $30)
If you're someone who tends to overpack, especially when it comes to their beauty routine, the Relavel Travel Makeup Train Case is exactly what you need. There's plenty of storage space with adjustable compartments so you can keep your skin care, makeup, hair care, and anything else you need organized. It's lightweight and waterproof as well, so you can take it anywhere without worrying about damage.