Calpak's Mini Carry-On Will Be Your Go-To Personal-Item Bag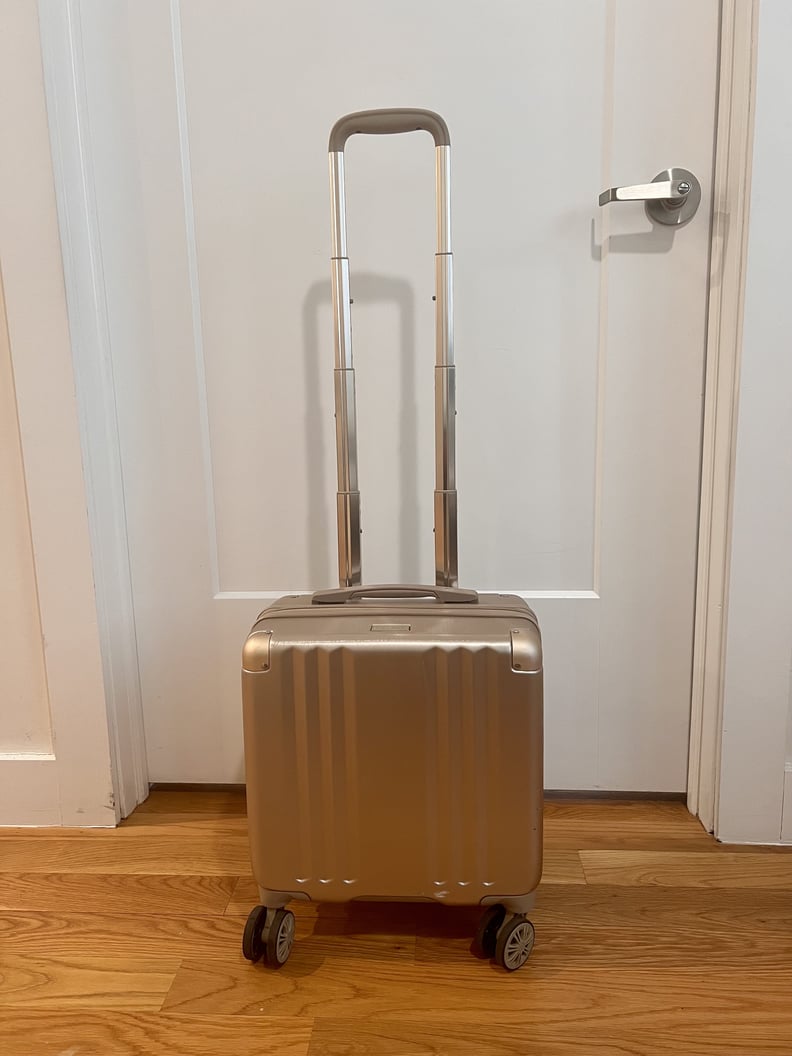 POPSUGAR Photography | Anvita Reddy
POPSUGAR Photography | Anvita Reddy
As POPSUGAR editors, we independently select and write about stuff we love and think you'll like too. If you buy a product we have recommended, we may receive affiliate commission, which in turn supports our work.
As a frequent flyer, I've made it my mission to find the best personal-item carry-on bags on the market and actually put them to the test. With airfares skyrocketing and airlines charging more for carry-on luggage and checked bags, in most cases, I'm traveling on no-frills carriers like Spirit and Frontier or getting basic economy seating. That means a personal-item bag is the only thing I can carry, and it has to fit all of the things I need for my trip.
When it comes to finding the perfect personal-item bag, first and foremost, it has to fit underneath airplane seats. It's also a huge plus to find something cute as well. Most of the personal-item bags I've tried can fit a lot of things, but they typically end up being too heavy for me to carry around everywhere — doing a number on my back and shoulders, in the process. It wasn't until I discovered Calpak's line of mini carry-on luggage that gave me hope for a better way to travel for a short trip.
A few weeks ago, I had to attend my best friend's wedding, which was a four day-trip and a three-night stay. What better time to test out the Calpak Ambeur Mini Carry-On Luggage ($165), and see how it holds up as a personal-item carry-on bag.
What I Like About the Calpak Ambeur Mini Carry-On:
What drew me to Calpak's Ambeur Mini Carry-On is its stunning champagne gold hardshell design. But, what really sealed the deal was that, unlike most personal-item carry-on bags, this one is equipped with 360-degree spinner wheels and a collapsible luggage handle, so you can get through security and to your gate without having to carry the actual weight of your bag. It's quite literally a mini version of a carry-on bag; it has all the convenience of a stylish and functional suitcase, just sliced in half. My one gripe with most personal-item bags is that I end up packing too much, and the bag ends up being too heavy to carry around. With this mini carry-on bag from Calpak, I never have to worry about lugging heavy bags from terminal to terminal.
This mini carry-on bag is great for those who like to stay organized since it has compression straps on one side and a zippered compartment on the other side. Along the zippered flap, there's a mesh zippered pocket and an open pocket as well. It has two button straps on the inside that let you open the bag upright and perpendicularly, making it easier than ever to access your things. Although it may look small, it can fit a good amount of stuff for a three or four-day weekend.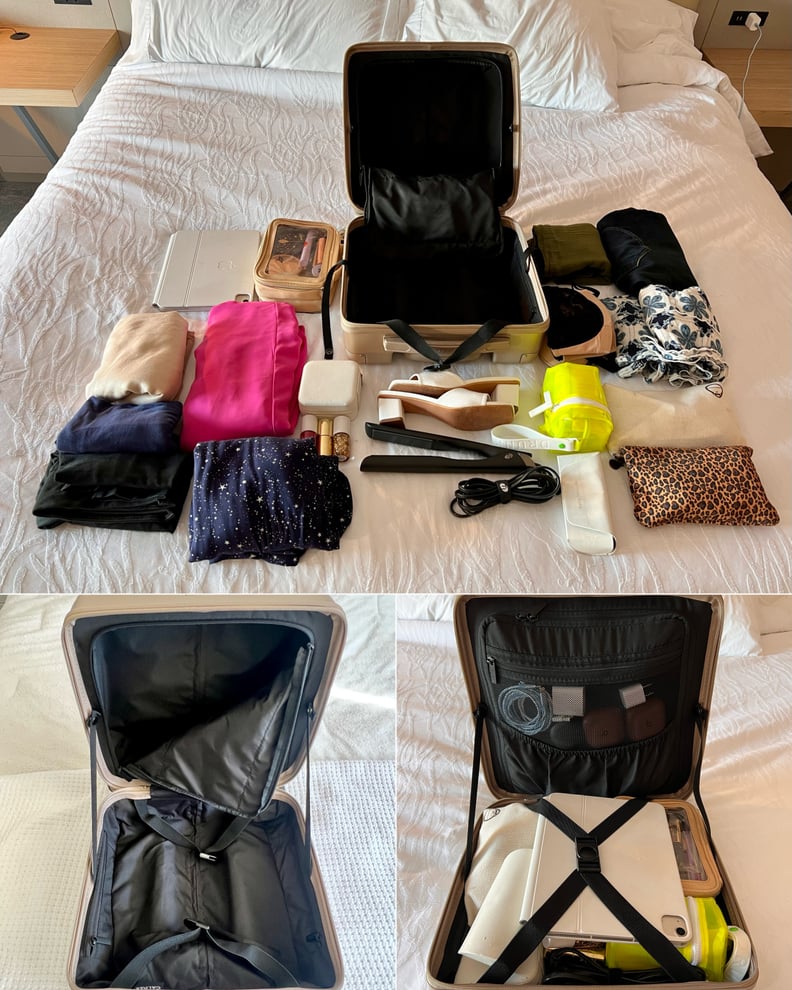 I folded and packed most of my clothes on the side with the zippered compartment, including pajamas, leggings and a t-shirt, a wedding guest dress, a shawl, a few unlined bras, and several pairs of underwear and socks, a skirt and crop top matching set, jeans, and two tops. On the side with the compression straps, I packed a pair of white heels for the wedding, my makeup, skin care products, and toiletries, each in their own pouch, my eyeglasses, a one-inch flat iron, jewelry case, and three nail polishes. I was able to squeeze in my iPad on top and my chargers and cables in the zippered mesh compartment. It fits the perfect amount of clothes for a four-day trip with maybe one extra pair of clothing.
The hardshell design is perfect for durability, plus it's sleek and streamlined without a bulky appearance. Plus, it's got a TSA-approved lock on the side of the suitcase for extra safety. The dimensions fit most airline requirements for a personal-item bag, just lay the bag flat on the ground near your feet and slide it in.
What's Worth Noting About the Calpak Ambeur Mini Carry-On:
This mini carry-on from Calpak is a lifesaver for my back and shoulders. However, since it's a hardshell suitcase, you can't fit as much stuff or bulky items, like other personal-item carry-on bags, like the editor backed Béis Mini Weekender, You will be able to pack everything for a three-to-four-day weekend, but you will have to learn to pack smart and cut the excess. I admit, as a chronic over-packer, it was a bit of a challenge, but I made it work. I planned all my looks, folded them strategically, and wore the bulkier items, like sneakers, a leather jacket, and jeans, as my airport outfit. I also opted out of packing a travel-sized hair dryer and a steamer because I knew the hotel I was staying at provided them.
Although this bag has several pockets and sections to stay organized, it does not have a separate padded laptop sleeve or a shoe compartment. I packed my iPad underneath the compression straps to keep it as secure as possible. For my extra pair of shoes, I wrapped them up in a thing bag and packed them along with my other stuff. Another thing to note is that this bag does not open completely flat, making it a little bit harder to pack either side of the suitcase, but it's honestly not that bad of an inconvenience for me.
Who's the Calpak Ambeur Mini Carry-On Best For?
Calpak's mini carry-on is made for frequent flyers that are streamlined packers who don't like to carry heavy things. Whether it's a road trip, a redeye flight, or a simple commute, this bag will meet all your travel needs. I found this especially useful for three-to-four-day weekend getaways, but you can use this for longer trips as well.
Is the Calpak Ambeur Mini Carry-On Worth the Splurge?
Considering the rising costs of air travel and the fees for carry-on luggage and checked bags, a quality personal-item bag that can fit all the items you need for a quick trip is worth the investment. Although the Ambeur Mini Carry-On is priced higher than some of the most popular personal-item bags on the market, the added convenience of the spinner wheels is a huge plus point for me and makes it stand out against the rest. On top of that, it doesn't look ugly.
I find myself opting to use this bag more often for quick trips just because of how easy it is to maneuver through airports without having to lug all that weight on my shoulders and back. If you're a frequent flyer, the one-time investment for a quality personal item is worth it so you can save on baggage costs for future trips.
Additional Details:
The Ambeur Mini Carry-On comes in rose gold, black, silver, and gold.
It's made with a polycarbonate hardshell exterior and a polyester interior.
Dimensions: 16" height x 14" width x 9" depth
It weighs about six pounds and has a 33 liter capacity.
Where is the Calpak Ambeur Mini Carry-On Available?
The Calpak Ambeur Mini Carry-On is available on the brand's site. You can also get other mini carry-on styles like the Hue ($165), which comes in a variety of colors, the TRNK ($165), which has a stylish vintage trunk design with an embossed croc pattern throughout, and the Luka ($165), which is a soft-sided bag with a padded laptop compartment.
Rating:
★★★★